« Sharp Zaurus SL-C3000 | Main | Some "Pleasant" World of Warcraft Impressions »
December 01, 2004
SleevesClothing Tattoo Shirts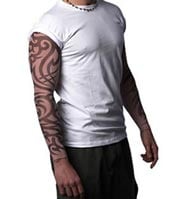 Have you ever wanted to sport some major ink, but just don't have what it takes to endure hours upon hours of needling? Fret not, because SleevesClothing has come up with an easy (albeit expensive) alternative. They sell T-Shirts that have flesh-toned full-length sleeves that give the appearance of some major artwork for both men and women. You can opt for the always popular tribal style, or go with a more artsy Japanese look. They also offer a "nude" look exclusively for the ladies. Sexy? Nah.
Read More

| SleevesClothing
Posted by Andru at December 1, 2004 09:54 PM
RECENT GEAR LIVE STORIES:
SCOTTeVEST Solar Finetex Jacket Review

Pod Shield Contest Results

iRiver H10 Surfaces

Nokia to Introduce Hologram Labels for Cell Phone Batteries

Sprint and Nextel Announce $36B Merger

Trackback Pings
TrackBack URL for this entry:
http://WWW.WRISTDREAMS.COM/mt/mt-tb.cgi/477
Listed below are links to weblogs that reference SleevesClothing Tattoo Shirts:
» RE: Temporary tattoo t-shirts from Zaphod's BigBlog(tm)
[Read More]
Tracked on December 2, 2004 12:51 PM
Comments
Easily the worst shirts I have ever seen.
Posted by: creejoh at December 2, 2004 01:10 AM
Post a comment