« XBOX Owner Sues Microsoft | Main | SCOTTeVEST TEC Sport Coat and Hidden Cargo Pants Review »
October 30, 2004
A Look At The iPod Photo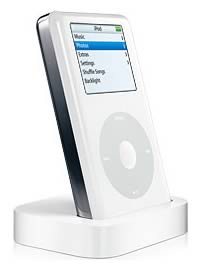 So the iPod Photo is the next big thing in the portable digital audio player world, right? At least that is what Apple would have you believe. Our friends at Digit Magazine have gotten their hands on the newest incarnation of Apple's beloved MP3 player line, and report back with their findings. How does it compare to the iPods of yesterday? Is the color screen and photo option worth shelling out the extra cash? Digit seems to think that there are a few things missing from the overall package (such as the iPod Photo taking longer to sync on a Windows PC), but in the end still come away happy.
Read More

| Digit Magazine
Posted by Andru at October 30, 2004 12:24 AM
RECENT GEAR LIVE STORIES:
SCOTTeVEST Solar Finetex Jacket Review

Pod Shield Contest Results

iRiver H10 Surfaces

Nokia to Introduce Hologram Labels for Cell Phone Batteries

Sprint and Nextel Announce $36B Merger

Trackback Pings
TrackBack URL for this entry:
http://WWW.WRISTDREAMS.COM/mt/mt-tb.cgi/396
Comments
while the new ipod looks really cool it just seems not enough for the price. Well I guess I feel that way because I wouldn't even pay for the regular 20 gig ipod.. I love my ipod but it was all the more nice b/c it was free.
This looks like a good idea, but some color and pictures isn't enough for me.
Posted by: Lisa at November 1, 2004 02:20 PM
Post a comment