« Acclaim Entertainment Files For Bankruptcy | Main | Free iPods, Flat Screens, and PC's Received »
September 03, 2004
Game Boy Advance SP Price Drop Confirmed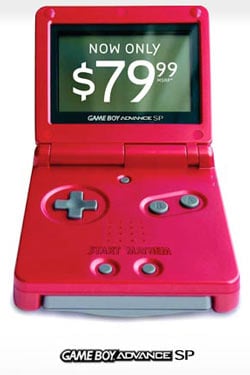 As it turns out, our previous speculation was correct. Nintendo has officially reduced the price of the Game Boy Advance SP handheld portable to a cool $79.99. If you have not yet picked up one of these, now is the time to do it, as the SP is totally chic and fits in very nicely with other high tech gadgets. Nintendo has set up a new site, Start Mayhem, to push the new price point.
Posted by Andru at September 3, 2004 11:47 AM
RECENT GEAR LIVE STORIES:
SCOTTeVEST Solar Finetex Jacket Review

Pod Shield Contest Results

iRiver H10 Surfaces

Nokia to Introduce Hologram Labels for Cell Phone Batteries

Sprint and Nextel Announce $36B Merger

Trackback Pings
TrackBack URL for this entry:
http://WWW.WRISTDREAMS.COM/mt/mt-tb.cgi/270
Comments
I received this via email and applauded Nintendo with the way they presented this. It was very Apple-esque and really showed off a sleekness with the picture. The email was just the picture and the fine print below but overall very sleek and sexy, yea, I said sexy referring to an email about the Game Boy Advance!
Minimal is good when it comes to showing most products.
Posted by: Doug Kaplan at September 3, 2004 11:58 AM
Post a comment