« RIM Launches New BlackBerry | Main | Nokia Announces New Retro Style Phones »
September 09, 2004
JetAudio Cowon iAudio 4 Color MP3 Player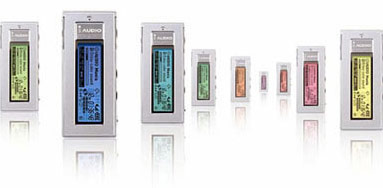 With the portable MP3 player market being virtually flooded with choices, many stick to the brands they know (naturally). Sometimes, however, it can pay to venture out into new territory. You may be pleasantly surprised. We recently tested the JetAudio iAudio 4 Color MP3 Player and came away impressed. If you are looking for a solid flash-based drive, this may be the one. Click below for the full review.
iAudio 4 COLOR MP3 PLAYER REVIEW
While many people clamor over hard drive based MP3 players (Apple iPod, Creatize Zen, iRiver H120, etc.), there are those out there that just don't have a need for a portable audio device with a hard drive big enough for multiple thousands of songs. This is why flash based players are still around. They are small, and usually get the job done for those that just want to carry around a relatively small number of songs in their pocket.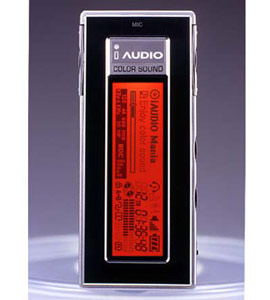 A quick look at the iAudio 4 MP3 Player (which also has a voice recorder, and FM tuner) doesn't make it stand out from the pack. However, once you pick it up and turn it on, it's individuality becomes apparent immediately.
INITIAL IMPRESSIONS
The packaging of the iAudio 4 is a smart, eye-catching approach to showcasing the product. The MP3 player is out in the open, so instead of looking at graphics when holding the box, you are actually looking at the real thing. All pertinent information in on the back of the box, which by the way is a nice, shiny purple.
Taking it out of the box, I realized that JetAudio went all out as far as accessories go. Included were the following:
iAUDIO 4 unit
Protective Case
One AAA Battery
Cresyn Earbuds
Armband
Software CD
Users Manual
USB Cable
USB Cable adapter
Neck Strap
Scratch Resistant Film
Quite impressive. While the iAudio 4 felt great in my hand, the buttons felt a bit "loose". Nonetheless, I was eager to turn it on and get started.

USING THE UNIT
Okay, so you press play and the unit turns on (after battery installation of course!). That was easy enough. Now before we move on, let's talk about what many might consider to be the main feature of this MP3 Player. See that big display screen that is almost the size of the entire unit? Yeah, can't miss it. Well, it light up in different colors. In fact, it can display 124 different colors, and you can control which ones and when.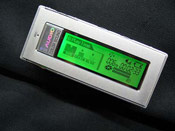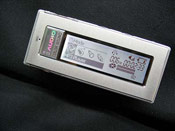 The colors are controlled by individual RGB settings that you can tinker with. You can have it glow red when playing MP3's, but then display a soothing magenta when recording your voice. There is also an awesome random strobe effect you can do as well.
Navigation: Back to using the unit itself. Like I mentioned earlier, while the iAudio 4 is tiny, the screen is a huge percentage of its size. Due to this, the screen is easily legible. However, this is one where you may want to take a gander at the instruction manual. The navigation system can be a bit tricky, and once you read up on it to see what exactly you need to press to do what, it becomes second nature.
There is a very convenient Menu button that allows you to tweak the player to your hearts content. We are talking just about everything you may want to customize, including backlight settings, EQ, bass boost, recording quality, and more. It is great to see a player with this level of customization out of the box.
Music: Now, despite it's multitude of features, the fact is that if you buy this, you are buying it to listen to music. This is where the player needs to get the job done. How did it do? Wonderfully.
The music sounded great through the included earbuds, but the included playback options let you cuztomize the sound further. For example, I sometimes have to listen to music with only one earbud in. The iAudio 4 allows you to shift the balance of the music from left to right (and anywhere in between) using the Pan option.
There is also a nice feature that allows you to enhance the sound of MP3 files to give them a fuller sound. I am not sure how it is accomplished, but it does make them sound a little better. You can also play with the preloaded EQ settings and tweak them to your desired levels as well.
Synching: While you can use the included JetShell software to do all the work, I found that since JetAudio went with the superb decision that allows this player to been seen as a normal flash drive as far as Windows is concerned, that this is the way to go. Simply drag and drop your files directly to the player through Windows Explorer, and you are good. This is perfect, because everyone already has a CD ripper and music player of choice (iTunes, Windows Media Player, WinAmp, etc.). Now for the negative: It only suppots USB 1.1. This means that when you start the transfer process, you probably want to go do something for a few minutes while it completes the transfer.
Other: Also included is a line-in for recording from device to device. It is easy enough, and doesn't seem to cause any distortion in the sound. It's nice if you want to record something from tape to the iAudio 4 unit. Voice recording is just a great addition, and also works without fuss.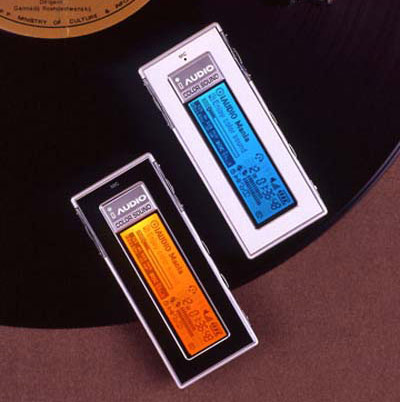 EXTRAS
JetAudio was nice enough to also include a protective case, better than average Cresyn earbuds, an armband, and a neckstrap. Most companies would expect you to pay extra for some of these items, all of which JetAudio threw in with the purchase price. The earbuds, as I said earlier, deliver a nice, full range of sound (although bass could stand to be better). Nice to see a company that isn't skimping on the extras.

FINAL VERDICT

Looking at the whole package, I am generally happy with the quality and performance of this product. The battery life is great, although it would have been nice to have had a rechargable internal battery. The only other negatives are the buttons which seem flimsy, and the bass which is not as strong as it is on other players playing the same track. I reviewed the 128 MB version of the product, which doesn't hold much music at all. I recommend springing for the 512 MB or above models. It is a great product for a student, or those that like to listen to music while exercising. If JetAudio can build on what they have here, you will soon find them to be a player on the portable audio scene.

Product Information:
Company: JetAudio
Price: $142.99
Availability: Now

A big thank you to JetAudio for sending us this product to review.
Posted by Andru at September 9, 2004 07:52 AM
RECENT GEAR LIVE STORIES:
SCOTTeVEST Solar Finetex Jacket Review

Pod Shield Contest Results

iRiver H10 Surfaces

Nokia to Introduce Hologram Labels for Cell Phone Batteries

Sprint and Nextel Announce $36B Merger

Trackback Pings
TrackBack URL for this entry:
http://WWW.WRISTDREAMS.COM/mt/mt-tb.cgi/221
Listed below are links to weblogs that reference JetAudio Cowon iAudio 4 Color MP3 Player:
» VERTEX LINK iAUDIO4 (i4-256-SL) from AML Amazon Link
VERTEX LINK iAUDIO4 (i4-256-SL) [Read More]
Tracked on September 11, 2004 02:29 AM
Comments
Another MP3 player! Just what we need :)
Nice colors though.

Posted by: doctors4bob at September 9, 2004 01:16 PM
Post a comment