« Free Computers At FreeDesktopPC.com | Main | Head to Head: Madden 2005 vs. ESPN NFL 2K5 »
August 23, 2004
XBox Benches Several Sports Titles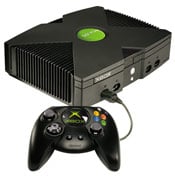 Ever hear the term "Barriers of Entry?" We all knew Microsoft had an uphill battle by trying to take on software giant, Electronics Arts. The result: Microsoft recently shut down its Sports Game Studio in Redmond, Wash., signalling an end to the "NFL Fever", "NBA Inside Drive" basketball and "NHL Rivals" franchises. You may have seen this coming by the way, since EA and Microsoft had already reached agreements to allow EA's sports franchises to be playable on the XBox Live online gaming experience. In related news, Microsoft's separate studio in Utah that develops individual sports games, such as the "Amped" snowboarding title, is not affected by the staff cuts.
Read More

| CNet
Posted by Hector at August 23, 2004 06:48 AM
RECENT GEAR LIVE STORIES:
SCOTTeVEST Solar Finetex Jacket Review

Pod Shield Contest Results

iRiver H10 Surfaces

Nokia to Introduce Hologram Labels for Cell Phone Batteries

Sprint and Nextel Announce $36B Merger

Trackback Pings
TrackBack URL for this entry:
http://WWW.WRISTDREAMS.COM/mt/mt-tb.cgi/230
Comments
From the article: "Microsoft, which produced the biggest Xbox hit to date with the original "Halo," has attempted to beef up its in-house game resources by buying up major developers, such as Britain's Rare."
I remember when Microsoft did this, and effectively halted any Rare development on the Nintendo Gamecube. This is typical Microsoft reaction: Can't be the best? Buy it and make ourselves the best.
Posted by: Tighr at August 23, 2004 08:19 AM
Sounds like the Yankees.
Posted by: Doug Kaplan at August 25, 2004 10:16 PM
Post a comment