« BoomGear MP-800 MP3 Player Review | Main | Archos GMini 400 Revealed »
August 03, 2004
JAKKS TV Games - Ms. Pac-Man Review
Remember the good old days of gaming? When controllers didn't have a myriad of buttons, levers, and joysticks, but rather a simple handle and a red button? If not, then I must be getting old. Either way, Jakks Pacific / Jakks TV Games has been hard at work developing simple ways to get your retro game on. We review the Ms. Pac-Man TV Games unit - check it out by clicking the link below.
MS. PAC-MAN JAKKS TV GAMES REVIEW
Last year, Jakks Pacific release the Namco TV Games unit. Immediately,
it flew off shelves, and became an elusive treasure to gamers wanting
to relish in the joyful delight of yesteryear. After all, arcades were
big in the 80's, while home consoles were more a luxury rather than
the neccessity they have become to gamers today. Of course, a perfect
arcade translation of Pac-Man didn't hurt either. Well, if you have
still been on the look for the Namco joypad, stop it. Jakks Pacific
has released something that I consider to be an even greater treat.
This time, Ms. Pac-Man is the star.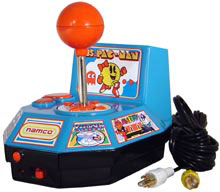 If you havent yet played a Jakks TV Game joypad, let me explain how it
works. Basically, Jakks packs five games into a controller. You
connect it to your TV using the RCA cable supplied. Turn it on, and
you are gaming. Simple, and oh so sweet.
On the Ms. Pac-Man Jakks TV Games unit, you actually have four other
titles to choose from at the menu screen. Aside from Ms. Pac-Man, you
also get Galaga, Xevious, Mappy, and Pole Position. All perfectly
emulating their arcade counterparts.
Playing these games reminded me of how wonderful gaming can be. Note
that I said gaming, referring to the art of playing a challenging
video game which kicks your tail every chance it can. Beautiful
graphics, 5.1 surround sound, and HDTV is not required for enjoyment
here. These games are all about the (frustratingly difficult)
challenge.
THE GAMES
Since Ms. Pac-Man is the main feature here (and rightfully so), we
will examine her game in a bit more detail than the others. First, the
look, sounds, and cutscenes are all pretty much a direct port of what
gaming old timers used to stuff quarters into. It is that good.
However, the joystick doesnt seem to be as responsive as its arcade
counterpart. What I mean is, there are times when you want Ms. Pac-Man
to turn a certain direction to avoid a villian, only to watch her take
a turn for the worse because she didnt go where you wanted her to. It
doesnt happen all the time, but when it does, it can be very
frustrating. Other than that, the alternating maze boards, fruit, and
ghosts who are a lot smarter than their Pac-Man alternatives all
abound.

Looking at the rest of the games, its easy to write them off as
"filler", but they too offer up quite a bit of fun. Galaga and Xevious
are a little too similar for my personal tastes, but that may just be
me. I really dont need two aircraft shoot-em-ups on one unit. Mappy,
seems like a mix between the original Mario Bros. game, and Pac-Man.
You basically guide Mappy across a few multi-leveled platforms to grab
various items without getting hit by one of the bad guys. And then
there is Pole Position - one of my favorite retro games of all time. I
just loved sitting in that arcade drivers seat as a kid, trying to win
the races using the steering wheel.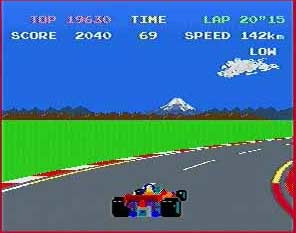 Jakks wanted to keep that steering wheel feeling alive, and after I
figured out how the game worked after about 30 minutes, I liked it.
You see, the joystick is also an analog controller. Instead of pushing
to the left or right, you swivel the joystick itself to the left or
right, as if you are screwing and unscrewing it. It works very well -
I just wish Jakks would have made it clear that this is how this game
worked. I tried many a time to get my car to turn by using the
joystick the normal way, and it just wasnt happening.
Some games allow you to input your initials so that you can see your
name in lights, but once you turn off the unit, that gets erased. It
seems that the feature isnt there for anything other than the
nostalgia purposes.
FINAL VERDICT

All in all, the unit is solid. It requires 4 AA batteries for
operation, and that is pretty much it, aside from yoru TV. It keeps
things simple with just the joystick and two buttons, and is a
definate must buy both for retro gamers, as well as the little ones
growing up nowadays. In my opinion, Jakks TV Games Ms. Pac-Man is a
great way for all gamers to get to know their roots.
MORE INFO:
Jakks TV Games
MSRP: $19.99 USD
Posted by Andru at August 3, 2004 09:34 PM
RECENT GEAR LIVE STORIES:
SCOTTeVEST Solar Finetex Jacket Review

Pod Shield Contest Results

iRiver H10 Surfaces

Nokia to Introduce Hologram Labels for Cell Phone Batteries

Sprint and Nextel Announce $36B Merger

Trackback Pings
TrackBack URL for this entry:
http://WWW.WRISTDREAMS.COM/mt/mt-tb.cgi/170
Comments
I purchased the namco TV game in May 2004 and I had to take it back twice and received another one because they broke or more or less did not work. I still have the receipt and its now September 2004 but where I purchased it says its too late because of how long its been also I do not have the box anymore it came in so I was wondering if your company can help me.
Posted by: Tina at September 21, 2004 03:59 PM
Post a comment