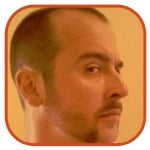 Posted by Finnian Durkan Categories: Accessories, Mods / Hacks, Toys,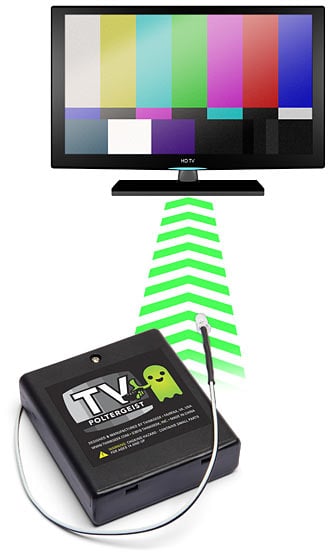 Want to piss off your friends with more than just your abrasive personality and obnoxious hygiene habits or complete lack thereof? Yes, it is rude to clip your toenails in someone else's living room, genius; what are you, five? If you feel the need to step up your toxicity—to neutron bomb your friendships, poisoning the landscape for decades to come and leaving behind a barren landscape of people hating the very mention of your name in your wake—then look no further: the TV Poltergeist is the gadget for you. The TV Poltergeist is a battery-powered and easily hide-able palm-sized piece of hardware with a tiny, flexible LED that you can point towards the TV of your intended victim. Once you turn it on the TVP will randomly emit a signal via the LED and shut your future ex-friend's TV off. Works on just about any TV—CRT, Plasma, LCD—just not your Gramma's 30 year-old knob-operated Zenith, though if you pull this stunt on your Gramma a) you're an a$$ and b) expect to get written out of the will and hit with a cane. That woman lived through 5 wars and walked 40 miles to kindergarten everyday. Show some respect!
Read More

| TV Poltergeist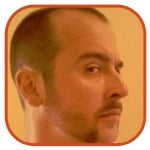 Posted by Finnian Durkan Categories: Wearables, Music,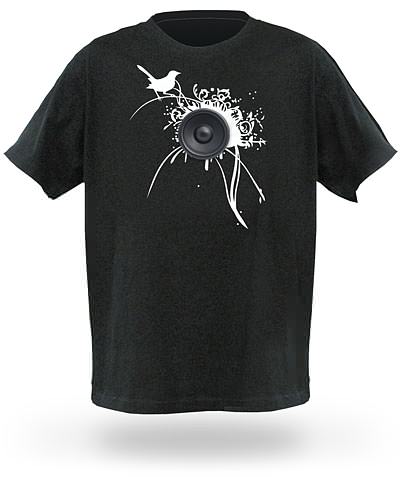 I know, the title is a little mundane; it was either that or 'how to torture others with your terrible taste in music' but that wasn't very product-descriptive. Not only can you use this shirt, complete with embedded speaker and pocket-remote, as an attempt to turn yourself into Jack Spade from 'I'm Gonna Get You, Sucka!' but you can also use their pre-loaded sound-effects to pepper your work-day with fart noises and boing-boings. It's all your choice. Only $30 and 4AAA batteries and you're off to the very annoying races.
Read More

| Personal Soundtrack Shirt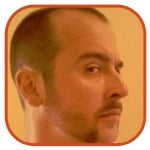 Posted by Finnian Durkan Categories: Accessories, USB,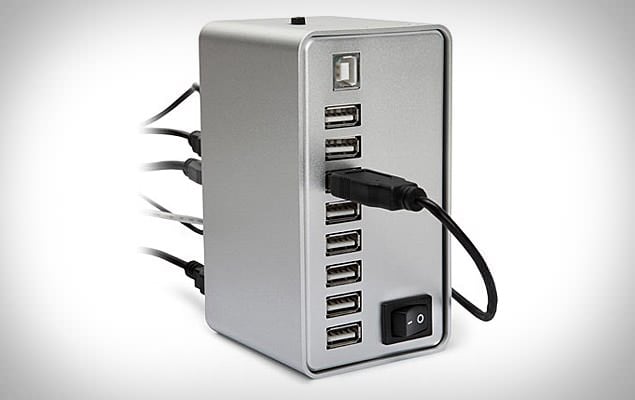 Yes, the title is a Veruca Salt reference; deal with it! If you need 16 USB ports for your desktop then my making vague Gen-X references to underachieving bands that never quite made it is the least of your problems—concentrate, Pvt. Pyle! Jeez, do I have to do everything for you? Yes? Okay then: ThinkGeek has the cure for what ails you. Well, only if what ails you is your desk's lack of a tangle of sprawling USB cables that would embarrass an Octopus—two of them, in fact! The USB Super 16 Port Hub sports its own internal power supply and can turn the most modest of desks into a cutting-edge tangle of fiber-optic cables. Another spec benefit is that up to two PC's can hook up and share the Port Hub at the same time. This means that you can play dueling banjos with your work PC and your MacBookPro without fear of choosing which nerd-demographic you're going to piss off, Switzerland! Also, at $159 it's cheaper than buying 10 t-shirts that say 'There's no place like 127.0.0.1' on them, will still up your geek cred and will not have the un-wanted side-effect of getting you punched in the face, unlike the former.
Read More

| USB Super 16 Port Hub


Posted by Sparky Categories: Household, Misc. Tech,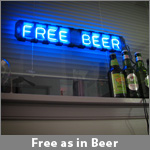 Finally a way to add a touch of bar room class to your home: the custom blue neon sign. Rather than relying on expensive custom glass blowing and neon sign fabrication processes these ThinkGeek DIY Neon signs are made of multiple letter segments which are pre-formed at the factory which the buyer can snap together. The power supply is a hair under $30, but each individual letter is a mere $6.99. It's not the cheapest decoration you will likely ever put in your house, but certainly cheaper than the hundreds of dollars a normal neon sign would cost.
We are thinking of picking up a 'Gadgets4Life' sign to adorn our wall. What will you have yours say?
Read More

| Thinkgeek via Coolest Gadgets

Posted by Lolita Beckwith Categories: Accessories, Wearables,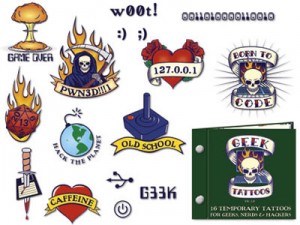 We just told you about the Geek Awareness Bracelets from ThinkGeek, and now we've found another way to show your Geek Pride: tattoos! Whether you love video games, computer languages, emoticons, RPGs or all of the above (we know you're out there), there's a tattoo for you. We think they're nerdy but endearing—much like the people they're made for. Each hardcover book contains 16 tattoos and is available for only $7.25 USD.
Read More

| Perpetual Kid


Posted by Lolita Beckwith Categories: Accessories, Wearables,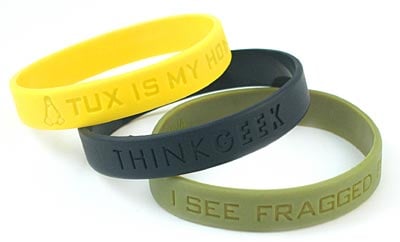 Remember back in the 2004, when it was all about Lance Armstrong's yellow rubber Livestrong bracelets to benefit cancer research? Even though the trend is passe, that didn't stop the folks at ThinkGeek from creating a decidedly nerdy version of its own. According to the website, the silicone accessory allows the wearer to promote "geek awareness in every aspect of life." The yellow bracelet states: "Tux is my homeboy", the black one: "ThinkGeek", and the olive one: "I see fragged people." Wear at your own risk, amigos. Available for $2 USD.
Read More

| ThinkGeek via Geek Sugar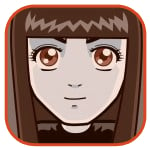 Posted by Sheila Franklin Categories: Misc. Tech, Storage, USB,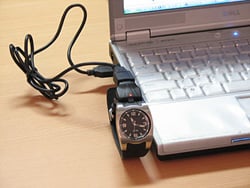 This watch does double duty as not only a timepiece, but has built-in USB 2GB storage hidden in the watchband that pops up for easy connection to most PCs with included extension cord. At a size of 1.5 x .375-inches and a weight of only 1.5 oz., the watch features an LED indicator light, is shock proof and water resistant, and claims to be a comfortable fit. It will operate on Windows 98/ME/2000/XP, Linux 2.4 or higher, and Mac OS 8.6 or higher. Available at ThinkGeek for $49.00, this is very good news to those of you who have a tendency to lose small USB keys, but not for those who also tend to misplace watches.
Read More

| ThinkGeek


Posted by Chris Cardinal Categories: Editorial, Features, Hot Deals, Misc. Tech,
If you've been following along with our Holiday Gift Guide 2006, you're probably looking to pick up something unique and fun for someone you love or merely tolerate. Fantastic. But if you're not looking to spend quite $100+ on them, because, perhaps they haven't earned that much friend equity and hey, you've got a Wii to buy yourself, well, that's just fine. The interweb is plush with amazing niche shops, terrific web stores that have all sorts of amazing and fun gadgets, toys and fun things for your desk. And with just two weeks left, it's best to get cracking right now.
Our five favorite places to shop for cool people for under $30? Let's see:
1) Wishingfish.com: With great desk toppers like Swiss Aromatherapy Pens and animal-shaped rubber bands, this diverse site has all sorts of goodies ripe for the taking. Pick them up a Smores Maker and they'll be roasting marshmallows inside at what's sure to be a very awkward, but soon tasty staff meeting in no time!
Click to continue reading Five Great Online Stores For Finding Gifts For Geeks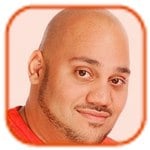 Posted by Andru Edwards Categories: Accessories, Design, Household, Video Games,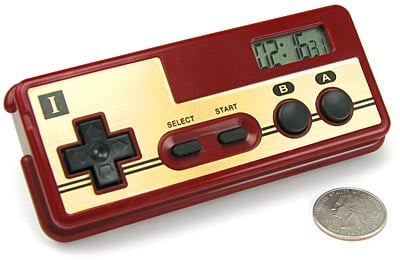 For those who can't seem to get enough of the feeling of having a video game controller nearby, waking up to one may be the treat to start the day off right. This alarm clock, shaped like one of those old-school NES and Famicom controllers, wakes you up to the Super Mario Bros theme song. How do you turn it off? Simply button-mash on the A button. If that doesn't get you up, we aren't sure what will. Even better, though, is the included mini-game. It goes something like this - hit the A button as fast as you can, trying to beat your previous speed. Do it fast enough, and you unlock a new alarm tone. All this for only $25 USD? Sign us up.
Read More

| ThinkGeek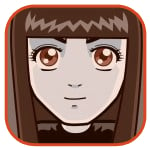 Posted by Sheila Franklin Categories: Accessories, Toys,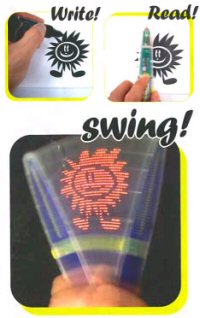 ThinkGeek's LighTalk Scanner is having its second coming out party. Simply draw an image on a piece of paper, scan it, switch and fan it, and you have a 4" x 7" image that will outshine everyone at the next 4th of July picnic. Get two of them, and you and your buds can flash back and forth.
Not only does the new and improved model scan faster, it contains 8 image banks to store your designs. Even better, the new sequential display allows you to show animated graphics or a paragraph of text. LighTalk is 8.5" long with a 1" diameter and scans best when used with a .2" black Sharpie (doesn't everything work better with a Sharpie?).
LighTalk utilizes 2 AAA batteries (not included) for over 10 hours of continuous display and is available in three body colors. At a price of $39.00, LighTalk II comes with wrist strap and instructions.
Read More

| ThinkGeek

© Gear Live Inc. – User-posted content, unless source is quoted, is licensed under a Creative Commons Public Domain License. Gear Live graphics, logos, designs, page headers, button icons, videos, articles, blogs, forums, scripts and other service names are the trademarks of Gear Live Inc.