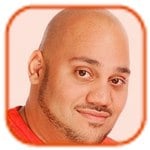 Posted by Andru Edwards Categories: Cell Phones, Editorial, Features, GPS, Internet,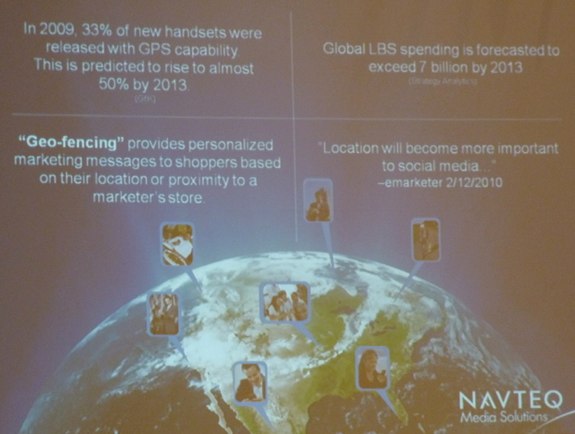 Navteq and their parent company Nokia believe that LBS or Location Based Services are going to be a $7 billion dollar industry by 2013. This is due to an increase of mobile connected devices and their ability to receive targeted advertisements when they are near a specific location.
Navteq currently has 80 people globally in their sales force, working with mobile operators as well as smaller application developers to help sell the data that they collect about locations. They warehouse this information by deploying "data collection trucks" which have high definition cameras mounted on the rooftop and drive most all of the major cities roads . These cameras take photos and collect other data such as elevation as they drive through the streets. Company spokesman and presenter Shawn Gunn said future unknown applications will leverage this. To seed such innovation, Navteq has a location based challenge that they run annually and several augmented reality projects are frequently presented from that.
Click to continue reading SXSW 2010: Location-based Marketing and Advertising: Targeting the Mobile Consumer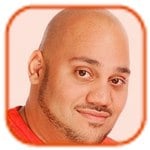 Posted by Andru Edwards Categories: Editorial, Features, Google, Internet, Transportation, Wireless / WiFi,

My friend Jeff Pulver commandeered a room on the 4th floor at SXSW and had several people who he has met around the world present what they believed were success stories about the Twitter service. This goes hand in hand with the 140 Conferences that he is throwing around the world. One such speaker, Bowen Payson, was from the airline Virgin America that has been using Twitter to outreach to their customers.
Bowen began his session by speaking about the differences in their airline from a physical experience. From the black leather Recaro seats, to the mood lighting. Their on-demand in flight entertainment is just as high tech as their communication strategy. The Twitter story began without a strategy and unfolded and matured into more than
60,000 followers as I write this. Their main social contact, Nick Schwartz is the voice of the airline and loves social networking, partially because of his age. They try to keep a consumer centric voice and mind set, and work to make the experience better incrementally.
Click to continue reading SXSW 2010: Twitter and an Airline: A story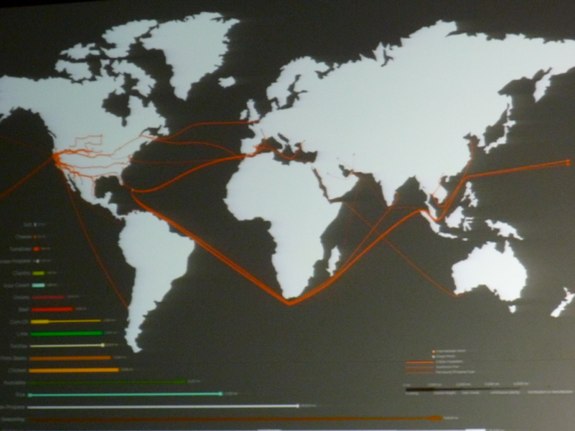 The Sunday SXSW 2pm keynote was from Valerie Casey, a consultant who works with entities as large as the government to up and coming Louisiana food startup Naked Pizza.
Valerie is part of a group called Designers Accord who has a mission to use the skills and talents of this team to give back to the community and ultimately Mother Earth. Her profound opening statement was "When will we start thinking that less bad is good?" The example shown was a Dell studio PC, a small desktop computer with an optional bamboo case that adheres to the highest levels of green standards for office computers. Yet, it is still another computer, which has components inside which will ultimately end up in a landfill and be harmful to humans or the environment. A heart-wrenching photo was shown of a child living an an area of China whose community cannot even drink their local water due to contaminants from the e-waste trade; where components are stripped from circuit boards over fire pits for their little precious metal content.
Click to continue reading SXSW 2010 Keynote: Systems Design and Inspiration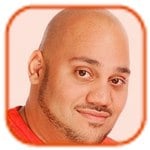 Posted by Andru Edwards Categories: Apple, Handhelds, Software, Videos,
Above you'll find a demo that Wired magazine gave during SXSW 2010, showing off what they figure their app will look like on portable tablets like the iPad and HP Slate. As you can see, it's more than just a color PDF reader, as they have video elements and animated images in the magazine content, so they've actually taken the time to tailor the reading experience to the device. Consider us subscribed once this is available.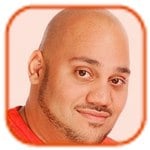 Posted by Andru Edwards Categories: Editorial, Features, HDTV, Home Entertainment, Internet,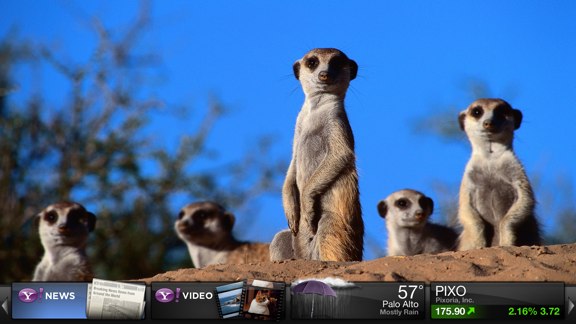 Rovi Chief Evangelist, Richard Bullwinkle had an afternoon session at SXSW 2010, dealing with convergence in the living room, "From Hulu To Yahoo Widgets: Will The Internet Transform The TV?"
He started the session with the statement "It is difficult to upgrade your television because it is affixed to a wall." With computers, you can go to a new website, such as moving your social network from myspace.com to facebook.com. With a mobile phone you can delete the location centric Loopt app and load Foursquare or Whrrl. But your
television cannot be updated and it is typically maintained by someone who put it on the wall.
With the American market being spread out over thousands of miles, broadband penetration and the speed of those connections becomes the next issue. Music and streaming television is not a problem with existing bandwidth; be it via cable, to the house or Wi-Fi within. As we get to HD quality, few have the capacity to our homes to achieve this rate. I know of this pain point personally and have solved it by running three networks at the house, one for devices like the iPhone and Chumby at 2.4 GHz and the others for high definition video distribution over Gigabit Ethernet and 802.11N at 5GHz.
Click to continue reading SXSW 2010: From Hulu to Yahoo Widgets: Will the Internet Transform the TV?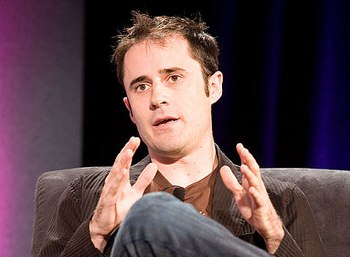 Three years after the Twitter 2007 launch at South by Southwest, Evan Williams announced @anywhere pages at SXSW 2010. This service allows web publishers to enable OAth Twitter logins, much like the Facebook Connect strategy. They are not the first web service with hundreds of millions of users to attempt this tactic. Hotmail users were able to use that log on on other sites via the Microsoft Passport service, after the software giant bought the first web mail provider in 1997. This account was used across all Microsoft platforms like Expedia and even shopping sites like Buy.com until it was ultimately removed from service in 2009. Today, Facebook Connect allows their 300+ million users to log on and make comments on thousands of sites and blogs. Twitters user base is much lower and they are a bit late to this strategy so it will be interesting to see how many sites will employ the service.
With a 10's wide and thousands deep line to get in, the SXSW day three keynote of Evan Williams, one of the founders of Twitter was off to a rocky start. He started with an awkward announcement their latest service offering via a video demo and audio problems with the mic of the moderator Umar Haque.
Click to continue reading SXSW 2010: Evan Williams Twitter keynote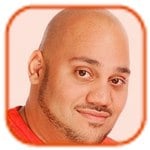 Posted by Andru Edwards Categories: Editorial, Features, GPS, Video Games,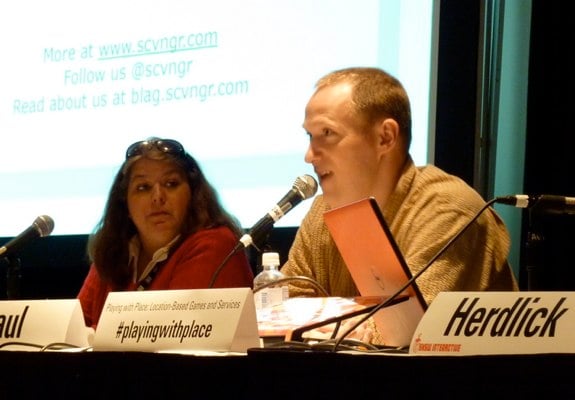 Katheryn started off the session giving us geo location coordinates that only a machine would love. Her followup to this was the context matters; our location around a place and who is around that space with us. There is also excitement around discovery with geo. An example could be geocache games which created back in the old old black and white LCD "latitude and longitude" GPS units and have worked their way into the App stores of the iPhone and Android handsets.
Although location is in its infancy, Foursquare has opened their APIs and sites like gatsby.com are using location data + user preferences to send SMS messages to those who are in proximity with one another and could potentially benefit in meeting up in real life. While this leads to privacy issues, it is opt-in and could let "regular strangers" connect and communicate in ways that they might night work up the courage to in the physical world.
Click to continue reading SXSW 2010: Playing with Place - Location-aware games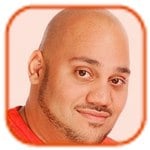 Posted by Andru Edwards Categories: Features, Social Media,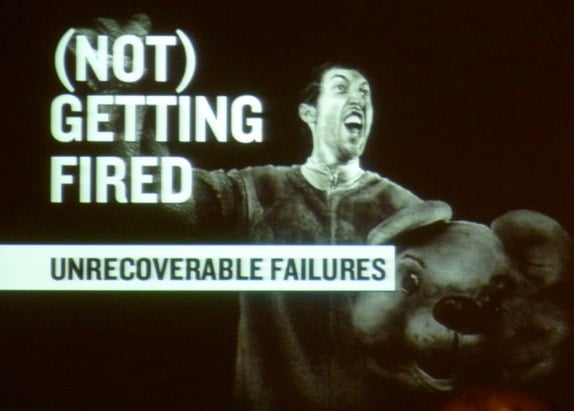 This cleverly named, yet light hearted SXSW 2010 panel of Greg Storey, Will Reynolds, Greg Hoy, Tracey Halvosen and was narrated by Kevin Hoffman. Panelists told stories that technology consultants must deal with every day through interactions with their clients. Most of the stories told were a bit sensationalized around a client's unrealistic
expectations, mostly in regard to time to complete a project or disagreements of which technology to base a project on. It seems that clients always want it faster, and typically more complex that it needs to be - something that is typically mutually exclusive.
Consultants are not perfect, and testing new features or methods on a client may prove to be disastrous when you work outside of your scope of expertise. For example, one consultant on the panel said that they could help a client deliver an email message to their customer, and took on the project of developing the mailing system in house. Rather than send a unique email to each user, or blind copy the customers, every email address in the client database was sent within the "To" field, something that one of my companies has been guilty of, albeit during the early Web 1.0 days. This made all of the other client email addresses viewable from any one of the customers who received the message. For this example, the client re-issued an apology offer, along with a discounted offer and the consultant ultimately paid a professional email marketer to re-send this message using their technology and expertise to avoid the snafu of sharing private email addresses. As an aside, I received some marketing emails from SXSW film presenters who too left email addresses visible in the "To" field. That is unacceptable in 2010.
Click to continue reading SXSW 2010: We F*cked Up: Happy Cog and Friends Exploring Failures Together
RealAudio and ultimately Real Video was the original, old school audio and video compression used on the Internet during the early Web 1.0 days. No doubt that Web 2.0's rise in popularity was caused in part by YouTube and the ability for its users to easily send video up to a server and have it transcoded and streamed on the fly - without the need for expensive programs like the RealMedia server set.
YouTube leveraged the Adobe Flash technology, which in its infancy, would show only cartoon like video, then incorporated codec, or software decoding support for television like motion video. This has been the standard for video distribution on the Internet, but requires support for software, and only lately has incorporated decoding within hardware. Notably the iPad and iPhone are two such media devices that do not have flash media decoding support due to a long feud between Apple CEO Steve Jobs and Adobe. Jobs calls flash a CPU hog, and a claims it would cut battery life on his devices from 10's of hours to just an hour if it was supported. Instead, he and many others hope to see HTML5 take a rise to prominence.
In this SXSW 2010 session, Christopher Blizzard, director of developer relations with Mozilla, and Michael Dale, lead developer of the MetaVid project and WikiMedia foundation, go in depth on what HTML5 has to offer as it pertains to video on the web.
Click to continue reading SXSW 2010: Fun with HTML5 video
© Gear Live Inc. – User-posted content, unless source is quoted, is licensed under a Creative Commons Public Domain License. Gear Live graphics, logos, designs, page headers, button icons, videos, articles, blogs, forums, scripts and other service names are the trademarks of Gear Live Inc.