Posted by Chris Pereira Categories: Action, PSP, SEGA,
The original Sonic Rivals game for PSP wasn't particularly well-received, but it certainly faired better than the recent 360 and PS3 Sonic outing. Sometimes I wonder if Sega is deliberately trying to smash the beloved series into the ground. Seriously, outside of Sonic Rush there hasn't been a good Sonic game in many years.
But there is some promise for Sonic Rivals 2. Sega has already laid out the framework, so hopefully things can be fleshed out and developed more – the original was pretty unrefined and didn't have many stages. SR2 will have plenty of unlockables, as well as game sharing multiplayer features. Unfortunately, though, it doesn't look like online play will be an option.
Here's to hoping we get a half-decent Sonic game when Sonic Rivals 2 is released this fall. God knows we've earned one.

Posted by Chris Pereira Categories: Action, Adventure, Nintendo, SEGA, Virtual Console, Wii,
Today's release of Zelda 2 marks the 100th release on the Virtual Console – not too bad of a library, considering it's only been a little over 6 months in the making. Nintendo announced a few details about the VC, but first, let's get to what you really want to know: this week's list of releases.
Four games saw release today: Zelda II - The Adventure of Link (NES, 500 points), Dead Moon (TurboGrafx16, 600 points), Milon's Secret Castle (NES, 500 points), and Toe Jam & Earl in Panic on Funkotron (Sega Genesis, 800 points). Not a bad list, and while you may love or hate Zelda, the other three cater to different audiences very nicely.
According to Nintendo, more than 4.7 million games have been downloaded from the VC, which equates to more than 1,000 games purchased an hour since the Wii's release. Not too shabby considering these games don't have demos available for them. (Or maybe that's why they manage to sell so many?) Super Mario Bros. on the NES is the platform's best selling game, followed by Super Mario 64, Mario Kart 64, Super Mario World, and The Legend of Zelda.
Click to continue reading Virtual Console 6/4: Zelda 2, And 1000 Games Per Hour
Posted by Michael Cardiff Categories: Internet, Nintendo, Retro, Virtual Console, Wii,
Are you ready to rumble??!? Seriously, are you ready to punch, kick and headbutt your way to victory? Well, for the strong amongst you, Nintendo brings you this week's Wii Virtual Console titles, which includes Punch Out!! (NES), Virtua Fighter 2 (Genesis), and Bonk's Revenge (TG-16), for the punchers, kickers, and headbutters, respectively.
Both Punch Out!! and Bonk's Revenge bring back fond childhood memories (yes, I was one of THOSE kids that owned a TG-16), so I'll probably pick them up, but it'll be interesting to see how these titles have aged. What about the rest of you out in the ether? Anything catch your eye this week? Or are there titles you've been waiting for forever that STILL haven't made it to the ol' VC?
Read More

| Wii.Nintendo.com

Posted by Christopher Sasaki Categories: PC, Retro, SEGA,
Gamasutra is reporting that following last week's Easter Egg featuring Bug for the Sega Saturn, the 3D shooter series Panzer Dragoon will be coming to the GameTap subscription service; both Panzer Dragoon and Panzer Dragoon Zwei are listed as "coming soon." While the original Panzer Dragoon appeared in a PC port, Gamasutra confirmed that the two games are the original Sega Saturn versions. The release of the shooters in the series gives hope that Panzer Dragoon Saga may also be coming.
Read More

| Gamasutra

Posted by Christopher Sasaki Categories: Retro, SEGA,
The great retro gaming blog at Racketboy has a fairly in-depth round up of Sega classic franchises, past and present with short updates on their current status. Some of the inclusions might be kind of a stretch to label a "franchise" – there are a number of games on the list that have only had one release in their lifetimes. The list, however, is a good reminder of all the original IP that Sega has to mine for new offerings. Sega's track record for updates hasn't been that great lately, the next generation Sonic release on the Xbox 360 and PlayStation 3 was notoriously bad, with some redemption coming with Sonic and The Secret Rings on the Wii. As the article mentions, Sega has become more and more risk averse due to the financial issues the company has faced, but it does seem like there is a lot of potential in Sega's history. Certainly there seem to be a lot of RPG franchises that could stand to be revisited, including Beyond Oasis, Skies of Arcadia, and Shining Force, but there are also a bunch of great action games that would be great to see updated and released on any of the downloadable content platforms.
Read More

| Racketboy

Posted by Christopher Sasaki Categories: Action, Nintendo, SEGA, Wii,
Sega of Europe offered some tantalizing new details about the upcoming NiGHTS: Journey Of Dreams earlier; the updates seem to have gone missing from Sega's site, but Sega Nerds has a summary of the new features, including "Persona" masks that allow NiGHTS to morph into a dragon, dolphin or rocket, seven dream worlds, and utilization of the Wii Connect 24 service to exchange items and adjust the environment based on the Forecast channel. It definitely sounds like Sega is focusing on using the Wii featureset to the fullest; hopefully the game can live up to the nostalgic memories gamers have of the original.
Read More

| Sega Nerds


Posted by Lolita Beckwith Categories: Corporate News, Video Games,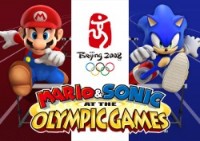 We poignantly remember the video game industry of the early 1990's, when it was all about Super Nintendo vs. Sega Genesis, and their respective mascots, Mario and Sonic the Hedgehog. You either preferred one or the other (this writer still owns all her beloved SNES hardware and games). Anyway, the rivals are making history by teaming up for "Mario and Sonic at the Olympic Games", a video game for the Wii and DS systems, due shortly before Christmas. In the game, players will control Mario, Sonic and their assorted buddies, including Luigi, Yoshi, Tail, and Knuckles, as they compete in the Beijing 2008 Summer Games, including the 100 meter dash, table tennis and swimming. Sounds like a blast for old-school gamers and youngsters alike. "Mario and Sonic" will be published by SEGA in Europe and North America, and by Nintendo in Japan.
Read More

| Sega

Posted by Christopher Sasaki Categories: Culture, Nintendo, Nintendo DS, SEGA, Sports, Wii,
Nintendo and Sega today announced that two icons of past console wars, Mario and Sonic, will be teaming up for a licensed game set at the Beijing Olympics in 2008. Titled Mario & Sonic at the Olympic Games, the new title will be available exclusively on the Nintendo Wii and the Nintendo DS. No official pricing or launch date was set for the titles, but additional details have been revealed in an interview held between Sega and Nintendo representatives and N'Gai Croal at the Level Up blog. While the interview tends to focus a little more on the rivalry between the two companies, a few nuggets of development information can be found. First, while Sega will apparently be handling the development of the game, Shigeru Miyamoto will be overseeing the development process to some degree. Also, Sega's Sonic Team apparently will not be involved, which may be a good thing given the spectacularly bad reviews that Sonic on the Xbox 360 and PlayStation 3 received. This mascot match-up has been a long time coming; here's hoping it lives up to the hype.
Nintendo and Sega's press release continues after the jump.
Click to continue reading Mario And Sonic Finally Meet
Read More

| Level Up

Posted by Christopher Sasaki Categories: Retro, SEGA, Virtual Console, Wii,
Destructoid has a Sega press release indicating Beyond Oasis, Vectorman, Sonic Spinball, and Sword of Vermillion are soon to be hitting Nintendo's Virtual Console service. There isn't an official release date, other than "soon" from Sega PR, but there are a couple of standout titles in the list, and some from gaming history. Sword of Vermillion isn't a great RPG by today's standards, but it does offer an early look at some of Yu Suzuki's work. Beyond Oasis, though, is a strong action-RPG that saw a follow-up on the Sega Saturn in Legend of Oasis. Vectorman was strong platformer using pre-rendered 3-d graphics, and was generally seen as a response to the release of Donkey Kong Country on the SNES, so its only a little ironic that the game is coming to the Virtual Console after this week's Nintendo releases.
Read More

| Destructoid

Posted by Christopher Sasaki Categories: Electronic Arts, Sports, Xbox 360,
After Sega bragged about bringing true 1080P to the Xbox 360 for the first time, EA stepped up today to say that they would actually be the first to have a 1080P native title. Representatives from EA talked to Gamasutra, and they noted that the upcoming February release of NBA Street Homecourt would support the full 1080P resolution on the Xbox 360 at 30 frames per second and would beat Virtua Tennis 3 to market by a month. Perhaps during the two weeks before Street is released, someone else will step up and steal the 1080P crown yet again.
Read More

| Gamasutra

© Gear Live Inc. – User-posted content, unless source is quoted, is licensed under a Creative Commons Public Domain License. Gear Live graphics, logos, designs, page headers, button icons, videos, articles, blogs, forums, scripts and other service names are the trademarks of Gear Live Inc.