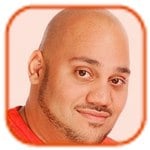 Posted by Andru Edwards Categories: Corporate News, Internet, Microsoft,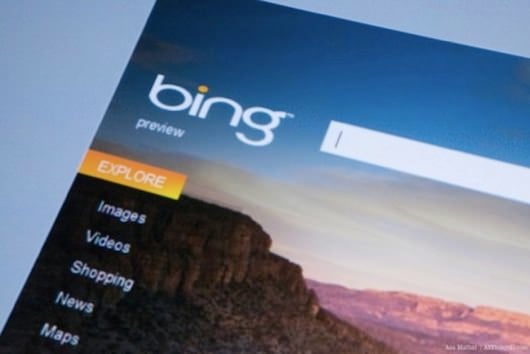 Having recently lost a Google contract that added tweets to the company's search results, Twitter is treading shaky waters in ongoing negotiations with Microsoft over a similar use arrangement.
According to All Things D's Liz Gannes, there are a few pain points over which the two companies are currently chatting. But, if successfully negotiated, Microsoft could ultimately land the keys to the real-time kingdom: long-term access to the real-time updates provided by both Facebook and Twitter, which would accompany the site's standard search results.
The two companies have six extra months to hammer out the details—Twitter signed real-time search contracts with Google and Microsoft in the fall of 2009, but Microsoft got a slightly longer timeframe than its big competition. Twitter is allegedly asking for an increased licensing fee for use of its real-time information: $30 million, or double the cost of the company's original contract with Microsoft.
Click to continue reading Microsoft and Twitter working on new deal for Bing integration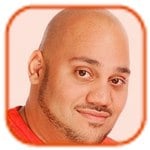 Posted by Andru Edwards Categories: Google, Internet,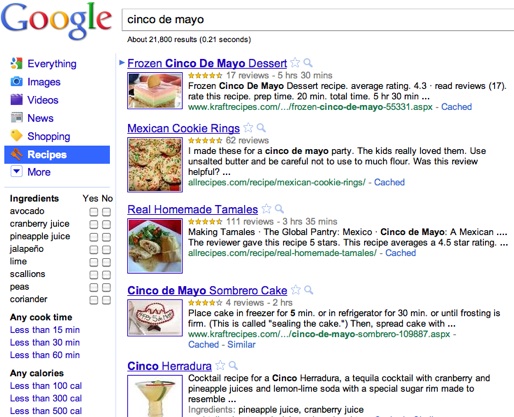 Today Google unveiled an appetizing new search option for cooks and wannabe chefs: Recipe View.
The new search option will be a choice in the left rail that appears after entering a Google search. You can search for recipes by entering the name of a dish or food type, an ingredient, or just an occasion, such as Cinco de Mayo. The results can be further filtered by preparation time, ingredients, or calories. Result recipes also sport star ratings and user reviews, so you can see which ones have been hits.
The feature is more than a taste-bud pleaser, though. In order to implement it, Google engineers made use of rich snippet data. Google product mangaer Kavi Goel said in a blog post that the technology was introduced at the Searchology conference in 2009.
Click to continue reading Google brings Recipe View to search results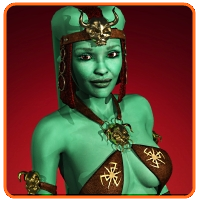 Posted by Patrick Lambert Categories: Corporate News, Google, Internet, Microsoft,


In a very controversial yet fascinating study, Google has exposed what looks like blatant copying of search results by Microsoft's own search engine, Bing. As a test, Google invented 100 query terms, words that do not exist, and they made the search engine return a single link to a site that had nothing to do with the search term. Then, a group of engineers used Internet Explorer 8, equipped with the Bing toolbar, to search for those terms on Google. Low and behold, soon after, Bing started returning the exact same search results. Since the terms were deliberate and random, there can be no coincidence. From the apparent evidence, Microsoft clearly used either IE8, Windows itself, or the Bing toolbar to find out what people searched for on Google, what results they get, and then used that to improve their own Bing site. Check out the blog post for all the details on Google's claim. Something tells me this battle is far from over.
Read More

| Google Blog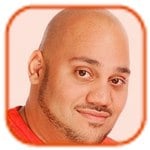 Posted by Andru Edwards Categories: Internet, Microsoft,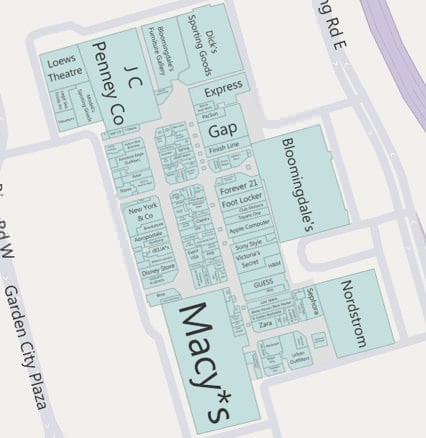 Panic sets in as soon as I walk into a mall. I realize I parked a mile from the one store I wanted to visit, and that I'll have to part the sweaty seas of tweens to get there. With its new mall directory maps, however, Bing Maps just made my mall shopping—and maybe yours—a little less excruciating.
Here's how it works: supported malls will show up in the "Mall Map" link in the Bing Local results, and show you where each store in located. Today's release is still limited, so unless you live in the Boston, New York, or the Seattle metro area, your mall probably hasn't been mapped yet. Over the coming weeks, though, Microsoft intends to continue rolling out maps, beginning with the largest malls and adding support for major cities.
Each mall map features clickable stores from which you may access phone numbers, Web sites, and addresses (not that they'll do you much good in a mall). You can send store information to your phone or e-mail address. One curiously absent feature is store hours; here's hoping they bundle that in with future releases.
For those of you who use Bing or enjoy fraternizing with festering adolescents and bling-your-cell phone stands, take a look below for a complete list of Binged malls.
Click to continue reading Bing Maps now provides mall directories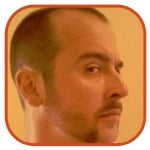 Posted by Finnian Durkan Categories: Internet, Microsoft,
If there is one thing that I hate, it is when technology inconveniences me more than it helps. We've all been there: it's late, there's a movie quote or an actor that you can't get out of your head—you want, nay, NEED to solve this riddle before your body will allow you some restful shut-eye. What do you do? You roll over in your bed/futon/inflatable mattress and flip open your ever-present and never shutdown laptop and open a link to your favorite search engine. As you mindlessly begin to type your parameters, in my case the phrase 'that hairy guy that dated Carla on Cheers' (Nick, played by Dan Hedeya incidentally) is my search of choice tonight. No sooner have you gotten the letters 'T-H-A..' into the searchbox then a menu opens up listing more unrelated 'tha' phrases than a Wu-Tang song. After briefly looking at a list of 'Thai Restaurants' and 'Thankless Jobs' (*ahem*) you quickly close the menu and type out your search terms in their entirety. Annoying, isn't it?
Well, Bing has taken that first step to making your oh-so-difficult web-searching easier by integrating your query history into their auto-suggest feature. Now when you begin to type your search in Bing your previous search queries will be taken into account when serving up auto-suggest keywords. Not only that, but they will appear in the same color (purple) that your web-browser uses to display already-visited links thus helping to differentiate them from non query-based auto-suggestions. In my case this means that when I type in 'T-H-A' like I previously mentioned about 30 purple-hued links to 'That so-and-so from such-and-such-movie' will appear since I am forever referencing pop culture but am blessed with the memory recall of a 2 month-old. At least now I'll be able to save myself a few keystrokes before Bing directs me to IMDB. Bing has also allowed this feature to be turned off completely or to be managed with their 'Manage History' option if you are paranoid that your boss is going to search your work computer's internet history and wonder why you keep searching 'jobs that don't suck like the one that i have now'. Either way, it's progress.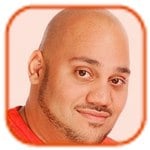 Posted by Andru Edwards Categories: Full Episodes, Gizmatic, CES, CES 2010, Features, Internet, Microsoft, Podcasts, Videocasts, Videos,
If you are wondering what exactly makes Bing a decision engine, this video we took at CES 2010 does a good job explaining. Get a look at how Bing can help you with travel planning, purchasing items, and more, using fare predictions and comparisons. We also look at some of the new features in Bing Maps, including apps that let you check out tweets that are happening in any area.
A big thank you to Bing for sponsoring Gear Live's CES 2010 coverage.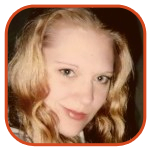 Posted by K.C. Morgan Categories: Gossip,
Rumors say that Google will soon make an announcement and unveil what is reportedly being called "One Box," a brand-new facet of the popular search engine that will help users search for music.
If you've ever used Google Images, you already know how the new search is rumored to work. You'll type in an artist's name - Michael Jackson, for instance - and be greeted with Web sites allowing you to listen to or buy the songs you're seeking. Apple and iTunes are no doubt already sweating.
Read More

| Perez Hilton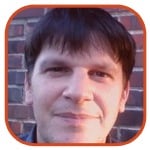 Posted by Mark Rollins Categories: Corporate News, Internet, Microsoft,

Remember that time when it looked like Microsoft was going to buy Yahoo? Well, it appears that Microsoft has convinced Yahoo to use Bing.
Reports are that this mutual deal will boost Yahoo's profits by $500 million. Not only that, but Microsoft's search market share is expected to jump from 8 percent to 28 percent.
I suppose you could call this a victory for either side, but rather a truce. That, or begun the Search Engine Wars have. We've got the full press release for you after the break.
Click to continue reading Microsoft and Yahoo Reach A Deal: The Details
Read More

| Ubergizmo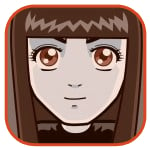 Posted by Sheila Franklin Categories: Internet,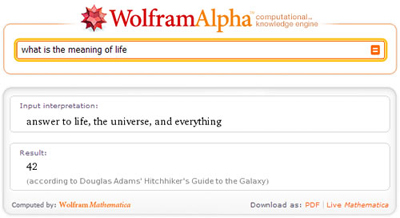 After reading about Wolfram/Alpha, we couldn't wait to try it out, especially since it came up with the same meaning of life as we have. Created by Stephen Wolfram over the past 20 years, you enter a calculation or question and with the help of built-in algorithms and data, you will get an answer. So far the "computational knowledge engine" has over 10 trillion pieces of data, 50,000 plus types of algorithms and models and linguistic capabilities for over a thousand domains.
Read More

| Wolfram/Alpha via Neatorama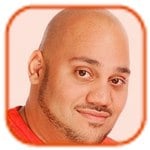 Posted by Andru Edwards Categories: Business Tools, Features, Legal,
Danny Sullivan is the Editor-in-Chief of Search Engine Land, here to talk about search. He talks about how we used to get info. That would be the library, friends, family, and encyclopedia (which weren't written by everyone.) The search revolution started the information retrieval revolution, and the change from that is still underestimated. In 2000, a "Consumer Daily Question Study" was conducted, 74 people recorded all questions they sought answers to, and the majority of respondents used search engines to find the answer to their questions. Search engines were at 32%, while libraries were just 3%.
Today, 58% of people use the internet if they need an answer, while 53% turn to a professional.
Danny brought up a question - if you need the phone number of the Edgewater hotel next door, how would you find it? Most in audience would search Google, one or two would call 411, and less would use the Yellow Pages. 49% of internet users search every day. That is up 30% from 2006. Jumping off the web, location apps on the iPhone is also search, GPS is search, TV is search. These are all different ways that we are able to use search.
As more becomes searchable, and as serch becomes more used, we get collisions between real life and online life.
US Navy building in San Diego that no one really saw from the air until now, thanks to Google Maps. $600,000 will be spent to reshape the building due to concerns.
Google StreetView has some conflicts as well. There are positives and negatives, and Danny gives examples of both.
So what is the balance? Do we let anyone remove anything from Google and other search engines?
Danny is now calling people in the audience, whose phone numbers he pulled off of search. He then asked them about different things in their life that he was able to find using the Internet. Things like Amazon, Flickr, Google, microblogs, etc. It's a valid point to show that you can get a lot of information about someone by just using Google. Aside from "personal" info on web, searches we make are personal. What about the issue where Viacom demanded all the searches done on YouTube in history from Google? Location apps are cool, though now more people know your location. Does Apple know all the places you go by way of your iPhone? Is there even a way to "clear" this data?
The conundrum now is that more is being made searchable, more people are searching and we've hardly figured out the issues.
© Gear Live Inc. – User-posted content, unless source is quoted, is licensed under a Creative Commons Public Domain License. Gear Live graphics, logos, designs, page headers, button icons, videos, articles, blogs, forums, scripts and other service names are the trademarks of Gear Live Inc.