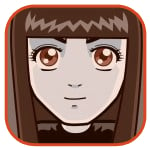 Posted by Sheila Franklin Categories: Hot Deals, Misc. Tech, Software, Toys,

Ugobe is celebrating Pleo's first Halloween with some new downloadable software. He will not only issue his usual noises, he can also sound like a screeching cat, a spooky ghost, a dragon and a Pleosaurus Rex. The "audio costumes" are free and you will only need a blank SD Card with a minimum of 32MB storage. At a total size of 2.7MB, Ugobe says it will take longer than most downloads, but then maybe Pleo doesn't like holidays.
Read More

| PleoWorld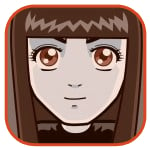 Posted by Sheila Franklin Categories: Hot Deals, Misc. Tech,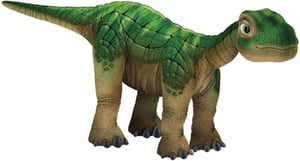 If you already have a Pleo but, for some reason, the robotic dinosaur bites the proverbial dust, send it back to its place of birth. If they cannot fix him/her, the UGOBE team will extract its "soul" and load it into a new one for a reduced price. We call that an incredible offer for those whose Pleo is more than just a robot. By the way, if you haven't yet purchased one of your own, in honor of their 1 year anniversary, PleoWorld selling them for $235.00 off until July 11.
Read More

| PleoWorld


Posted by Chris Cardinal Categories: CES, CES 2008, Toys,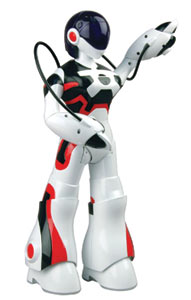 Not one to be left behind by Ugobe's recently released, highly lifelike Pleo robotic dinosaur, Wowwee's fired back with their announcement of their 2008 product line. Mr. Personality, pictured, features a full color LCD screen that portrays "personality" through animated facial features displayed on the screen. He's also expandable, by virtue of USB or a media card. Wowwee also announced the plasticky, bellbottom-donning FemiSapien robot. FemiSapien can dance to music and "even speak her own language of emotive sounds," kind of like a life-like, freakish Sim.
My experience with Wowwee is that they present the cold, dark, plastic filled and android-esque side of the robotic toy world. They last year demoed one of their robotic toys for me that had what I could only liken to an epileptic seizure, flailing around and then off the table. It was… macabre. I think that Wowwee's going to really need to kick things in to gear in order to be able to hold their market here. The Pleo is adorable, has well painted, silicone-based skin and emotes far better than anything we've seen from Wowwee. They also "evolve" in their personality (or will soon, once a firmware update hits). Wowwee's robots fall of the table and scare me.
It's even more impressive that Pleo only cost $100 more than, say, the RoboSapien when it was initially released. Wowwee charges far too much for something that's not damn close to the Pleo's quality and feature set. Get ready, Wowwee—there's some serious competition in town.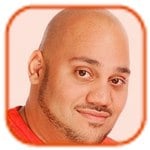 Posted by Andru Edwards Categories: Features, Robots, Toys, Videocasts,
Pleo is, without question, one of the hottest toys on the wish lists of children across America this holiday season. Ugobe's robotic baby dinosaur is a wonder, seemingly coming to life once it's turned on. We were able to get our hands on a brand new Pleo, and as is our custom, we figured it best to hook you guys up with a video of the unboxing experience.
If you are unfamiliar with Pleo, it's a robotic baby dinosaur toy that was conceptualized by Caleb Chung - he also co-created Furby. It's modeled on a one-week-old Camarasaurus dinosaur, and mimics the behavior of a newborn baby. Pleo thinks and acts independently, and Ugobe goes as far as to say "just like a real animal." When you first turn it on, Pleo begins it's birthing stage. It won't react to you much, but you should still pet it and give it attention, as that will set the stage for the personality it will eventually have. After about 5-12 minutes, depending on your level of interaction, Pleo enters the hatchling stage. This lasts until the battery charge runs out, which is typically about 45 minutes. This is where it's basic behavioral drives will start to kick-in. He'll ask to be fed, he'll start to walk and explore his environment, take short naps like a baby, and he'll start to exhibit a wider range of emotions. He will begin to experiment with new sounds he can make.
Click to continue reading Unboxing Live 027: Pleo Robotic Baby Dinosaur
Read More

|
Pleo World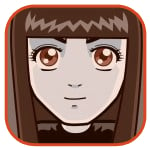 Posted by Sheila Franklin Categories: Corporate News, Editorial, Misc. Tech, Science,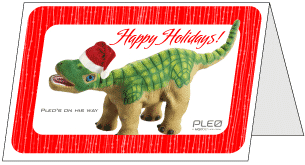 In case you hadn't heard, our fave robotic creature Pleo has finally become available for all. At a final price of $349.00, the robotic dinosaur can be pre-ordered for a January 21 delivery if you live in the United States. Until then you can download a color card to give to the recipient.
In a grossly related article, Dvice decided to see how much abuse Pleo could handle. Yes, we know that he is not real, still it seems a cruel trick to play on something that those of us here at Gear Life that have nurtured since its inception.
Read More

| Ugobe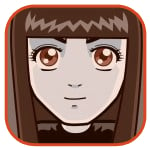 Posted by Sheila Franklin Categories: Corporate News, Misc. Tech, Science,
Pleo has finally decided to come out of his shell this October. Those who have been on the mailing list can now be the first to pre-order our fave dinosaur, since there is a Limited Edition of only 2000 "First Hatched." If you are not one of the chosen few, it might be a good idea to get on ugobe's mailing list now. The company recently updated their demo, so we decided we just had to share one more time. The offer is first come, first serve until June 27 or when they sell out, and come with an adoption fee of $349.00.
(Thanks, Caleb)
Read More

| ugobe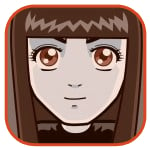 Posted by Sheila Franklin Categories: Corporate News, Misc. Tech, Science,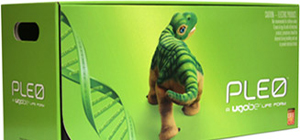 Remember Pleo? His creator, Caleb Chung, has just sent Gear Live an a picture of what the carton will look like and an update as to his release. If you are still interested in adopting the cuddly critter for your very own, sign up at Ugobe and expect the stork to arrive in the upcoming months. Chung also mentioned that Pleo's battery is now both rechargeable and replaceable. Hurry up Pleo, we can hardly wait to witness your hatching.
Read More

| Ugobe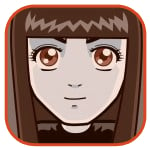 Posted by Sheila Franklin Categories: Corporate News, Misc. Tech, Science, Toys,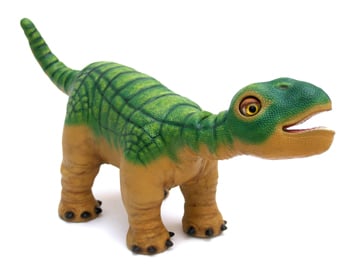 We originally became smitten with Pleo back in November. We have just learned from inventor/owner/CEO Caleb Chung that because of customer feedback, they are further enhancing their charming creature. They are upgrading his speaker quality to boost audio levels and increase his sound library, putting another sensor under his chin (because everyone likes to chuckle him there,) modernizing his eyes, and adding more soft tissue so that he feels more realistic.
In honor of the occasion, which we refer to as Pleo's rebirth, Ugobe is giving away 10 of them to fans who enter their essay contest going on now through March 3rd, "How Do You Envision Robotic Life Forms Influencing or Touching Your Life in the Next 5 Years?" Pleo and Caleb, we feel the love.
Read More

| Ugobe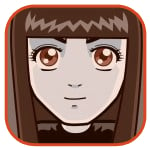 Posted by Sheila Franklin Categories: Misc. Tech, Science,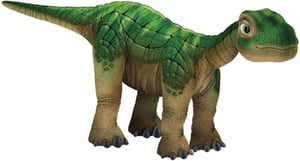 Tired of your Furby? Ugobe has just released the Pleo Life Form, designed from a fossil of the original Jurassic-period Camarasaurus. Referred to as a "designer species," the week-old Pleo learns and reacts as he explores his environment with senses of sight, sound, and touch. Each one has a unique personality and is capable of expression, feeling differing emotions, and even sleeping and dreaming.
Pleo's creators claim that the long-neck dinosaur exhibits the 3 laws of ugobe life forms, which are to feel and express emotions, become aware of itself and its environment, and evolve over time and adapt to that environment. Get two of them and they will recognize each other and even share a cold. Check out ugobe's demo and see if you don't immediately fall in love.
Read More

| ugobe

© Gear Live Inc. – User-posted content, unless source is quoted, is licensed under a Creative Commons Public Domain License. Gear Live graphics, logos, designs, page headers, button icons, videos, articles, blogs, forums, scripts and other service names are the trademarks of Gear Live Inc.