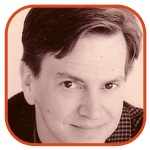 Posted by Tom Mason Categories: Editorials, Movies, Reviews, Television, Independent,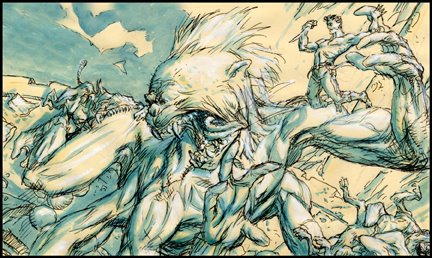 Interested in a book that features Mike Mignola (Hellboy), Drew Struzan (Shawshank Redemption, Indiana Jones), Duncan Fegredo, Frank Quitely, Walter Simonson, Chris Weston, and Howard Chaykin? Of course you are. Then you're in luck. My buddy Joel Meadows is prepping the 20th anniversary edition of Tripwire, his comics/TV/movies magazine, in a beautifully crafted 200-page hardcover book.
Says Meadows: "It will be filled with the sort of content that has garnered praise from many of the biggest and best names in genre over its twenty-year existence."
Click to continue reading Unbound: Alan Moore, Frank Miller, Drew Struzan, Kaluta, Chaykin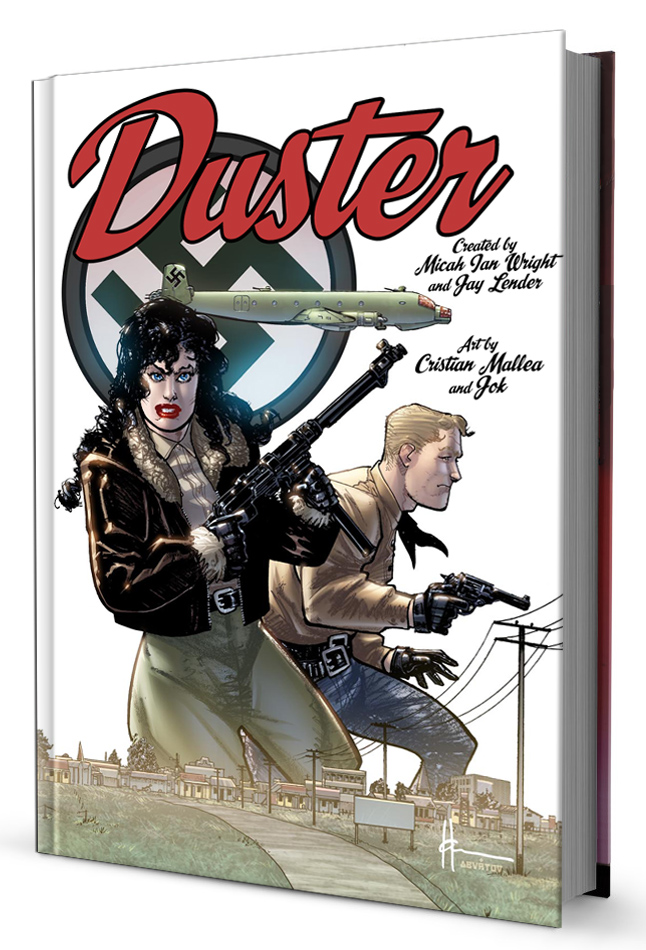 Micah Ian Wright (you might remember him from his comic book work on Stormwatch: Team Achilles, or on the TV series The Angry Beavers and Constant Payne) is returning to comics.

The project is a big one, a 215-page graphic novel called Duster, and the fund-raising began this week at Kickstarter, my favorite site to find new and interesting comics. Micah's posted the first 39 (!) pages for viewing at the site (in full color as a free download). You can't go wrong with 39 pages of free comics.
Joining Micah on the book is his co-writer Jay Lender (who's written for Phineas and Ferb and Spongebob Squarepants).
The book is being illustrated by a pair of excellent Argentine artists, Cristian Mallea (Gayolas, El Eternauta) and JOK (known for his work on Mixtape and Redball 6).
Says Micah, "Duster takes place at the close of the European conflict in World War II, and tells the story of a war-widowed female cropduster pilot who must defend her daughter and her neighbors against a planeload of escaping Nazis who have crashed in her West Texas town. The action-packed story examines women's changing roles in society during the war years and after."
Click to continue reading Kickstarter: Micah Ian Wright's Duster OGN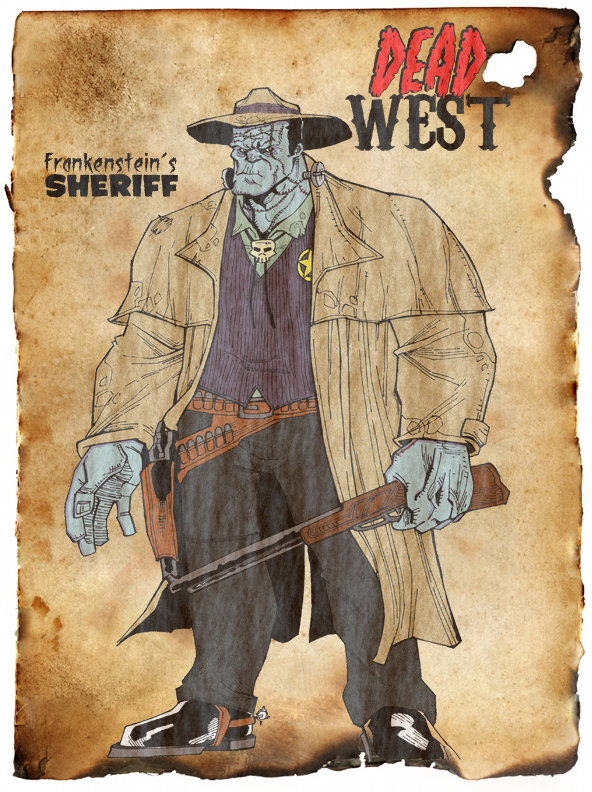 I love any kind of mash-up where genres that don't normally go together are creatively intermingled: vampire detectives, robot boxers, super dinosaurs...
Writer Carl Elvis and artist Claudio Munoz have created Dead West, a combining of cowboys and monsters that looks right in my wagon wheelhouse. When a gold rush town starts attracting supernatural elements, Victor Frankenstein creates a "Frankenstein sheriff" to keep the peace along with his pals, a six-gun mummy and a Billy The Kid-style vampire.
The art looks great and the concept sounds like a lot of fun. They're short on their Kickstarter funding, so if this seems as appealing to you as it does to me, give 'em a hand, pardner.
[Artwork: Dead West]
Read More

| Kickstarter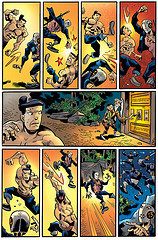 Actor-stuntman Ernie Reyes, Jr. has appeared in movies from Teenage Mutant Ninja Turtles to Indiana Jones and the Kingdom of the Crystal Skull. Now he's looking to crossover into comic books and he's assembled quite a team to help him out.
Sonny Dragon and The Wuxia Knights is an all-ages comic. According to Ernie's pitch: Detective Sonny Dragon joins "an elite team of martial arts superheroes known as the Wuxia Knights, after he traces the death of his master to a mystical martial arts kingdom hidden in the streets of San Francisco known as the Wuxiaverse."
Ernie's co-written the script with Samuel R. Barrera. Art is by TMNT veteran Jim Lawson, whose stuff is just fantastic. Just look at the sample art on the site. Coloring is by the Eisner-winning Steve Oliff with lettering by Harvey-winning Tom Orzechowski.
Click to continue reading Kickstarter: Ernie Reyes, Jr. & Sonny Dragon
Read More

| Kickstarter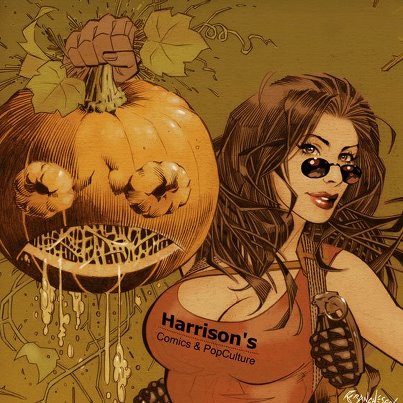 My old funnybook pal Mark McKenna has a great-looking project that you should take a look at on Kickstarter: Combat Jacks.
Created and written by Mark (who also inks) and pencilled by Jason Baroody, this looks like a really fun deal.
Mark says in his video that it's a throwback to the old EC comics of the '50s - like Weird Science Fantasy meets Vault of Horror - but with a modern twist.
What's it about? Space Marines Vs. Monster Jack O'Lanterns on a distant planet.
Click to continue reading Kickstarter: Combat Jacks by Mark McKenna
Read More

| Kickstarter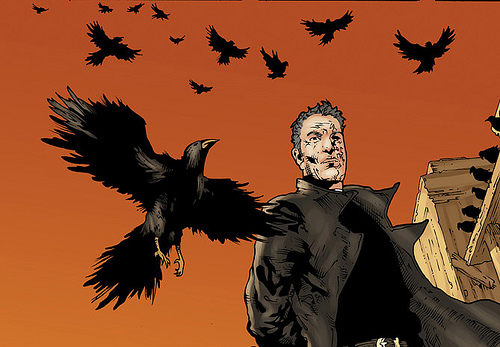 Let's take a quick look at some of my favorite Kickstarter projects and see how they're doing.
The Devil Is Due In Dreary is really close to getting fully funded. There's not much time left, so go over there and check it out.
"Two strangers with a questionable past arrive in the reclusive town of Dreary and unknowingly fulfill a prophecy the town believes will precede the coming of the apocalypse." This looks like a very fun and original project, deserving of support.
Click to continue reading Kickstarter: Updates!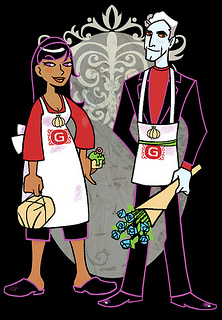 I love funny stuff and after reading about Lea Hernandez's new Kickstarter program for her graphic novel, The Garlicks, I knew I wanted it.
According to Lea's PR material, The Garlicks is "a webcomic/graphic novel about a vampire girl, for girls." But guys apparently dig it too and it's a lot of fun. You can check out some archived strips at the Garlicks website.
Lea's going to serialize three color pages each week on her site and the Kickstarter fund is to finance those strips and the publication of the first story into a nice 148-page trade, with an introduction by Scary Godmother's Jill Thompson.
But what is The Garlicks? Says Lea, "It's a vampire tale, told from the POV of Pandora, a vampire with zero vampire abilities and the big sister of baby Pamila (who's usually called Ham), who seems to have gotten everything Pandora didn't, like being able to shapeshift into an adorable flying fish and eat meat."
Click to continue reading Kickstarter: The Garlicks by Lea Hernandez
Read More

| The Garlicks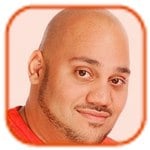 Posted by Andru Edwards Categories: Accessories, Apple, Design, Hot Deals,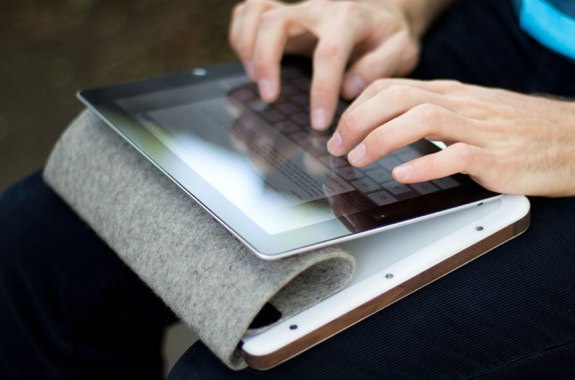 We know that it's hard to find variety when looking for a great iPad case. Our main problem with the cases is that we want something that adds a level of form and function while also offering protection, but we don't want something that hard to take the iPad out of, because we don't want to use an iPad that's stuck in a bulky case. Up until now, there's been no way for us to have our cake and eat it too, but that's set to change with the success of the Bowden + Sheffield Minimalist iPad Cases Kickstarter project. While the project wraps up in 16 more hours as of this writing, it's surpassed its $20,000 goal. What makes this case so good? Well, for starters, both cases look fantastic. The case designs are similar, with the difference lying in the materials.
Click to continue reading Bowden + Sheffield Minimalist iPad cases are beautifully functional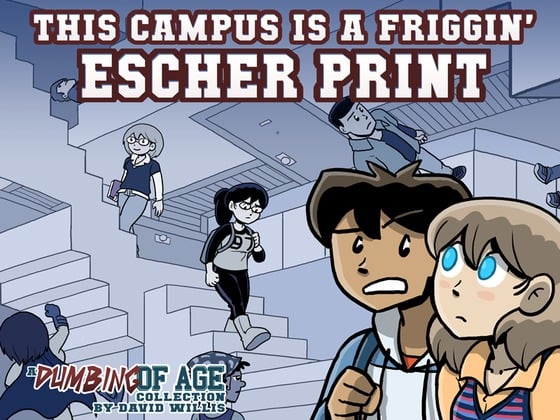 David Willis, creator of the popular webcomic Dumbing of Age, is using Kickstarter to raise funds for a collection of his strips.
This Campus Is A Friggin' Escher Print will be "185 full-color pages with author commentary, character profiles, and behind-the-scenes material" promises Willis.
More than a year's worth of stuff will be inside, from September 10, 2010, to October 28, 2011. This includes storylines: "Move-in Day," "Uphill from Here," "Men Are from Beck, Women Are from Clark," "The Bechdel Test," "Media Rumble," and "Yesterday Was Thursday."
Click to continue reading Kickstarter: Dumbing of Age
Read More

| Kickstarter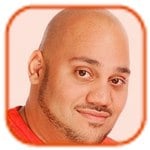 Posted by Andru Edwards Categories: Wearables, Wireless / WiFi,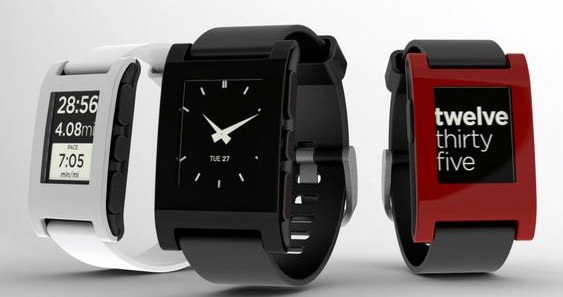 Allerta, the group behind the Pebble Bluetooth watch that became an overnight Kickstarter sensation, has announced that due to overwhelming demand, the watch will be compatible with Bluetooth 4.0. If you scour the comments on the Pebble Kickstarter page, you'll notice Bluetooth 4.0 requests by the plenty. We figured it was just too late in the game to switch around the design of a watch that's slated to ship so soon, but the company says that Bluetooth 4.0 inclusion was on the list for a while, and therefore, the decision won't affect the ship date at all. That said, when the Pebble watch does ship, it'll be Bluetooth 2.1 out of the gate, with the Bluetooth 4.0 module being activated later through a software update that'll be available to all.
Read More

| Pebble

© Gear Live Inc. – User-posted content, unless source is quoted, is licensed under a Creative Commons Public Domain License. Gear Live graphics, logos, designs, page headers, button icons, videos, articles, blogs, forums, scripts and other service names are the trademarks of Gear Live Inc.