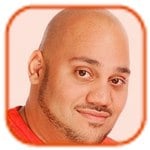 Posted by Andru Edwards Categories: Apple, Cell Phones, Software,
Our friends over at MacRumors comissioned to have the video above put together, which is a mock-up that shows how the new Assistant feature on the iPhone 4S / iPhone 5 will work. Take a look, as it's based on knowledge from trusted sources, and is a result of Apple's purchase of Siri. Of course, the iPhone 4S / iPhone 5 will be revealed tomorrow, and we'll have all the details for you here, live.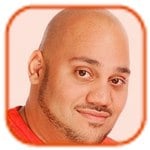 Posted by Andru Edwards Categories: Apple, Cell Phones, Corporate News, Handhelds,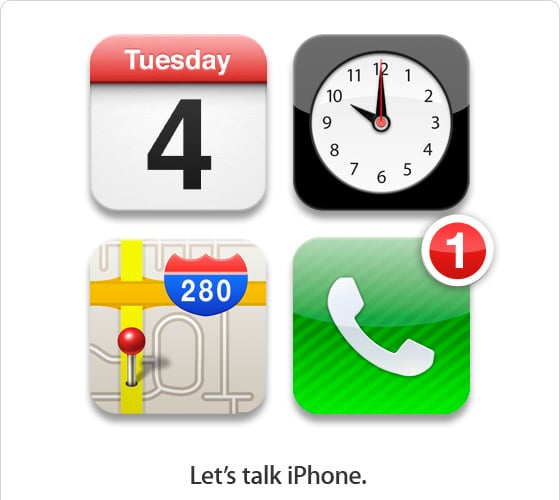 Apple has confirmed its October 4th iPhone announcement, as they've sent invites out to members of the press inviting us all to join them for the news. Apple's invites are always pretty telling in a vague sort of way. In this one, we see the date and time of the announcement, as well as the location (Apple's Cupertino campus.) The iPhone icon, along with the phrase "Let's talk iPhone." is where the hint is, in our opinion. The big rumored feature of the iPhone 5 is Assistant, which is said to be voice control on steroids. We bet this will be the big feature talked about this time, and you'll certainly be talking to your iPhone a lot more.
We'll have all the news on October 4th as it happens, start to finish!
According to tipsters speaking to AllThingsD's John Paczkowski, Apple's allegedly planning on making its big iPhone 5 announcement at an event on October 4. But contrary to previous announcement events, you won't be seeing Apple executives strutting around the stage at San Francisco's Yerba Buena Center for the Arts. According to Paczkowski's sources, Apple's moved the big iPhone announcement to its main campus.
There's no indication as to why the event moved. The reasoning could be as innocuous as the fact that the Yerba Center might already have been booked with another event on October 4. Or, for that matter, Apple might not have exactly known when it was going to be able to produce its iPhone announcement and, thus, hosting the event on its own campus affords the company additional flexibility (and additional time to pick the date).
Click to continue reading Apple to announce iPhone 5 on October 4 from main campus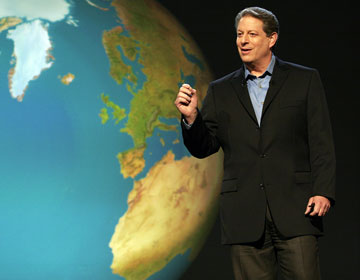 It appears that Apple board member and former Vice President Al Gore just slipped that multiple iPhones were coming out in October, according to reports.
"Not to mention the new iPhones coming out next month. That was a plug," Gore said at the Discovery Invest Leadership Summit in South Africa, as picked up by the The Next Web and CNET.
Yes, Gore said "phones," plural. Is Apple planning to release more than one new iPhone? it's certainly possible: All year long, there have been unconfirmed reports that Apple will release an iPhone 5 and an iPhone 4 "plus", a cheaper, smaller version of the current iPhone with only minor upgrades. How would a low-end iPhone fit into Apple's strategy? It could be an attempt to ward off Android and gain smartphone market share in other parts of the world.
Click to continue reading Al Gore expects more than one iPhone to be released next month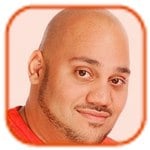 Posted by Andru Edwards Categories: Accessories, Apple, Cell Phones, Rumors,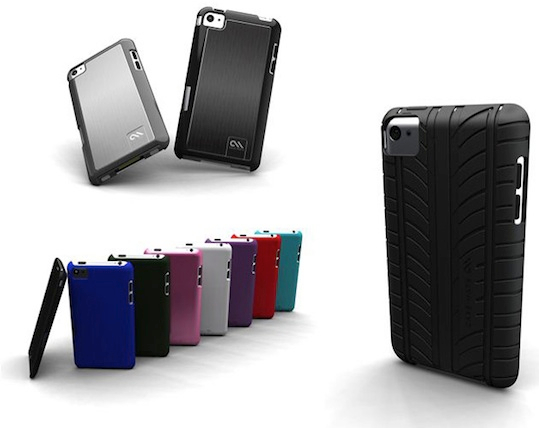 This morning, Case-Mate put up a product page for a new iPhone 5 case with images of how the device would look inside of the new accessory. The page was quickly pulled, but not before eagle-eyed tipsters grabbed some screenshots. As you can see in the image above, they show an iPhone that takes design cues from the iPad 2, sporting a thinner, tapered design. Of course, we'd find it hard to believe that Apple showed their secretive hardware to Case-Mate, so they're likely going off of leaked design specs with these renderings. Still, it's an interesting look at what might be coming from Apple in the next few weeks.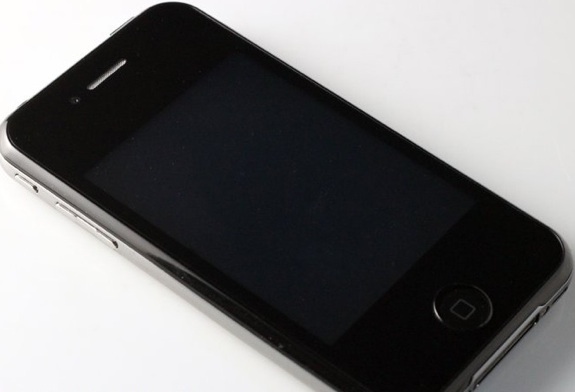 This morning Bloomberg is reporting that Sprint is all set to sell the iPhone 5 when it debuts in the next few weeks, and that they'll differentiate their offering with an unlimited data plan. Both AT&T and Verizon offerred unlimited data plans on the iPhone, but have since moved to tiered plans. New customers on both networks get a 2 GB limit on data each month, and pay overage fees for using more than that. This would give Sprint, the #3 wireless carrier in the US, an interesting advantage over its larger competitors. Offering the iPhone 5 with their popular unlimited voice and data plan, which costs less than the tiered plans offered elsewhere, could see the company gain quite a few customers who'd rather not worry about their data usage costing them extra money.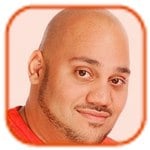 Posted by Andru Edwards Categories: Apple, Cameras, Cell Phones, Handhelds, Rumors,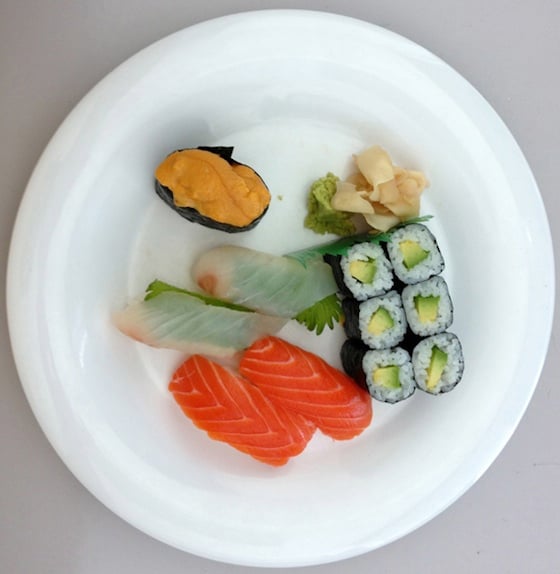 The picture of delicious-looking sushi that you see above may have been taken with an iPhone 5. PocketNow is reporting that the EXIF data from the image indicates that it was taken with an iPhone 4, however, prior to cropping, the image weighed in at almost 8 megapixels--much higher than the iPhone 4 limit of 5 megapixels. The iPhone 5 has been long-rumored to sport an 8 megapixel image.
This (very attractive) photo claims to have been taken by an iPhone 4, but the rest of its EXIF data tells a different story: although the image has been cropped to 2235x2291 (5.12 megapixels), the original picture was a much larger 3264x2448 -- or just shy of eight megapixels. What's more, the lens was recorded as a 4.3mm f/2.4, which is closer to that of a point-and-shoot than the iPhone 4's actual 3.85mm f/2.8.
The image has since been removed from Flickr, and it's been confirmed that it awas posted by an Apple iOS software engineer.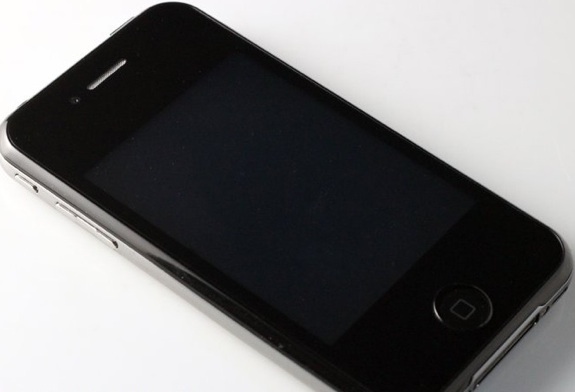 To be clear, this is not an iPhone 5. However, the word is that this is clone made in the same factory where the iPhone 5 is being produced. If you've been following Apple for any length of time, you'll know that before their new products launch, many Chinese manufacturers will already have cases for the products in production. This is typically because someone in the factory gets access to the blueprints, or a physical device, and goes and sells it for a nice profit. This is why a bunch of Foxconn workers were fired recently.
Anyhow, we've been hearing that the new iPhone 5 will be thinner than the iPhone 4, will sport curved glass on the back, and will have a slight teardrop shape. The phone in these images matches those specifications. However, it's hard to tell the size of the display here, but the iPhone 5 has long been rumored to have a larger display than the previous four devices that came before it. We're expecting the iPhone 5 to launch in late September or early October, which means that construction is definitely underway to prepare for the millions that need to be available for launch in the next 6-10 weeks. It wouldn't surprise us at all if what we see in these images turns out to be what we end up seeing in stores.
Gallery: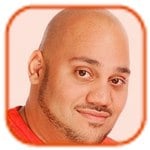 Posted by Andru Edwards Categories: Apple, Cell Phones, Design, Handhelds, Rumors,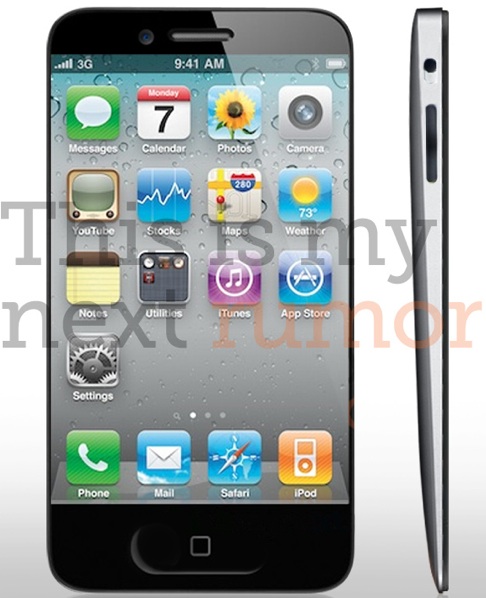 We know, the wait for the iPhone 5 is killing some of you, but at least we are getting regular info about the upcoming device from legitimate sources. The latest is The Wall Street Journal, which reports that Apple will indeed be introducing a new design with the next model of the iPhone. There's been some debate as to whether the iPhone 5 will keep the iPhone 4 design, but as the WSJ reports, the phone will be thinner and lighter, which definitely means there will be some changes to not only the internal design, but the external design as well. So, what's with all the supposed iPhone 5 prototypes that look just like the iPhone 4 then? Well, as you might recall, last year the iPhone 4 leaked months before it was introduced, and it was disguised in a case that made it look like an iPhone 3GS. In order to avoid that, Apple could simply be placing the smaller internal iPhone 5 parts in the larger iPhone 4 casing. Stranger things have happened, and this would be one way to keep the new design as hidden as possible during testing.
The WSJ also reports that the new phone will be introduced this fall, which is what we've been hearing for a while now. Expect Apple to show it off alongside a high definition iPad HD at their annual September event.
Read More

| WSJ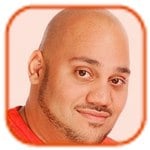 Posted by Andru Edwards Categories: Apple, Cameras, Rumors,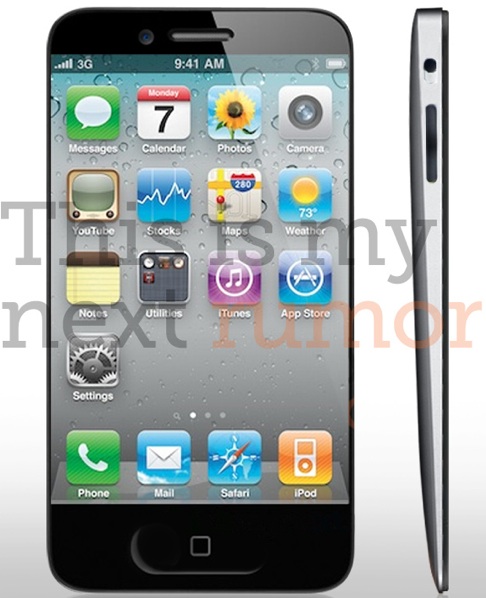 More Apple rumors for you to chew on today! A new research note from Jefferies & Co analyst Peter Misek suggests that Apple isn't going to be performing a significant upgrade to the connection capabilities of its new, to-be-released iPhone 5—namely, no 4G LTE support.
Whenever the next version of Apple's smartphone hits the market—we're already nearing the one-year anniversary of the iPhone 4's launch with no hint of a new product in sight—Misek suggests that the device will only have incremental upgrades compared to the iPhone 4's specifications. Heck, it's practically keeping the same name.
"We believe the likelihood of the iPhone 5 launch in September including LTE is now remote," wrote Misek in a research note on May 13. "According to our industry checks, the device should be called iPhone 4S and include minor cosmetic changes, better cameras, A5 dual-core processor, and HSPA+ support."
The bigger news on Apple's side is Misek's suggestion that the company will be pursuing an expanded carrier lineup for its iPhones. His "industry checks" indicate that Apple will be launching the iPhone on both Sprint and T-Mobile in time for the holidays—remember, although the latter is in the process of being purchased by AT&T, T-Mobile currently remains a separate company from the larger carrier. In other words, no iPhone yet.
Click to continue reading Rumor says iPhone 5 will land on T-Mobile and Sprint as well
© Gear Live Inc. – User-posted content, unless source is quoted, is licensed under a Creative Commons Public Domain License. Gear Live graphics, logos, designs, page headers, button icons, videos, articles, blogs, forums, scripts and other service names are the trademarks of Gear Live Inc.