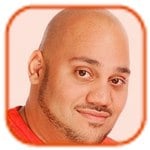 Posted by Andru Edwards Categories: Social Networking, App Updates, Free Apps,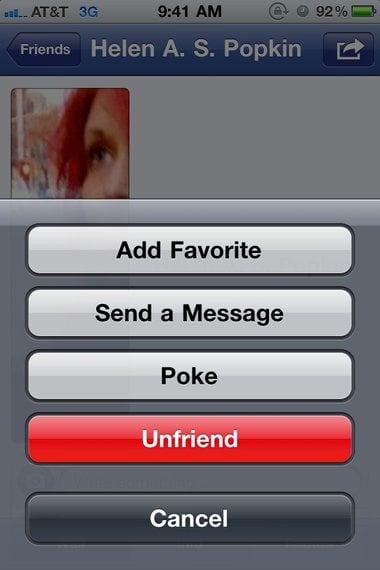 Facebook yesterday updated its iPhone app to version 3.4, bringing enhancements to the News Feed and notifications UI as well as the option to check-in to Facebook Events on the go. For unfriending that cannot wait until you get back to your desktop, the app adds that, too.
The signature feature of the update, of course, is the mobile check-ins for Facebook Events. We previously reported that Facebook added another layer to its location-based functionality by including a check-in icon available on the day of a given event. The company had pledged to launch the feature soon on the iPhone and their mobile site. Yesterday's update fulfills that pledge.
Formerly, the only way you could check in to a Facebook Event was through Facebook Places, which entailed checking in to locations as you would with Foursquare or Gowalla. Now users can check-in to events themselves, opening up new possibilities for companies and individuals. For example, you could arrange contests at events.
Click to continue reading Facebook brings event check-ins, unfriending to iPhone app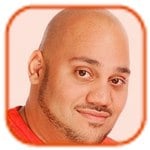 Posted by Andru Edwards Categories: Apple, Cell Phones, Mods / Hacks, Software,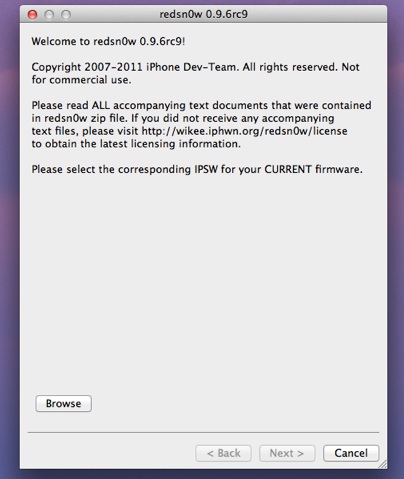 iOS jailbreakers have been waiting about a month for the arrival of an untethered jailbreak to be released, since the arrival of iOS 4.3. Well, the day has finally arrived, and you can now safely upgrade to iOS 4.3.1 and jailbreak it with RedSn0w 0.9.6 on Mac and Windows platforms. We've got a step-by-step tutorial for you, explaining the process from start to finish, after the break.
Click to continue reading How To: iOS 4.3.1 untethered jailbreak with RedSn0w and PwnageTool
Read More

| Dev Team via Redmond Pie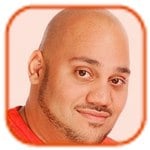 Posted by Andru Edwards Categories: Social Networking, App Updates, Free Apps,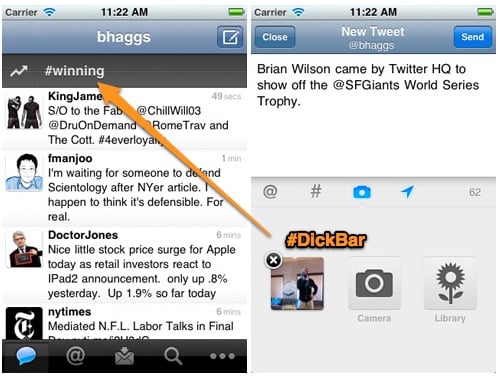 After a rather rough start, Twitter on Thursday said it will remove the Quick Bar from its iOS app, which provided users with updates on trending topics.
Though the Quick Bar - referred to by some as the "Dick Bar" after CEO Dick Costolo - had "incredibly high usage metrics," Twitter has opted to remove it from the app rather than continually update it.
"Rather than continue to make changes to the QuickBar as it exists, we removed the bar from the update appearing in the App Store today," Twitter creative director Doug Bowman wrote in a blog post. "We believe there are still significant benefits to increasing awareness of what's happening outside the home timeline."
The Quick Bar was added to the app earlier earlier this month as part of an upgrade that also made it easier to access features like photos, trends, and links. It sat above a user's Twitter feed and displayed one of the days' current trending topics. Tapping the word would take you to a list of recent mentions.
Click to continue reading Twitter concedes, finally removes Quick Bar from iOS app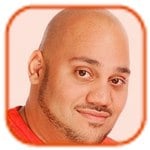 Posted by Andru Edwards Categories: Editorial, Home Entertainment, Software,
Spring has sprung, and the best thing about spring isn't the warmer weather or the allergies—it's the baseball. The 2011 MLB season begins Thursday, taking over the lives of fantasy owners and fans alike for the next seven to eight months (depending on how good your team is). Whether you're at work, at home, on on the road, here are a few ways to track your favorite team.
MLB at Bat 11
MLB at Bat 11 is the sanctioned-by-the-league option for following your favorite team throughout the year. It's an app for iOS, Android, BlackBerry, Mac OS, Windows, and other platforms, and it lets fans watch out-of-market games (crucial if your team isn't your local team), track every statistic you can think of, and see "Live Look-Ins" whenever something critical is happening in another game.
There's a lot packed into the MLB at Bat app, but it comes at a cost: the app itself is $14.99 (there's also a very stripped-down version that's free), but if you want to watch live games you'll need a subscription to MLB.tv, which starts at $99 for the season. Luckily, thanks to a deal MLB made with Volvo, you won't need a subscription for the first month of the season, so you can try before you buy.
MLB.TV on Roku and Apple TV
If you own a Roku box ($69 at Amazon) or an Apple TV ($99 at Amazon), you're already almost all set up to watch baseball this season. With an MLB.tv subscription (the same one you'll need for the MLB at Bat app), you get access to live-streaming games via your Roku box or your Apple TV, along with plenty of other features like fantasy player tracking, DVR controls, and even on-demand access to local games (which you can't watch live) 90 minutes after the game ends.
Click to continue reading Follow your favorite baseball team on Opening Day the geeky way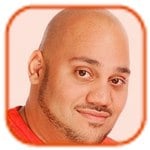 Posted by Andru Edwards Categories: Apple, Rumors, Software,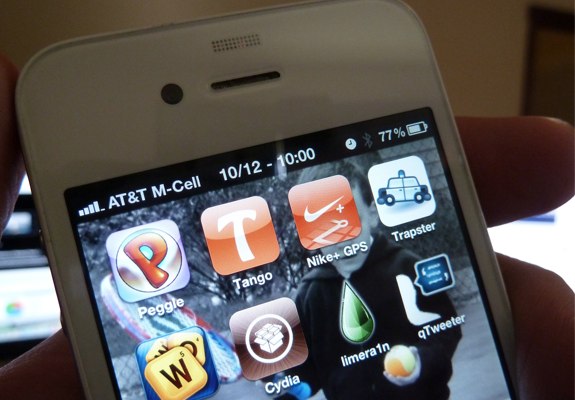 Sources have tipped off Techcrunch's MG Siegler that the latest incarnation of Apple's mobile operating system, iOS 5, might not hit consumer devices until fall. What's the big deal, you ask? The move is unorthodox for Apple: The typical pattern for the company is to announce a new upgrade to its mobile operating system in spring as a precursor to a summer hardware launch of a new iPhone.
There's been no Apple talk of a new operating system thus far—especially during what would have been the ideal timeframe for the chat, Apple's iPad 2 announcement in early March. This tracks with what Siegler's sources are saying, in that Apple is likely to hold off on iOS 5 until fall. The presumption is that Apple would get to chatting about its new mobile OS during its Worldwide Developer Conference (WWDC), with the official launch of the new OS version hitting during Apple's annual fall music event.
So where does that leave the iPhone 5? Unclear. While Apple typically releases a new version of iOS concurrently with a new iPhone, the delay of iOS doesn't necessarily mean that new Apple hardware is being pushed back until fall this time around. This is all speculation at this point, although FBR Capital Markets analyst Craig Berger has gone on record to indicate that Apple might not have all of its gears in motion to support its annual summer iPhone launch.
Click to continue reading Apple not releasing iOS 5 until fall, according to rumor mill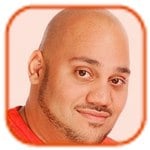 Posted by Andru Edwards Categories: Apple, Cell Phones, Handhelds, Software,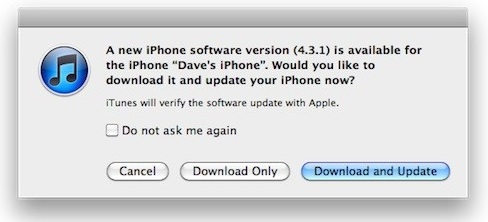 Apple just released iOS 4.3.1 to the world, aiming to fix things like iPod touch display issues, AV-out troubles, problems with enterprise apps, and a few other bugs that were hanging around. If you've been running iOS 4.3 and have been experiencing a few niggles, chances are this'll clear that up. Connect your iPhone, iPad, or iPod touch to iTunes and grab the update.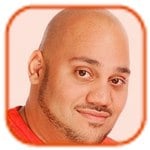 Posted by Andru Edwards Categories: Apple, Cell Phones, Handhelds, Rumors, Software,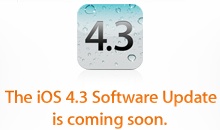 Get ready to sync your iPhones, iPads, and iPods. Apple's iOS 4.3 is will reportedly launch today, according to Boy Genius Report.
At Apple's iPad 2 reveal last week, CEO Steve Jobs said iOS 4.3 would be available for download on March 11, the same day the updated iPad goes on sale. But according to BGR, Apple will release the newest version of its mobile operating system at around 1 p.m. EST today.
The update brings a variety of new features, including enhanced Safari performance, iTunes home sharing, AirPlay improvements, slider switch rotation, and a personal hotspot for the iPhone 4. Apple iOS 4.3 will support all iPads, third- and fourth-generation iPod touch, iPhone 4, and iPhone 3GS.
Click to continue reading Apple may release iOS 4.3 today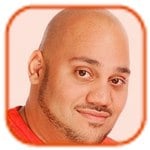 Posted by Andru Edwards Categories: Apple, Cell Phones, Handhelds, Software,

Apple has just made the final version of iOS 4.3 available to anyone with a developer account. You can grab the downloads for build 8F190 for iPhone 4 and 3GS, iPad, and iPod touch 3rd and 4th generation now. The iOS 4.3 SDK is also at GM status with build 10M2518, and you can grab that as well. All the rest of you, expect iOS 4.3 to launch alongside iPad 2 on March 11.
Apple's March 2 event is all but guaranteed to bring us the iPad 2, most likely with dual cameras and a revamped OS. It arrives two months after CES 2011, to a landscape littered with tablets from scores of manufacturers, most of them with one thing in common: they are running Google's Android OS. But only a handful of them run Android 3.0 (Honeycomb), the first Android tablet OS. Can tablets like the Motorola Xoom—the first Honeycomb device—take on the iPad?
If the past is any indicator, it doesn't look good. This has less to do with quality of product, however, and more to do with the manner in which the product is brought to the public.
The clear advantage Apple has over just about every competitor—except perhaps for RIM—is that it relies on no external manufacturers for its products. To clarify: of course Apple needs to farm out production of the components that make up its devices to OEMs, but when you see a new iPad, it is from Apple, running an Apple OS, for sale at the Apple store. The closest Apple comes to working with other companies is its partnerships with Verizon and AT&T for the iPhone and iPad. For the most part, however, Apple is its own, self-controlling entity. With no company—other than the carriers and OEMs— with which to coordinate, Apple can create a realistic product release timeline and stick to it.
Click to continue reading How Google can learn from the iPad 2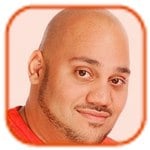 Posted by Andru Edwards Categories: Apple, Handhelds,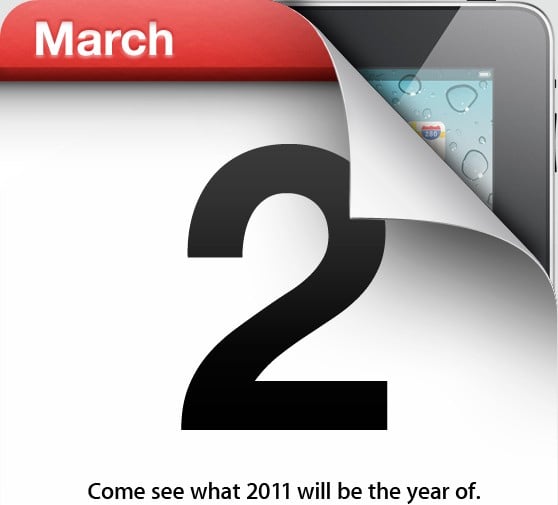 Yesterday we posted with certainty that Apple would be announcing the iPad 2 on March 2, a week from today. Today, Apple has confirmed that date. As you can see, their invitation to their March 2 event features an iCal icon peeling away to reveal an iPad behind it. Doesn't get much clearer than that, does it? As always, we'll have the full details live as the event happens. Anyone else crossing their fingers for some iOS 5 news to share the stage next week?
© Gear Live Inc. – User-posted content, unless source is quoted, is licensed under a Creative Commons Public Domain License. Gear Live graphics, logos, designs, page headers, button icons, videos, articles, blogs, forums, scripts and other service names are the trademarks of Gear Live Inc.