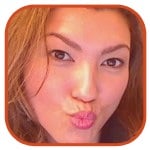 Posted by Ponzi Black Categories: Hot Deals, Misc. Tech,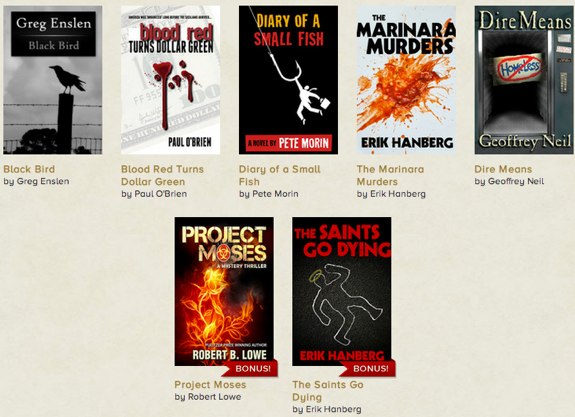 We talked about StoryBundle back in August, when their first bundle launched with 7 Sci-Fi indie books. Now they're back with 7 more crime and thriller books.
The concept is still the same as last time. They take the indie game bundle model and bring it to ebooks. You can pay whatever you want for five DRM-free books, but if you pay more than the bonus price of $7, you get two bonus books. You decide how much to give to the authors, how much to give to StoryBundle to keep the business going, and you can choose to donate part of your purchase to one of two charities. That's good enough to make it our Deal of the Day.
Click to continue reading StoryBundle launches its next e-Book pack focused on crime and thrillers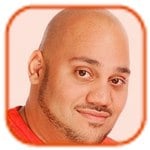 Posted by Andru Edwards Categories: Hot Deals, Misc. Tech,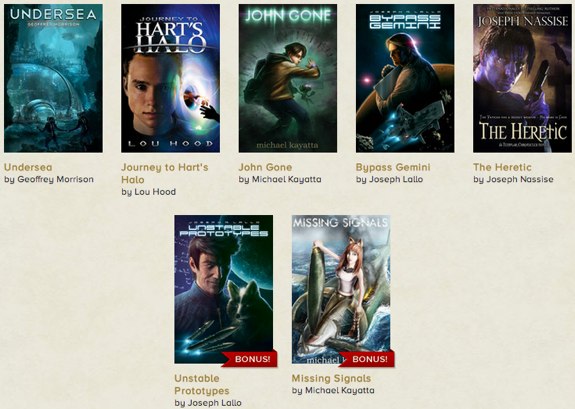 Do you like deals? Reading? Supporting a good cause? Here's something that's got all three in one.
StoryBundle is a new site that's selling indie bundles for whatever you want to pay. It's just like the indie game bundles you've heard about before, like Humble Bundle, and allows you to get five books (or, seven, if you go over the bonus price of $7,) that works on any ebook reader you have. That means that you can load 'em up on on your iPhone, iPod touch, iPad, Kindle, Nook, Android device, and just about any other ebook platform you can think of. You get to decide how much you want to give to the authors and how much you want to give to StoryBundle, plus you can donate part of your purchase to two charitable causes as well.
If you're looking for a cheap and easy way to get books for your tablet, smartphone or ereader, this is it. All these books are hand-selected by StoryBundle and they all have good reviews on Amazon, so you're getting quality reads.
Read More

| StoryBundle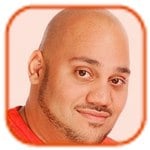 Posted by Andru Edwards Categories: Home Entertainment, Internet,
Days after comedian Louis C.K. launched his content and distribution experiment, the results are in, and it appears that he may have inadvertently kicked off a new era of celebrity-controlled Internet content.
On Dec. 10, C.K. offered his one-hour "Live at the Beacon Theater" show for streaming or download for $5, free of any digital rights management (DRM). The move received a lot of attention via traditional and social media, but the main question on everyone's mind was: How will a show delivered directly from a niche comedian do when offered without the marketing muscle and distribution controls of a major company like HBO or Comedy Central?
According to data posted on C.K.'s Web site, the experiment pulled in a $200,000 profit.
"I directed this video myself and the production of the video cost around $170,000…The development of the website was around $32,000…The show went on sale at noon on Saturday, December 10th," he wrote. "12 hours later, we had over 50,000 purchases and had earned $250,000, breaking even on the cost of production and website. As of [December 13, 2011], we've sold over 110,000 copies for a total of over $500,000. Minus some money for PayPal charges etc, I have a profit around $200,000…"
Click to continue reading Louis C.K. Live at the Beacon Theater video experiment is a huge hit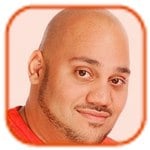 Posted by Andru Edwards Categories: Editorial, Handhelds, Home Entertainment,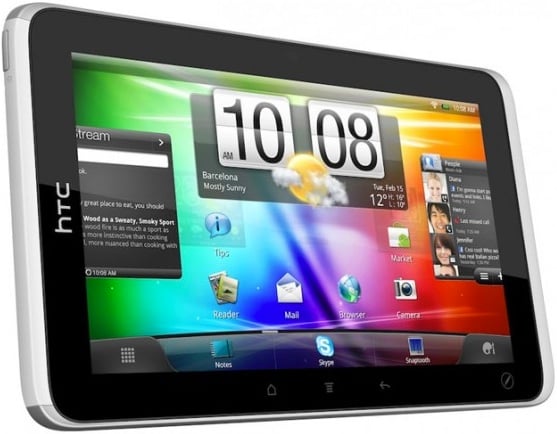 Here comes the HTC Evo View 4G! And it's packing a lot of firsts for its Friday debut on Sprint: The tablet is Sprint's first 4G Android tablet to hit the market, period–that's the first tablet set up to work with the company's 4G WiMax network—around 5 Mbps downloads and 950 Kbps uploads.
Most importantly—for movie buffs—the HTC Evo View 4G is the first tablet to ship with built-in support for Netflix movie and video streaming. In doing so, it joins an exclusive club of Android devices that support the service: A sad list that's currently limited to just nine Android smartphones.
So what's the deal? Are other Android-equipped devices—both phones and tablets—just too slow to run Netflix? Not necessarily. A Sprint spokeswoman confirmed in an interview with Wired that the company performed plenty of testing to ensure that Netflix streaming would proceed smoothly across the company's network.
The more realistic answer as to why you can't yet get Netflix on, say, a Motorola Xoom tablet, is the ugly monster that often rears its head whenever Android upgrades are discussed: Fragmentation. In the case of Netflix, the company has to perform extra research and configuration to ensure that the digital rights management systems it employs work across a number of Android devices. And that's not just a work-once, works-everywhere kind of proposal.
Click to continue reading Why is the HTC Evo View 4G the first Android tablet that supports Netflix?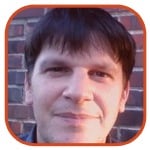 Posted by Mark Rollins Categories: Handhelds,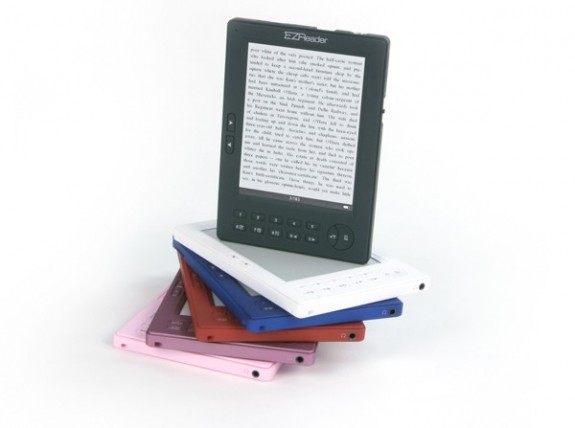 A lot of e-book readers get a lot of comparison with the Amazon Kindle, but Astak is the first one who is quoted saying that they will give the Kindle "a run for its money." They already have the price point beat with their $199 price point ($100 cheaper than the cheapest Kindle.)
The 5-inch EZ Reader Pocket PRO will feature a 400MHz processor, 512MB of memory, 8-level grayscale E-ink screen, an SD-expansion slot, and a background MP3 Player. It plans to ship later this month in the colors seen in the photo. Just don't expect any sort of wireless connectivity at this price.
Read More

| Press Release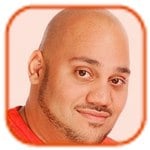 Posted by Andru Edwards Categories: Handhelds, Wireless / WiFi,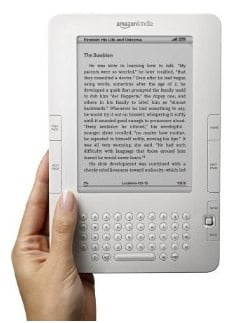 I have no idea what to even say about this, other than that we are severely, severely disappointed with Amazon and how they are allowing their publishers to treat Kindle users. In a nuthsell, Kindle users who purchased George Orwell's 1984 and/or Animal Farm found yesterday that those two titles had mysteriously disappeared from their Kindles, and that they were credited $.99 for each purchase. Why? That's because the publisher decided that they no longer wanted to sell the books on the Kindle Store. Now, that's all fine, but did they really have to take it away from those who had already made the purchase?
The Kindle edition books Animal Farm by George Orwell. Published by MobileReference (mobi) & Nineteen Eighty-Four (1984) by George Orwell. Published by MobileReference (mobi) were removed from the Kindle store and are no longer available for purchase. When this occured, your purchases were automatically refunded. You can still locate the books in the Kindle store, but each has a status of not yet available. Although a rarity, publishers can decide to pull their content from the Kindle store.
Click to continue reading Amazon Kindle-Gate: Purchased copies of Orwell's Animal Farm and 1984 disappear
Read More

| Amazon Kindle Mysterious Orwell Refunds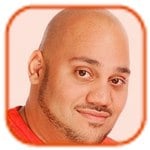 Posted by Andru Edwards Categories: Apple, Cell Phones, Features, Handhelds, Microsoft, Music, Software, Wireless / WiFi,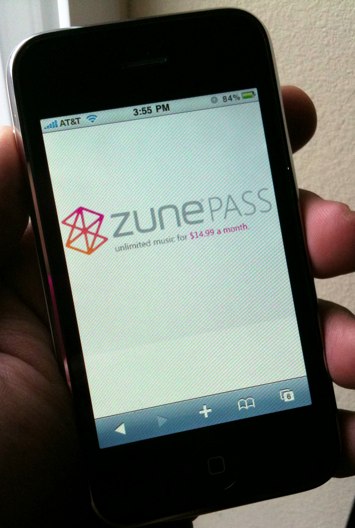 It's no secret, we are big fans of Microsoft's Zune - both the service, and the device. I've had a Zune Pass since the service launched, and use it daily (my Zune Pass profile.) If you aren't sure what that is, it's an unlimited music streaming and download service. You can listen to as much as you want for just $15 a month. In addition, you get to keep any 10 tracks of your choosing each month as well. Yours to keep, forever. Did you know, though, that you can stream any of your downloaded Zune tracks to your iPhone? Yeah, that's one of the best parts. When you start connecting the dots, you soon realize that you have the potential of having an entire catalogue of music available to you, on your iPhone, regardless of the amount of storage you've got.
But, wait…how do you stream Windows Media Audio files to the iPhone, which doesn't support that format? Furthermore, Zune tracks that aren't downloaded as part of your 10 free keepers per month are riddled with DRM. Yeah, we hear you. There is no Zune app available for the iPhone itself. What you need is to install a piece of software on your PC, along with downloading an app on your iPhone. Join us, as we open up the musical floodgates.
Click to continue reading How to Stream Your Zune Tracks to Your iPhone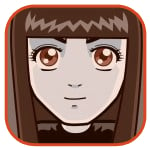 Posted by Sheila Franklin Categories: Corporate News, Internet,

Pay attention, starving novelists. Scribd has begun beta testing an e-commerce platform to sell documents. The site, which already claims 60 million readers and millions of documents, will allow the publishers to set prices and DRM options, and receive 80% of the revenue. Scribd's objective is to obtain new content and they plan to work on an iPhone app. Prices are currently set from $1.00 for a graphic novel to $5,000.00 for a market research report.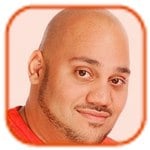 Posted by Andru Edwards Categories: Music, App Updates, Free Apps,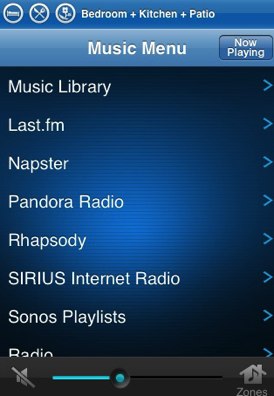 The latest version of the Sonos Controller for iPhone has been released, and it is the one we've been personally waiting for since the app was first made available. Why is that? Well, aside from all the other features, Sonos Controller 2.8.1 now supports DRM-protected Windows Media files, and Windows Media shares show up and are now browsable, as they've always been on the regular Sonos Controller. This means I can browse all my Zune music from the iPhone, and that makes me a happy boy. Here's a look at all the new features:
Full-featured alarm and timer functionality so you can wake up or fall asleep to your favorite music. Set, edit and delete Sonos alarms right from your iPhone.
Support for 7 languages. Now you can control Sonos from your iPhone or iPod touch in English, French, Italian, German, Spanish, Dutch, and Swedish.
PC-free setup of your network music folders.
Support for DRM-protected WMA files.
In order to take advantage of these, you'll also need to update your Sonos system as well, to software version 2.8.
Read More

| Sonos Controller for iPhone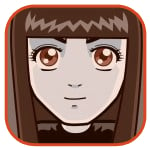 Posted by Sheila Franklin Categories: Apple, Corporate News, Music,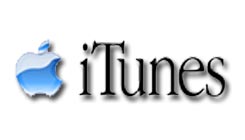 You may have noticed by now the change of pricing on iTunes. As of Tuesday, Apple has begun to sell some of its most popular titles for $1.29 each. Others will be lowered to $.69 while some will remain at $.99. Recording companies decide the prices and Apple has also dropped DRM, so that others sans iPods can enjoy the downloads, as long as they support the company's AAC encoding. It might pay to shop around though, as Amazon offers many of them for 79 and 89 cents.
Read More

| USA Today

© Gear Live Inc. – User-posted content, unless source is quoted, is licensed under a Creative Commons Public Domain License. Gear Live graphics, logos, designs, page headers, button icons, videos, articles, blogs, forums, scripts and other service names are the trademarks of Gear Live Inc.