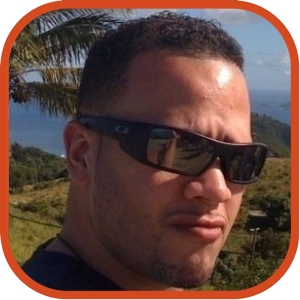 Posted by Jason Diaz Categories: Apple, Cell Phones, Software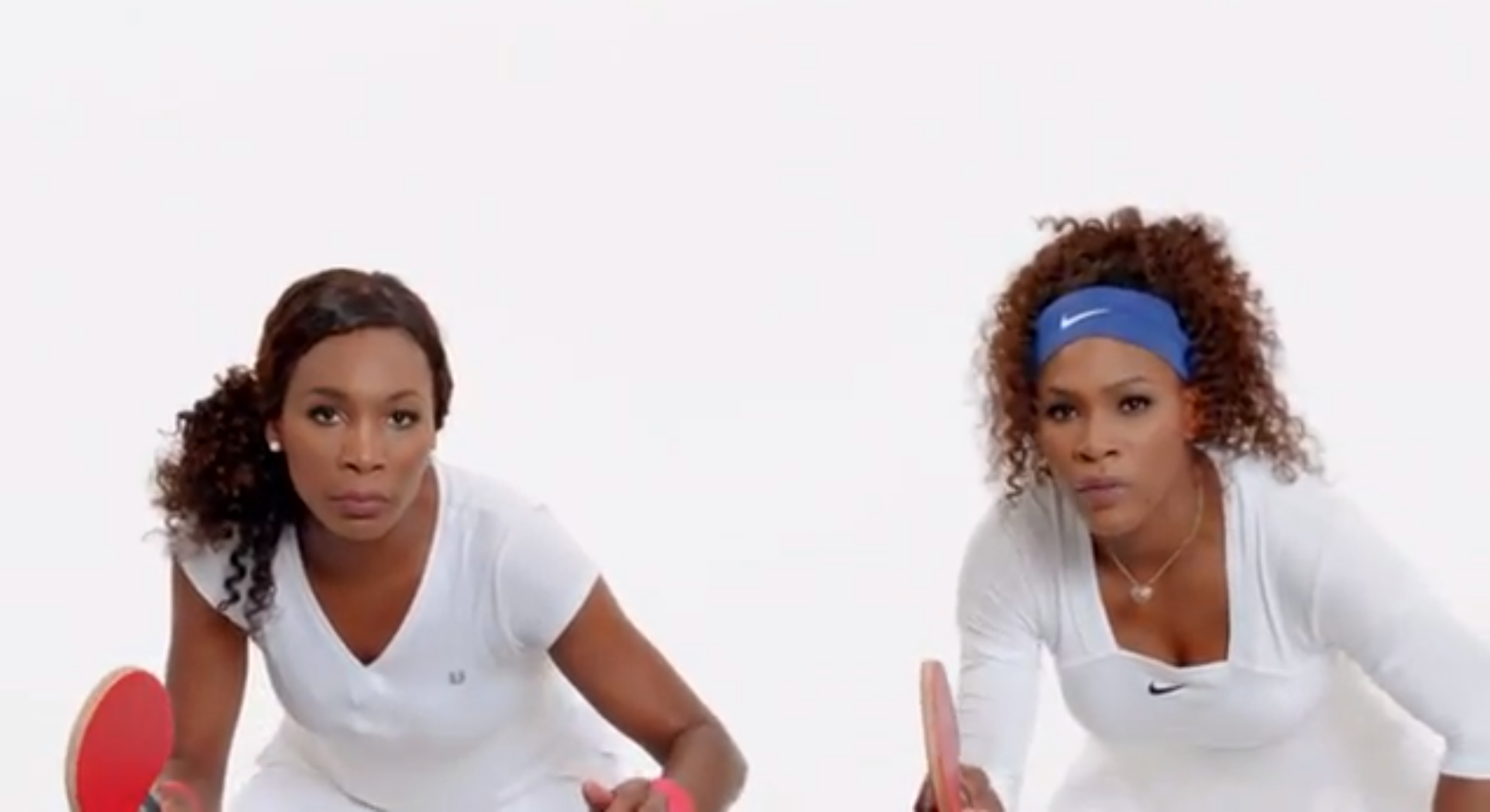 Apple posted a new TV ad showcasing a feature in iOS 6 dubbed "Do Not Disturb" on New Year's day. Coincidently, users have reported that the feature didn't work as it should on the on the 1st. Some have speculated that it was a bug similar to the Daylight Savings glitch that plagued some users during the time change a few years back, albeit this issue being a year change. Apple made a statement today on its support page regarding the problem, suggesting that users manually set it until said date as a temporary remedy. The timing is perfect, sarcasm! Catch the video after the click.
Click to continue reading Apple posts "Do Not Disturb TV ad amidst New Year DND bug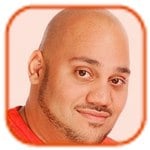 Posted by Andru Edwards Categories: Apple, PC / Laptop, Software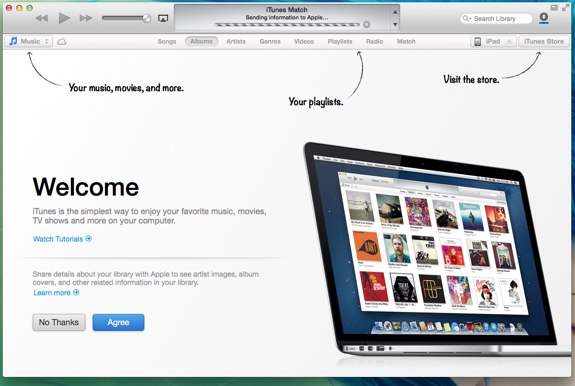 Apple has released an update to iTunes 11 that fixes a few bugs and reintroduces some essential functionality. In iTunes 11.0.1, you'll discover that duplicate item finding has been brought back, making it easy to purge duplicate items from your iTunes library. Additionally, iCloud items are now appearing like they're supposed to, and the AirPlay button now behaves and shouldn't disappear anymore. You can get the latest update now.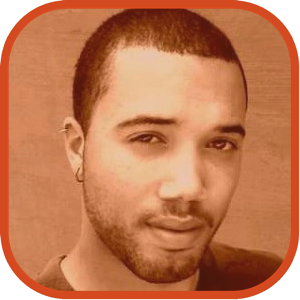 Posted by John Kilhefner Categories: Cell Phones, Microsoft, Software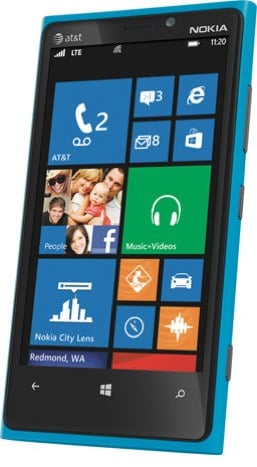 Microsoft has gotten to the bottom of the random Windows Phone 8 reboots, and is issuing an OTA update by December. The company, however, won't reveal the problem.
Here's what Microsoft had to say: "We're continuing to investigate some reports of phones rebooting and have identified a cause with our partners. We are working to get an over-the-air update out in December."
If you're currently one of the people with affected phones, let us know in the comments what model you have, as Microsoft hasn't detailed the types of phones affected or whether it's all Windows 8 devices.
Read More

| AllThingsD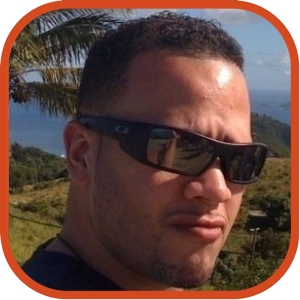 Posted by Jason Diaz Categories: Cell Phones, Handhelds, Mods / Hacks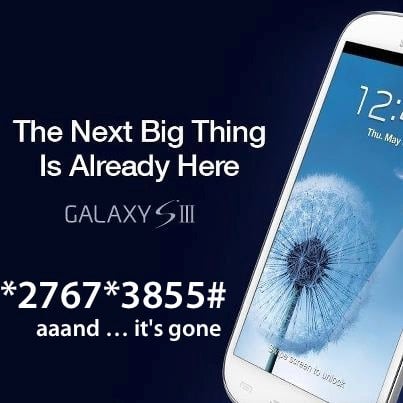 There is an SMS exploit in the wild that can cause a Samsung Galaxy device (including the latest Galaxy S III) running TouchWiz to be completely reset. This exploit was first discovered by tech security researchers and proof of that concept was shown on YouTube. There are many vectors where this could be distributed and executed such as SMS, email, and QR codes. This is practically on the same level as a Zero Day attack. However, the interesting aspect is that this was mostly likely implemented by carrier request and designed by the OEM, which is Samsung. We at Gear Live have not yet independently confirmed this exploit, but other tech publications have confirmed the legitimacy of the hack. Some refer to this as a feature? As always, use of safe computer and internet practices is advised.
UPDATE: Samsung has released a patch for this exploit, and recommends that all of its users download the latest software update, which eliminates the problem.
Click to continue reading Samsung TouchWiz bug erases all of your Galaxy S data (update: fixed!)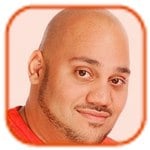 Posted by Andru Edwards Categories: Apple, Cell Phones, Software, Wireless / WiFi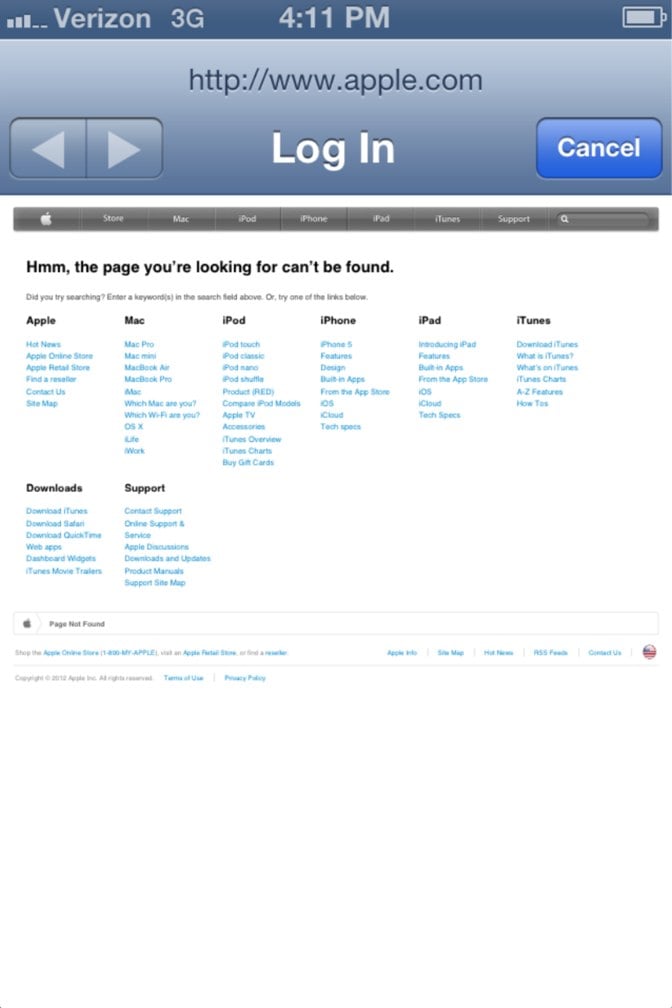 We are hearing reports from users who have upgraded to iOS 6 today that are experiencing an odd Wi-Fi bug, and Gear Live has been able to replicate the issue on our iPhone 4S units. When attempting to connect to a Wi-Fi network, you get kicked over to a nonexistent Wi-Fi authentication page on Apple's website. Since the page doesn't even exist, you just end up getting a 404 error, and kicked off of the network that you tried to connect to. It remains to be seen how Apple fixes this, and if it is something that can be repaired in the back end, or if a new build of iOS 6 will need to be released. Either way, there are plenty of unhappy iPhone users right now who are having to resort to using their data connections since Wi-Fi is failing miserably.
Read More

| Apple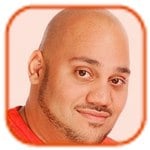 Posted by Andru Edwards Categories: Apple, Cell Phones, Software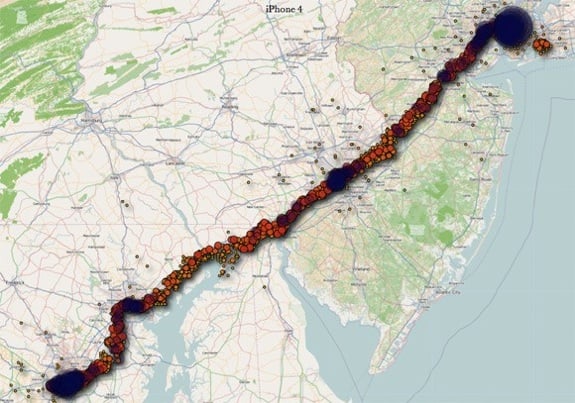 As promised last week, Apple will fix location-tracking software on the iPhone and other devices in an update to its iOS mobile operating system in the next few weeks.
Apple will release iOS version 4.3.3 "within the next two weeks, possibly sooner," BGR reported Monday, citing a company source.
The update for iPhones and iPad tablets will address several location-tracking issues that came to light in April when two researchers publicized the existence of an unencrypted, hidden file on iPhones that stores location data taken from nearby cell towers and Wi-Fi hotspots. The cached data is also timestamped, backed up on iTunes and although associated with Apple's Location Services, cannot be shut off by users when they opted out of the service.
The iOS 4.3.3 update promises to end the backing up of the location database when devices are synched to iTunes, reduce the size of the cached data file and delete the database when users turn off Location Services, according to BGR.com.
Click to continue reading iOS 4.3.3 coming soon, will fix iPhone location bug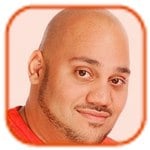 Posted by Andru Edwards Categories: First Person Shooters, Microsoft, Mods/Hacks, Xbox 360
The guys over at Machinima have already found a frightening glitch in the armor lock mod. But beware, learning this ability is something that you can never take back from your memory!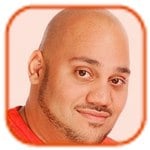 Posted by Andru Edwards Categories: Apple, Cell Phones, Wireless / WiFi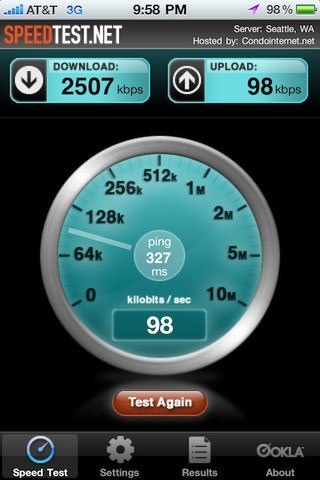 Over the past couple of days, many AT&T customers have been wondering if the company had imposed a new speed cap on uploads for devices that supports HSUPA. Many iPhone 4 users were reporting that their upload speeds had dropped significantly, down to the levels of previous iPhone devices, as you can see in the speed test above. As it turns out, AT&T says this is a software bug in some of their Alcatel-Lucent equipment, and that they are working on a fix:
AT&T and Alcatel-Lucent jointly identified a software defect — triggered under certain conditions – that impacted uplink performance for Laptop Connect and smartphone customers using 3G HSUPA-capable wireless devices in markets with Alcatel-Lucent equipment. This impacts less than two percent of our wireless customer base. While Alcatel-Lucent develops the appropriate software fix, we are providing normal 3G uplink speeds and consistent performance for affected customers with HSUPA-capable devices.
Unfortunately, no word on when that fix will be deployed.
Read More

| AllThingsD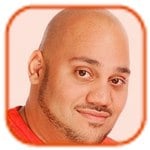 Posted by Andru Edwards Categories: Microsoft, Software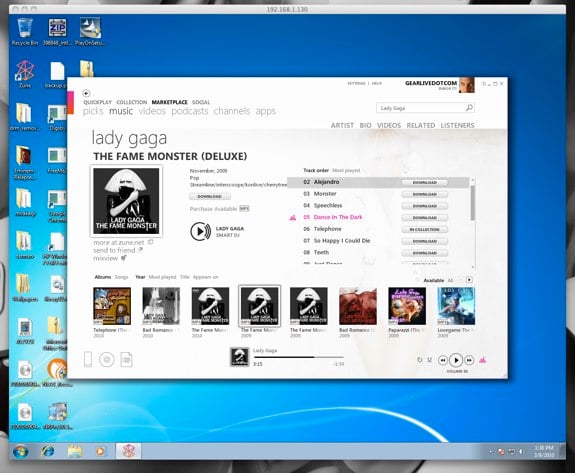 So, after upgrading my PC from Windows 7 Ultimate 32-bit version to Windows 7 Ultimate 64-bit edition, I quickly determined that using Remote Desktop Connection for Mac 2.0 to connect to the PC resulted in no sound coming through the audio redirection feature. It took a bit of Googling to figure out exactly what was going on, but as it turns out, the x64 editions of Windows Vista, Windows 7, and Windows Server 2008 simply don't include the audio redirection feature for the Remote Desktop Mac client. You'd think Microsoft would fix this themselves with a patch, but instead, they offer a Hotfix download. If you are unfamiliar with Microsoft Hotfixes, it's pretty much an annoying process. You head to the kb article to find out about the problem, then request that a link to the hotfix download be emailed to you (because they couldn't just put a download link on the help page?,) then you download the fix and attempt to open it. You then realize that the email with the download link also includes a password that you need in order to even run the fix.
C'mon, Microsoft, can we improve this asinine process?
At the very least, at the end of the day, the Hotfix worked, and I am again able to remote in to my PC from my Mac to listen to Zune. Good times.
Read More

| Hotfix: Audio Redirection in 64-bit Windows for Remote Desktop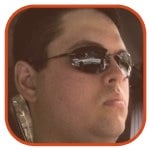 Posted by Dan Hughes Categories: Cell Phones, Google, Handhelds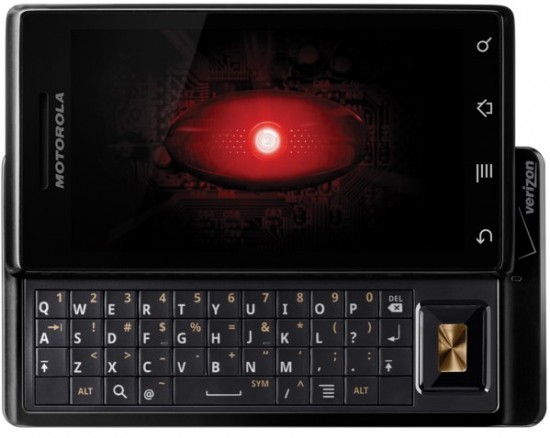 We recently reported an issue regarding the Motorola DROID and it's MMS problem, and it looks like we've tracked down the issue.
After some hefty research (read: lots of Googling and failed MMS messages,) we finally stumbled upon a post over on Howard Forums from a user who seemed to identify this issue. We have tested it successfully, both purposefully breaking and then fixing our ability to send MMS.
The culprit: parentheses around your contact's area code. If your contacts have parentheses around them when they are synced to the phone, the Droid faithfully preserves that. However, when the address is used for an MMS transmission (and ONLY MMS, for some reason), it glitches out and fails. [Ed. note: What an absolutely ridiculous bug!]
Here's how to fix the DROID MMS issue, if you are experiencing it:
Delete any open threads containing the user you want to MMS, including any text message threads. Otherwise, it will pull the address form the thread instead of using the new one.
Edit the contact, removing the phone number and retyping it in. Notice the Droid will type the hyphens in itself, but will not place parentheses. Make sure to do this on EACH form of data this may synchronize from (e.g. Corporate AND Google contacts, if this person is in both. Haven't figured out if parentheses coming from Facebook can cause a problem.)
Soft reset the phone.
Attempt the MMS.
This worked for us. Drop us a comment and let us know if it worked for you. There have been some reports of the problems reoccurring, and so we'd like to know your circumstances.
Personal note: Make sure you edit the information that syncs to your phone so it has no parentheses. I know I exported my contacts from Outlook, and imported them into Google, and Outlook puts parentheses by default, so that is why none of my contacts worked in the first place, but we COULD send to the guy at Verizon Wireless (because we typed in his number directly.) I'm wondering if somehow the parentheses data is somehow being synced back to the phone.
We've reported the situation to Verizon's Wireless Data Technical Support team, who thanked us for the information. (Direct quote: "Awesome.")
© Gear Live Inc. – User-posted content, unless source is quoted, is licensed under a Creative Commons Public Domain License. Gear Live graphics, logos, designs, page headers, button icons, videos, articles, blogs, forums, scripts and other service names are the trademarks of Gear Live Inc.