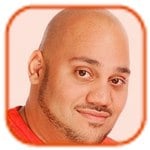 Posted by Andru Edwards Categories: Productivity, iPad Apps, Reviews, Site Features, Videos, $4.99
We're getting really excited about the upcoming release of Apple's iPad this weekend, mainly because of the amazing apps we've been seeing. We managed to get our hands on a preview copy of Wormhole Remote, a remote access app by Nate True, friend of Gear Live. Wormhole Remote is designed to let you get up from your Mac desktop (or notebook) and use your iPad to control it remotely while you're lounging on the couch. Check out Wormhole Remote's promo video as well as an exclusive walk-through of the app after the jump.
Check out the video above if you want a look at the iPad unboxing experience. We hope you can sit through it without hoping to shoot yourself in the face, but muting the video might help in that regard. Seriously, if you are gonna unbox a product, at least try not to get in the way of the whole experience, right?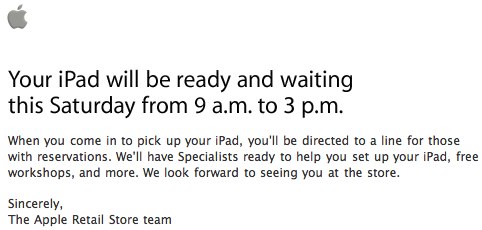 Hey, are you one of those future iPad owners who decided to do an in-store reservation rather than relying on FedEx to get your new bundle of joy to you on day one? If so, here's the scoop on how things will go down at your local Apple Store this Saturday, when the iPad will finally be unleashed. On April 3, Apple Stores will open at 9:00 am, at which time anyone standing in line with an iPad reservation will get to walk in and pay for their device. Apple will hold all iPads in stock for reservations until 3:00 pm that same day. After 3:00, all iPads that are left are fair game, and anyone can walk in and buy one, until they are all gone. So if you reserved and hoped to get one right away, make sure your calendar is clear this Saturday morning or afternoon, mmkay?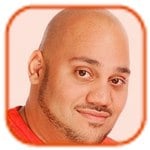 Posted by Andru Edwards Categories: Apple, Software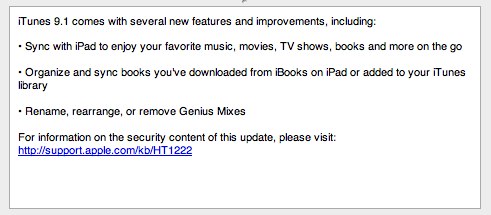 Apple has just unleashed iTunes 9.1 into the wild, and with it comes the ability to sync your iPad, as well as the ability to start managing ebooks. Interestingly enough, it looks like the iBooks store will only be accessible on the iPad itself, and not within iTunes, if we are understanding this correctly:
Sync with iPad to enjoy your favorite music, movies, TV shows, books and more on the go
Organize and sync books you've downloaded from iBooks on iPad or added to your iTunes library
Rename, rearrange, or remove Genius Mixes
Remember, iTunes does support DRM-free ePub ebooks also, so if you have any, feel free to add them to your iTunes library after installing 9.1!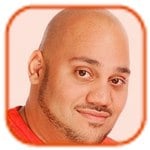 Posted by Andru Edwards Categories: Apple, Software
Apple finally released Mac OS X 10.6.3 yesterday morning, aimed at providing fixes that enhance the stabilit and security of your Mac, but it seems that a few people are experiencing some major issues after installing. On the bright side, we've heard that manually downloading the update, rather than bringing it in using Software Update, results in no problems at all. Here's the quick list of fixes you'll find in 10.6.3:
improve the reliability and compatibility of QuickTime X
address compatibility issues with OpenGL-based applications
address an issue that causes background message colors to display incorrectly in Mail
resolve an issue that prevented files with the # or & characters in their names from opening in Rosetta applications
resolve an issue that prevented files from copying to Windows file servers
improve performance of Logic Pro 9 and Main Stage 2 when running in 64-bit mode
improve sleep and wake reliability when using Bonjour wake on demand
address a color issue in iMovie with HD content
improve printing reliability
resolve issues with recurring events in iCal when connected to an Exchange server
improve the reliability of 3rd party USB input devices
fix glowing, stuck, or dark pixels when viewing video from the iMac (Late 2009) built-in iSight camera
You can go ahead and grab it now if you're running Snow Leopard.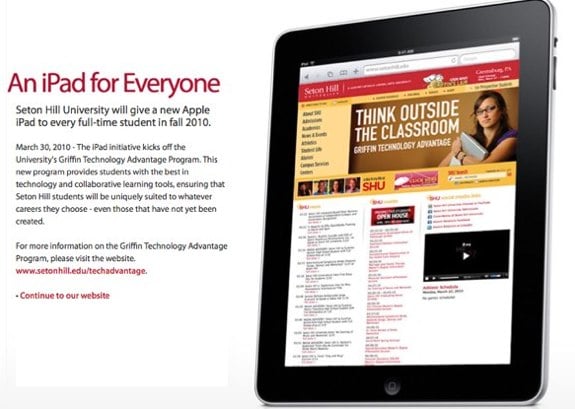 Looks like Apple's hopes that colleges and universities around the country will adopt the iPad as an educational tool may be coming to fruition. Seton Hill University, based in Greenburg, Pennsylvania, has just made it public knowledge that they will be giving all full-time students an iPad, starting with the next upcoming fall semester. Other schools have tried this with the Kindle, but in our opinion, the slowness of the Kindle screen refresh kind of killed that one. We don't know that the iPad will fare much better, but it certainly has a better shot at success.
Read More

| Seton Hill University via TUAW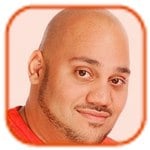 Posted by Andru Edwards Categories: Apple, Corporate News, Handhelds
A quick clip from CNN as they go over the upcoming launch of the iPad, and the fact that Apple has just made deals with publishers Perseus and Workman to distribute books on the iPad. They also look at the pressure that Amazon is feeling as it pertains to the Kindle, as publishers want Amazon to mimic the Apple agreement method of selling eBooks.
You can pre-order an iPad now.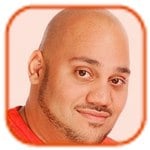 Posted by Andru Edwards Categories: Books, Free Apps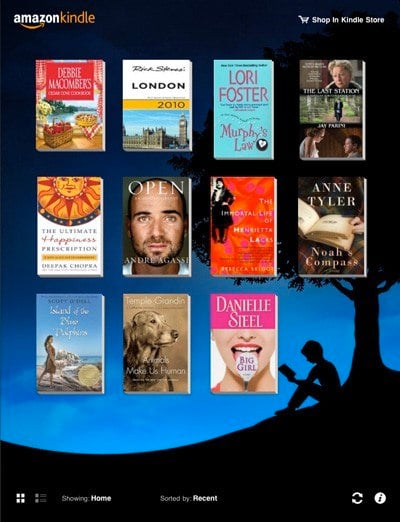 Just like the Barnes & Noble iPad app that we talked about previously, an Amazon Kindle app that is specifically made and formatted for the iPad is also on the way. The folks over at the New York Times were able to get a look at it, and it sounds fairly similar to what we saw from Apple with their iBooks app. You can control the speed of a page turn with your finger, and it has a couple of new ways for people to view their entire eBook library. One of those, above, shows books covers with a background of someone reading a book under a tree. The position of the sun in the background changes depending on the time of day, which is fairly cool.
We find the whole things with both B&N and Amazon rushing to get their eBook reader apps ready for the iPad to be very interesting. In a nutshell, the iPad is now the only mobile device that will let you read eBooks purchased from Apple, Amazon, or Barnes & Noble. All the other devices are tied to one store. Between the eBook stores, and apps like Instapaper, the iPad is prepped to be the most feature-rich eBook reader on the planet, and that doesn't even take any of its other features into account.
Read More

| NYT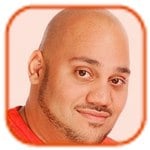 Posted by Andru Edwards Categories: Apple, Handhelds, Software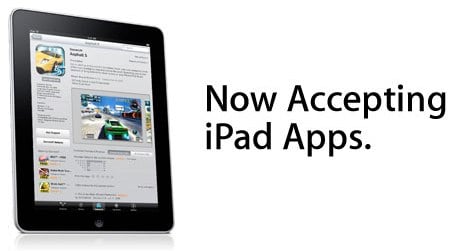 If you're an iPhone OS developer who has been hard at work on getting an app ready in time for the lainch of the iPad, now is the time to start polishing it up if you want Apple to consider it for inclusion for the grand opening of the iPad section of the App Store. Basically, just log in to iTunes Connect, submit your app, and you'll receive feedback on its readiness for the grand opening. We know, it's difficult to fully debug an app when you don't even have the actual hardware that you are developing for, so our guess is that Apple is running submitted code on actual iPads, and if things work nicely and the app is up to snuff, you'll be in. You've got until 5:00 PM PDT on March 27th to submit your apps.
Oh, and in case there was any doubt, yes; the iPad App Store will open the same day that the iPad goes on sale. April 3rd can't come fast enough.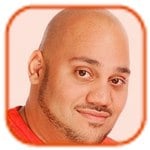 Posted by Andru Edwards Categories: Apple, Google, Rumors, Videos
Those are some strong words, but if CNBC journalists and analysts are to be believed, the relationship between Apple and Google is so strained as they both compete to win in the mobile space that it has come to a point where "Steve Jobs simply hates Eric Schmidt." Hey, if that hared fuels the fire of innovation and competition, then it's the consumers who will walk away the winners in this battle. Amiright?
© Gear Live Inc. – User-posted content, unless source is quoted, is licensed under a Creative Commons Public Domain License. Gear Live graphics, logos, designs, page headers, button icons, videos, articles, blogs, forums, scripts and other service names are the trademarks of Gear Live Inc.