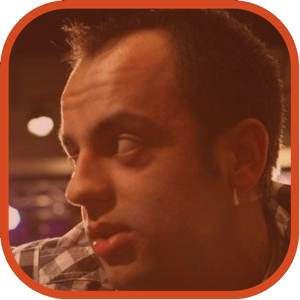 Posted by Andrey Malskiy Categories: Design, Transportation, Videos
Sure, we're not huge fans of Justin Bieber's music, but it's a sad day in the automotive world when the pop phenom is gifted a six-figure Fisker Karma, made by arguably the best car designers in the world, and then proceeds to ruin the car by chroming it out and placing LEDs under the fuscia, while rolling on black rims.
Celebrity news, or shall we say stalker, site has caught the Biebs rolling around in his Karma with his near-celebrity-almost-a-singer girlfriend, Selena Gomez at a Chick-fil-A. Check out the video above to see reactions to Bieber and his now hideous Fisker Karma, which is actually illegal in California (and that's not because of the paint.)
Read More

| TMZ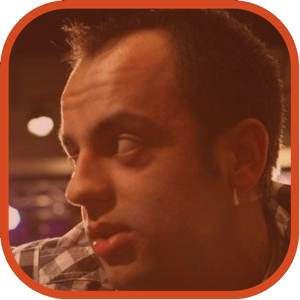 Posted by Andrey Malskiy Categories: Rumors, Transportation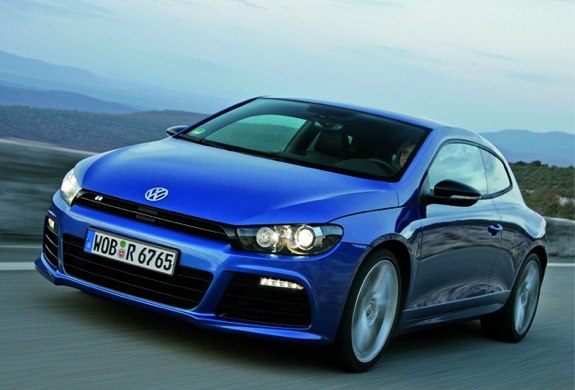 Disappointed you can't get your hands on the Volkswagen Scirocco? Yeah, we are too, however that disappointment may not last long as Volkswagen's Jonathan Browning suggests that the Scirocco may be heading stateside with its next redesign.
Browning, who attended the New York Auto Show, suggested that the Scirocco may be appearing in the USA soon, along with the Alltrack Passat. The Scirocco is said to feature a diesel motor and, like the Alltrack Passat, would also be an AWD vehicle. Regardless of what set up the Scirocco comes in, we're eager to see it in the States.
Read More

| Autoblog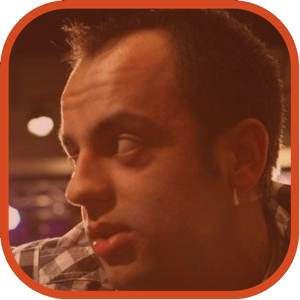 Posted by Andrey Malskiy Categories: Transportation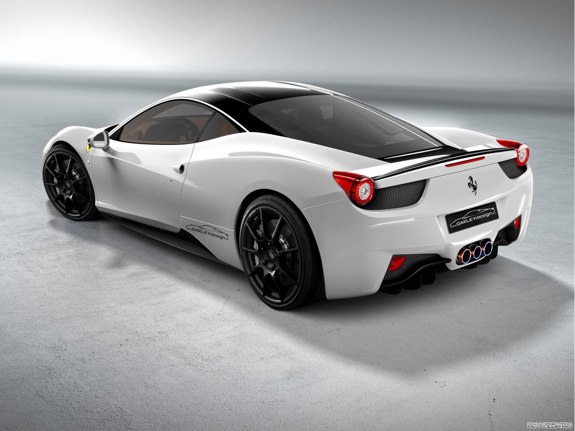 Here's a look at the top 10 vehicles with a high male ownership. We're not all too surprised with the list of cars, minus a couple of choices.
The Ferrari 458 Italia finds itself on the top of the list with 95.3% of its owners bring men.
After you're done thinking about who might own the other 4.7% of the 458, the list continues with the BMW 1 Series M taking second followed by Audi R8, Mercedes SLS AMG, and the Ferrari California. We're not surprised to see all these high-performance, lead-footed fun cars hitting the list. I know that most these cars are on my list of must drive cars before I die.
Number six goes to the Porsche 911, a classic, if you ask us, followed by the Nissan GT-R with 87.9% male ownership. Number eight is were the list take a turn for the worst, the all-ever, cookie-cutter-remixed-Chevy Silverado, GMC Sierra pickup trucks; following closely behind it the Ford F-Series. Number ten goes to the ever-classic, mid-life crisis Chevy Corvette.
What leaves us bogged are the number eight and nine slots, is there really nothing better out there other than pick-up trucks?
Read More

| InsideLine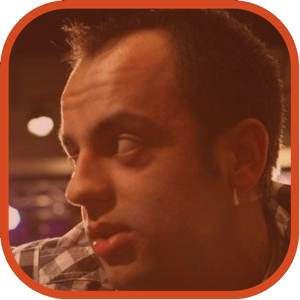 Posted by Andrey Malskiy Categories: Corporate News, Handhelds, Transportation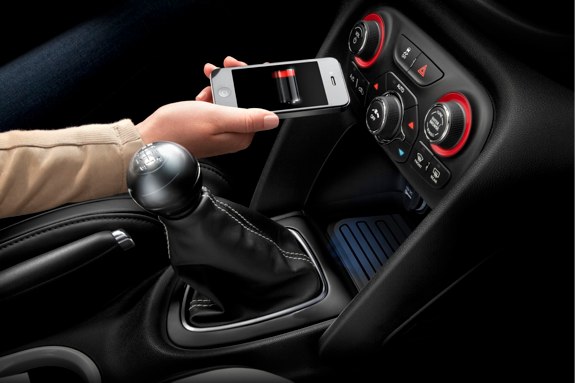 Chrysler recently announced that it will be offering wireless in-vehicle charging stations for your mobile devices. For $200 bucks you can clear your car of messy wires that clutter it, while charging your smartphone. The forthcoming Dodge Dart will be the first of vehicles to feature the "Powermat-like" technology. The car is set to hit dealer lots this summer, and is offering a great alternative to the compact car market.
The power bin is integrated into the cars center consoles, measuring about 8-inches x 9-inches x 3-inches deep. The grid becomes activated when your device is dropped in and shuts off when your device is removed. However, there is a small catch to the system, like the Powermat, Chrysler's system too calls for a special case to be used in conjunction with its power bin. The case is included with the power bin package.
Read More

| Jalopnik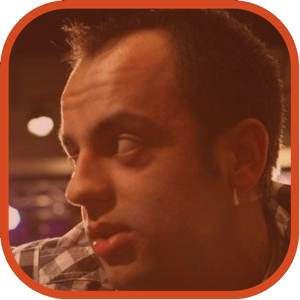 Posted by Andrey Malskiy Categories: Transportation, Videos
Just an FYI to any drivers out there who think that fleeing the scene of an accident is a good idea, check this out. In the situation above, a metro bus driver decided to block the escape route of a driver that thought a hit-and-run was the best way to handle things. The cyclist who was hit seems to be fine, althogh his bike is likely totaled. The driver, a minor, is faced with several charges and fines.
Read More

| AutoBlog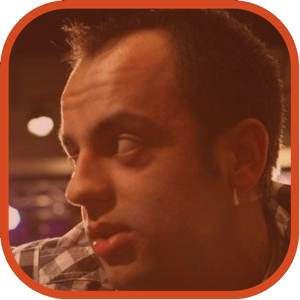 Posted by Andrey Malskiy Categories: Corporate News, Transportation, Videos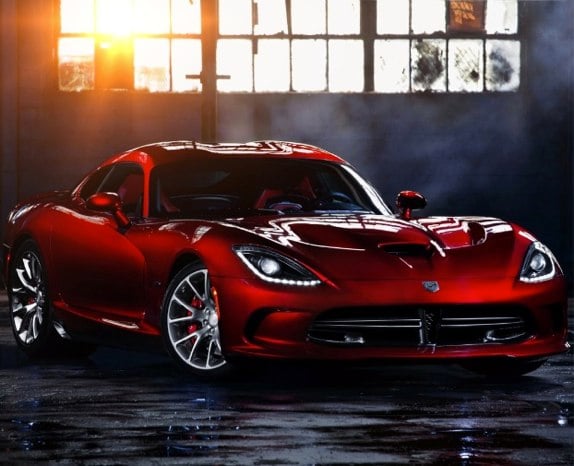 It's big, it's loud, we're pretty sure it spits out Al Gore's An Inconvenient Truth as it rolls by—the long awaited, fifth generation, Dodge Viper.
Unlike most sensible automakers who are seen tuning down their cars, replacing motors for batteries and what not, Dodge decided it'd be a fitting time to have a proper V8 roam the streets once more. Yet, this wasn't a simple redesign, but an overhaul of the Viper posters that hung on our walls as children.
So how do you welcome the new Viper? Through YouTube videos, of course! Follow the jump to watch them all.
Click to continue reading Fifth generation Dodge Viper video showcase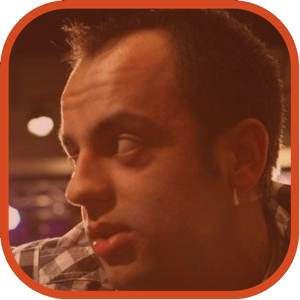 Posted by Andrey Malskiy Categories: Transportation, Videos
Many cars now feature blind spot detectors, lance sensors, and other safety features that keep the drivers safe on the road. However, having all these sensors in a car can get annoying from all the warnings and beeping the car sends to the driver. For some, the nuisance of all the different alerts will cause a driver to turn the system off, which defeats of paying for the warning system in the first place. However, Cadillac believes they've found the solution to all this noise with the launch of the Safety Alert Seat in its spring models.
Cadillac has developed a safety system, which utilizes all the current safety features, but adds vibration to the mix. Good vibes so to speak, the safety system vibrates the driver's chair and notifies them of where the danger is on the road. The vibrations are pinpointed via external sensors and vibrate the seat in the appropriate location.
Click to continue reading Cadillac's Safety Alert Seat keeps you well-informed when on the road
Read More

| GM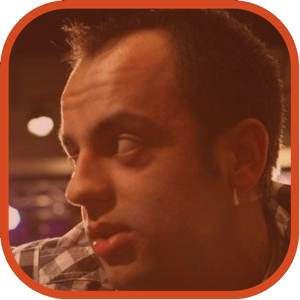 Posted by Andrey Malskiy Categories: Transportation, Videos
Audi has been around the block a few times. It's had hit or miss models throughout its history, as has any manufacturer. However, some of Audi's models were not only a miss, but ugly too. Case-in-point, is seen in the video above. Though its was only a concept car, it was still rather odd-looking.
Uglyness aside, Audi is trying to bring your attention to its streamlined features as it strives to keeping its cars aerodynamic. In the video, we see Audi's concept transform into the a A5, which is sexy by all means, but wonder if it would have been better for them to use the A7 instead? That aside, we hope that you enjoy the clip as much as we did!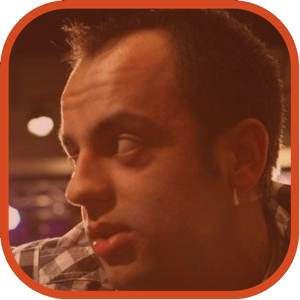 Posted by Andrey Malskiy Categories: Corporate News, Transportation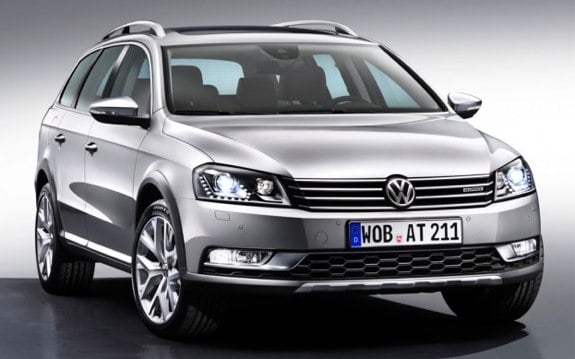 When it comes to an AWD station wagon, your choices in the U.S. are less than desirable. Consumers are faced with two options, Audi Allroad and various Subaru models. One is overpriced and the others can be found on many driveways. However, Volkswagen is planning to bring the Passat Alltrak to the States for the New York Auto Show, and they hope to be the third major option.
Now before you run down to the dealership and put in your order, Volkswagen is debuting the Alltrak as a "concept," even thougt the same vehicle was featured as a production model at the Tokyo Motor Show. We're guess that this is Volkswagen's test to see how American buyers will react to the option. The Passat Alltrak is equipped with a 2.0-liter turbo-diesel motor, pumping out 138hp and 168hp. The lower of the two will be available in a manual transmission.
Though the price hasn't been announced for the American variant of the Passat, we're guessing it'll be priced somewhere in the high 20s or low 30s.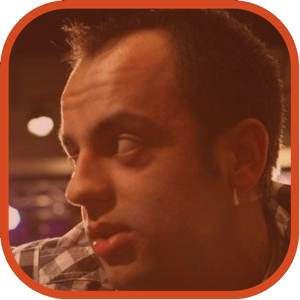 Posted by Andrey Malskiy Categories: Transportation, Videos
The band Underoath once said, "It's dangerous business walking out your front door." It appears that statement definitely rings true if you happen to drive a semi truck with any regularity. Any semi driver will tell you that the job has its perks, but it also comes at a high cost of danger. At any level, driving a semi is risky business, but adding snow to the mix just takes it to the next level.
Don't believe us? Check out the dramatic video above, caught in Norway, as a semi and a tow truck go rolling off an icy overpass. Yeah, like we said, it's risky business.
From what we hear the driver is in stable condition, only suffering a few broken bones.
© Gear Live Inc. – User-posted content, unless source is quoted, is licensed under a Creative Commons Public Domain License. Gear Live graphics, logos, designs, page headers, button icons, videos, articles, blogs, forums, scripts and other service names are the trademarks of Gear Live Inc.