Posted by Sparky Categories: Cell Phones, Handhelds, Product Reviews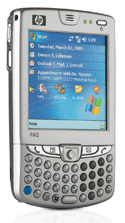 Om Malik got his hands on an HP Mobile Messenger (or HW 6500 if you prefer) and came away rather impressed. He was impressed with the construction and form factor of the unit as a whole, but was disappointed in it's lack of WiFi. Om also liked the bundled Good Technologies Wireless Email solution, finding it very Blackberry like. He found the keyboard comfortable and less cramped than the Treo 650 - an important feature on the rash of coming QWERTY phones. I personally own the HP 4355 that the Mobile Messenger inherits it's keyboard and am a current Treo 650 user so I can see how having a wider keyboard like that would make the push email capabilities even more alluring. Check the link below for Om's full thoughts on this new device - I'm personally going to wait for Windows Mobile 5.0 and it's push email solution to come out before I plunk down for another QWERTY phone but this device might be right for the email hungry mobile professional with it's imminent launch by Cingular.

Read More

| GigaOm
Posted by Edwin Soto Categories: Handhelds, Internet, Podcasts, Video Games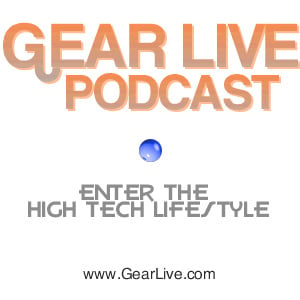 We are back on the podcast tip this week, expanding on some of the more popular topics we've have talked about over the past several days. In this edition:
Click here to download the MP3, or you can just subscribe to the Gear Live Podcast feed. You can also subscribe to us directly through iTunes as well.
Voices: Edwin Soto, Sparky, Jesse Easley
Length: 30:06, 20.7 MB
Don't forget to vote for us on Podcast Alley! Also, be sure to check out the Gear Live Odeo Channel, and subscribe there are well.
LISTEN | Gear Live Podcast
Posted by Alex Grahmann Categories: Wearables, Handhelds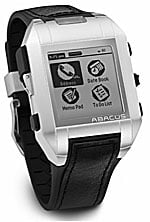 Looks like Fossil's line of PDA watches are going the way of the Tapwave. After several years of delays, underexposure, and just plain having a product that nobody wanted, "reliable sources" have told BargainPDA that Fossil is exiting the wrist-born PDA market. The Fossil watches came in several different wristband styles and featured either the Palm OS with 8MB of memory or a version of MSN Direct. While the idea of a wristwatch connected to organizational info may hold some promise, Fossil consistently struggled with the actual execution of the product and price-point. So, for those of you actually wearing one of these things, the unimaginable just happened – it just became even lamer.

Read More

| BargainPDA
Posted by Alex Grahmann Categories: Cell Phones, Corporate News, Handhelds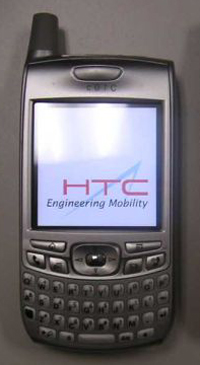 While official details on the next iteration of Palm Treos have been scant, the Chinese business newspaper Commercial Times is reporting today that a manufacturing deal has been reached with High Tech Computer to produce the new smartphones. The Taiwanese HTC will begin shipping the product in the first quarter of next year. The biggest draw for the rumor mill on the Treo 670 is its use of the Windows Mobile operating system, a first for any Palm device. Sales for the Treo 600 and Treo 650, both Palm OS-based smartphones, have been exceptional, setting the obvious standard for smartphone quality and commercial success. However, the growing strength and popularity of Windows Mobile may improve Treo's market share even more.

Read More

| DigiTimes

Posted by Sparky Categories: Accessories, Handhelds, Wireless / WiFi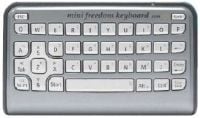 Freedom Input just might be my hero at the moment. They have announced their Mini Bluetooth Keyboard - a credit card sized thumb board similar to those on the Treo, or Motorola Q - the difference being that this is a stand alone unit and could theoretically be used with Bluetooth-enabled smartphones, PDAs, TabletPC's, and other devices. The problem is that it does not support the Bluetooth HID profile, so whatever device you want to use this on will require special drivers. Windows Mobile 5.0 and Windows XP already have support built in. This seems like the perfect solution for someone who does a lot of SMS or email on their phone, and wants a QWERTY keyboard without having a huge handheld to carry. The Mini Bluetooth Keyboard features backlit keys and features an innovative backlighting system for your "after hours" data entry needs. The Mini Bluetooth Keyboard is available for $60 and can run on 120 hours on two AAA batteries. The website says it will be available in Q3 2005 - not soon enough if you ask me!

Read More

| Freedom Mini via MS Mobiles

Posted by Sparky Categories: Cell Phones, Handhelds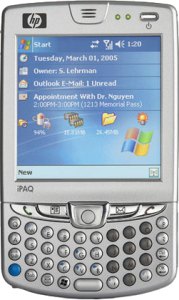 The hw6515 and hw6510, also known as the Mobile Messenger, is coming soon to Cingular. The Mobile Messenger features a 240x240 screen, EDGE data access, and GPS mapping built in. The phone will be running Pocket PC 2003 Second Edition - not the upcoming Windows Mobile 5.0. With no word on if the phone will be upgradable to Windows Mobile 5.0 when it comes out, I'm not sure if this will be a good seller or not. Regardless of software, having a small phone like this with a keyboard and good email software is always a plus for the connectivity-hungry geek on the go.

Read More

| Daves iPaq

Posted by Sparky Categories: Cell Phones, Handhelds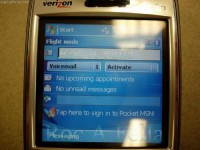 With rumors flying amidst Howard Forums posting movies and pictures of the Treo 670, could it really be true that Palm is working on a Windows Mobile 5.0 smartphone? Most phone geeks out there are really excited about this but I just don't see how this is in Palm's best interest - they have always been an OS and a software company as well as a hardware manufacturer (aside from the whole PalmOne/Palmsource buyback debacle) and it would seem that shipping a competitors operating system on their award winning hardware would be counterintuitive to their business model. I for one am excited about this - the Treo hardware has impressed me, but their software has always been slightly lacking when it came to just being a phone - with Windows Mobile 5.0 and Treo's hardware design we could be on to a winner. Right now only a Verizon EV-DO version has surfaced, but hopefully a Cingular UMTS version is in the works to coincide with their pending UMTS launch.

Read More

| Howard Forums
Posted by Alex Grahmann Categories: Handhelds, Portable Audio / Video, Video Games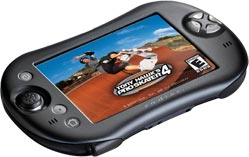 Zodiac, maker of the Palm OS/gaming/multimedia hybrid Tapwave, announced today that it has discontinued its production, service, and support for the handheld device. The Tapwave enjoyed some favorable reviews from various sources, but struggled to stay afloat in a market where so many other products (iPod, Nintendo DS, PSP, and other Palms) were doing the same things - and doing them better. Tapwave's claim-to-fame convergence of all handheld needs proved to be too much for Zodiac to handle. On its homepage, Zodiac points readers to continued, though all outside, resources and thanks users for their "past interest and support" and apologizes "for any inconvenience." Owning fancy-looking but dead and obsolete technology is always inconvenient.
Read More

| Zodiac's Tapwave Homepage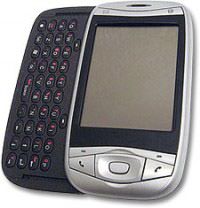 It looks like the poorly scanned HTC Wizard fax that was presented before was quite true to life. New photos have emerged that show how delicious the Wizard promises to be. Featuring a full QWERTY keyboard and320x240 screen along with WiFi and Bluetooth any email addict will be quivering in anticipation for a hit from this mobile machine. The only specification that gives worry is a rumored mere200MHz processor - very slow by todays Windows Mobile standards. It's really encouraging to see how many Windows Mobile 5.0 devices are just around the corner featuring fullthumboards - email and chat are about to explode in a big way on the mobile market.
Read More

| Slashphone

Posted by Sparky Categories: Cell Phones, Handhelds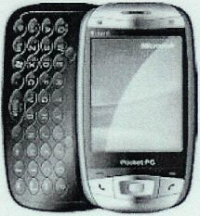 The rumored HTC Wizard has just emerged with a grainy image from a French website. The Windows Mobile 5.0 powered device would have a QVGA screen, 1.3MP camera, and feature GSM, GPRS, EDGE, and Wifi. I was a little surprised to not see Bluetooth on the list, but it is early yet and the specs might change. It looks like this PDA phone will be sized much more like a wide candy bar style phone rather than a large bulky PDA with a supposed size of 4.2 x 2.2 x 0.9-inches. Without Bluetooth or UMTS I'm not sure if this will be a winner or not - but its certainly worth keeping an eye on for a fully featured QWERTY phone.
Read More

| HTC Wizard
© Gear Live Inc. – User-posted content, unless source is quoted, is licensed under a Creative Commons Public Domain License. Gear Live graphics, logos, designs, page headers, button icons, videos, articles, blogs, forums, scripts and other service names are the trademarks of Gear Live Inc.