Posted by Sparky Categories: Cell Phones, Handhelds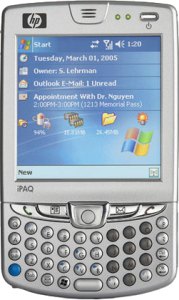 The hw6515 and hw6510, also known as the Mobile Messenger, is coming soon to Cingular. The Mobile Messenger features a 240x240 screen, EDGE data access, and GPS mapping built in. The phone will be running Pocket PC 2003 Second Edition - not the upcoming Windows Mobile 5.0. With no word on if the phone will be upgradable to Windows Mobile 5.0 when it comes out, I'm not sure if this will be a good seller or not. Regardless of software, having a small phone like this with a keyboard and good email software is always a plus for the connectivity-hungry geek on the go.

Read More

| Daves iPaq

Posted by Sparky Categories: Cell Phones, Handhelds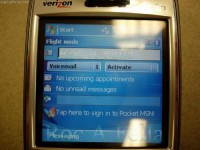 With rumors flying amidst Howard Forums posting movies and pictures of the Treo 670, could it really be true that Palm is working on a Windows Mobile 5.0 smartphone? Most phone geeks out there are really excited about this but I just don't see how this is in Palm's best interest - they have always been an OS and a software company as well as a hardware manufacturer (aside from the whole PalmOne/Palmsource buyback debacle) and it would seem that shipping a competitors operating system on their award winning hardware would be counterintuitive to their business model. I for one am excited about this - the Treo hardware has impressed me, but their software has always been slightly lacking when it came to just being a phone - with Windows Mobile 5.0 and Treo's hardware design we could be on to a winner. Right now only a Verizon EV-DO version has surfaced, but hopefully a Cingular UMTS version is in the works to coincide with their pending UMTS launch.

Read More

| Howard Forums
Posted by Alex Grahmann Categories: Handhelds, Portable Audio / Video, Video Games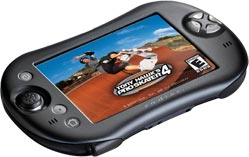 Zodiac, maker of the Palm OS/gaming/multimedia hybrid Tapwave, announced today that it has discontinued its production, service, and support for the handheld device. The Tapwave enjoyed some favorable reviews from various sources, but struggled to stay afloat in a market where so many other products (iPod, Nintendo DS, PSP, and other Palms) were doing the same things - and doing them better. Tapwave's claim-to-fame convergence of all handheld needs proved to be too much for Zodiac to handle. On its homepage, Zodiac points readers to continued, though all outside, resources and thanks users for their "past interest and support" and apologizes "for any inconvenience." Owning fancy-looking but dead and obsolete technology is always inconvenient.
Read More

| Zodiac's Tapwave Homepage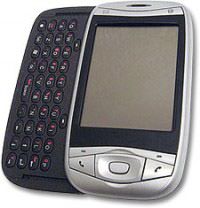 It looks like the poorly scanned HTC Wizard fax that was presented before was quite true to life. New photos have emerged that show how delicious the Wizard promises to be. Featuring a full QWERTY keyboard and320x240 screen along with WiFi and Bluetooth any email addict will be quivering in anticipation for a hit from this mobile machine. The only specification that gives worry is a rumored mere200MHz processor - very slow by todays Windows Mobile standards. It's really encouraging to see how many Windows Mobile 5.0 devices are just around the corner featuring fullthumboards - email and chat are about to explode in a big way on the mobile market.
Read More

| Slashphone

Posted by Sparky Categories: Cell Phones, Handhelds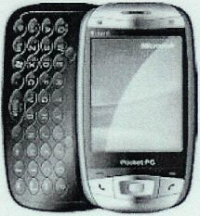 The rumored HTC Wizard has just emerged with a grainy image from a French website. The Windows Mobile 5.0 powered device would have a QVGA screen, 1.3MP camera, and feature GSM, GPRS, EDGE, and Wifi. I was a little surprised to not see Bluetooth on the list, but it is early yet and the specs might change. It looks like this PDA phone will be sized much more like a wide candy bar style phone rather than a large bulky PDA with a supposed size of 4.2 x 2.2 x 0.9-inches. Without Bluetooth or UMTS I'm not sure if this will be a winner or not - but its certainly worth keeping an eye on for a fully featured QWERTY phone.
Read More

| HTC Wizard

Posted by Sparky Categories: Handhelds, Wireless / WiFi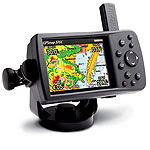 Garmin just dropped a couple of sweet convergence devices on us. The GPSMAP 396 and 376c are two GPS mapping gadgets with built in XM radio, XM Weather information (XMWX), and high resolution color screens. The XMWX feature allows the user to see real time NEXRAD radar overlays, wind speeds, and temperature maps in the surrounding area along with forecasts - a useful feature for any boaters out there. The 376c is aimed at in car and marine installation and is compatible with BlueChart format maps. The 396 is aimed at aviation and provides significant additional information about heading, altitude, and other information important to pilots. Both GPS units are WAAS enabled for higher accuracy. Given the blend of GPS functionality, live satellite weather information, and XM radio in a small package I can see some users forking over the $999.99 for the 376c. The 396 is expected to retail at $2695.00 which while being a significantly higher price it is certified for use in airplanes - partially justified by a larger screen, and better battery technology.
Read More

| GPSMAP 376c via Orbitcast
Read More

| GPSMAP 396 via Gizmodo

Posted by Sparky Categories: Cell Phones, Handhelds, Internet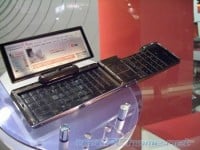 Slashphone has a pic of an interesting concept phone. The thing has an enormous screen for web browsing, and the keyboard folds out to reveal what appears to be a full QWERTY keyboard, trackpad, and a number pad. I'm not sure how practical this would be as a phone, but for a PDA/web browsing terminal on the go I might be interested in one. Not too confident on how I would fit it in a pocket though.
Read More

| Superphone concept

Posted by Sparky Categories: Handhelds, Wireless / WiFi

Today Marvell announced a new ultra low power 90nm wireless LAN chip solution. What does this mean for todays gadget hungry consumer? It means that tomorrow's PDA's, cell phones, MP3 players, and digital cameras will be able to have battery friendly 802.11 connections built in for transferring data to and from networks. Imagine never having to plug in your MP3 player or camera to transfer media. The new chip boasts the ability to increase battery life over 100% over previous WLAN chip as well as being supported by the Windows CE, PalmOS, and Linux platforms. Because of the small size of this single chip system 802.11 technologies can be added to virtually any device with minimal design impact.
Read More

| Marvell via LockerGnome
Posted by Alex Grahmann Categories: Handhelds, Music, Portable Audio / Video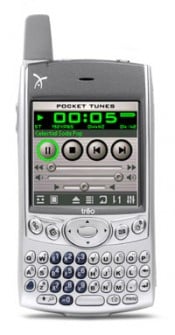 With the release of Pocket Tunes 3.1, Palm OS users now have the ability to play MP3s that use the Janus DRM standard for Windows Media 10. This unlocks the possibility of using Palm devices with popular MP3 services such as Rhapsody To Go, Napster To Go, and Yahoo! Music Unlimited. While most Palms inherently lack the memory capacity needed to take full advantage of such services (the 4GB LifeDrive being a possible exception), smaller-scale usage is still a plus. After all, with millions of songs available through these services, a few at a time is often enough.
Read More

| Pocket Tunes
Posted by Edwin Soto Categories: Cell Phones, Handhelds

No word on how much this will run you, but Waxess Inc.'s engineers have been hard at work putting this gem together. The functionality of this product has many practical uses and makes sense. While sporting a whopping 2 watt receiver for cellular use, this puppy can be combined with four other handsets in a household landline environment. Voicemail is supported on both services as well. But the real question is: can this cell phone play Tetris?
Read More

| MobileWhack
© Gear Live Inc. – User-posted content, unless source is quoted, is licensed under a Creative Commons Public Domain License. Gear Live graphics, logos, designs, page headers, button icons, videos, articles, blogs, forums, scripts and other service names are the trademarks of Gear Live Inc.