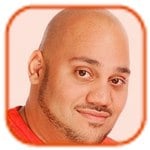 Posted by Andru Edwards Categories: Accessories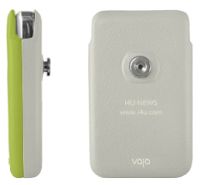 We have always been fond of Vaja due to their high quality product offerings, which are basically leather cases for common gadgets. They have now launched a customization service which will allow a purchaser to have text, an image, or a combination of the two printed right on the leather. You can also customize the colors of your new leather case as well. Finally, you can choose whether or not to have a clip added to the case. Each option has a cost associated with it, but it is certainly a great way to get a unique product. We will see if we can get our hands on one.
Read More

| Vaja Choice
Posted by Alex Grahmann Categories: Accessories, Mods / Hacks, Portable Audio / Video

For those of you still refusing to get rid of your old iPod, Newer Technologies has released its most powerful replacement battery kit to date for 1G and 2G models. The battery, which comes with an installation kit and detailed instructions, is rated at 2200mAh, which is a 78% capacity jump from the batteries shipped with the original iPods. The 2200mAh kit costs $34.95 and along with this newest release, the rest of the NuPower line of batteries has dropped by $10.
Read More

| Newer Technologies

Posted by Sparky Categories: Accessories, PC / Laptop, Peripherals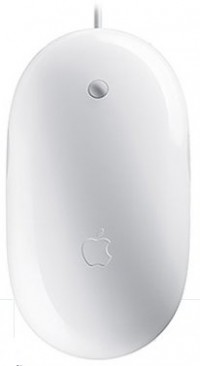 Apple today finally caved to it's millions of users who make daily use of a two button mouse with OSX and introduced the Apple Mighty Mouse - along with some significant improvements to a normal mice of a non-mighty variety. The Mighty Mouse has the look and feel of a normal Apple mouse, but hidden touch sensors record the right and left click events from the mouse. The Mighty Mouse also features a touch sensitive ball at the top enabling scrolling in any dimension easily with the touch of a finger. Finally the Mighty Mouse is pressure sensitive meaning you can gently squeeze the entire mouse in your hand
has two side triggers to zoom in and out in applications such as Final Cut Pro or Photoshop or presumably navigate forward and back in a browser. The Mighty mouse will work with OS X 10.4.2 and above, as well as With Windows 2000, XP, and supposedly Vista. Years ago Microsoft "built a better mouse" when they introduced the scroll wheel - could this be yet another innovative step in the mouse world? I won't know for sure until the one I just ordered to replace my Logitech MX900 Bluetooth two button mouse that I've been using with my Powerbook. What do you think?
Of course, this will change many opinions on why Apple made a one button mouse in the first place.
Read More

| Apple Mighty Mouse
Posted by Alex Grahmann Categories: Accessories, Internet, Movies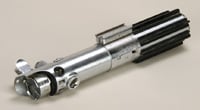 The original lightsaber prop used by Mark Hamill as Luke Skywalker in 1977's Star Wars grabbed a closing bid of over $200,000 at a recent auction of Hollywood memorabilia. The auction, with both live and online bidders, took place in Beverly Hills, California, and featured 550 different movie props, some from the personal collection of Star Wars producer Gary Kurtz. Despite being made up of only a metal tube and some rubber, the lightsaber sold for far more than the $60,000 to $80,000 that was expected. Darth Vader's original saber also sold, but for a much smaller sum of $118,000.
Read More

| Profiles in History
Posted by Edwin Soto Categories: Accessories, PC / Laptop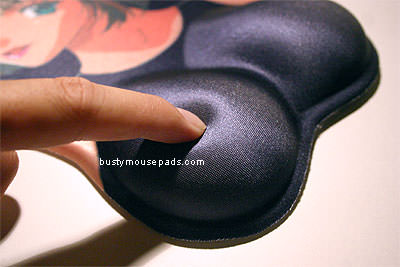 You want to prevent carpal tunnel syndrome? Gel mousepads are great for supporting that mouse hand, but we all know that boobs are softer, right? Busty Mousepads even self-proclaim on their site that your male friends will feel and steal them, while your female friends will think you're a perv. I think this may help ease some internet pr0n tension for a one time fee of $19.95.
Read More

| Busty Mousepads

Posted by Sparky Categories: Accessories, Peripherals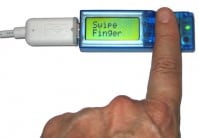 Atmel has announced a new biometric flash drive today aimed at protecting your sensitive data. The FingerGear has a self cleaning fingerprint sensor that you swipe your finger over. The flash drive will feature a LCD display on the front to enable the operator to have a much more user-friendly experience. When you swipe your finger software stored on the flash drive activates and authenticates the user thus enabling the flash drive to be mounted. Because all of the authentication technology is located on the drive itself this is host independent - and will work on Windows, Linux, OS X or any other USB host compliant operating system. As clunky looking as this flash drive is this Gear Live editor is very impressed that it can operate without using OS specific software on the host PC and in this day and age of increased security concerns I suspect biometrics are going to be creeping into more and more data storage mediums.
Read More

| FingerGear via MacMinute

Posted by Sparky Categories: Accessories, Portable Audio / Video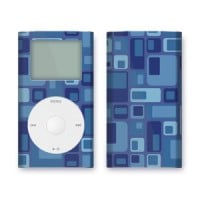 It seems like every day more and more companies are making skins, decals, and wraps for the iPod line, but every once in a while a truly smash up design comes along. DecalGirl has come up with six delicious retro designs including Iceberg (shown here), Shag Swag, Key Lime, and others. All six of her designs are available for both 3rd and 4th generation iPods, the iPod Mini, and the iPod Shuffle and feature the same removable, reusable peel and stick vinyl technology. Bravo to the designs and to the prices at $3.99 to $6.99 each it's quick and cheap to protect the finish of your iPod while giving it a stylish new look.
Read More

| Decal Girl via TUAW
Posted by Alex Grahmann Categories: Accessories, PC / Laptop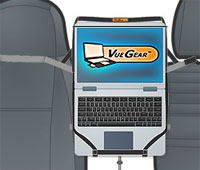 The CradleVue laptop harness, from VueGear, is designed to hold almost any laptop in an upright position between the two front seats of any car, minivan, or SUV. With some nylon webbing and a few simple bungee-like cords (described by the company as "tent-quality," if that means anything), your notebook will be in a position to perform any of its native functions on the road – such as playing DVDs or games. This will save a bundle for anyone considering installing a multimedia upgrade for their cars, but may lack the stability to protect your well-earned laptop against the abuse dished out from the back seats.
Read More

| VueGear
Posted by Edwin Soto Categories: Accessories, Portable Audio / Video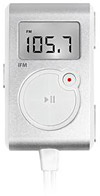 iFM was unveiled today by Griffin Technologies integrating some of the most sought after accessories for you iPod. The iFM acts as a remote, FM transmitter, and even an audio recorder with its built in microphone. Not enough you say? Well, not only can you record yourself, you can directly record from your actual radio. For all these features, it's set at a reasonable pre-order price of $49.99.
Read More

| iFM
Posted by Alex Grahmann Categories: Accessories, Corporate News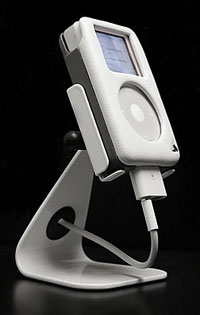 What had been known as the Thought Out "iPed" will now be simply known as the "Ped," thanks to a cease-and-desist order issued to the company by Apple. The Ped line of accessories consists of pedestal-style stands for various versions of the iPod, several of which have gotten favorable reviews from online vendors. While many, many other companies are getting away with putting a lowercase "i" in front of product names in order to sell a few thousand more units than they would otherwise, the one-letter difference between "iPod" and "iPed" doesn't seem to be a big enough gap to avoid the scrutiny of the almighty Apple. In their letter, Apple explained that the name confusion could weaken the iPod brand strength. In a way, this could be taken as a sort of compliment to Thought Out, who probably had no idea that their little pedestals would cause such a stir.
Unfortunately, I have a friend named "Ted" who is now suing Thought Out on similar grounds. He says that "Ped" weakens his brand strength with the ladies.
Read More

| Thought Out
© Gear Live Inc. – User-posted content, unless source is quoted, is licensed under a Creative Commons Public Domain License. Gear Live graphics, logos, designs, page headers, button icons, videos, articles, blogs, forums, scripts and other service names are the trademarks of Gear Live Inc.