Find Our Latest Video Reviews on YouTube!
If you want to stay on top of all of our video reviews of the latest tech, be sure to check out and subscribe to the Gear Live YouTube channel, hosted by Andru Edwards! It's free!
Tuesday September 6, 2005 2:01 am
Microsoft Natural Ergonomic Keyboard 4000 Review
Tweet
Posted by Rob Stevens Categories: Accessories, Features, Peripherals, Product Reviews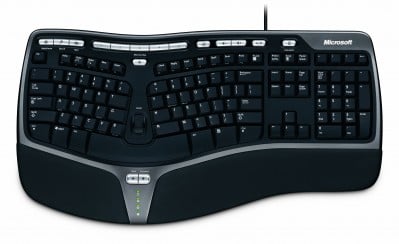 Let me get this out of the way; I'm a keyboard snob. I've been typing for a very long time, and still have fond memories of my IBM Selectronic (with its very nice "buckling spring" keys), and my old Northgate Omnikey, with those wonderful programmable keys. (Geek Cred +2) I hoard keyboards like they're going out of style, because you never know when a company will stop making the perfect keyboard and leave you out in the cold.
However, since developing some severe RSI in both wrists, I had to move to a more ergonomic keyboard; a standard "straight" keyboard would have my wrists in flames in less than 10 minutes. Microsoft was one of the first companies to perform major research into ergonomics, and developed the first of what would become known as a "split" keyboard, branded under the "Natural" moniker.
The first of the Natural keyboards, the Natural Pro, was a gift from the almighty himself. As with any new keyboard layout, it took some adjustment to get used to it, but I noticed right away that the RSI that I'd developed was gone. Spending a little more time practicing with the keyboard, and my typing speeds improved even over my previous scores, and the keyboard had a fantastic "aural" response. You could hear me typing on that thing from across the office. There were some differences in the key layout, however, that had some people up in arms. Microsoft would change the layout of the 3x2 key grouping that contained the Delete, Insert, Home, etc., to a 2x3 layout of only five keys … removing the Insert key entirely and doubling the size of the Delete key. It was a controversial change, but one I came to embrace.
A series of refinements came to the line, starting with the slimmer "Elite" model, which many people still swear by to this day, but which also came with a new key configuration for the arrow keys, changing the "inverted T" to a cross layout with smaller keys. The Natural Multimedia would come later, adding specific keys for commonly used programs, as well as a two-port USB hub, but it retained that wonderful loud "clackity" sound. After that, it seemed as if there was no further development into the ergonomic keyboard design, and rumors started to spread that they simply weren't selling as well as they should.
Finally, when Microsoft jumped into wireless technologies, they released a wireless desktop set called the Wireless Optical Desktop Pro. It features a wireless version of the Natural Multimedia with slick translucent keys, and while the sound had been reduced somewhat, it was still easy to hear when you were making good contact with the keys. They also introduced an "F-Lock button, which can convert your F-keys into dedicated keyboard shortcuts for New, Open, Close, etc. Today, I use the Natural Multimedia at work, and the Natural Desktop Pro at home. The wireless feature ended up being far more useful than I had anticipated … sometimes it's nice to be able to just grab the keyboard and toss it aside to give yourself more desk space.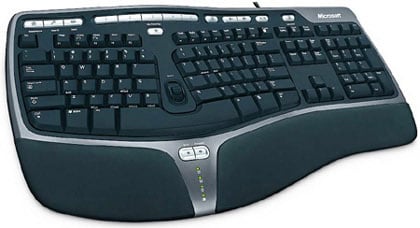 Recently, Microsoft has shown that they've done some additional research into the ergonomic keyboard, modifying the standard straight layout with what they call a "Comfort Curve". The keys are still flat, but there is a slight downward curve towards the middle, and some of the middle keys are elongated. (Acer has experimented with a similar design on some of its newer notebooks.) I admit to having shown some curiosity, but I simply couldn't bear to leave my split keyboard for this Johnny-Come-Lately. The Comfort Curve has been featured in a couple of different desktop sets, including the recent Wireless Optical Desktop 5000.
Today, that's all changed. Microsoft's first truly new ergonomic keyboard design in many years has been revealed - the Natural Ergonomic Keyboard 4000. Redundant nomenclature aside, the new keyboard sports a hybrid design that borrows from both the Comfort Curve and the Natural series to deliver a new feel. The first thing you'll probably notice out of the box is not the keys, but the "front tilt plate" that comes preinstalled. This raises the palm rest and puts the keyboard on a downward slope, similar to the feet on the original Natural Keyboard. For those that prefer a flat keyboard, the tilt plate can be removed, and there are even feet that can raise the back of the keyboard up, if you like. The keyboard is their thinnest ergonomic model yet.


The 4000 also features changes to the multimedia key layout, with specific keys for launching your web browser, e-mail client, and a Search button (which brings up the search window in whatever program you're currently using). There are volume up and down keys, a mute key, play/pause, and a Calculator button (which I use frequently). Missing in action are the logout and sleep keys, which I also used frequently, and buttons for My Documents, My Pictures, My Music … pretty much any of the "my" folders which Microsoft created for Windows XP.
Replacing these buttons are five "My Favorites" keys, which do not come pre-configured. You can use the Microsoft IntelliType Pro software (version 5.3 comes in the box) to assign any program you like to these keys. Since they keys are labeled simply 1-5, you could possibly forget which programs are assigned to which key, but Microsoft covered their bases here by including a "star" key which will bring up your list of favorites and allow you to change them.
Microsoft has decided to use the space between the "split" to add a Zoom slider, borrowed from their Office series of keyboards. By default, you can use this slider to zoom in and out of documents and pictures, and can be set to zoom faster the longer the slider is held in one position. I'm not sold on the usefulness of such a feature; in practice, the zoom slider is too far away to be reached comfortably, and changing the size of my documents is something I rarely do. If slider could have been reconfigured to be a scroll wheel, that might have been far more useful. Microsoft adds Back and Forward keys just under the space bar.
In typical fashion, Microsoft isn't finished playing with the key layouts. While the six-key layout of the Delete, Insert, and Home set of keys has returned, Microsoft has also added four new keys above the number pad: an Equals key, Open and Closed Parentheses, and another (smaller) Backspace key. Disappointingly, Microsoft has made the keyboard much quieter, and the keys don't have quite the same tactile response as some of their previous models. While this will likely make my co-workers happy, reducing the din coming from my cubicle, it will most certainly lower my productivity to a degree … this feels more like a laptop keyboard than a desktop model.
Also, Microsoft pretty much knew to leave well enough alone with the shape of the keys on its other ergonomic models, leaving all the standard keys a square shape. That's gone now too, as the keys in the middle of the curve have been elongated, the 6 and 7 keys have a rounded edge on them. It's a design that comes from the Comfort line, and it's going to take getting used to. These keys no longer fit your fingers, so it's harder to tell when you're hitting them correctly, so a certain amount of adjustment is necessary.
Probably the best feature isn't new (it was included in the Wireless Desktop Elite), but it's certainly a nice one. The faux-leather palm rest is quite comfortable and a welcome change. I'm already pining over a matching leather Intellimouse Pro to go with it, but considering Microsoft just updated their mouse line to include laser models, I think I can wait.
FINAL VERDICT
Overall, the Natural Ergonomic Keyboard 4000 feels like a good, solid piece of hardware, one place in which Microsoft truly excels. As with any new keyboard layout, some time is needed to allow yourself to become accustomed to the design. The omission of a USB Hub in a wired keyboard when Microsoft was one of the first to include one is a real disappointment. The only other downsides are the lack of a more distinct keypress sound, and the changes in the shape of the keys closest to the split, but overall, it's a finely crafted keyboard, and one that might convert a few more people over to the Ergonomic side.
© Gear Live Inc. – User-posted content, unless source is quoted, is licensed under a Creative Commons Public Domain License. Gear Live graphics, logos, designs, page headers, button icons, videos, articles, blogs, forums, scripts and other service names are the trademarks of Gear Live Inc.