« TrendyGeek Pod Shields For All | Main | Napster to Enter the Ringtone Game »
December 11, 2004
PSP Goes Live in Japan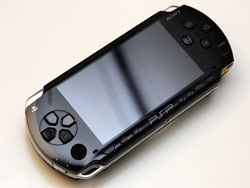 The lines have been forming outside the Japan stores for some time now. Eager gamers are finally starting to get their hands on the system with all kinds of impressions starting to emerge on the internet. This clip from a Japanase show gives us a good glimpse at what the system looks like in broad daylight, if you can put up with the silliness. Gamestop has also begun taking pre-orders for the US launch, expected to be in March 2005. I've actually plunked down my own $50 this past week, though there are reports that EB is taking pre-orders for less than that. In case you've missed it, there is an entire PSP thread with additional media for both games and hardware at our Video Games board.
Posted by Hector at December 11, 2004 11:35 AM
RECENT GEAR LIVE STORIES:
SCOTTeVEST Solar Finetex Jacket Review

Pod Shield Contest Results

iRiver H10 Surfaces

Nokia to Introduce Hologram Labels for Cell Phone Batteries

Sprint and Nextel Announce $36B Merger

Trackback Pings
TrackBack URL for this entry:
http://WWW.WRISTDREAMS.COM/mt/mt-tb.cgi/501
Comments
Japanese people are crazy!
Posted by: Roberto at December 11, 2004 07:35 PM
They might be, but they get to play with the PSP before us. That tech gadget is awesome. I can't wait to get my hands on one.
Posted by: omcantu at December 12, 2004 06:49 AM
Can't wait for this to come out in the USA. Looks sweet...
Posted by: Arob1000 at December 12, 2004 02:00 PM
Man, I can't wait to get one of these things. Although the DS is pretty cool and I want one of those as well, the PSP is going to blow it away when it finally gets here :). Maybe we will get lucky and they will release it even earlier here. lol
Posted by: Scilynt at December 12, 2004 02:49 PM
Post a comment