« Konfabulator Available for Windows and Mac | Main | Yahoo! To Launch Desktop Search »
December 12, 2004
Gear Live to Give Away Game Consoles Via PrizeCube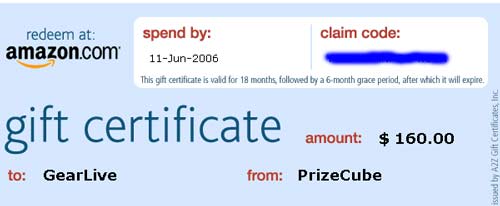 'Tis the season to be jolly...and Gear Live is here to make the holidays just a little sweeter for our readers. We have partnered with PrizeCube, and as a result, we will be giving away one free video game console each week to a lucky Gear Live reader. Each week we will think up a unique way to determine a winner, and that person will then be able to choose to receive an XBOX, GameCube, or PlayStation 2 for their troubles. If you have all three consoles (or would rather get a Nintendo DS), then just tell us that you would prefer to receive a $160 Amazon.com gift certificate instead.
This weeks winner will be chosen on Friday, December 17. To enter, simply read this post on our message board and provide an appropriate response. We will choose a winner out of all the responses randomly, and that person will get the first of many free consoles. Get cracking!
Posted by Andru at December 12, 2004 03:48 AM
RECENT GEAR LIVE STORIES:
SCOTTeVEST Solar Finetex Jacket Review

Pod Shield Contest Results

iRiver H10 Surfaces

Nokia to Introduce Hologram Labels for Cell Phone Batteries

Sprint and Nextel Announce $36B Merger

Trackback Pings
TrackBack URL for this entry:
http://WWW.WRISTDREAMS.COM/mt/mt-tb.cgi/505
Comments
This is an awesome idea. PrizeCube and Gearlive joining forces will definetly bring a lot more people into this community. Whoever though of this idea was genious.
Posted by: Dee Popat at December 12, 2004 11:17 AM
Great Idea Prizecube. You guys rock.
Posted by: Aaron Robinson at December 12, 2004 01:56 PM
yeah this is an aweome idea...not to mention the gift guide idea is pretty damn good as well ;). Just hope I get lucky enough for the random draw heheh.
Thanks for yet another cool featue and reason to visit the great site Andru (and staff :))
Posted by: Scilynt at December 12, 2004 03:12 PM
Awesome idea. Thank you for once again making this an awesome site. :-)
Posted by: omcantu at December 12, 2004 05:00 PM
Post a comment