« DVD Release List: 10/12/04 | Main | Rumor: 60 GB iPod With Color Screen and Video Out? »
October 12, 2004
Philips Streamium HDTV 23PF9976i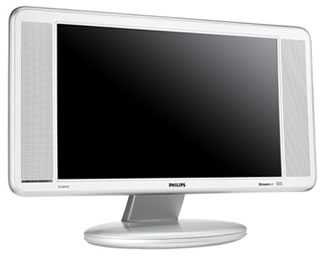 There are more and more adding wireless networks to their homes, as the technology has come down in price quite a bit. After taking that plunge, most try to make future purchases based on whether the device has integrated Wi-Fi or not. It's understandable, as you have invested in the technology in the first place. Philips is finally ready to release their Streamium HDTV. What does one have to do with the other? The Streamium 23PF9976i is an HDTV with integrated 802.11g Wi-Fi.
Philips claims the TV is "future proof" as well. This simply means that the TV will check Philips servers for updates on codecs and other features throughout its lifetime. Sounds nice, but that's not all the Wi-Fi does. The main attraction of this unit is that it can stream audio (MP3, MP3 Pro, PCM, WAV), video (MPEG-1/2/4, DivX, XviD), and photos (JPEG, GIF, BMP, PNG ) over your network and display them on its 23-inch high definition screen. It also boasts a built-in FM tuner, and if that isn't enough, you can stream internet radio as well.
So what's the price? So far, Philips hasn't made it public. We can expect an announcement soon, though, as the Streamium HDTV is set to be released in November. While 23-inches might seem small, it is the perfect compliment to your Streamium Boombox. Right.
Click here to discuss this story on the Gear Live Message Boards
Read More

| eHomeUpgrade
Read More

| Streamium
Posted by Andru at October 12, 2004 09:39 AM
RECENT GEAR LIVE STORIES:
SCOTTeVEST Solar Finetex Jacket Review

Pod Shield Contest Results

iRiver H10 Surfaces

Nokia to Introduce Hologram Labels for Cell Phone Batteries

Sprint and Nextel Announce $36B Merger

Trackback Pings
TrackBack URL for this entry:
http://WWW.WRISTDREAMS.COM/mt/mt-tb.cgi/358
Comments
Post a comment