« Resident Evil 4 Chainsaw Controller | Main | Treasures From Noble Collection »
October 08, 2004
Nintendo DS to Offer Wireless Downloading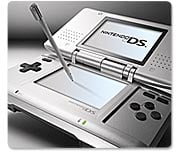 While the ability to share one cartridge for two systems is nothing new...being able to do so wirelessly is. Even more interesting though, are Nintendo's ideas to offer downloadable demos from wireless kiosks at various game stores. The most eye-catching idea of all however, would be plans to wirelessly download a new Pokemon by having your Nintendo DS at the movie theatre when a given scene plays out on the franchise's film. I knew there had to be an easier way to get that blasted Mewtwo!
&nbsp "Yeah, you wish."
&nbsp Click here to discuss this story on the Gear Live Message Boards.
&nbsp Read More

| CNet
Posted by Hector at October 8, 2004 05:28 AM
RECENT GEAR LIVE STORIES:
SCOTTeVEST Solar Finetex Jacket Review

Pod Shield Contest Results

iRiver H10 Surfaces

Nokia to Introduce Hologram Labels for Cell Phone Batteries

Sprint and Nextel Announce $36B Merger

Trackback Pings
TrackBack URL for this entry:
http://WWW.WRISTDREAMS.COM/mt/mt-tb.cgi/348
Comments
Post a comment