« Napster Looking for Third Life | Main | DVD Release List: 9/21/2004 »
September 21, 2004
Official Nintendo DS Launch Date and Price Announced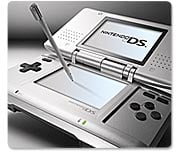 Nintendo has finally let the cat out of the bag, and announced the official Nintendo DS price and launch date, and as Gear Live had reported previously, you will be able to play this thing at the Thanksgiving family get-together (if it isn't sold out). Yup, the Nintendo DS will be in stores on November 21, 2004 at a price of $149.99. To avoid what will certainly be a sellout, preorder yours today. Oh, and we hate to say we told you so, but we told you so!
From Nintendo:
Consumers immediately will be able to pick up and play the new system, as it comes with a free software feature, PictoChat, embedded in the system hardware. PictoChat allows DS owners to write messages with an on-screen keyboard or the stylus and send them wirelessly to other DS users nearby. Users can text chat, draw artistic messages or share secrets, all without saying a word. And a Nintendo DS in sleep mode will spring to life if it senses another DS in transmitting range, alerting users to each other's presence and setting the stage for an impromptu conversation or game session.
More than 100 companies have signed on to create games for Nintendo DS, while Nintendo itself is already developing its first 20 titles. Electronic Arts, the world's largest independent software developer and publisher, already has announced that its powerhouse franchises of Madden NFL, The URBZ: Sims in the City, Need for Speed Underground, Tiger Woods and GoldenEye will support Nintendo DS.
The DS will also include a Metroid Prime: Hunters demo as a pack-in. Prime Hunters is a multiplayer-capable FPS, while PictoChat is a communications software that lets players send messages and drawings to each other. For Nintendo, this will mark the first time since The SNES where a fully functional game is packed in at a system's launch. Industry insiders will notice how this announcement coincides with today's PSP-extravaganza at the Sony TGS event. This will be an interesting war.
Click here to discuss this story on the Gear Live Message Boards
RELATED:
Nintendo DS Design Finalized

Posted by Andru at September 21, 2004 08:45 AM
RECENT GEAR LIVE STORIES:
SCOTTeVEST Solar Finetex Jacket Review

Pod Shield Contest Results

iRiver H10 Surfaces

Nokia to Introduce Hologram Labels for Cell Phone Batteries

Sprint and Nextel Announce $36B Merger

Trackback Pings
TrackBack URL for this entry:
http://WWW.WRISTDREAMS.COM/mt/mt-tb.cgi/306
Comments
Post a comment