« DVD Release List: 8/31/04 | Main | Editorial: What Makes a Great Videogame? »
August 29, 2004
New iPods Coming From HP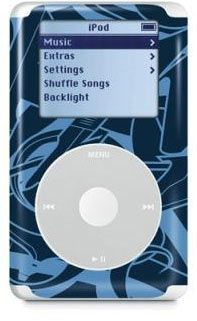 Thanks to a licensing deal announced back in January, you'll soon be able to aquire an HP-branded iPod, simply dubbed: "The Apple iPod from HP". The unit is pretty much a replica of Apple's latest 20-gig and 40-gig models — but will carry the HP brand instead. As part of the deal, HP will sell photo labels which will allow users to choose and print their own art, or select from a variety from artists HP has partnered with, and "wrap" the tattoo-like stickers around their iPods, for a unique look. The deal was to help Apple penetrate even deeper into consumer markets by leveraging HP's distribution capabilities.
Read More

| Yahoo! News

Posted by Hector at August 29, 2004 09:05 PM
RECENT GEAR LIVE STORIES:
SCOTTeVEST Solar Finetex Jacket Review

Pod Shield Contest Results

iRiver H10 Surfaces

Nokia to Introduce Hologram Labels for Cell Phone Batteries

Sprint and Nextel Announce $36B Merger

Trackback Pings
TrackBack URL for this entry:
http://WWW.WRISTDREAMS.COM/mt/mt-tb.cgi/247
Comments
Hi,
Getting iPod is not that difficult. Just complete one of so many nice offers and get 20Gb iPod. Couldn't be any easier.
Best part is, most of these offers have 2-4 weeks free trial, take any one of these and then cancel within trial period. You would still be eligible for iPod.

Posted by: Tim at September 1, 2004 05:04 PM
Post a comment