« The DLNA Set To Make Device Connectivity Easier | Main | Download Windows XP Service Pack 2 RC2 Now »
June 23, 2004
One Giant Leap For Common Man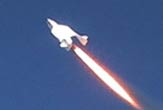 SpaceShipOne flew into orbit, and thus into the history books as the first non-government funded craft to enter zero-gravity space. Mike Melvill piloted SpaceShipOne, mentioning that it was "a hell of a view", as well as "a religious experience". After landing at the Mojave airport, Melville and SpaceShipOne were greeted with cheers and questions about the $10 Million "X Prize".
The X Prize will be awarded to the first non-commercial craft which flies into orbit twice within a two week period with at least one live person, and the weight of at least three average people in the cabin. Obviously, this may mark the beginning of a new millenium space race. Get ready to go where no common man, other than Mike Melvill, has gone before.
Posted by Andru at June 23, 2004 02:57 PM
RECENT GEAR LIVE STORIES:
Notebook Makers Moving to Slimmer Designs

Gear Live Holiday Music Guide 2004

Are Cell Phones Harmful?

Gear Live Giveaway: Three DVD's of Your Choice

Gamer Buys Virtual Island for $26,500

Trackback Pings
TrackBack URL for this entry:
http://WWW.WRISTDREAMS.COM/mt/mt-tb.cgi/63
Comments
Hello! Nice site!
Posted by: radio adds at July 9, 2004 05:38 PM
Post a comment