« Smart Phone Worm Not As Bad As They Thought | Main | Google Gmail Invitation Contest »
June 15, 2004
Mod Your XBOX Without a Mod Chip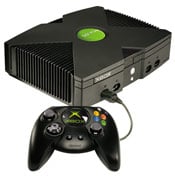 KevinRose.com has a tutorial on how to soft mod your XBOX to give it much more functionality than it has out of the box. If you have ever wanted to back up your games to your hard drive, browse the internet, or even turn your game system into a video recorder, check out the article. It is very straight forward, and when you are done, you will have a much more powerful machine.
Read the article at KevinRose.com
Posted by Andru at June 15, 2004 07:42 PM
RECENT GEAR LIVE STORIES:
Notebook Makers Moving to Slimmer Designs

Gear Live Holiday Music Guide 2004

Are Cell Phones Harmful?

Gear Live Giveaway: Three DVD's of Your Choice

Gamer Buys Virtual Island for $26,500

Trackback Pings
TrackBack URL for this entry:
http://WWW.WRISTDREAMS.COM/mt/mt-tb.cgi/38
Comments
I'm trying to download the files for EvolutionX from the link on your website "www.kevinrose.com". The link is unavaiable. Is there another site I can download the files?
Posted by: Punchy at June 17, 2004 03:34 AM
You can do a google search for evolutionx, or EvoX.
Posted by: Freeze at June 17, 2004 08:16 AM
Hi,
Im having trouble understanding the Linux modding way is there someone that can help me step by step or walk me through it?
Posted by: NNxGrim at June 18, 2004 12:50 AM
NN - What part are you having a problem with?
Posted by: Andru at June 20, 2004 12:22 PM
kevin, kevin........ i cannot find evox to dl.... ive look for over an hour and cannot find a reliable download PLEASE HELP! my friend has a modded xbox but he actually put a mod chip in... could i use a ftp to transfer the files from his xbox to my comp the to my xbox?
Posted by: Nikki at June 21, 2004 07:52 PM
i got all the things the tutorial asked for i ordered a mega xkey in addition and i got mechassult and i downloaded a evo x application i was just wonderning if the one i downloaded actually worked its called gouki xbox modless archive if someone could possibly reasure my doubts by telling me it works

Posted by: mike at June 23, 2004 07:12 PM
I need a step by step instructions to mod my xbox
Posted by: Richard at July 7, 2004 06:37 PM
hi want to know where can i find info on actually soft modding my xbox
Posted by: cuzzbrother at July 8, 2004 10:15 AM
Your site was very helpful to me. Thank you.
Posted by: flight simulator 2002 adds on at July 9, 2004 05:33 PM
I have all the files needed and I have the Action Replay devise, but how do I put the file and which file specifically onto the Acion Replay devise.
Email me if you have the anwser!
shame724@hotmail.com
Posted by: shame724 at July 23, 2004 08:28 PM
KEVIN I NEED HELP ON FINDING A FILE TO GET EVOX I LOOKED ON GOOGLE AND EVERY WERE JUST CANT FIND IT TO PUT IT ON THE ACTION REPLAY. SO PLZ HELP ON ME TRING TO FIND A FILE TO DOWNLOAD EVOX ON TO THE ACTION REPLAY.
EMAIL ME AT
JOESTEFP@NETZERO.COM
Posted by: JOE at July 29, 2004 06:20 PM
can I still play xbox games if I use xbox linux?
can I transfer it through ethernet?
and can I backup my game files?
Thanks
Posted by: Joshua at August 16, 2004 07:17 PM
Email Me and ill send you evox. of just go on Efnet and go to #xbins and you will be able to get everything that has to do with xbox there. if anybody got the mechassualt file please send to me, Good Luck All
Posted by: Recon180 at August 17, 2004 08:56 AM
HOW DUZ A GANGTA GETZ LINOOX // EVO- "X" TO WORK ONN DE XBORX?!?! GAAHHHHHHHHHHHHHH
Posted by: Gangsta006 at August 17, 2004 01:43 PM
Can you soft mod with a dailup internet connection
Posted by: ronnie at August 20, 2004 05:43 AM
Hi kevin my name is guru, could you email me the tutorial on how to Modified Your XBOX Without a Mod Chip.MY email adress is manafoot@yahoo.com
Thank You
Posted by: guru at August 20, 2004 11:18 AM
hey kevin i need the tutorial on how to modify your xbox without a mod chip. If there is a way to fool a playstation 2 to play burnt cd's that would be appreciated as well. My e-mail is matt_man02@yahoo.com
Posted by: mattman at August 21, 2004 04:19 PM
Kevin, I can not find the files that I have to put on my usb anywhere can you help me?
Thank you, Clif
Posted by: Clifton at August 21, 2004 09:57 PM
my softmod on my xbox is sweet... i can burn my xbox games to back them up and save them on my pc hard drive and put them back on my xbox through my ftp client that i use.... if you need help go to xbox-scene.com for the tutorial and xbox-tribe.com for the files
Posted by: elf men at August 23, 2004 11:32 AM
yo guys... the first thing... you download evoloution x by getting a program call irc... go to www.mirc.com and logging onto efnet as the server... from there you type /j xbins and follow the instructions on the topic you eventually download the stuff from an ftp client... so yeah...
Posted by: YAHOO at August 23, 2004 02:35 PM
hi look, i have i problem with my xbox, i do it wrong the things with evox, n the harddisc doesnt work any more,it do nothing just reset every second i try to repair it but i cant because th HD its locked, the partition type so can u help? i want to have the Xbox HD Original like when it was new, please?
Posted by: Alex at August 24, 2004 01:11 AM
Hi Kevin,
Kevin or anyone, I need a step by step instructions to mod my xbox without a mod chip. Thanks for the help. Email address is ronin1568@yahoo.com
Posted by: Ronin at August 25, 2004 06:15 PM
Looking for Evox and what ever else I will need to do the chipless mod. I looked at (efnet as the server... from there you type /j xbins and follow the instructions on the topic you eventually download the stuff from an ftp client)
and did not find it or anything else for the cipless mod.
OR am I just better off getting a second Xbox and doing a chip mod?
Thanks ahead of time for the help with this
Raven
Posted by: Raven at August 29, 2004 08:33 PM
I, too would like step by stp instructions for hacking without a modded XBox.mod chip. Also, what is the thingy called that plugs into the USB dealie?
Posted by: JBob at September 1, 2004 04:34 PM
Please if their any one out their that can help me find EvoX I have looked everywhere and I can not if it I have every thing to mod my xbox but I cant find EvoX. Can someone please send me a link or lead me in the right direction to find EvoX. Please someone help. Email me at splintercell4052000@yahoo.com

Posted by: john at September 1, 2004 05:34 PM
I have everything exept for the EVO-X download. were do I go. HELP!!!
Posted by: ice at September 2, 2004 01:19 PM
Kevin can you send me step by step instructions just like the ones on the screen savers and also the files needed to mod the xbox? If you could that, that would be great. Thank you very much and I enjoy your show
Posted by: Killa at September 2, 2004 09:28 PM
hye guys i want to mod my x box to i have everything to do it except for the evox i found some where to dl it and it was from xbox-tribe.com but they had one than one so can some one please email me the link to dl the right evox and the full tutorial on how to do it thank you. oh yea one more thing if i make the chipless mod work can i change it back to the original x box like it was at the begining so just incase i od something wrong or for some reson i want to switch back.so who ever is going to help me my email is saltysptoon@yahoo.com
Posted by: philip at September 2, 2004 11:58 PM
hey kevin...i got the phantasy star online keyboard usb adapter...now im not sure if i should just transfer the file i downloaded of the mechassult onto the xbox...if this is the only thing left to do...can you email me an answer if this will allow me to copy my games onto my xbox...or just let me run linux on my xbox...thank you...dababyboy1a22@yahoo.com
Posted by: Mike at September 3, 2004 12:10 AM
Hey kevin, i was just wondering, if i softmod my xbox, will i be able to play xbox live? And i remember watching ur show, screen savers, and someone called about his xbox, saying that he couldnt get his hdd re-locked or something, does it have to be locked to play xbox live? because i was just wanted to know, im gonna need xbox live for Halo 2
thanks
sina_hassan@walla.com
Posted by: Sina at September 4, 2004 09:07 AM
i need instructions.. i saw the episode of the screen savers and it looked realy realy easy. but in the links to instructions on your site or vauge and give one download. if i can get the downloads ( for the mechassult thing) it should be easy ill just do wat u did. please e-mail me at mchesh99@yahoo.com with help
Posted by: Luke at September 5, 2004 10:45 AM
Hey kevin are anybody can you send me the step by step for the chipless mod plz im having probs
Domafied@yahoo.com
P.S: And also how can i get the usb adaptor
Posted by: Doma at September 6, 2004 12:26 AM
can somebody email all the files and easy step by step instructions to dkillilea321@hotmail.com thank you and as you can tell im lazy. If anybody can also answer some questions i have that would be great.If you think you can help me please email me thank you
Posted by: Killa at September 6, 2004 09:03 PM
nubs, You should always know 100% of your plan before you even open any electronic..
I could help but I won't, so don't bother..
Posted by: -pk- at September 7, 2004 10:12 AM
email me at buu52@hotmail.com with links and tuts plz

Posted by: Dan at October 15, 2004 11:22 AM
Yo Kevin, I have looked everywhere to find the data i need to put on my usb but can not find it anywhere.I also ran a google search still havent found it please email me the website you found the data on.Email me at lhsballin@sbcglobal.net.
Posted by: John at November 14, 2004 06:13 PM
hey kevin can you please send me a step bye step walkthrough on how to mod your xbox without a chip and all the files needed to do so and any thing you got on playstation2 or gamecube to i have been reading about game sytem mods for a while and would like to try diong it so if you can please send what i need thank you wraith26
Posted by: wraith26 at November 28, 2004 12:29 PM
i just got a brand new xbox and was waondering if anyone can email me and tell what to do to mod my xbox
Posted by: nyzranga99 at November 29, 2004 06:54 PM
alright everybody out there looking for walkthroughs go to www.xbox-scene.com. files just go through kevins site there are links on there and u can search google or even look at the sites posted here that people gave. its easy if u just follow the screen savers episode and the different walkthroughs on the sites.
Posted by: Ryan at November 30, 2004 05:50 PM
Kevin or somebody email me all the files and the easy step by step instructions. Im a little confused. Thanks
email me at solomon_ysa@yahoo.com
Posted by: Solomon at December 15, 2004 12:39 AM
Can some tell me where can I get proper a Tutorial(s) on HOW TO SOFT MOD AN XBOX WITHOUT A MOD CHIP?
( I Don't have a Mod Chip if you were wondering )
Posted by: GokuGT at December 16, 2004 01:58 PM
Post a comment