« Microsoft and Yahoo! Follow Google's Gmail Lead | Main | XBOX 2 Specs Leaked, Then Retracted, Then Confirmed? »
June 25, 2004
Meet Your Next Date In BEDD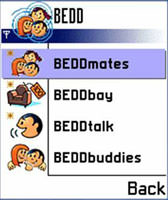 The latest 'meet and greet' trend over in Singapore is an inexpensive service called BEDD. For approximately $0.57 per month users have unlimited access to the program, which is one of many "social network" technologies available via cell phone. So how does BEDD differ?
Users download the program, and fill out a short survey similar to a personality profile. From there, BEDD takes over. Using Bluetooth, the technology runs on your phone searching for other BEDD users within range (about 67 feet). If it finds someone, you are alerted and can then view their profile. From there, you can text message and decide if you want to meet face to face.
A good concept, but is 67 feet really a good enough distance to expect to meet someone that you are even remotely interested in? In a large city with tall buildings, BEDD just wouldn't work - however, there are over 1,000 members of the service in Singapore.
Read more on BEDD | Yahoo! News
Posted by Andru at June 25, 2004 12:02 AM
RECENT GEAR LIVE STORIES:
SCOTTeVEST Solar Finetex Jacket Review

Pod Shield Contest Results

iRiver H10 Surfaces

Nokia to Introduce Hologram Labels for Cell Phone Batteries

Sprint and Nextel Announce $36B Merger

Trackback Pings
TrackBack URL for this entry:
http://WWW.WRISTDREAMS.COM/mt/mt-tb.cgi/69
Comments
good job !
Posted by: printer exploit at July 9, 2004 05:40 PM
Post a comment