Friday November 12, 2010 1:40 pm
The state of newspapers on the iPad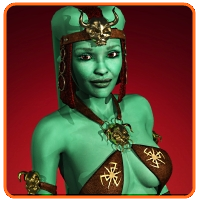 Tweet
Posted by Patrick Lambert Categories: News, Editorials, iPad Apps, Free Apps,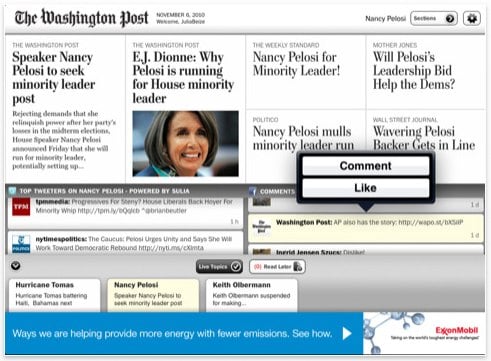 This week, the Washington Post is the latest of the big, well known newspapers to add itself to the growing list of digital apps available on the iPad, alongside other well known names like the New York Times, the Wall Street Journal, Globe and Mail, The Times and more. But are these worth your time? Do they replace their paper versions, and do they deliver a good value for the price?
Like its cousins, the Washington Post is a free download in the App Store. However, the first screen it shows is a reminder that this free version is brought to you by a certain company, and that it will only remain free until early 2011. This is similar to the New York Times which also says it will require a paid subscription by next year. Once inside the app, the Washington Post has, in my opinion, one of the most well done interfaces for news. It maintains the paper feel, but the navigation is completely adapted to the iPad. You can scroll naturally throughout each page, click on an article to open it, and go to a specific section.
The app has a large ad at the bottom which is understandable as a free app, but is otherwise pretty clean. In contrast, the New York Times app shows articles just like they are in the paper, instead of reformatting them to be more natural to the device, but it still has easy navigation options to go between sections. The Times and the Globe and Mail are the worst of the bunch on that point, where clicking on a link involves scrolling through several "pages" and content is often kept in tiny columns. As far as ads go, I feel the New York Times is unfortunately the most annoying, going so far as displaying full page ads.
Most of the newspaper apps offer more than text, and show their images, with the ability to zoom in. Some of them even include video clips, namely the New York Times and Washington Post. They almost all provide sharing options as well, usually to Facebook and Twitter, which is something you obviously can't do in an actual paper. The Washington Post app also has an easy option to set articles to the side for future reading.
Unfortunately, despite all these nice features, it very much feels like newspapers are trying to double dip when making the transition to the digital world. They want to keep showing us ads, but also ask for a subscription that is similar to their old model. But this isn't the paper world. There is no printing, no delivery cost, and subscription is just not what people expect when reading news on a screen. While it's free for now, it's clear that they are hoping to get people accustomed to their app, and willing to dish out next year.
Instead, I feel that these newspapers just don't bring that much value to the iPad. There are a number of good RSS readers available in the iPad, which take only a few minutes to setup, and can provide news from a range of sources for free. One app that is both very useful and very pretty is Flipboard. For simple news, you don't even have to hunt down sources. From within the interface, you can customize tiles with content from a variety of sources, including some of those newspapers like the New York Times. But unlike those newspapers, this app goes much further. As you go to various news sections, such as Politics or Technology, you get news from a range of sources, not just one point of view. Plus, you can even see what people in the social networks like Facebook and Twitter are saying about each subject. Inside this single app, you can have your news, friend feeds, and more, just like a newspaper or magazine, for free.
There are more good RSS readers too, like Pulse. The point however is that the time for a single, one use, one source newspaper, is over. This is not the world we had in the past. News is something that's dynamic, instant, and comes from more than just one set of editors. I feel that at this point, the exclusive content from newspapers, like opinions and editorials, is very little to provide for asking such a high subscription fee, on top of ads. For anyone thinking of switching from a paper based newspaper to a digital one, at this point I'd recommend to look at an alternative such as Flipboard.
© Gear Live Media, LLC. 2007 – User-posted content, unless source is quoted, is licensed under a Creative Commons Public Domain License. Gear Live graphics, logos, designs, page headers, button icons, videos, articles, blogs, forums, scripts and other service names are the trademarks of Gear Live Inc.