Thursday January 4, 2007 10:51 pm
The Pursuit of Happyness Review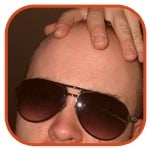 Tweet
Posted by Johnny Mercedes Categories: Columbia Pictures, Sony, Drama, New Releases, Theatrical Reviews,
Chris Gardner (Will Smith) is a gifted, but struggling salesman trying to raise a family and make a decent living in 1980s San Francisco. One fateful day, he stumbles upon an unpaid internship opportunity at a successful stock brokerage firm, and applies, hoping to start a new life for his family. When the daily strain becomes too much to bear, his unhappy wife, Linda (Thandie Newton), decides to seek her own future, leaving Gardner to care for their five-year-old son Christopher (Jaden Smith). Unable to pay the bills on his marginal income, the two are forced to live on the streets, finding shelter in subway bathrooms and homeless shelters. Inspired by a true story, The Pursuit of Happyness is a reflective and poignant rags–to–riches story that, while embellished for dramatic effect, displays what one can do with enough diligence and determination.
The Pursuit of Happyness is directed by Gabriele Muccino and written by Steven Conrad. Rated PG–13.
With any film like this, one must step back and realize that it can become one of two things: a well-intentioned puff piece steeped in unnatural cause, effect, and eventual triumph, or a deep, realistic snapshot of human emotion and experience. The Pursuit of Happyness is definitely the latter. The movie is based on the real-life story of Chris Gardner, a man who struggled through egregious hardship to become a successful businessman and father. The story, now a non-fiction book of the same name, was originally featured in a 20/20 segment where Gardner described and displayed some of the obstacles he had faced: he had to bathe his infant son in the sink of a BART station bathroom, move from shelter to shelter in order to find a place to eat and sleep, and care for himself and his son under near impossible conditions, all the while vying for a highly competitive job and making little to no income. The knowledge that this story comes from a real place is undoubtedly why it works so well, especially because it is one that could happen to anyone in America.
Of course, the screenwriter and director took some liberties when transferring the story from 20/20 segment to feature film. For instance, the age of Gardner's son, Christopher, was changed from infancy to 5 years; the real Gardner had never picked up a Rubik's cube in his life, but it becomes an essential object in the film; characters, including Gardner's wife, Linda, were created from various other people in his life. However, the film plants itself firmly in the real world, never drags or gets preachy – it ends comfortably where you think it will, without vacillating into other overly dramatic territory. In this way, the writer and director managed to find a balance between fiction and non-fiction that cannot be ignored for its excellence. This balance may leave the film feeling a bit predictable, but the payoff is found in the plausability of the story.
Not surprisingly, the performances are what really drive the film and set it apart from similar endeavours: Will Smith perfectly portrays the determined, serious, yet affable Gardner; Thandie Newton has dramatic intensity down to a science; but Jaden Smith, real-life son of Will and Jada Pinkett Smith, steals the show with his innocence and witty, yet appropriately aged performance. While nothing seems particularly Oscar-worthy, the actors are perfect for the roles they are playing – something quite rare.
Despite continually distracting narration, injected for a quick laugh during moments of stress or heartache, this film succeeds in that it shows the evolution of "true story" filmmaking. The story is simple, the characters are relatable, and everything – locations, character interaction, situations – feels plausible. Highly recommended.
© Gear Live Media, LLC. 2007 – User-posted content, unless source is quoted, is licensed under a Creative Commons Public Domain License. Gear Live graphics, logos, designs, page headers, button icons, videos, articles, blogs, forums, scripts and other service names are the trademarks of Gear Live Inc.