Sunday October 11, 2009 7:22 pm
One Man Mock Draft, Fantasy NBA 2009: Round 2, Pick 12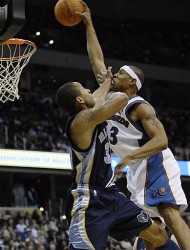 A fun time-waster is the mock draft application over at Yahoo Sports. Or if you have dealt with too many "yahoos on Yahoo" as one forum mate put it, sites like Mock Draft Central provide useful tools, despite the heavy slant and bias towards football.
It was during a mock draft that someone remarked "Tough Juice not so tough the last few years." Games played totals of 63, 58 and 67 over the last three seasons have this player deserving of the knock. Yet, unlike other players, he has not been branded the label of being soft and has more or less avoided the derision of having a tendency to be injury-prone. Perhaps the obvious super attributes he has for the fantasy game enable us to offer Caron Butler a pass.
Round 2, Pick 12: Caron Butler, SF, Washington Wizards
Here are the numbers and league ranks for Butler last season. Where he did not qualify for league ranking due to not enough games played, a double-asterisk is used to designate what his ranking would have been had he been more healthy.
Field Goal Percentage: 0.453 (68th)
Free Throw Percentage: 0.858 (25th)
Three-pointers Made: 65 (almost 1.0 per game) (109th)
Points: 20.8 (21st)
Rebounds: 6.2 (*41st*)
Assists: 4.3 (*35th*)
Steals: 1.6 (*10th*)
Blocks: 0.3 (*93rd*)
Turnovers: 3.13 (6th)
Assuming Butler can sustain his level of production over 82 games, he owns a complete fantasy game for fantasy purposes. A small forward who does not kill your FG% hopes, and more often than not, he hits nothing but net on his free-throws. With Gilbert Arenas returning and Randy Foye and Mike Miller joining the team, there is some legitimate concern that Caron will be the one to take the hit in scoring. However, even a dip into the 17-18 ppg range makes him a viable fantasy commodity at this stage in the draft. He has turned himself into a serviceable three-point shooter, and his passing skills are underrated. Always a ball hawk, he remains one of the top players in steals. Yes, he racks up the turnovers, but that is the category to punt when you draft guys like LeBron James, who was drafted first for this mock team, and Caron Butler.
Matching up Caron with LeBron looks very good. For one, LeBron is an iron man and can help weather the storm if/when Caron misses time due to injury. Secondly, their skills match up very well. Assists look good even with no point guard on the roster, and the same with steals. LeBron improved his FT% last year which is why he deserves top dog consideration depending on your league set-up, but just in case, Caron is money from the line and can cover any regression on LeBron's part in that department.
With the regular season less than three weeks away, it looks like drafting late in the second round means missing out on the top tiers at the point guard position. This leaves prospective fantasy GMs with a choice between "boring" consistent guys like Antawn Jamison and Joe Johnson (though Joe is a fave of mine and was already taken in this draft), good to great fantasy players who are unfortunately injury-prone, like Caron, but also Devin Harris and Kevin Martin, and the old guard which includes the likes of Tim Duncan, Vince Carter, Paul Pierce, and Jason Kidd. I am higher on TD than someone like Dr. A. from Rotoworld; I believe this notion of surprise DNPs is overblown. Over the last four years, Duncan has suited up 80, 80, 78 and 75 times. Certainly that track record ranks better that Butler's. I owned TD last year in my main league, and did well. The DNPs tended to come out in the news early enough to do something about it, so it is best to play in a daily league if you target Duncan this year.
The Master List can be used to find players previously picked in this mock draft. I will try to make sure this gets updated regularly.
© Gear Live Media, LLC. 2007 – User-posted content, unless source is quoted, is licensed under a Creative Commons Public Domain License. Gear Live graphics, logos, designs, page headers, button icons, videos, articles, blogs, forums, scripts and other service names are the trademarks of Gear Live Inc.