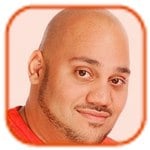 Posted by Andru Edwards Categories: Music, Trailers, Xbox 360, Xbox Live, Xbox Live Arcade, Xbox Live Marketplace
This week there was a lack of actual in game content available through the marketplace so I'll focus on game and movie videos & trailers. Hopefully some good free content will be released as we move towards Christmas. I'll keep my eyes open and make sure it's posted as it becomes available. In the meantime check out this weeks free content. Enjoy!
GAME DEMOS
:
College Hoops 2K7 – Rated E - 2006 – 961.64MB
Splinter Cell Double Agent (Single Player) – Rated M – - 2006 – 505.86MB
RoboBlitz (Arcade) – Rated E10+ - 2006 – 49.32MB
GAME VIDEOS & TRAILERS
:
Halo3 1st TV Commercial – Rated : NR - 2006
SD - 480p – 14.07MB
HD - 720p - 48.21MB
Battlestations : Midway War Machines Trailer : Rated T - 2006
SD - 480p – 15.46MB
HD - 720p – 73.70MB
Bionicle Heroes Trailer I : Rated E10+ - 2006
SD - 480p – 13.07MB
HD - 720p – 74.07MB
Eragon : Making of Trailer – Rated T - 2006
Unknown format – 126.54MB
Eragon : Director and Designer Interview Trailer – Rated T - 2006
Unknown Format – 160.01MB
MOVIE CLIPS & TRAILERS
:
Eragon Trailer I : 1 Minute – Rated G - 2006
SD - 480p Widescreen – 23MB
HD - 720p Widescreen – 83MB
Eragon Trailer II : 2 minutes – Rated G - 2006
SD - 480p Widescreen – 33MB
HD - 720p Widescreen – 120MB
Transformers Teaser Trailer : 1 Minute – Rated PG-13 (2007)
SD - 480p Widescreen – 25MB
HD - 720p Widescreen – 86MB
MUSIC VIDEOS
:
Tenacious D : The Pick of Destiny : 2 Minutes – NR - 2006
SD - 480p Widescreen – 32MB
Song of the Heart : (from Happy Feet soundtrack) – 3 Minutes – NR - 2006
SD - 480p Widescreen – 34MB
Hold Me Down : (from Motion City soundtrack) 4 Minutes – Rated Explicit - 2005
SD - 480p Widescreen – 47MB
Bad Religion : Los Angeles Is Burning : 3 Minutes – NR – 2004
SD - 480p Fullscreen – 38MB
Matchbook Romance : Monsters : 4 Minutes – NR - 2006
SD - 480p Widescreen – 45MB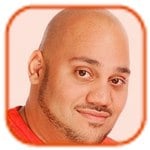 Posted by Andru Edwards Categories: Microsoft, Movies, Product Reviews, Video Games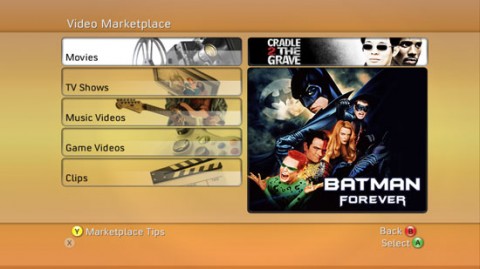 This one is from our friends over at Krunker, who decided to go through the horrific pain and agony (in our opinion) of downloading the huge video files available on the Xbox 360 Video Marketplace onto the miniscule Xbox 360 hard drive. They report back with their full review of the service, which they see as one of the beginnings of an Xbox 360 - Zune relationship:
The new Xbox Video Marketplace is a small step in the right direction for the Xbox 360. The initial release is underwhelming and some of the restrictions annoying, but the service introduction clearly lays out the infrastructure and ground work for a bigger service down the road - one that will most likely bridge us to the Zune as well.
A small step in the right direction - we agree there - but come on Microsoft. You guys created Windows Media Video, and it streams incredibly well on PCs. Why can't you use the same technology on the Xbox 360? Don't you think users would much rather have instant-on access to these shows and movies rather than having to wait hours for a download to complete? Contemplate that, please, and get back to us. Thanks.
Read More

| Krunker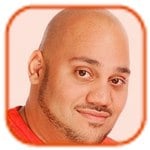 Posted by Andru Edwards Categories: Driving, Features, Simulation, Sports, Xbox 360, Xbox Live, Xbox Live Marketplace
We are going to start bringing you the free content available on the Xbox Live Marketplace on the regular, thanks to long-time Playfeed reader munkyxtc. Let's not waste any time, and jump right in.
Available in: Australia, Austria, Belgium, Canada, Denmark, Finland, Germany, Hong Kong, Ireland, Italy, Netherlands, New Zealand, Norway, Spain, Sweden, Switzerland, United Kingdom, United States

Viva Pinata Maximum Candiosity Gamer Picture (2 days only, expires Dec 4th)
Burger King Games Picture Pack (US & Canada Only)
Test Drive Unlimited : New Vehicles: (All XBL Regions/Requires in game currency)
Lexus IS 350 Chevy Corvette C1 1957
NCAA 07: Alternate Uniforms: (Courtesy of Coca-Cola)

Big 10, Pac 10, Notre Dame
ACC
Big East, Conf. USA
SEC, Mtn. West
Big 12, WAC
Madden 07 – Throwback Uniforms: (Courtesy of Sprint)

AFC East Throwback Uniforms
AFC North Throwback Uniforms
AFC South Throwback Uniforms
AFC West Throwback Uniforms
NFC East Throwback Uniforms
NFC North Throwback Uniforms
NFC South Throwback Uniforms
NFC West Throwback Uniforms
Posted by Christopher Sasaki Categories: Bungie, Culture, First Person Shooters, Xbox 360
Microsoft has just announced that gamers will be able to sign up to participate in the Halo 3 multiplayer beta on Monday, December 4. On that day, people will be able to sign up for the beta by going to www.halo3.com; those gamers selected will get exclusive access to the pre-release code some time around spring of 2007. The sign-up is tied to the debut of a new CGI-rendered trailer for the game set to air on ESPN's Monday Night Football between 5:50 and 6:20 p.m. PST.
Read More

| Gamerscoreblog

Posted by Christopher Sasaki Categories: Xbox 360, Xbox Live Marketplace
GamesIndustry.biz recently interviewed Viva Piñata developer Rare, and in some published excerpts, the company claims that it is still on the fence in regards to downloadable content. Viva Piñata's collection-based gameplay would seem to make the game ideal for future downloads, but Rare is balancing developing add-ons versus creation of a whole new game. Part of Rare's hesitance seems to be tied to the relative lack of success that they have had with previous downloadable releases. Realistically, though, the additional content that Rare has offered has been pretty marginal. The company's Kameo Power Pack really only offered new game modes, and nothing particularly compelling. Other game companies have been trumpeting the virtues of downloadable content; Activision and Ubisoft have been happy with the success of their expansions for Call of Duty and Ghost Recon, and Electronic Arts has been going crazy for paid content, so it is odd to see a company with such close ties to Microsoft not buying into the business model.
Read More

| GamesIndustry.biz

Posted by Christopher Sasaki Categories: Xbox 360, Xbox Live, Xbox Live Marketplace
A number of users have reported problems with Microsoft's new television and movie downloads on the Xbox Live Marketplace. Gamers have had issues with download speeds and incomplete downloads, and incorrect charges. Microsoft's Larry Hryb, via the Major Nelson blog, has announced that the company is working hard at fixing the issues, and will work with consumers to get refunds for content as appropriate. Microsoft claims that the extremely high number of downloads caused issues with the service; while it can be difficult to project how many users may hit the service, certainly things should have been designed to the point where incomplete or failed downloads would result in false charges on an account. Hopefully, Microsoft will resolve the issues quickly for those gamers affected.
Read More

| Major Nelson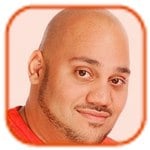 Posted by Andru Edwards Categories: HDTV, Home Entertainment, Software, Video Games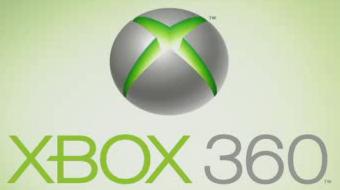 Alright Xbox 360 owners, with the launch of the Playstation 3 and Nintendo Wii around the corner, Microsoft is doing what they can to make the Xbox 360 look just a tad more impressive this holiday season. Tomorrow the Xbox team is releasing the second major dashboard upgrade since the release of the Xbox 360 last year, in the Fall System Update. Some of the more impressive additions are 1080p output for both movies and games, and the ability to stream video (WMV only, though) from any PC running Windows Media Player 11 or Windows Media Connect. Here is a list of all the new goods:
Expanded HD Display and Video Playback Options:
With 1080p resolution, gamers now have the ability to enjoy both game and video content in the best HD resolution currently available.
Expanded video playback options increase the ways gamers can enjoy video content on Xbox 360. It is now possible to stream WMV video from a Windows PC running Windows Media Player 11 or Windows Media Connect.
Gamers can now play video files from data CDs and DVDs, as well as from storage devices like USB 2.0 flash drives and Xbox 360 Memory Units.
Xbox 360 will support 50hz HDTV display modes, providing viewers greater choice in how they watch DVD and HD DVD content.
Xbox Live Arcade Enhancements:
Keeping up to date on Xbox Live Arcade games is now even more convenient with the ability to automatically download newly released Xbox Live Arcade trial games. This eliminates the need to manually search for new downloads on Xbox Live Marketplace each time a new game trial is released.
Fast enumeration of games: you'll see the games in your Xbox Live Arcade collection appear almost instantly. Get in and play right away.
With so many games to choose from, Xbox Live Arcade added new sorting options such as "Recently Played" and "By Category." These enhancements make managing Xbox Live Arcade collections faster and easier than ever.
A new expanded Friends Leaderboard within Xbox Live Arcade allows gamers to compare themselves directly against their friends and view leaderboard details of their top 10 friends.
A new expanded Achievements View within Xbox Live Arcade lets gamers view their full Achievement details for their Xbox Live Arcade games including descriptions, icons, allotted Gamerscore and more, right from the Xbox Live Arcade dashboard interface.
The "Play Now" launch feature has been streamlined. Selecting "Play Now" after downloading a game in Xbox Live Marketplace now bypasses Xbox Live Arcade and takes you directly to the game.
Xbox Live Arcade now offers a "Tell a Friend" feature. Select this option from the game info screen to send any friend on your friends list a message telling them about the Xbox Live Arcade game.
XNA Support:
Amateur game designers will be able to test and play the games they create using XNA Game Studio Express on their Xbox 360 systems when it launches later this year (separate download and subscription required).
Posted by Christopher Sasaki Categories: Xbox 360, Xbox Live, Xbox Live Arcade, Xbox Live Marketplace
The release of Lumines Live on the Xbox Live Marketplace last week stirred up a storm of negative reaction regarding the content available in the game, the pricing, and the need for additional content packs for full enjoyment of the software. This disappointment was echoed by Playfeed's own experiences with the game. 1up follows up on the controversy, and talks with Microsoft's Greg Canessa, the group manager for Xbox Live Arcade, to try and sort through the issues with the title, Xbox Live Arcade, and microtransactions in general. The short version of the interview: Microsoft's Xbox Live Marketplace is a great service, and all the problems are the fault of game developers.
Canessa states that Microsoft issues guidance on the three pricing points for Xbox Live Arcade titles, whether that is 400, 800, or 1200 points. While Canessa didn't want to specifically discuss EA's penchant to charge from everything from tutorials to cheat codes, he did claim that providing microtransactions were all about providing choice; Canessa believes that charging for additional content means that gamers that don't want the content will essentially be paying less for their software. While it is true that gamer's no longer have to pay for content they don't want, gamers are already paying a premium for Xbox 360 titles over their previous generation counterparts, and are now being forced to pay extra for content that was formerly free.
Regarding Lumines Live, Canessa basically throws Q Entertainment under the bus. At first he claims that there is nothing wrong with the presentation of Lumines Live on the Xbox Live Marketplace. Then, when confronted with the messaging in the game, he claims this is solely the responsibility of Q Entertainment. Microsoft at this point claims to only be the platform provider, and holds no other responsibility.
As gatekeepers for the platform, the company needs to own up to the user experience that they and their partners provide. Microsoft's approval process for boxed games at retail already seems to be broken, given the number of basic issues that have required patches to the consumer. Microsoft's Xbox Live Arcade should be even more controlled, but apparently is not. From poor user experiences with Xbox Live gameplay in titles to the latest Lumines debacle, Microsoft needs to step up and act as an advocate for the gamer.
Read More

| 1up

Posted by Christopher Sasaki Categories: MMORPG, SEGA, Xbox 360, Xbox Live
Sega's beta program for Phantasy Star Universe on the Xbox 360 was initially supposed to end yesterday, October 18th. However, with Sega's delays in getting the beta into the waiting public, and then the scheduled maintenance for Xbox Live running longer than intended, the beta has been extended through October 21st. While the download is no longer available, gamers that have the beta will be able to play until the end of the week.
Read More

| PSO World

Posted by Christopher Sasaki Categories: Puzzle, Xbox 360, Xbox Live, Xbox Live Arcade, Xbox Live Marketplace
Microsoft today announced that Lumines Live will hit the Xbox Live Marketplace on Wednesday, October 18th when the service becomes available after the scheduled maintenance. The game will be made available in two parts; the main Lumines Live game will sell for 1200 Microsoft Points ($15) and an "Advanced Pack" with 22 additional skins for 600 Microsoft Points ($7.50). If gamers pony up for the full Lumines package, this would be one of the most expensive Xbox Live Arcade games available to date. Microsoft does not sell a Marketplace Points card that has enough points to buy the complete game; the largest denomination that Microsoft makes available in stores is 1600 points. $22.50 is also more money than the PSP version of the game, which sells for $19.99. Of course, the Xbox 360 version offers features like online multiplayer over Xbox Live and a Skin Edit mode in the basic version; this package may be enough for the casual user as long as the title isn't nagware.
Update: The "Advanced Pack" is not available right now, and will show up at a later date. Presumably so that gamers don't look like dorks when they have to buy two 1600 points cards to pay for the game.
The full press release continues below.
© Gear Live Inc. – User-posted content, unless source is quoted, is licensed under a Creative Commons Public Domain License. Gear Live graphics, logos, designs, page headers, button icons, videos, articles, blogs, forums, scripts and other service names are the trademarks of Gear Live Inc.