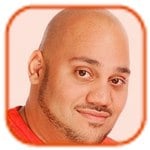 Posted by Andru Edwards Categories: Rumors, Transportation,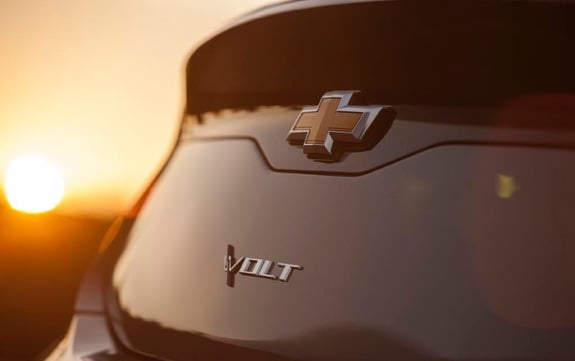 GM is set to debut the next-generation Chevy Volt at the North American International Auto Show, which is just over five months away, taking place in Detroit in January 2015. The 2016 Chevy Volt will be the first redesign for the game-changing electric car, and details are obviously scarce since the company is going for the element of surprise. However, this morning they gave us a peek at the next design. Above you see what appears to be the rear liftgate, lit up by a sunset. My wish list? As a Chevy Volt owner, I'd like to see the 2016 model pick up a 50-mile electric range, 50 miles-per-gallon in range-extending mode, and a redesigned battery pack that will allow for three seats in the rear. We'll know more in a few months!
Read More

| Chevy Volt Twitter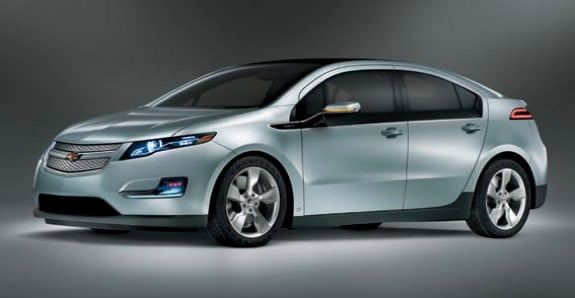 As a brand, the Chevy Volt is well-known in the electric vehicle market. That said, mind-share doesn't equal sales, and GM is set to step up its efforts to make the Volt the car that EV buyers end up choosing when it's time to buy. To fix this, GM is planning on bringing down the entry-level price of the 2016 Volt, and then offering tiered upgrades, similar to the way Tesla sells the Model S.
At the low end, the 2016 Chevy Volt should cost just over $30,000, which is about $5,000 less than it currently costs now, bringing it closer in line with competing vehicles like the Honda Accord plug-in and Ford C-Max Energi. Total range of the entry-level Volt should be under 300 miles, and won't be as heavy on the upgraded feel of the car--but if those options aren't your jam anyway, then you can save yourself some money.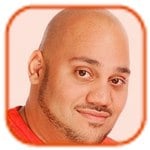 Posted by Andru Edwards Categories: Editorial, Features, Transportation,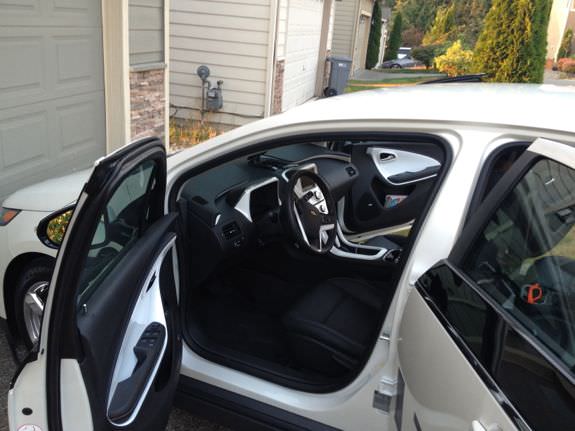 Remember our 2012 Chevy Volt that failed while driving and almost got me in an accident? We updated the story with the details about trying to work with Chevy and GM to get a replacement Volt since we no longer felt safe driving the one we had. After all, it had been in the shop for repairs every two weeks since we had picked it up the first time. Well, we are please to report that Chevrolet and General Motors did right by us, and agreed to replace our 2012 Volt with a newer, similarly-equipped 2013 model. Since this was a lease, it was a bit more complicated than a simple trade. Instead, we did what's called a VIN swap. The result? We keep the same lease terms and paperwork, with the VIN being the only change on the documents. It took a while since the 2013 Chevy Volt wasn't available until very recently, and once it arrived, we needed to wait for all the paperwork to be completed. Still, it was worth the wait. Stay tuned for our 2013 Chevy Volt review.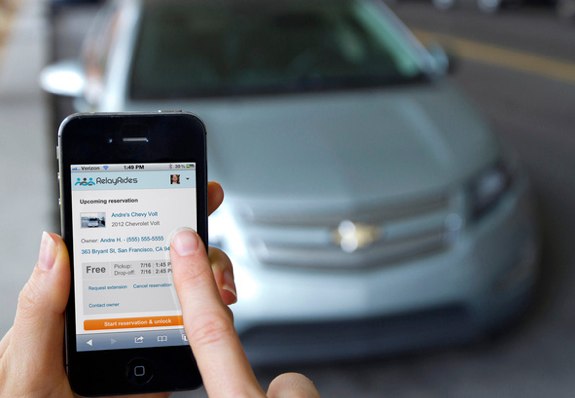 We reported on the RelayRides OnStar partnership back at CES, with RelayRides using the OnStar API to broaden its network of available vehicles. RelayRides allows its members to rent cars on a short-term basis directly from the car owners. It's a peer-to-peer car-sharing network. The partnership with OnStar will allow owners of cars equipped with the OnStar service to add their vehicles to RelayRides, giving them the opportunity to rent out their vehicles for cash. Locking, unlocking, and starting the vehicle can all be performed using the RelayRides smartphone app, and OnStar has made it easy for owners to add their vehicles to the service.
It may seem a bit unorthodox to make your personal vehicle available for rental to strangers, but RelayRides does have protections in place as they look to compete with the likes of Zipcar. What do you think? Would you use a service like this?
Read More

| GM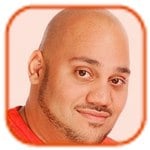 Posted by Andru Edwards Categories: Corporate News, Transportation,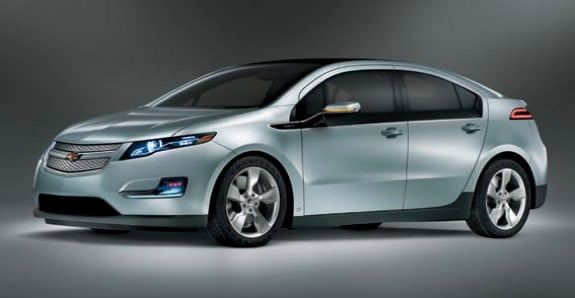 Executives at General Motors defended the 2012 Chevrolet Volt as safe, even as the National Highway Traffic Safety Association began a formal safety investigation into the vehicle's safety.
As the NHTSA conducts its investigation, Chevrolet will provide any current owner with a loaner vehicle until the agency concludes its investigation, the automaker said. Those who want a loaner can contact their Volt advisor to arrange for a trade-in.
"A vehicle loan program of this nature is well beyond the norm for a preliminary investigation, and it underlines our commitment to the vehicle and its owners," Mark Reuss, president of GM North America, said in a statement. "These steps are the right ones to take regardless of any immediate impact on our operations."
The Chevrolet Volt has been perhaps the most highly publicized effort by an American carmaker to develop a hybrid vehicle. The Volt's appeal, in hands-on tests, is that the car can go a rated 35 miles on electricity alone before shifting to a gas-powered electric generator that can add hundreds of miles to its range. The Volt uses lithium-ion batteries to store a charge. It qualifies as a low-emissions vehicle that will be able to drive in California's HOV lanes, even with just the driver in the car.
Click to continue reading GM providing loaner vehicles to Chevy Volt owners while fire risk is evaluated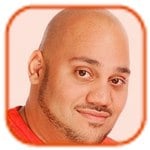 Posted by Andru Edwards Categories: Corporate News, Transportation,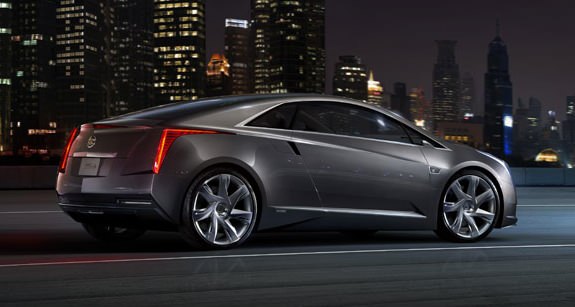 The Cadillac Converj concept was shown off at the 2009 Detroit Auto Show as the first electric vehicle for the Cadillac line. It was subsequently cancelled, but as GM has experienced success with the Chevy Volt, the Converj has returned to development at the Cadillac ELR. It will have an updated version of the Voltec powertrain, so it's basically a souped-up Volt, which isn't necessarily a bad thing. The ELR is hitting production next year for a 2013 release, with specific pricing and availability details coming later.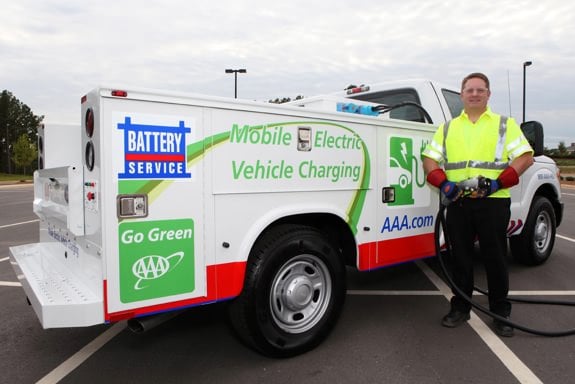 AAA has announced their Mobile Electric Vehicle Charging vehicle, which aims to help you out if you're an owner of something like the Nissan Leaf or Chevy Volt and you run out of power when driving. The mobile EV charger will provide 15 minutes of charge time, which should be enough for 3-15 miles of drive time to allow the user to get to a charging station to fill up, so to speak. They'll be launching these as a pilot trial in six markets, including Portland, Seattle, San Francisco Bay area, Los ANgeles, Tampa Bay, and Knoxville. The rollout will begin in the summer and continue into the fall.
Read More

| AAA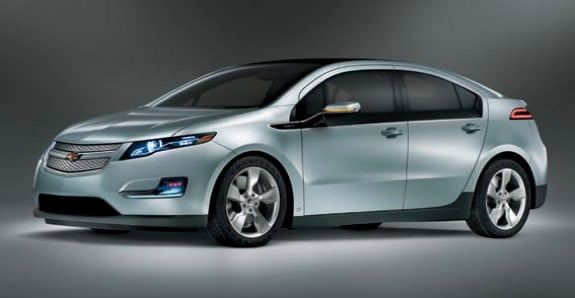 This morning, GM finally announced what it will cost us to own a Chevy Volt. The revolutionary Extended Range Vehicle is now available for pre-order for $41,000 before a federal tax credit of up to $7,500, bringing the cost down to $33,500. Starting today, you can head to any qualified GM dealership in any one of seven markets, those being California, New York, Michigan, Connecticut, New Jersey, Texas, and Washington DC, and pre-order the car. If you'd rather lease one, you have that option for $350 per month for 36 months, with $2,500 due at signing. The Volt will be delivered late this year in limited quantities.
With purchase of the Chevy Volt buyers will also receive a 120-volt charge cord. However, 4,400 buyers will get a free 240-volt charging station due in part to a Department of Energy program that wants to get a number of homes fitted with charging stations.
Full press release after the jump.
Click to continue reading Chevy Volt priced at $41,000, $350 per month lease option
Read More

| Chevy Volt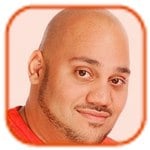 Posted by Andru Edwards Categories: Full Episodes, Gizmatic, Cell Phones, CES, CES 2010, Features, Podcasts, Software, Transportation, Videocasts, Videos,
At CES 2010, we were able to get a look at the Chevy Volt OnStar press conference, which gave us info on when GM expects to start producing the Volt vehicles in mass. In addition, we got a look at the new OnStar experience, which includes applications for mobile smartphones that let you control car functions like door locking and unlocking, starting, charging, and more, directly from your mobile phone, from anywhere! Hit the video for all the details.
A big thank you to Bing for sponsoring Gear Live's CES 2010 coverage.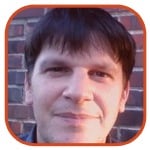 Posted by Mark Rollins Categories: Design, Transportation,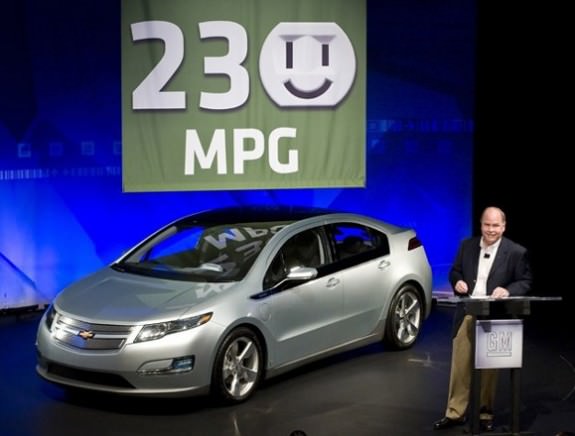 Maybe I'm just getting sick of seeing those ads with the smiley-faced electrical outlet, but I figured that the 230 MPG touted for the Volt seemed a little too good to be true.
As it turns out, someone at Chevrolet is playing with numbers. According to DVICE:
Essentially, the Volt can drive 40 miles on battery power before kicking in the gas engine. So if you drive 10 miles, you'll get infinite miles per gallon. If you drive 50 miles, you'll get 250 miles per gallon. But if you drive 300 miles, you'll be down to 62.5 miles per gallon.
This is hardly 230 MPG. Would the electrical outlet be frowning if it knew the real truth?
Read More

| CNN

© Gear Live Inc. – User-posted content, unless source is quoted, is licensed under a Creative Commons Public Domain License. Gear Live graphics, logos, designs, page headers, button icons, videos, articles, blogs, forums, scripts and other service names are the trademarks of Gear Live Inc.