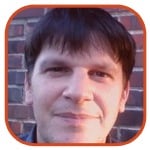 Posted by Mark Rollins Categories: Design, PC / Laptop,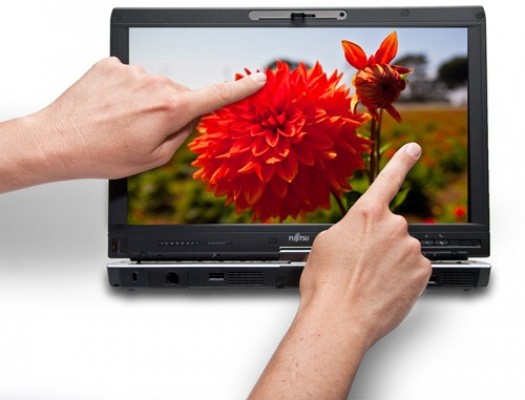 Fujitsu has decided it best to put a touchscreen LCD on their T5010, and we've got to commend them for it. The LifeBook T5010 has a 13.3 inch screen, and supports two-finger multitouch. Once Windows 7 launches, this'll ship with the new OS, taking advantage of the built-in touch features. Until then, it ships with Windows Vista - definitely wait for the Windows 7 version to drop next month. It will cost $1,759 for the active digitizer, and $1,859 with dual digitizer.
Read More

| Fujitsu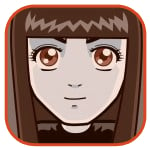 Posted by Sheila Franklin Categories: PC / Laptop,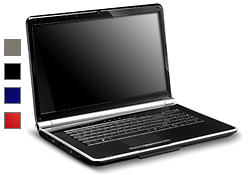 Gateway is after the student demographic with their NV Series Notebooks. Available in black, blue, red, or brown, most feature a 15.6-inch LCD (1366×768,) 4GB RAM, 320GB hard drive, webcam, DVD burner, HDMI and Vista Home Premium. The NV5214u, with a price of $499.00, comes with a 2.1GHz dual-core AMD Athlon 64 CPU and ATI Radeon 3200 graphics while the NV5807u has a 2.1GHz Intel Core 2 Duo CPU and an Intel 4500MHD graphics chipset at a price of $599.00.
Read More

| Gateway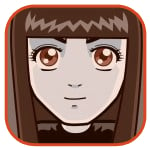 Posted by Sheila Franklin Categories: Corporate News, Internet, Microsoft,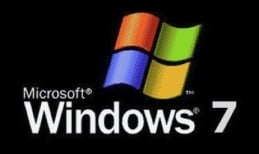 Windows 7 is on its way. The RC is in the final stages of being released for program developers and IT pros on April 30, while the masses will have to wait until May 5. There is no word yet when it will come preloaded on PCs or available in shops but the estimate is July. Windows 7 should be easier to swallow than Vista with its new touchsceen functions and interaction with digital cameras and PMPs.
Read More

| IB Times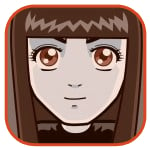 Posted by Sheila Franklin Categories: Corporate News, Microsoft,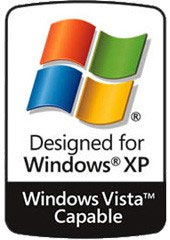 Emma Alvarado, from Los Angeles, Ca., was so teed off at Microsoft that she filed a class action lawsuit to recover the $59.25 fee that they charged her for downgrading her Windows Vista to XP. The suit says that the company charge is in violation of Washington State's Unfair Business Practices Act and Consumer Protection Act. Emma is hoping that others who have payed the fee will join in. Microsoft is also involved in another suit that says that the sticker "Windows Vista Capable" is misleading.
Read More

| PC World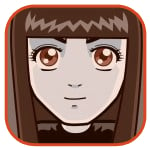 Posted by Sheila Franklin Categories: Editorial, Microsoft, PC / Laptop,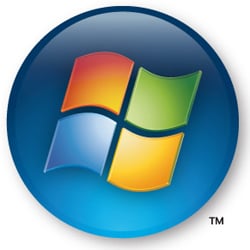 Last June, Dell began to charge customers $20.00 to $50.00 to downgrade to Windows XP. It was up to $100.00 by October. Now it seems that they are charging $150.00. At the same time, we recently read that Microsoft claims that 9 out of 10 Vista customers are satisfied. While we don't believe everything we read, we keep wondering why Dell is punishing XP users and MS's inhouse research, with figures that include licenses sold as part of a downgrade package, seems cheerfully optimistic. What do you guys think? Remember when Coke came up with a new version and nobody liked it? It just went away.
Read More

| Silicon Alley Insider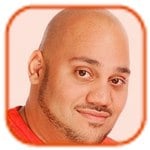 Posted by Andru Edwards Categories: Corporate News, Microsoft, PC / Laptop, Software,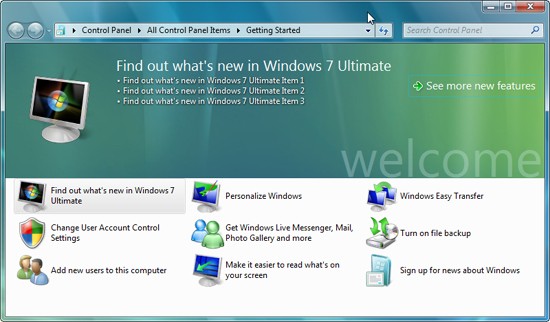 So, you know that follow-up to Windows Vista that Microsoft has been working on for the past couple of years? They've been calling it Windows 7 for a while now, but we just thought that was going to be its codename. As it turns out, Microsoft just announced a few hours ago that Windows 7 is the official name of the next version of their operating system. Why not go with another cutesy name like Windows ME, XP, or Vista? Well, they say this is the seventh release of Windows, and that it "just makes sense." Well, we guess it does. If you'll be at WinHEC or PDC, you can plan on getting Windows 7 pre-beta code from Microsoft to play with.
Read More

| Windows Vista Team Blog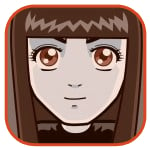 Posted by Sheila Franklin Categories: Internet, Microsoft,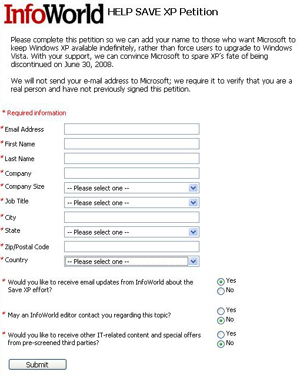 Those of us who are still PC users but don't want to give up our XP for Vista were very unhappy to realize that it will cease and desist by June, and that support will eventually end, too. We can blog about it all we want but we are not sure that will convince Microsoft to change its mind, although they did extend the deadline once. Galen Gruman began a petition that you can sign to voice your displeasure, but so far the company doesn't seem interested. Still, it can't hurt to join the over 100,000 signatures already obtained. And if that fails, there is always Linux or Mac.
Read More

| InfoWorld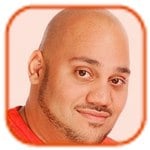 Posted by Andru Edwards Categories: Microsoft, PC / Laptop, Software,
Word on the street is that Microsoft plans on finally releasing the first service pack for Windows Vista - that's right, the long-awaited Windows Vista SP1 will be yours for the downloading in 24 hours. You'll have to download it manually.
In a month's time, on April 18, Vista SP1 will be added to the automatic update system. So the more casual bunch who rely on Windows Update for all their security needs will all come in under a second wave of installations. Here's hoping for less crashing, better performance, and all that other good stuff. We've been waiting for this for over a year.
Speaking of which, those Vista price drops will also be going into effect this week. If you go ahead and install SP1, hit us up and let us know how it went in the comments.
Read More

| Computer World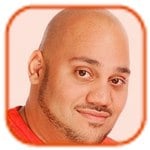 Posted by Andru Edwards Categories: Corporate News, Microsoft, Software,
So, Windows Vista has been around now for a good thirteen months, and in that time, it has seen much criticism. If you've been on the fence about switching or upgrading to Vista, we are sure that Microsoft is hoping that their upcoming price drop will be enough to get you to make the move. The new pricing details will be as follows:
Windows Vista Ultimate: $320, down from $400
WIndows Vista Ultimate Upgrade: $220, down from $260
Windows Vista Home Premium: $130, down from $160
The price drops are expected to coincide with the shipment of the first major update to Vista, Service Pack 1.
Read More

| Reuters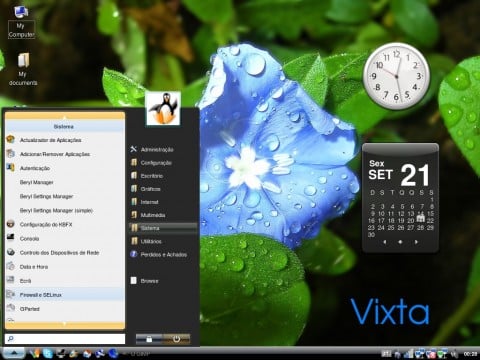 Crazy about the Windows Vista UI, but love Linux? Vixta could be your your thing. Vixta is a new Fedora-based Linux distribution featuring a surprisingly Windows Vista like look and feel. In fact, it's so surprisingly like Windows Vista that Redmond based lawyers can't be far behind - it's a pretty blatant rip of the Aero interface.
While Vixta captures the look of Vista, one wonders if it's truly as evolved as Vista is. Windows Vista may have it's flaws, but ove all it is a highly polished operating system with lots of features to make it easy to use for the not so computer literate. No, really. This kind of refinement in a user interface takes a lot of time and energy to develop. The Linux underpinnings might be rock solid, but if Vixta's stated goal is bringing Linux to the masses, it's the chrome that will make a difference.
Read More

| Vixta via Tux Enclave
© Gear Live Inc. – User-posted content, unless source is quoted, is licensed under a Creative Commons Public Domain License. Gear Live graphics, logos, designs, page headers, button icons, videos, articles, blogs, forums, scripts and other service names are the trademarks of Gear Live Inc.