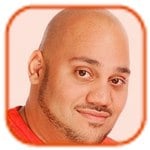 Posted by Andru Edwards Categories: Apple, Handhelds, Portable Audio / Video,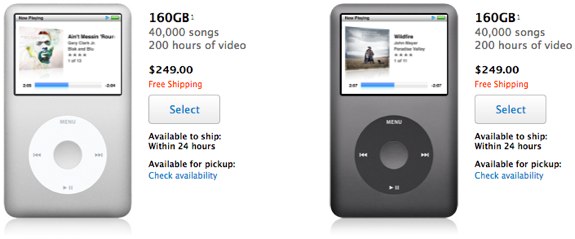 Ever since Apple introduced the new iPhone 5s and iPhone 5c last week, we've been gettign questions from readers asking if Apple killed the iPod classic. Of course, a quick glimpse at the Apple Store Online confirms that the classic lives on for another year. The iPod classic offers 160GB of storage for those who have huge music libraries and want to carry it all with them. Our guess is that until the iPod touch offers 128GB of storage, we will see the iPod classic continue to be sold. You can pick up the iPod classic for $249 in black and silver.
Read More

| iPod classic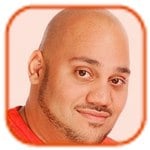 Posted by Andru Edwards Categories: Apple, Music, Portable Audio / Video, Software,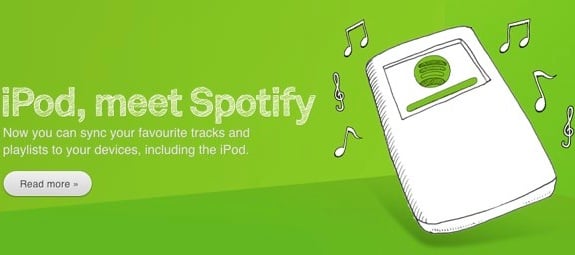 European online music service Spotify on Wednesday announced a new MP3 download service, as well as the ability to sync music on iPods and the Spotify iPhone and Android apps.
With Spotify's download service, users can purchase tracks in bundles. Ten tracks will set you back £7.99, 15 tracks will cost £9.99, 40 tracks will be £25, and 100 tracks will be £50.
"Spotify's new MP3 download service makes it possible to own your playlists in one easy step," the company said in a statement. "By introducing a range of MP3 bundles, we've been able to offer you some of the most competitive prices available—from as little as 50p per song."
Spotify features include the ability to: search, browse, and play millions of tracks; stream over Wi-Fi or 2.5/3G; access offline playlists; on-the-fly sync; a what's new tab; wireless sync of your local files to your phone; and the ability to tag favorites into a special list.
One of the most frequent requests, however, was the abilty to sync that music to Apple's iPod, something Spotify said is now a reality. Just connect an iPod to your computer via USB and it will appear in the "devices" section of the Spotify sidebar. You can then sync MP3s in your Spotify playlists to the iPod.
Click to continue reading Spotify unleashes music downloads with iPod syncing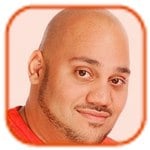 Posted by Andru Edwards Categories: Accessories, Apple, Features, Portable Audio, Videocasts,
The Mikey Professional iPod Recorder is a simple mic that connects to the dock connector of an iPod classic, iPod touch, or iPod nano. Unofficially, it may also support the iPhone as well, which we will test out and put into a future episode of Bleeding Edge TV. In the meantime, check out this unboxing video of the Mikey, a product of Blue Microphones, as we give you an up-close look at the product.
Read More

| Mikey iPod Recorder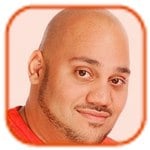 Posted by Andru Edwards Categories: Accessories, Apple, Features, Home Entertainment, Music, PC / Laptop, Peripherals, Portable Audio / Video, Videos,
Lady Gaga's music video have typically always featured some sort of high tech gadget, more often than not she has someone from the Beats by Dr. Dre line, among other things, prominently displayed. Earlier today, her Bad Romance music video was released, and we thought we'd take a moment to highlight ten sightings of tech and gadgetry that we spotted while watching.
Apple iPod classic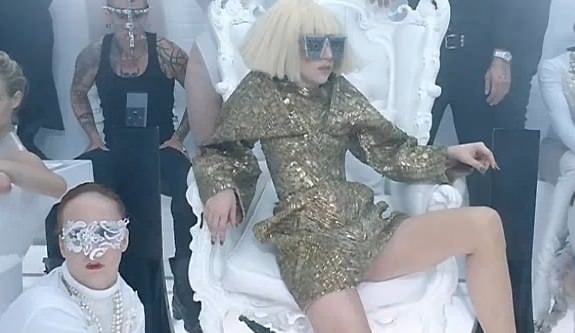 Hey, if you are gonna feature gadgets in a music video, you might as well bring in the iconic digital audio player that made everyone into a geek, right? The Apple iPod classic is the first gadget featured in Bad Romance. Deservedly so, we say. You can pick up the 160GB iPod classic from Apple for $249.
Click to continue reading 10 gadget sightings in Lady Gaga's Bad Romance music video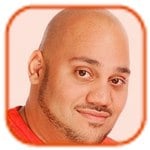 Posted by Andru Edwards Categories: Apple, Music, Portable Audio / Video,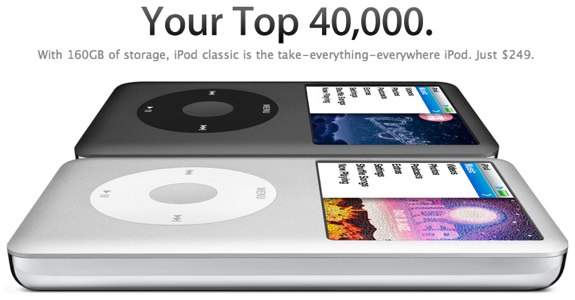 The rumors were heavy that Apple would be axing the iPod classic since it's the iPod that moves the least number of units across the product line. If that happened, it would have truly been the end of an era, but thankfully, the iPod classic remains alive and well. Not only that, but Apple has increase the storage on the classic from 120GB to 160GB while maintaining the same thin profile. Very nice.
You can pick up the 160GB iPod classic for $249.
Read More

| iPod classic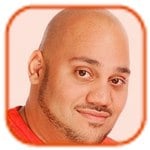 Posted by Andru Edwards Categories: Apple, Music, Portable Audio / Video, Software,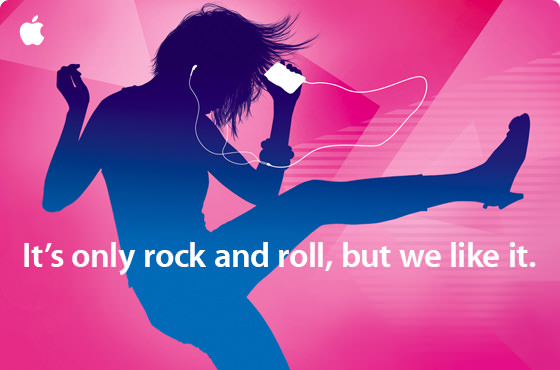 Yup, we've suspected that September 9th was going to be the day that we'd see a bunch of new hotness from Apple as it pertains to music, namely iTunes and iPod-related announcements. Well, it's been confirmed, as Apple has started sending out invitations to a rock and roll themed event on the 9th, to be held at the Yerba Buena Center for the Arts Theater. Expect the entire iPod line to be refreshed, with the exception of the shuffle, and with the focus being on the iPod touch and iTunes 9.
What do you hope we see next Wednesday?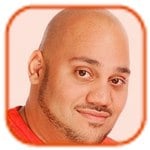 Posted by Andru Edwards Categories: Apple, Corporate News, Portable Audio / Video, Videos,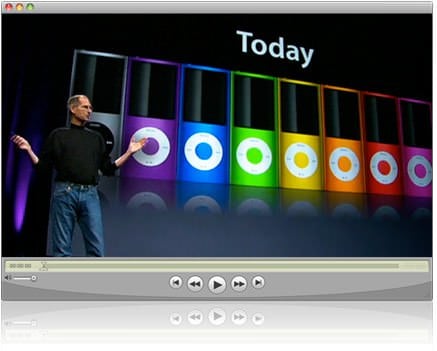 If you are tired of hearing us talk about all the Apple news of the day, maybe you'd prefer listening to Steve Jobs himself deliver the news. If that is the case, you'll be happy to know that the Let's Rock keynote is now available online for your viewing pleasure. You can stream is now from the Apple Special Event page. If downloading is more your thing, we are sure it will be hitting iTunes 8 shortly.
Read More

| Let's Rock event video


Posted by Dennis Velasco Categories: Apple, Music, Portable Audio / Video, Storage,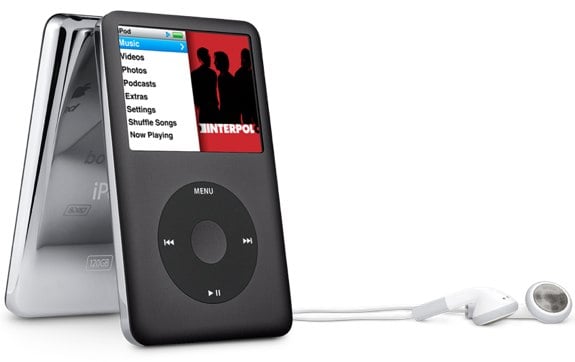 As part of this morning's Let's Rock event, Apple announced that the iPod classic was going to be available in one model from here on out, that being 120GB. While that is down from the 160GB model that was available previously, it is also up from the 80GB version that most people were buying. In case you didn't know, that amount of space gives you the ability to save 30,000 songs. 30,000! Does anyone really have the time to do download, and listen to, that many songs? If so, I'd like to meet him (or, more appropriately, her) - on second thought, maybe I don't. In either case, this will be the only version of the classic iPod moving forward and it will retail for a cool $249. You can order one now at the Apple Store Online.
Read More

| iPod classic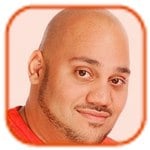 Posted by Andru Edwards Categories: Apple, Portable Audio / Video, Rumors,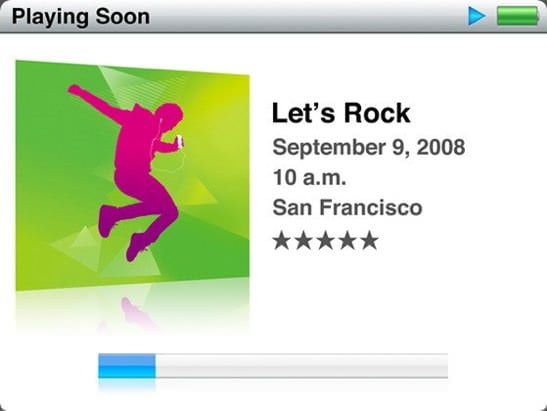 Well, what do you know? Looks like that Apple event that Kevin Rose speculated about a couple of weeks ago is finally official. This morning, Apple sent out notification of their next event, titled "Let's Rock", is set for September 9th. Now, looking at the graphic, we think it is pretty clear that this one is going to be focused on iPods. Apple is notorious for refreshing their portable media player line in September (heck, last September was when the iPod touch was announced) for the whole back-to-school and holiday vibe.
While we expect to see new models across the board, word on the street is that the iPod nano and iPod touch will be the ones to pay attention to this time around. That is, unless, you are like me and have tons of media that you want with you at all times. If that is you, then you are with me in hoping we see something akin to a 250GB iPod classic. Aside from that, though, some surprises would be nice. I know I've been asking for it for years now, and this probably isn't the appropriate place to announce it, but I sure as heck would just love it if Apple would also give us a new Cinema Display. Could happen, right? Yeah, I didn't think so either.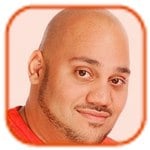 Posted by Andru Edwards Categories: Accessories, USB, Apple, Cell Phones, Features, Handhelds,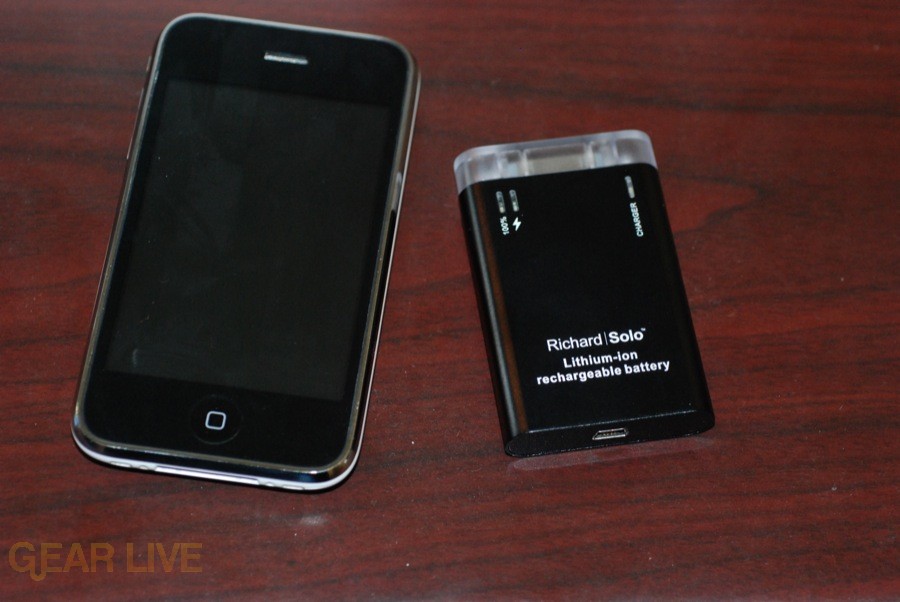 Anyone who has picked up an iPhone 3G knows that the battery, while great for a 3G phone, still leaves a lot to be desired. It's simply no fun when your phone warns you that you have 20% power left while you are in the middle of your lunch break. Heck, I don't even need to leave the house to go to work, and even I have issues with the battery. During E3 2008, I had to be careful with my iPhone usage if I didn't want the phone to run out of juice. Since I am going to be taking a trip to NYC this week, I wanted to be sure I was armed with a backup.
After doing some looking around, I came across this Richard Solo Smart Backup Battery Pack for the iPhone. In all actuality, it works with the iPhone as well as any iPod with a dock connector. It basically holds a charge that is similar to about 80% of the iPhone battery. That means that if you see your iPhone give you that 20% warning, you just plug this thing in, and it will charge it back to full. That is cool.
Even better though, you can charge the iPhone or iPod and the Backup Battery at the same time. You plug in the battery to your phone, and then connect the battery to the charger. This will first charge your device, and then once that is done, it will charge the battery. So if you do this overnight, you have a fully charged phone, and backup battery, when you walk out the door. Love it.
The device is thin enough to not be burdensome at all, reminding me of an iPod nano. I am gonna give this a try during this next week, where I will definitely be out and about and using my iPhone on a near-constant basis, being the awesome road warrior that I am. I will let you know how it turns out. Meanwhile, if you wanna pick up one of these for yourself, you can grab one here for $50. If it works as advertised, we think this is well worth it. Check the video after the break for more details, and also, we have a small Richard Solo Smart Backup Battery pack gallery we just put up as well.
Click to continue reading RIchard Solo Smart Backup Battery Pack rocks for iPhone 3G
Read More

| Smart Backup Battery Pack gallery
Gallery:
© Gear Live Inc. – User-posted content, unless source is quoted, is licensed under a Creative Commons Public Domain License. Gear Live graphics, logos, designs, page headers, button icons, videos, articles, blogs, forums, scripts and other service names are the trademarks of Gear Live Inc.