Find Our Latest Video Reviews on YouTube!
If you want to stay on top of all of our video reviews of the latest tech, be sure to check out and subscribe to the Gear Live YouTube channel, hosted by Andru Edwards! It's free!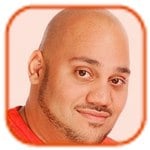 Tweet
Posted by Andru Edwards -
Categories: Apple, Cell Phones, Features, Handhelds, Music, PC / Laptop, Software, Video Games, Videos,
2009 is just about over, and we are just in time with our annual top 10 list of the most-watched Gear Live video episodes. Over the past year, as expected, there was a bunch of Apple gear that made the list, but Microsoft gets the top two spots with our Xbox 360 dashboard tour, and the Zune HD hands-on preview. Also getting an honorable mention is the Motorola DROID and Elgato Turbo.264 transcoding device.
Oh, and if you wanna be sure to get our new video episodes as they come out in 2010, be sure to subscribe to us in iTunes, on YouTube, or in your RSS reader!
Click to continue reading Top 10 Gear Live Videos of 2009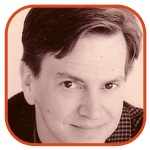 Tweet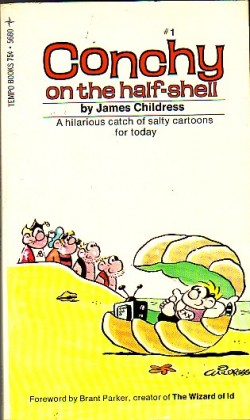 James Childress was a genius. A sharp, funny writer and a terrific cartoonist who deserves to be better known and whose work should be written about more often. After years of trying, he finally developed Conchy, a comic strip about a group of beachcombers that resembled Johnny Hart's B.C. in certain stylistic bits, but his humor was not as mean-spirited and sitcomish. Childress' work was infinitely more thoughtful and insightful. Plus he was very funny.
Conchy is the strip that B.C. dreamed of being – funny gags mixed with philosophical thoughts of contemporary life by a cast of characters who lived at the beach. Sharply written with strong characters, its closest comic strip cousin was probably Tumbleweeds by Tom K. Ryan from the same period.
Conchy had an odd run. Childress started out self-syndicating it in 1970. The strip was picked up by Publishers Hall in 1974 who, according to reports, wanted him to move away from his subtle social humor and quiet moments of reflection and go more gag-oriented. He disagreed and left the syndicate in 1976 and went back to self-syndication. Then, because of personal issues not related to the strip (which was gaining papers), he committed suicide in 1977.
Conchy is barely a footnote now. It has almost no presence on the internet and if you didn't know it, you'd never stumble across it. There were three paperback collections of the strip – all are worth finding. Conchy, Man Of The Now; Conchy On The Half-Shell; and Conchy, Living In Tomorrow's Past.
Click to continue reading Forgotten Comics: James Childress and Conchy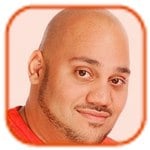 Tweet
Posted by Andru Edwards -
Categories: Apple, Handhelds, Home Entertainment, Rumors,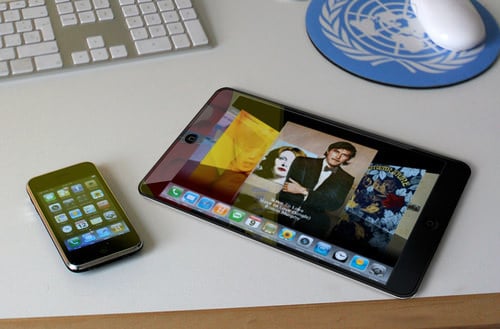 2010 will be the first year that Apple doesn't take part in MacWorld, but that doesn't mean the company doesn't have big announcements that need to be made. According to both the Financial Times and Fox News, they've been told by a "source inside Apple" that the company will be holding a special event on January 26th that will be focused on the mobility space. What does that mean? The iSlate / iGuide / iPad / Apple Tablet should become a reality.
Now, we aren't ones to spur unnecessary excitement, but lets look at the facts. The last iPod event was on September 9th, so we know that this won't be focused on the iPod, although we wouldn't be that surprised to see an iPod touch with a camera appear here. The MacBook Pro should be getting a spec bump based on new Intel architecture, but that wouldn't be enough in and of itself to warrant a special Apple Event. The rumors and leaks have gone on long enough, and we think that January 26th will mark the day that Apple shows the world how tablet entertainment devices should be done.
What do you think?
Read More

| Fox News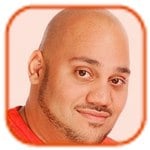 Tweet
Posted by Andru Edwards -
Categories: HDTV, Home Entertainment, Rumors,

It's been quite a while since TiVo has given us a new model of DVR, but a shipping error pretty much confirms that the company is set to launch a new device called TiVo Premiere (alongside the TiVo Premiere XL.) Recent TiVo HD purchaser Patrick McCarron had a TiVo Premiere setup guide included in his order, and he decided to throw the whole thing up on Scribed for our perusal. The main details here are the the S-Video port is out, and there is only space for one multistream CableCARD now, as opposed to the two slots found on the TiVo Series3 and TiVo HD.
Not much more is known about the TiVo Premiere at the moment, but we are crossing our fingers for a storage bump and beefier internal components that can power a new TiVo high definition interface. CES is just about a week away—we'll be sure to stop and chat with the TiVo folks.
Read More

| Infinite Shamrock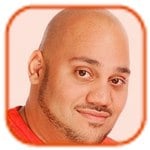 Tweet
Posted by Andru Edwards -
Categories: Apple, Cell Phones, Handhelds, Rumors,

It looks like Apple is getting ready to replace the aging 8GB iPhone 3G that currently sells for $99 with a newer iPhone 3GS model, if their packaging is to be believed. A user on the German apfetalk discussion forum posted the image above, which is the label on the iPhone 3G 8GB box, and while he did receive a regular iPhone 3G, the box clearly says "iPhone 3GS v2.2 8GB" and has us thinking that Apple is finally ready to have the entire product line fall under the 3GS brand. Heck, the 8GB iPhone 3GS is a year-and-a-half old now, and we all know that Apple is set to release an all new iPhone model this summer, so it all makes sense to us.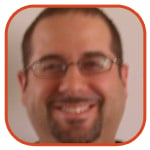 Tweet
Posted by David Torres Categories: Reviews, Marvel Comics,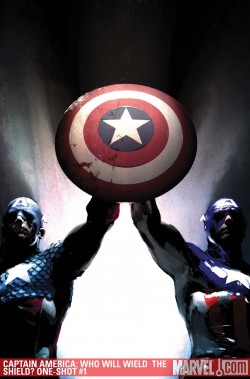 Rating: ****
Well, I'm not sure why Marvel Comics released this one-shot epilogue to Captain America: Reborn when the series still has one issue to go, but it's here. Reborn was originally slated to be a five issue mini-series, but at some point it was decided that an additional issue was needed to tell the story. So Captain America: Who Will Wield The Shield is shipping on schedule because last week should have been the last issue of the Reborn series. I'm not sure why Marvel did not just push this issue back to ship the same day issue six comes out or make issue five a double sized issue. Money? Probably, but you could still make money by doubling the price of a double sized issue.
Whatever the case may be, Captain America: Who Will Wield The Shield still stands as a great comic book even with all the nonsense of it coming out prior to the completion of Reborn. Even before Reborn was even announced, we all knew that Steve Rogers would come back to land of the living at some point. It was only a matter of when, the how was almost meaningless because fans just wanted their guy back in action. The issue opens with a flashback to the days of World War II and Cap and Bucky fighting I believe the Japanese - not the Germans, as you normally see during Cap flashbacks to the war.
Click to continue reading Marvel Comics Review: Captain America: Who Will Wield The Shield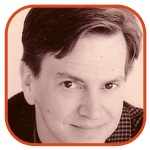 Tweet
Posted by Tom Mason Categories: Editorials,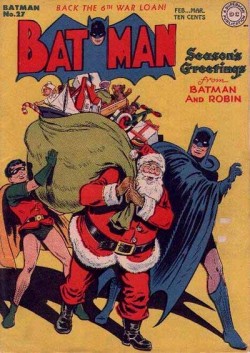 [Sung to the tune of The Twelve Days of Christmas]
On The 12 Days of Comics My True Love Gave To Me:
12 Prices Increased
11 Books Rescheduled
10 Tweets from Tyrese
9 Failed Relaunches
8 Websites Bitching
7 Variant Covers
6 Lame Crossovers
5 Separate Earths
4 Big Events
3 Lawsuits
2 OGN's
And some movie deals for books I don't read!
Happy Holidays!
[Artwork: Cover to Batman #27, yanked from Tomztoyz.]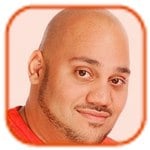 Tweet
Posted by Andru Edwards -
Categories: Announcements, Features, PC / Laptop, Videos,
When we announced our HP Envy 13 giveaway, we knew you guys would show up with some videos showing what it was that you wanted the Envy 13 to do for you (or in some cases, someone else, holiday season and all.) In all, 57 of you guys hit us with video responses on YouTube to enter. We figured it would mostly consist of people talking into a webcam (we were right,) which was fine with us. The winner was chosen by random, so there wasn't really any reason to go all out anyway.
Imagine our surprise when we went in today and chose a random winner (hat tip to Random.org,) and it turned out to be a music video! We then started peeking around at some of the other entries, and there was definitely some creativity going on. The video at the top is done by YouTube user TheSumbiProject, and he is our random winner. We will reach out to him as soon as we hit publish on this post. That said, we wanted to share some of the other interesting entries we received, so you'll find those after the break.
Click to continue reading Winner of our HP Envy 13 notebook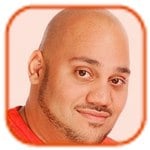 Tweet
Posted by Andru Edwards -
Categories: Photography, Social Networking, App Updates, Free Apps,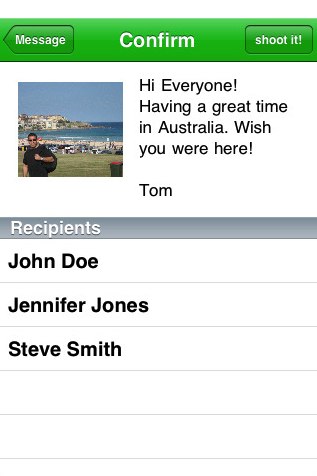 So check it, Shoot It!, one of our absolute favorite apps in the entire iTunes App Store catalogue has finally gone free. As a refresher, shoot it! allows you to take a snapshot and have it sent as a physical postcard to anyone in North America, Europe, and some parts of Asia. It is all kinds of awesome, and we even used it in our Modern Warfare 2 Xbox 360 console giveaway. Fun times. We highly recommend grabbing it and putting it to good use!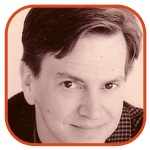 Tweet
Posted by Tom Mason Categories: Editorials, Movies,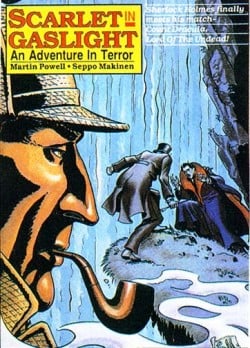 Now that a new Sherlock Holmes movie is about to debut with Robert Downey, Jr. and Jude Law as the celebrated detective and his erstwhile medical companion, I managed to remind myself through a haze of egg nog fog that I have a Holmes connection in my past.
Almost everyone has at least one showbiz encounter with a celebrity or famous person. The internet is chockful of them, but Mark Evanier has the best ones. He lives the kind of life that resembles 1940s Hollywood where you could spend all day working with, say Dick Powell or Bette Davis, then just walk into a restaurant and bump into Clark Gable or Myrna Loy and join them for a burger and fries. I too have a showbiz encounter but mine involves Sherlock Holmes, and we never had lunch together.
Years ago, I was working for Malibu Comics which was getting ready to publish a collection of Martin Powell and Seppo Makinen's moodily-gothic Scarlet In Gaslight mini-series featuring Sherlock Holmes up against Dracula. Somebody, I believe it was Martin, suggested that based on the subject matter, wouldn't it be great if Nicholas Meyer could be persuaded to write the introduction. At that time, Meyer had written a couple of very well-regarded Sherlock Holmes novels, The Seven Percent Solution and The West End Horror, as well as the screenplays for The Seven Percent Solution and Time After Time (H.G. Wells Vs. Jack The Ripper) and been responsible for two of the best Star Trek movies (Star Trek II: The Wrath of Khan and Star Trek IV: The Voyage Home). So a big name indeed, in the land of the funnybook fanatic. And while his name on the cover might not have driven many sales, it would still be cool to get it.
Click to continue reading Nicholas Meyer, Sherlock Holmes and Scarlet In Gaslight
© Gear Live Inc. – User-posted content, unless source is quoted, is licensed under a Creative Commons Public Domain License. Gear Live graphics, logos, designs, page headers, button icons, videos, articles, blogs, forums, scripts and other service names are the trademarks of Gear Live Inc.