Posted by John Goulden Categories: Corporate News, Storage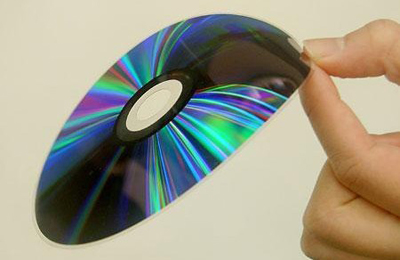 Using an innovative nanoimprint technology, Hitachi Maxell, LTD have succeeded in creating the world's thinnest DVD media at 0.092mm thick. This makes the new disc approximately 1/13th the thickness of existing DVD media, yet allows it to retain the full 4.7GB capacity. Obviously a single disc isn't going to gain you any benefits simply by being thinner, but if you were to take a stack of say 100-discs, make them double-sided (9.4GB), stuff them into a cartridge 2.5-inches thick, and slap a fancy acronym like SVOD on it, you'd have a digital library cartidge with almost 1TB of capacity (940
MB
GB). SVOD, which stands for Stacked Volumetric Optical Disc, really starts to shine when coupled with the next generation of blue laser technology, as a stack of 50GB discs could increase storage capacity to 5TB.
When released the discs will be priced at under $325 for a 100-disc cartridge.

Read More

| Maxell (jp) via Pink Tentacle
Posted by John Goulden Categories: Corporate News, Storage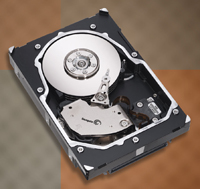 Seagate's Cheetah drives are some of the fastest in the industry, offering rotational speeds of 15,000 RPMs coupled with low seek times. However, it doesn't take a genius to recognize that standard desktop drives long ago surpassed enterprise offerings in capacity if not speed. To help bridge the gap, Seagate has applied the principle of Perpendicular Recording to their Cheetah 15K.5 series drives, bumping the maximum capacity from 146GB to 300GB. With a June 2006 ship date, the 15K.5 is being offered in Fibre Channel and SAS (Serial Attached SCSI) versions only, so non-enterprise users need not apply. However, desktop users can fall back on the blazingly fast Raptor drives to fix their need for speed.
Pricing is not currently available, but is sure to be right in line with typical enterprise-oriented products (really expensive that is).

Read More

| Seagate via bit-tech
Posted by Jared Hislop Categories: Accessories, USB, Design, Storage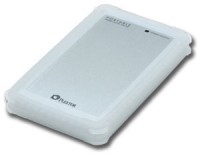 Plextor has just announced the availability of their new PX-SP portable hard drives which are supposedly shock proof. A new silicon cover prevents the drive from crashing and losing data if dropped. The new drives come in 80GB (PX-SP08U), and 120GB (PX-SP12U) sizes, and are said to support Windows and Mac operating systems, but our guess is that they should also work under Linux. A quick start guide, USB cable, and the silicon jacket are included with purchase. While we have our doubts on how well a silicon jacket will protect a drive from the shock of being dropped, it is nice to see some new ideas from Plextor. Expect to pay more for the added protection, the drives retail for $169 (80GB) and $260 (120GB).
"Plextor is rapidly expanding its data storage product line to include innovative devices such as the new PX-SP shock proof portable hard drives," said Michael Arbisi, Vice President, Channel Sales for Plextor, in a statement. "Our goal is to give customers a wide range of options for dependably and securely storing their valuable data, whether at home or at the office. Like all Plextor products, the PX-SP Series drives are designed and manufactured to the highest levels of quality and reliability."

Read More

| Plextor
Posted by John Goulden Categories: Corporate News, Storage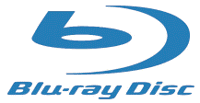 In the neverending quest for bigger and better, TDK is starting their intial R&D process for eight-layer Blu-ray discs with a 200GB capacity. Barely a year ago in May 2005, TDK was showing off prototypes of their 100GB discs which have a total of four layers. Those aren't expected to ship till the middle of next year at the earliest, which leaves the timeline for the 200GB variety up in the air.
The dust hasn't even settled on the single-layer, 25GB BD-R discs of which manufacturers are just starting to ship. Oh, and dual-layer discs that hold 50GB? Nope, they're not available yet either, and aren't expected till much later this year. Innovation certainly is a harsh and demanding mistress.

Read More

| TDK via The Register
Posted by John Goulden Categories: Corporate News, Peripherals, Storage

You can't judge a book by it's cover, and the same applies to external hard drives, but you can quickly discern if it's going to be something you'll want visible on your desk, or hiding in a dark corner somewhere else. Freecom is introducing their new line of external hard drives that come in a sleek aluminum case with minimalist styling. A blue LED glows softly through the front panel, illuminating the drive's capacity, and no noisy fans are present due to the passive cooling nature of using the case as a heat sink. Moving to the inside, the drives are standard fare, spinning at 7,200 RPM with rather small 2MB buffers. The external interface of choice is the commonplace USB 2.0, with no other options currently available (eSATA would have been nice). Looking to offer more value to the drives, Freecom is bundling their Freecom Media Suite which offers 256-encryption to help protect your data, and back-up via a synchronization utility.
Specs are as follows:
• Contents: Freecom Hard Drive, Freecom Personal Media Suite software, USB connection cable, manual on CD, Quick Install Guide
• Weight: 750 grams
• Dimensions: 11.5 x 4 x 20 cm (~ 4.5 x 1.6 x 7.9 inches)
• Speed: 7,200 RPM, Buffer 2 MB
• Warranty: 2-year manufacturer's guarantee and unlimited helpdesk support
List pricing for the drives is set at approximately $108 (80GB), $144 (160GB) and $168 (250GB). All pricing is USD.

Read More

| Freecom via BIOS Magazine
Posted by John Goulden Categories: Accessories, USB, Storage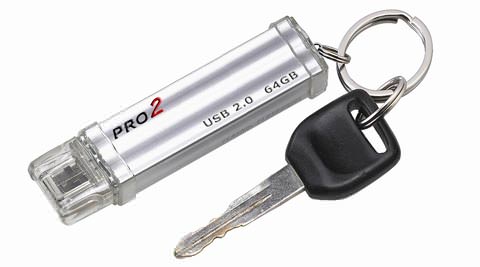 The largest flash drives available to the average consumer is 16GB in capacity and requires you to sell an arm to afford (MSRP $1,499). It seems as though BUSlink may have upped the ante as they have a 64GB USB flash drive clearly pictured on their website. To quote from BUSlink's website - "BUSLink was first to introduce the 8GB and 16GB flash drive to the world, now we're proud to introduce the first 32GB and 64GB flash drive ever." If it is for real, then be prepared to sell off your spare kidney to be able to afford one. Of course, it could also be that someone at BUSlink gets their jollies by watching the collective geek world drool in lust.
On a side note, you'd think they could find a nicer looking car key to attach to such an expensive flash drive.

Read More

| BUSlink via Engadget
Posted by John Goulden Categories: Corporate News, Storage

Over a year ago we reported about InPhase Technologies and their holographic storage technology. At the time, 200GB per square inch was the capacity limit, but technology marches on and today that capacity has been increased over 2.5 times to 515GB per square inch! Originally slated for release in 2006, it appears that InPhase is still on track, and they expect to have product available later this year. The first generation drives won't hold nearly as much as the prototypes, but will have a 300GB capacity with a 20MB per second transfer rate. As product development continues the sizes will naturally increase, with projected sizes of 800GB to 1.6TB. Sort of makes Blu-ray and HD-DVD look like the proverbial poor cousins doesn't it?
Although no pricing estimates have been given, it's sure to be painfully expensive and therefore confined to the corporate market on its initial release.

Read More

| InPhase Technologies via DailyTech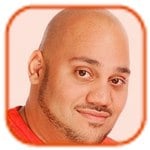 Posted by Andru Edwards Categories: Home Entertainment, Storage

From the too-little-too-late department comes the TiVo TCD649180. All that means is that TiVo, after many years of sporting a stale product line, has finally decided to offer a dual-tuner Series 2 unit. If you just can't wait until later this year to get your dual-tuning TiVo on with the TiVo Series 3, we guess this is the next best thing. Of course, if you don't have a high definition display, then this would be a smart move. Aside from the whole dual-tuner thing, the new Series 2 model features 180-hours of storage space, and ethernet and USB ports for home networking. Oh, and a little more black than we are used to seeing on the Series 2. This one will retail for $349 USD, which makes us even more wary of the price of the Series 3 model.

Read More

| Amazon
Posted by John Goulden Categories: Home Entertainment, Microsoft, PC / Laptop, Storage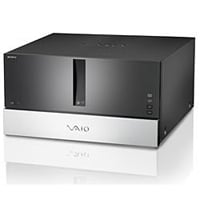 Back in January we reported on the rumor that Sony was going to make its 200-disc media changer available separate from their Digital Living System PC. Rumors do come true now and then, and this happens to be one of those times. Whether the VGP-XL1B2 is a viable alternative to assembling terabytes of hard drive space for your ripped DVDs is arguable, but it's certainly an interesting option. The changer requires Windows Media Center Edition (with the Rollup 2 update), utilizes a firewire interface, can be daisy-chained with 4 other units (max 5 total), and supports the following disc formats:
• DVD R Double Layer/DVD±RW drive
• DVD R DL Write (4x max.)
• DVD-R Write (16x max.)
• DVD-RW Write (6x max.)
• DVD R Write (16x max.)
• DVD RW Write (8x max.)
• CD-R Write (40x max.)
• CD-RW Write (24x max.)
Available directly from Sony for $799.99

Read More

| Sony via Digital Media Thoughts
Posted by John Goulden Categories: Corporate News, PC / Laptop, Storage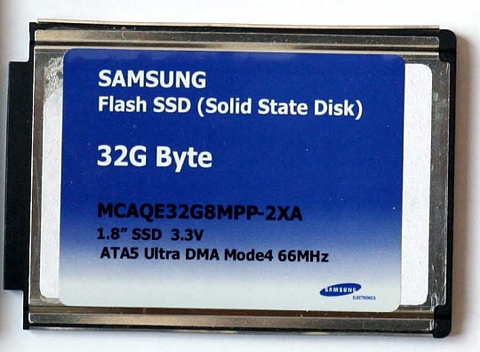 As computers get faster, one item has always been the bottleneck in the quest for ultimate speed - the hard drive. Great strides have been made to bring hard drive speeds up including denser platters, increased rotational speed, and faster interfaces. Yet it still comes down to the inherent limitations of moving parts. Solid State Disks (SSD), which are drives with no moving parts and are composed entirely of memory chips, are the equivalent of storage nirvana.
Samsung is a major player in the memory industry, and their NAND chips are in devices of all kinds. They've now released their new 32GB SSD for the mobile market, with read speeds 3X faster and write speeds 1.5X faster than traditional drives. Weighing only half of a comparably sized hard disk drive and consuming only 5% as much power, the drives will be a boon to laptop users everywhere. There's no word on pricing as of yet, but don't expect them to be inexpensive.

Read More

| Samsung (kr) via Akihabara News
© Gear Live Inc. – User-posted content, unless source is quoted, is licensed under a Creative Commons Public Domain License. Gear Live graphics, logos, designs, page headers, button icons, videos, articles, blogs, forums, scripts and other service names are the trademarks of Gear Live Inc.