Posted by Alex Grahmann Categories: Home Entertainment, Music, PC / Laptop, Peripherals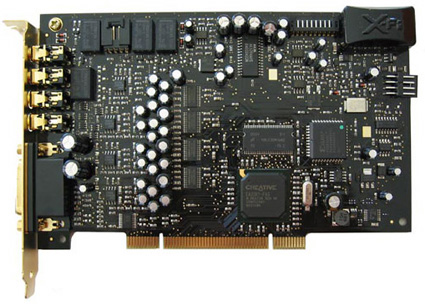 First revealed at this year's E3, the X-Fi line of Sound Blaster sound cards are now ready for the market. The new cards are designed specifically to power Creative's new Xtreme Fidelity audio standard, which promises to hit new heights of audio versatility and performance. Creative has long been the leader in the sound card business, and will release four versions of the new card to Best Buy stores later this month, the Elite Pro ($399), the Fatal1ty ($279), the Platinum ($199), and the XtremeMusic ($129). As is the common rhetoric in the high-tech world these days, Creative is promising that these new cards will "eventually and completely replace the old hi-fi equipment in the home."
Now, the cards seem great, but my question is this: How many of our readers really are replacing standard living-room audio/visual entertainment components with PC upgrades? We'd love to hear from those of you parting with your more traditional home theater elements and what you're using instead.
Read More

| Creative Press Release
Posted by Edwin Soto Categories: Music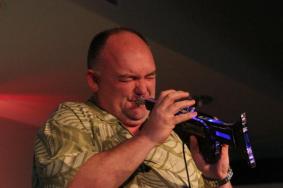 As the resident Gear Live audio freak, this trumpet/MIDI device caught my eye. On an "analog" trumpet, you have to raspberry with your lips to get sound to come out of the bell. More importantly, a skilled brass player must keep their chops by practicing maintaining their ambiture . Although, I wouldn't say that this device instantly makes you a great trumpet player, it certainly makes it easier if you are out of practice (says an out-of-practice trombone player). With that said, Morrison Digital Trumpet allows you to use this trumpet as a MIDI device where you can, of course, hook up to several different types of sources - like you would a MIDI keyboard. The trumpet uses the force of your breath for velocity and has a range of 10 octaves.
Read More

| Gizmag
Posted by Alex Grahmann Categories: Corporate News, Music, Portable Audio / Video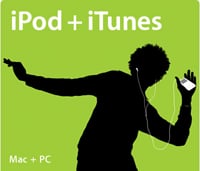 Reuters is reporting via the Washington Post that despite being incompatible with the 30 million iPods in the US, copy-protected CDs by the Foo Fighters and Dave Matthews band are continuing to sell extremely well. The CDs, put out by Sony BMG, are designed to restrict owners to burning only 3 exact copies of the albums, and then only into Microsoft's Windows Media format. The copy-protection also prohibits the music files from being transferred to an iPod, due to licensing clashes with Apple's Fairplay software and Windows. While both the albums, and others like it, are available in iPod-compatible digital forms on Apple's iTunes service, this hasn't appeased fans who like to own a physical disc from which to rip the songs.
The best part of the Reuters' article comes at the end where Sony BMG advises disgruntled users to rip the songs from the CD, burn them back to a blank CD, and then rip them again in an iPod-friendly format. I always like to see big companies encouraging us to work around security and copyright-protection.

Read More

| Washington Post
Posted by Alex Grahmann Categories: Corporate News, Music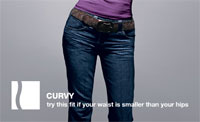 Gap has announced plans for a fall promotion in which a customer will receive a free song download from iTunes for trying on a pair of jeans at any of their stores around the country. The campaign, entitled "Find Your Favorite Fit," is designed to draw awareness to Gap's new jean cut options – Curvy, Straight, and Original for women and simple Straight for men. Be sure to visit a local gap between August 8-31 to try on some pants and receive your download. I can tell you from personal experience that nothing compliments my curvy cut like a free song.
Read More

| Gap Online

Posted by Sparky Categories: Music, Portable Audio / Video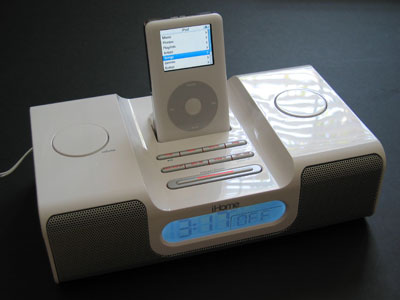 iLounge just got an advance copy of iH5's iPod alarm clock and gave it an impressive A- rating. They really like the industrial design, and thought that for a $100 clock/radio it had impressive sound. They did find some of the radio features lacking, but if you are looking for an easy way to wake up or fall asleep to music while ensuring your iPod is charged and ready for your day it looks like the iH5 is the way to go. This one seems like a no brainer for listening to the Gear Live podcast first thing in the morning for that fresh burst of technology to start your day!
Read More

| iLounge

Posted by Sparky Categories: Music, Portable Audio / Video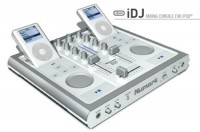 The rumored iDJ dual iPod mixing board looks like it might just be a reality after all! The iDJ from Numark will feature two iPod docks and all the usual mixing board controls. Perfect for that techie geek just getting into spinning, or the professional DJ who wants to avoid carrying around 100's of pounds of records. I for one am very excited about the possibility of having an entire portable DJ setup that I could carry in a backpack including the mixer, more music than I would ever need, and still have enough room left over to throw my Powerbook in there for some extra tweaking. The iDJ will also support USB2.0, and I assume iDJ will also accept line in from other MP3 players if the iPod isn't your thing.
Read More

| FutureMusic


I just got turned on to one of the coolest iTunes Dashboard widgets yet - Symphonic by Mindquirk software. Are you ever sitting there at your computer and suddenly have a specific song that you want to hear from iTunes - now it is literally at your fingertips. Bring up the dashboard and type the song title, artist, or any other unique piece of information about the song and it immediately starts playing in iTunes - no need to bring iTunes up or wade through a massive library. Symphonic them displays the full data for the track - artist, album and track name - before reverting to its initial state awaiting your next musical whim.
Read More

| Symphonic via TUAW
Posted by Alex Grahmann Categories: Handhelds, Music, Portable Audio / Video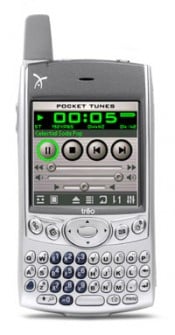 With the release of Pocket Tunes 3.1, Palm OS users now have the ability to play MP3s that use the Janus DRM standard for Windows Media 10. This unlocks the possibility of using Palm devices with popular MP3 services such as Rhapsody To Go, Napster To Go, and Yahoo! Music Unlimited. While most Palms inherently lack the memory capacity needed to take full advantage of such services (the 4GB LifeDrive being a possible exception), smaller-scale usage is still a plus. After all, with millions of songs available through these services, a few at a time is often enough.
Read More

| Pocket Tunes

Posted by Sparky Categories: Music, Portable Audio / Video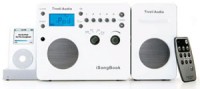 Today seems to be a big day for great looking audio equipment. Tivoli just announced their Audio iSongBook, a Tivoli radio product featuring stereo speakers and an iPod dock. Tivoli is famous for making radios with excellent tuners and very clean crisp speakers. I can only imagine what they are going to do with stereo speakers and the iPod to provide the tunes. The iSongBook operates on AC or six AA-size batteries, and it features built-in battery charger to recharge AA-size NiMH and lithium-ion batteries. The iSongBook will be available for $329 in early October.
Read More

| MobileWhack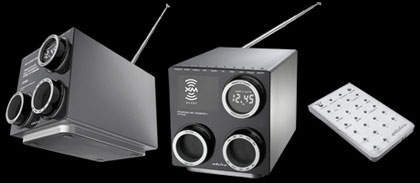 Eton and Porche Design have another winner with the P'7131 XM Satellite radio. The P'7131 while having an atrocious name is probably one of the sexiest radio's I've ever seen in my life. With the smooth black exterior, the silver ring dials, and the white on black screen I'm more than sold. I'm not a big XM radio fan myself, but want to get one of these just so I can have it on my desk at work. The P'7131 features AM, FM, and Shortwave reception in addition to XM Satellite Radio.
Read More

| P'7131
© Gear Live Inc. – User-posted content, unless source is quoted, is licensed under a Creative Commons Public Domain License. Gear Live graphics, logos, designs, page headers, button icons, videos, articles, blogs, forums, scripts and other service names are the trademarks of Gear Live Inc.