Posted by Chris Cardinal Categories: Music, Peripherals, Portable Audio / Video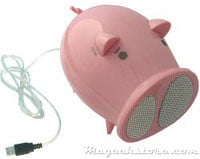 Words cannot evince the rekindling my spirit is undergoing, gazing upon the supple, roseate curves of this USB FM Radio Pig. Truly, I have not felt so urgent a calling to spend forth my hard-earned dollars as I do this very moment, full well with the knowledge that a simple $43.00 will bring me a pig to call (and name) my very own. My elation grows steadily as I learn that with each twist of its tail, the volume of my favorite terrestrial FM station will increase or decrease according to my fickle whims, each press of its ears bringing forth a new frequency. Gracefully in stock at MaGeekStore, this pig is certain to brighten up any room in which it resides.
Read More

| MaGeekStore (AV Translated) via Akihabara News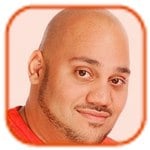 Posted by Andru Edwards Categories: Internet, Music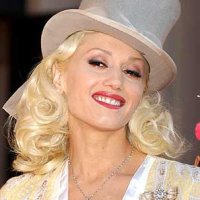 Gwen Stefani's uber-hit "Hollaback Girl" from her latest album Love. Angel. Music. Baby. has become the first song to hit 1,000,000 commercial downloads. This is certainly a milestone, and shows that people will pay for music in this day and age, although those in the know rely on Russia for their tracks. Nonetheless, Interscope Geffen Charman Jimmy Lovine stated "Gwen is one of the most forward-thinking and innovative artists in music today. That she would make history with digital downloads just emphasizes her role as a leader in so many ways for a new generation and for music. The music industry is changing and this is a major sign that digital downloading has reached the mass market and become a very significant business." Gwen added, "It's always an honor to be recognized for your music, and this is really the coolest. It's exciting to see people embrace the song and really make it part of their lives. Whether it's CDs, computers, or cellphones…it really is bananas." In recognition of reaching the milestone, Stefani will be presented with a certificate when she performs at Los Angeles' Hollywood Bowl on October 21.

Read More

| ContactMusic
Posted by Devin Categories: Corporate News, Music
A 42-year-old disabled woman from Oregon is counter-suing the RIAA for deceptive business practices, electronic trespass, invasion of privacy, fraud, and violation of the Computer Fraud and Abuse Act. Tanya Andersen filed the suit recently after finding out in a letter received in February that she was being sued for illegally downloading and distributing music on the Internet. The single mother called the number listed in the letter, which was not a law firm representing the plaintiff, but instead the Settlement Support Center, an LLP allegedly set up to coerce payments from people who had been identified in suits filed by RIAA, only to find out that she had been "viewed" downloading gangsta rap at 4:24am using the login "gotenkito@kazaa.com." Ms. Andersen claims that after telling the SSC that she neither downloads music or likes gangsta rap, a representative told her that "he believed that she had not downloaded any music." He went on to explain that the Settlement Support Center and the record companies would not quit their debt collection activities because to do so would encourage other people to defend themselves against the record companies' claims. Under the provisions of the Computer Fraud and Abuse Act (18 U.S.C. § 1030) it is illegal to break into another person's private computer to spy, steal or remove private information, damage property, or cause other harm.

Read More

| Recording Industry vs. The People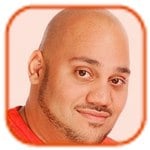 Posted by Andru Edwards Categories: Corporate News, Music

Wow, it appears that our armed forces are in serious need of new recruits if they are resulting to this. Check it out - if you want 3 free iTunes downloads, simply agree to allow the National Guard to mail you some literature and to have a recruiter contact you so that they can tell you a bit about it. Whether they convince you into signing up or not is up to them, but you will walk away with $3 in music. Something about that just seems sad.

Read More

| Army National Guard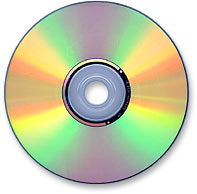 At this moment, 70% of the world music market is controlled by the Big Four. For those who aren't very record label concious, we're talking about EMI, Warner, Sony/BMG and Universal. What that means to you, or any other person who listens to the radio at some point in their day, is that those 4 companies have a huge influence over what you hear. While that may be a depressing thought, hear this: many in the recording industry, including the aforementioned labels, believe that the power balance is quickly changing. The rejuvination of independent labels, along with the all the internet has to offer(podcasts, downloads, file sharing, and piracy, to name a few) are helping to create a shift in power.
In theory, the whole development of the market digitally should be to the benefit of independents. Online, people are more likely to download catalogue, they're more likely to download lesser-known bands - and that's good for independents.
Read More

| BBC News
Posted by Devin Categories: Corporate News, Music
It seems not everyone agrees with the RIAA's bullying techniques. On Monday, a Federal Court in Michigan overturned the RIAA's case against the mother of a 13 year old girl accused of file swapping. Judge Lawrence P. Zatkoff dismissed the lawsuit with prejudice due to the fact that the girl's mother couldn't be held responsible for her daughter's downloading habits. Don't get too excited though - Judge Zatkoff did say in his decision that case was dismissed without prejudice to any other person other than the defendant, so I think it's more than safe to say this isn't the last time we'll be hearing from the greedy plaintiff that is the RIAA.

Read More

| The Inquirer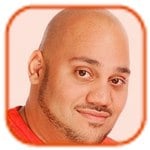 Posted by Andru Edwards Categories: Home Entertainment, Music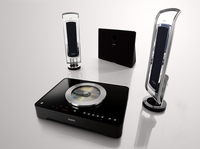 If you liked the iBall then you'll love Oregon Scientific's sleekly designed 2.1 CD system. It plays MP3/WMA CDs and has an AM/FM Tuner. The flat panel speakers are designed to be angled easily. At £299 expect the system to pack a punch later this year upon it's release.

Read More

| Tech Digest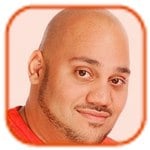 Posted by Andru Edwards Categories: Accessories, Music, Portable Audio / Video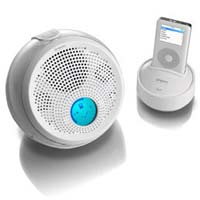 Defenitly one of the most uniquely designed iPod accessories we have seen - the iBall. Made by Oregon Scientific, the iBall is a wireless speaker system that uses 2.4 GHz technology to broadcast up to 100ft. It runs 6-8 hours after a full charge or you can plug in the AC adapter as well. The iBall will be out later this year for a mere $300.

Read More

| Oregon Scientific via Gizmodo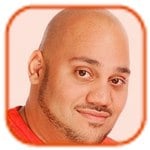 Posted by Andru Edwards Categories: Music, Software

Apple just released iTunes 5.0.1 into the wild:
iTunes 5 features a new even more powerful instant search, including the new Search Bar which helps you find exactly what you are looking for in iTunes or from among 2 million songs on the Music Store, folders for organizing playlists, and new Parental Controls for music, music sharing and podcasts. iTunes 5.0.1 features several stability improvements over iTunes 5.
Those stability problems mentioned include disappearing music and random crashes. Here's to hoping all that is taken care of. Mac users, check Software Update for the download.

Read More

| iTunes

Posted by Kristin Wenzel Categories: Music, Peripherals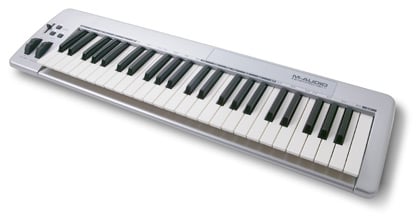 I recently purchased the M-Audio Keystation 49e midi controller and I'm very pleased with it. For the price (129.99) you can't really beat the quality, which doesn't surprise me given M-Audio's impressive track record.

The keys are slightly weighted, making them feel a lot more like a real piano, and they are thankfully noiseless no matter how hard you tend to rock out when you play, avoiding that irritating clicking that can come with some midi keyboards. Another great feature: it's USB powered, so you don't need to plug it in. However, if you feel the need, it takes a fairly standard 9V DC power adapter. For even more flexibility, you can connect via USB or MIDI, so even if you lack MIDI capability on your current system, you can still use the device. That's a great feature for people looking to try out electronic music production without buying a ton of gear. Along with a 49 key spread, it features pitch blend and modulation wheels, foot-pedal input compatibility, the keyboard is velocity sensitive, and has a volume control knob. It includes drivers for not only previous versions of Windows, but also for Mac OS 9, making it a very versatile device.

The Keystation 49e is a great choice for seasoned electronic musicians as well as beginners just looking into having a keyboard to play with. On a scale of 10, I'd give it a 10, for sure.

Read More

| M-Audio Keystation 49e
© Gear Live Inc. – User-posted content, unless source is quoted, is licensed under a Creative Commons Public Domain License. Gear Live graphics, logos, designs, page headers, button icons, videos, articles, blogs, forums, scripts and other service names are the trademarks of Gear Live Inc.