Find Our Latest Video Reviews on YouTube!
If you want to stay on top of all of our video reviews of the latest tech, be sure to check out and subscribe to the Gear Live YouTube channel, hosted by Andru Edwards! It's free!
Posted by Dave White Categories: Accessories, Apple, Home Entertainment, Music, Peripherals,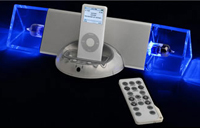 We see a laser light show in this device's future. It's the iBlueTube from Thanko, and it is an iPod dock that has two full-on vacuum tubes, one sticking out each side of what is an extended docking mechanism.
The middle part of the dock looks normal enough, with the iPod resting in a small circular dock populated with buttons and cord slots (including hookups for real speakers, and even viewscreens). Zoom back out again and you'll see a triangular backlighting system that lights up blue via the LED vacuum tubes.
The main appeal of this item seems to be the cool factor, although the speakers are said to pump out 12 watts of power, which is more than your average iPod dock. Plop one of these docks down on your mantel and have a few friends over, and you're sure to have some appreciative audience in no time flat. Of course, you'll pay for the privilege: The iBlueTube, which is scheduled for release in Japan sometime in the next few weeks, is projected to cost the equivalent of $566 USD.
Read More

| New Launches via Gizmodo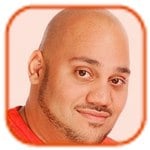 Posted by Andru Edwards Categories: Apple, Movies, Music, PC / Laptop, Software,

Intel Mac users the world over await the day that they can eliminate all Rosetta applications from their systems permanently, and today we are one step closer with the release of the Flip4Mac Universal Binary. For those unfamiliar with the product, Flip4Mac allows Mac users to play Windows Media content from within Quicktime. Since Microsoft decided to shelve Windows Media Player development for the Mac, users have had to suffer through using an old version, running in Rosetta. Now that Flip4Mac has gone Universal, it has changed the game. If you run an Intel Mac, you need this program.
Read More

| Flip4Mac via Flip4Mac on Microsoft.com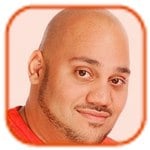 Posted by Andru Edwards Categories: Design, Features, Microsoft, Music, PC / Laptop, Portable Audio / Video, Videocasts,
Ever wonder what goes on behind closed doors at a major tech company? We hung out with the higher ups at iRiver America and got a tour of the place. We also sat down with iRiver America CEO Jonathan Sasse, and talked a bit about the company, the evolution of the iRiver clix, working with Microsoft and MTV, DRM, and a few other topics. Oh, and we got a look at the iRiver hummer.

Here's how to get the show:
Subscribe: iTunes iPod / H.264 | iTunes MPEG-4 | RSS iPod Feed | RSS MPEG-4 Feed
|Download| - iPod-formatted H.264 (Mirror)
|Download| - DivX (Mirror)
|Download| - MPEG-4 (Mirror)
|Download| - PSP (Mirror)

IMPORTANT: We are surveying the viewers of our show to see what it is that people like, and more importantly, what they don't like. It is anonymous, and just takes a couple of minutes. If you have the time, we would appreciate it! As always, feel free to let us know what you think in the comments.
Here's how to get the show:
|
Download
| - iPod-formatted H.264
|
Download
| - MPEG-4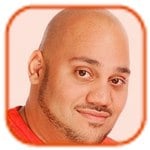 Posted by Andru Edwards Categories: Corporate News, Handhelds, Microsoft, Music, Portable Audio / Video, Video Games,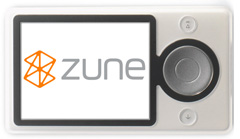 Finally, Microsoft has given up some details on the Zune, the most significant detail being the confirmation that it exists. In an article in Billboard Magazine, the company reveals that Zune is much more than just a digital media player, but rather a family of hardware and software products which integrate various forms of digital entertainment services. The first implementation of this will be the portable music player and digital music service, which is essentially Microsoft's first real attempt at going head to head with the Apple's iTunes and iPod one-two punch combo. It will be interesting to see if Microsoft can put a dent in Apple's 70% market share in digital music downloads, and 75% of the entire digital music player scene. If anyone has the pockets to do it, it's them. Before counting them out, remember that the Xbox was nothing more than a joke when we first heard about it in 1999, and today it's at the forefront of the game industry.
EDIT: A couple of official Zune related sites: Zune Insider, Coming Zune, and Madison and Pine
Read More

| Billboard (Account Required)
Posted by Nino Marchetti Categories: Apple, Internet, Music,
GraceNotes, which maintains the CDDB database containing music CD information on more than 55 million tracks and 4 million CDs, yesterday said they'd obtained the rights to publish song lyrics of more than 1 million songs, according to Reuters. They are now chatting with their online music partners, including Yahoo and Apple, about "plans to launch a service to offer legal and accurate lyrics for all digital media". This service would be the first industry-sanctioned want to provide lyrics legally.
Read More

| Reuters: Gracenote, music publishers in lyrics deal via iLounge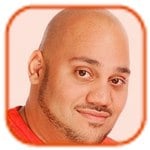 Posted by Andru Edwards Categories: Features, Music, Portable Audio / Video,
So we finally got our hands on iRiver's drool-worthy portable media device, the clix. This 2GB beauty has a great screen, and was built from the ground-up for use with MTV URGE and Windows Media Player 11. We will be bringing you a full review of the device here on Gear Live, as well as in video form on The Bleeding Edge, but for now, join us in the gallery as we unbox the iRiver clix.
Read More

| iRiver clix Unboxing Gallery

Posted by Chris Cardinal Categories: Features, Home Entertainment, Music, Video Games, Videocasts,
It takes a unique combination of character traits to get in front of a few people and belt out "It's Not Unusual" in your best Tom Jones like a moron. It's even worse when there's a camera in the room. But hey, why don't we just publish it on the interwebs and let the whole world see what our shower walls cry about? Singstar, with Jesse Ferguson in black and the wonderfully untalented Chris Cardinal (that is, me) in green, is a fun party game I fear too many people will lack the moxie to throw down with a microphone for. That's where booze typically comes in, but suffice to say, both Jesse and I were ridiculously sober when we recorded this.
The game monitors your pitch and intonations, and the length of your notes, and did a very good job at filtering out any sort of background noise. More songs will be available for (purchase and) download at a later date, though it will ship with a collection of around 100. It should also be noted that I edged out Jesse, most likely pulling ahead at the end with my creative take on the w-hoo-hoo part of the song.
Here's how to get the show:
Subscribe: iTunes iPod / H.264 | iTunes MPEG-4 | RSS iPod Feed | RSS MPEG-4 Feed
|Download| - iPod-formatted H.264 (Mirror)
|Download| - DivX (Mirror)
|Download| - MPEG-4 (Mirror)
|Download| - PSP (Mirror)

IMPORTANT: We are surveying the viewers of our show to see what it is that people like, and more importantly, what they don't like. It is anonymous, and just takes a couple of minutes. If you have the time, we would appreciate it! As always, feel free to let us know what you think in the comments.
Here's how to get the show:
|
Download
| - iPod-formatted H.264
|
Download
| - MPEG-4

Posted by Stace Johnson Categories: Design, Misc. Tech, Music,
Aerosmith guitarist Joe Perry is lucky. If he's working on a track at his home studio and he needs a particular sound, he can just go grab another guitar, plug in, and another classic track is born. Those of us for whom money is still an issue have it a little tougher. Sure, we know that "Sweet Child O' Mine" should only be played on a Les Paul (or a copy, like Slash used), but there's only room for a couple of guitars in the back of the Civic, and if the song has to be played on a Strat, then so be it.
No more excuses! For the cost of a decent Stratocaster or half of a Les Paul, guitar players can have access to classic sounds from both of these instruments, as well as from banjos, sitars, resonators, and several acoustic guitars. The Variax carefully models the waveforms of classic instruments to product their sounds faithfully, and all of the sounds are just a knob twist away. Finally, guitarists can leave their vintage instruments at home and still be prepared for any musical need that may arise.
Read More

| Line 6
Posted by John Goulden Categories: Home Entertainment, Movies, Music,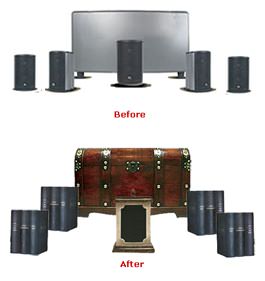 Over the years, the trend for home audio speakers has been one of downsizing. Many a home theater enthusiast has foregone the lure of huge speakers that rattle their neighbor's windows (three blocks away) to focus more on the SAF. The SAF (Spousal Approval Factor) is a major force when it comes time for speaker acquisitions, and typically the smaller, the better. Acoustic Research, an Audiovox company, has taken a slightly different approach than the norm to making speakers blend in with their surroundings. While their HD510 speaker system isn't tremendously tiny (e.g., Bose Acoustimass), they're still quite small, but that's not their only claim to SAF fame. Acoustic Research has taken to hiding the speakers inside some fairly common looking objects to help disguise their presence.
Suddenly, subwoofers become steamer trunks, and satellite speakers become books, vases, and even wall sconces. With more than 20 different covers that are each sold separately, the options available are quite abundant. One thing though that should concern anyone interested in quality speakers, is the effect the covers have on the clarity and aspect of the sound. Unfortunately, besides mentioning that the covers allow "consumers to really express themselves without compromising speaker performance", there are no hard numbers for a "before and after" scenario in regards to sound quality.
HD510 Features:
Satellites & Center Channel Speaker
Woofer : 3 1/2" Midrange (Magnetically Shielded)
Tweeter : 1" Teteron Tweeter
Freq. Resp. : 120Hz-25kHz +/- 3dB
Rec. Power : 25-150 Watts
Finish : Extruded Aluminum
Dims 6.15"(H) x 3.8"(W) x 4.0"(D)
Impedance : 8 ohms
Subwoofer
10" Poly-Coated Woofer
Freq. Resp. : 25Hz - 150Hz (variable)
175 Watt Class D Digital Amplifier
Finish : Pewter Lacquer
Dims : 13.5"(H) x 23.9"(W) x 12.5"(D)
The speaker system and covers will be available this summer for an undisclosed amount.
Read More

| Audiovox via Gizmodo

Posted by Stace Johnson Categories: Design, Music,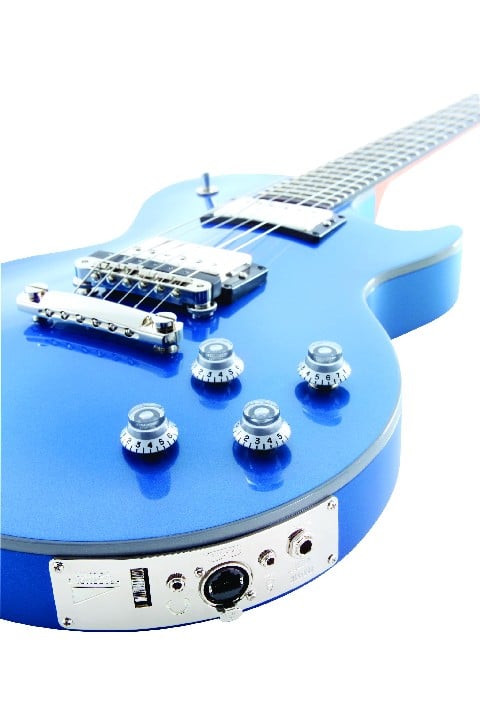 The Gibson Digital Guitar, demonstrated last month at Microsoft's Windows Hardware Engineering Conference in Seattle, is the first electric guitar to feature an Ethernet port on-board. Using onboard electronics, the Gibson Digital allows players to send output from different strings to different amps or effect loops, as well as opening up the guitar's traditionally analog signal to digital applications, like Internet streaming and single-string-per-track recording.
The real innovation here is in the media delivery system Gibson has designed to carry this information. MaGIC, which stands for Media-accelerated Global Information Carrier, is a protocol that carries media information bi-directionally on a standard Ethernet cable. Gibson's goal for MaGIC technology is to replace all the cabling on musical instrument rigs as well as consumer electronics, allowing users to daisy-chain devices and greatly simplifying audio system component hookup. The MaGIC protocol carries 32 channels of digital audio over the single Ethernet cable.
Gibson has not yet released the digital guitar for sale, but has partnered with chipmaker Cirrus Logic to deliver a suite of digital audio and video products utilizing gigabit Ethernet connectivity in 2006.

Read More

| Gibson Digital
© Gear Live Inc. – User-posted content, unless source is quoted, is licensed under a Creative Commons Public Domain License. Gear Live graphics, logos, designs, page headers, button icons, videos, articles, blogs, forums, scripts and other service names are the trademarks of Gear Live Inc.