Posted by John Goulden Categories: Design, Household, Transportation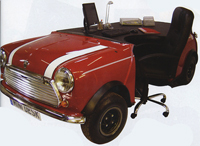 What do you get for the person who seems to have everything? How about a desk made out of a Mini Cooper (the original, not the BMW remake). If you're willing to part with $4,500, you too can own (or gift) a nostalgic piece of automotive history. Of course, for around that same amount of money you can buy yourself a whole Mini Cooper to actually drive.

Read More

| Uber-Review
Posted by John Goulden Categories: Household, Misc. Tech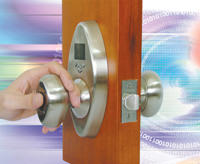 At some point in time, everyone has been locked out of their home at least once. It's a frustrating feeling as you stand there pondering what part of your domicile to break (window, door?) to gain admittance. To avoid this kind of scenario, Tychi Systems presents the BioKnob. The BioKnob works on the principle of biometrics in that it uses your fingerprint for verification. The BioKnob will allow up to 100 users to be programmed for entry and uses a rechargeable battery that lasts for approximately 1000 openings. When battery power gets low (less than 50 entries left), the knob will alert the user who can then plug an AC adapter into it for charging. Additional features include the support of temporary users, choice of two colors, and adaptibility to practically any standard door. Sounds like a great product as long as Tychi Systems has taken steps to counteract the Play-Doh problem wherein biometric devices could be fooled 90% of the time with a fake, Play-Doh finger. No word yet on pricing or availability.

Read More

| Tychi Systems via Gizmag

Posted by Frank Bisono Categories: Household, Mods / Hacks

So you don't feel like paying those high prices for "real" PBX systems? Maybe your just an uber nerd like most of us, and want a totally kick-ass wicked phone system for your crib. We've got the answer for you. Ward Mundy over at Nerd Vittles has been writing about geeky things like this for quite some time. I'd say it's safe to say he has perfected the art of installing and tweaking Asterisk, the PBX system for nerds. He has written the most comprehensive guide to installing Asterisk@Home that I have seen anywhere on the net. Head over to Nerd Vittles and get your uber geek fix for the day.

Read More

| Nerd Vittles
Posted by John Goulden Categories: Household, Misc. Tech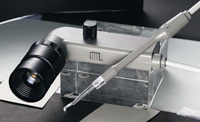 File this under "what in the heck?!". A Japanese company has developed what is essentially an endoscope for home use called the Earscope GXL. The device is designed to allow you to see inside your ears as you clean them. Ignoring what we've heard all our lives about never sticking anything inside our ears, the Earscope will provide you a larger-than-life view of your eardrum seconds before you pierce it. Other uses for the Earscope abound and we'll just leave those up to your imagination. Videos of the Earscope in action can be had for your viewing
disgust
pleasure
amusement on Coden's website.
Posted by John Goulden Categories: Cameras, Design, Household, Misc. Tech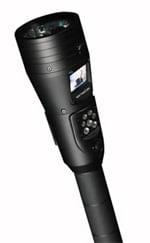 Apparently nothing is sacred anymore. Take the humble flashlight for example. A ubiquitous device, the flashlight as we know it has its origins in 1896. Along the way it has received various upgrades - LED technology and magnetic induction come to mind. However, the core idea of a simple object that spits out light on demand, has remained the same - until now. Enter the MII Flashcam - an 85,000 candlepower LED flashlight that adds the ability to record audio/video as well as take digital still shots. For covert operations it has a ring of infrared LED's to light up your subject, and all video can be viewed on it's 1.5" TFT-LCD. For storing your audio and video the Flashcam has 1GB of integrated memory which will allow for up to 2 hours of footage. Seeing as how the Flashcam is being marketed toward the law enforcement industry, it comes as no surprise that the light is shock resistant (handy when the need arises for incapacitating a fugitive). If you can afford it ($2,500) the MII Flashcam can be yours, but don't expect to be allowed the privilege to record audio unless you're a member of law enforcement. Video functionality on the other hand is seemingly "a-ok" regardless of who the purchaser is.

Read More

| MII Flashcam via Ubergizmo
Posted by John Goulden Categories: Household, Misc. Tech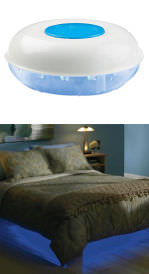 Are you scared of the dark…or more importantly, what can be hiding in the dark under your bed? Does the morning light bring the sweet relief of being able to sprint into the bathroom because you were too frightened to get up during the night? If so, then Solutions may have the answer to your problem (no, not a porta-pottie). It's the diminuative (5" diameter) Blue Moon Night Light. This UFO-shaped object is comprised of 14 blue LED's (because red LED's would have made it look like hell was under your bed), and has a clear ABS bottom for the light to radiate around your room. If you're only slightly scared of the dark (instead of insanely petrified by it), then you'll appreciate the ability to dim the intense blue light to a softer, more soothing glow. It can be yours for $29.95.

Read More

| Solutions via Strange New Products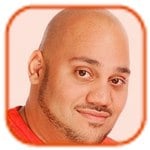 Posted by Andru Edwards Categories: Design, Household, Misc. Tech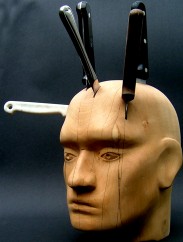 You know, some products are just better explained by an image rather than with words, this being one of them. I mean, a knife block shaped like a human head, with slots for the knives located all over the scalp? Pure genious. When they start taking picture submissions so that they can re-create the head of the guy who stole your prom date, let us know, kay?

Read More

| Baas via BoingBoing

Posted by Chris Cardinal Categories: CES, CES 2006, Features, Home Entertainment, Household, Videocasts

CLICK HERE TO DOWNLOAD VIDEO - iPod Formatted
CLICK HERE TO DOWNLOAD VIDEO - H.264
Here's how to subscribe to our video show, The Bleeding Edge:
Subscribe: iTunes iPod / H.264 | iTunes MPEG-4 | RSS iPod Feed | RSS MPEG-4 Feed
We got some quality hands-on time with the forthcoming TiVo Series 3, TiVo's first HD-capable DVR. The Series 3 unit has some cool new features, including a single-color, two-line OLED LCD display on the front of the unit that shows you what's being recorded on each tuner. We interviewed Bob Pony of TiVo (TiVoPony on the TiVo Community forums) about what we can expect in the Series 3, so be sure to check out the video interview above. The quick and dirty is that it features built-in ethernet, an external SATA port for expanding your TiVo's capacity, and that it will ship with a 250 GB hard drive. (Note: Bob incorrectly states in the video that the shipping capacity is 300 GB. He corrected himself after we had finished shooting.) No official release date exists, of course, but they're saying "in the second half of 2006." We will have a downloadable version of this video up shortly.
Follow the jump for our personal impressions on the Series 3.
Here's how to get the show:
|
Download
| - iPod-formatted H.264
|
Download
| - MPEG-4
Click to continue reading CES 2006 Video: TiVo Series 3 Video Interview, First Look

Posted by Chris Cardinal Categories: CES, CES 2006, Home Entertainment, Household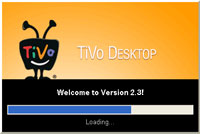 I was definitely excited to see and explore the new TiVo Desktop. More than just an incremental upgrade, the new Desktop introduces auto-scheduling of transfers. Desktop detects if a show is part of a Season Pass and allows you to tell your Desktop client to automatically grab any new episode of that series your TiVo records. Perhaps the most exciting new feature is the inclusion of automatic transcoding and transferring to your portable devices. If you have an iPod Video, for instance, you indicate that you want your scheduled transfers to be used for your iPod. TiVo Desktop will automatically grab the shows from your TiVo, transcode them to iPod Video's preferred format, and even transfer it directly to your iTunes library and straight to your device, if it's docked. Another such option exists for the PSP and the ability for other portable devices is definitely there. It's about to enter beta testing and they estimate its release date will hit around sometime Q1 2006. (Or "very soon.")
Oh, and watch this space for an in depth video interview and hands on shot of the Series 3, along with some extra-juicy information that only we have.

Posted by Chris Cardinal Categories: CES, CES 2006, Features, Home Entertainment, Household, Wireless / WiFi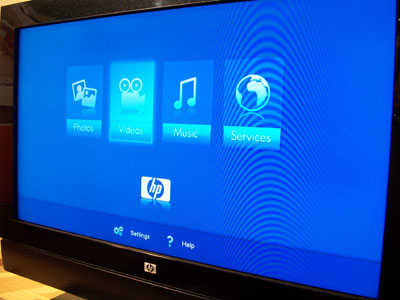 Stopping by HP's rather large booth in South Hall's upstairs, we stumbled upon their SLC3760N 37" LCD HD TV. It's quite a mouthful no matter how you try to say it, but the TV had some stellar features that looked to function brilliantly. The TV is a uPNP device that allows you to hop on your local wireless (802.11a/b/g) or wired (100-base) network and instantly start watching media from your home's PCs. It's able to playback MPEG-1, MPEG-2, DivX, XviD (or, at least, MPEG-4), MP3s, AOL Radio and Rhapsody, and whatever photo formats you can throw at it.
It also features a 176° viewing angle, which looks quite stunning, and a 6,000:1 contrast ratio on a 720p screen. Release date is set tentatively for "early Spring" with a price "to be announced." After trying a bit harder to eek a price out of him, he mentioned that the LCD on its own, minus all the connectivity functions, is (of course) absolutely top of the line, so you can expect to pay what a similar-quality tv might cost. He mentioned that the connectivity stuff adds only about $300 to the cost, which is pretty reasonable for such a flexible device.
© Gear Live Inc. – User-posted content, unless source is quoted, is licensed under a Creative Commons Public Domain License. Gear Live graphics, logos, designs, page headers, button icons, videos, articles, blogs, forums, scripts and other service names are the trademarks of Gear Live Inc.