Find Our Latest Video Reviews on YouTube!
If you want to stay on top of all of our video reviews of the latest tech, be sure to check out and subscribe to the Gear Live YouTube channel, hosted by Andru Edwards! It's free!
Thursday September 25, 2008 1:37 pm
Casio Exilim Pro EX-F1 High-Speed Digital Camera Review

Tweet
Posted by Nate True Categories: Cameras, Features, Portable Audio / Video, Product Reviews, Videos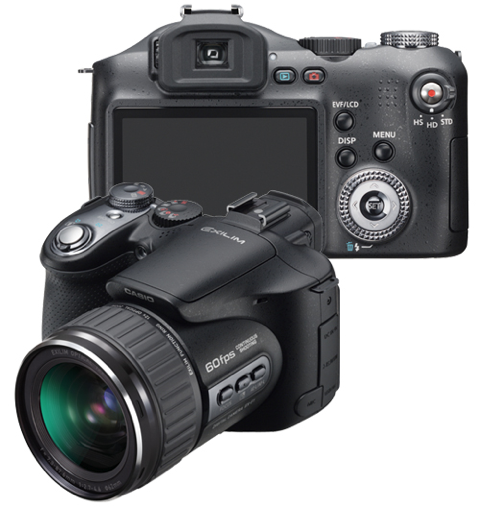 We've all marveled at super slow-motion footage on shows like MythBusters or on sites like CSU's slow-motion archive, and longed to shoot slow-motion footage of our own. Until earlier this year, however, the equipment to do so was horrendously expensive. Fortunately, Casio announced a revolutionary new consumer camera at the 2008 CES in January called the Exilim Pro EX-F1. It boasts video capture of up to 1200 frames per second (where normal video is around 30 frames per second) and at resolutions up to 1080i HD (though not at the same time).
We recently got our hands on an EX-F1 and we must say, we are impressed. Read on for the full in-depth review, including sample pictures and videos.
Feature rundown
6 megapixel CMOS image sensor
12x optical zoom
2.8" TFT-LCD screen plus electronic viewfinder
60 full-size frame continuous shooting buffer
High-powered flash that can deliver 20 flashes in a row
High-speed movie recording up to 1200 fps
HD recording capability up to 1080i, 60 fps with built-in stereo microphones
First impressions
Slow motion video: First off, when we found out that this camera could record slow-motion video, we just had to have it, hands down. That is by far the most important selling feature of this camera and it does it well (provided there is adequate lighting). But once the novelty of slow motion wears off, do we still like the camera? Let's look at the pieces and see what's left.
The image sensor: The EX-F1's image sensor is a 0.56-inch CMOS sensor designed for high speed capturing. It only sports 6 megapixels of still-image resolution, which is fairly pitiful when compared to the megapixels you'd get from a similarly priced DSLR, including a decent lens package. It is obvious Casio made some tradeoffs here, and the EX-F1's still image performance suffers because of it. Images taken at an ISO level above 400 have a significant graininess despite hefty noise reduction processing.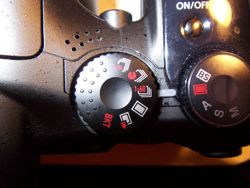 Continuous shutter modes: The EX-F1 offers such a daunting array of Continuous Shutter (CS) modes that Casio thought it best to add a physical dial to choose between them. We found it very convenient and easy to choose which mode we wanted; that is, after we'd memorized what the symbols on the dial meant. There really was no way to avoid being cryptic, though, since the CS modes are all very new and innovative, all based on the EX-F1's remarkable high-speed capture ability.
"Best Shot" modes: Casio included a great many program modes they call "Best Shot" modes. They set up various settings of the camera to match specific scene types. It's nice to be able to quickly choose settings for common shooting situations, and a few of the BS modes even have a few tricks up their sleeves.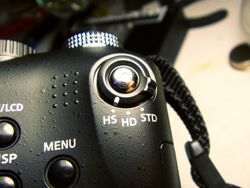 Video capture modes: Also in the "it's nice that they have a physical control for that" category is the video resolution selector. Surrounding the video record button is a mode dial that selects between High Speed, High Definition, and Standard Definition video recording modes. Additionally, the record button is separate from the still capture button, eliminating a need to switch between photo and video modes. Kudos to Casio for making so many of this camera's features so easy to use.
Continuous Shutter modes
We really have to look at these modes individually, since each one kind of transforms what you can do with the camera. In all of these modes, you have the option of immediately rifling through the captured images and keeping just a few, or keeping them all. The interface for that is kind of clunky but it gets the job done.
Flash CS: AKA the "Seizure induction mode", the Flash CS takes up to 20 pictures at 7 frames per second with flash. It can also use the dimmer LED flashlight just below the flash to record up to 60 frames at higher frame rates. This one's great for disturbing and disorienting your subjects, and impressing your friends with how cool your camera is, but we haven't yet found a situation where we need to take that many flash pictures. Not recommended when people with epilepsy are nearby.
Pre-record CS: This mode starts filling its buffer the moment you half-press the shutter button, and when you press all the way down, it keeps the pictures that it took just before you clicked the shutter. You can choose what frame rate to capture at (up to 60 fps) and how far back in time you want to go (up to 60 frames). The rest of the 60 frames, then, are taken after you press the shutter, as long as you hold it down.
High-speed CS: This one's the most basic of the CS modes, as it just takes pictures after you press the shutter. Frame rate is configurable.
Slow-motion view: AKA the "Matrix mode", this sounds more impressive than it actually is. The camera fills up its buffer for two seconds after you half-press the shutter, and it plays it in slow motion. Then you may press the shutter all the way at just the right instant to get the perfect shot. This is, of course, not as great as the pre-record CS mode, which gives you all the benefits without a two-second cap on your half-press.
Bracketing CS: Bracketing is a photography technique where multiple photographs are taken at different exposure, focus, or white balance settings, used to choose the best setting afterward, or to generate high dynamic range (HDR) images, in the case of exposure bracketing. With the EX-F1 you can choose focus, exposure, or white balance bracketing as well as choosing the range. It can shoot either 3 or 5 pictures in this mode.
Slow-motion video
The EX-F1 has three high-speed video modes. At 300fps, it shoots at 512x384 pixels; at 600fps, 432x192, and at 1200fps, it shoots at 336x96. The aspect ratios get consistently wider as the speed goes up, presumably due to limitations in the camera's hardware. You also need more light as the frame rate goes up. Here are a few sample videos:
300fps, 512x384: Quarters being dropped on wood. Lit with direct sunlight through a window.
600fps, 432x192: Busting chalk with a metal rod. Lit with a bright studio light and a work light.
1200fps, 336x96: Popping a long water balloon with a dart. Lit with direct sunlight.
Of course, we shot many more of these videos, which are posted on cre.ations.net: More EX-F1 slow-motion video
Having played with the slow-motion feature extensively, we can offer some advice to make sure your videos turn out great:
Have enough light. If you have anything less than full daylight (either direct sunlight or through thin clouds) or 100 watts of light hitting your subject, your movies will turn out dark and grainy.
Zoom in. Since the videos saved on the memory card are compressed and are at such a low resolution, you'll need to get in close to capture the detail you want in the video.
Move fast. Slow reaction times are your enemy when you're shooting a moving subject. You'll have to anticipate where it's going and move before it does, and keep it in the frame all the time.
Record early. The camera pauses to autofocus before starting to record (since focusing is disabled during recording), so make sure you press that record button before the action starts. You can edit out the boring parts later.
A few more details
Battery life: We have to mention that the battery life on the EX-F1 is fantastic. A single battery will last you a full day of photos and slow-motion video, though of course we always recommend having a spare around.
Memory cards: The EX-F1 uses SDHC cards, and since it's such a data intensive camera, only the fastest cards will do. We recommend the Sandisk Extreme III SDHC cards, which have the highest data rate available. Knockoff brands simply won't do here.
Conclusions
Overall, we like the EX-F1. High-speed shooting and the unique Continuous Shutter modes put it in a class of its own. Unfortunately, we had to dock a few points for the low resolution and poor light sensitivity. Let's hope those are improved when the cheaper but still high-speed-capable EX-FH20 comes out in October 2008. Do you have anything you'd like us to shoot with our EX-F1? Do you have an EX-F1? What do you think? Let us know in the comments.
© Gear Live Inc. – User-posted content, unless source is quoted, is licensed under a Creative Commons Public Domain License. Gear Live graphics, logos, designs, page headers, button icons, videos, articles, blogs, forums, scripts and other service names are the trademarks of Gear Live Inc.