Find Our Latest Video Reviews on YouTube!
If you want to stay on top of all of our video reviews of the latest tech, be sure to check out and subscribe to the Gear Live YouTube channel, hosted by Andru Edwards! It's free!
Thursday September 13, 2007 4:24 am
Matrox DualHead2Go Digital Edition Reviewed (Verdict: Spot-on)

Tweet
Posted by Chris Cardinal Categories: Peripherals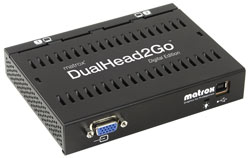 It's easy to become addicted to the beauty of more screen real estate on your machine. Once you've used two displays, you really hate to go back to a single anemic, constrained display. I tend to work with an extremely fractured workflow, with dozens of windows open at any point in time. Being able to, for instance, keep code on one screen and Firefox for debugging on another is ridiculously useful. However, when configuring our office, we realized we'd prefer to issue laptops to our coders instead of separate desktop and laptop machines. Laptops offer the additional perk of being able to bring them home and use them as a personal machine, and if they can function as a proper workstation at the office, why buy both?
The problem is that we also wanted to equip everyone with two of Dell's gorgeous 2007WFP 20.1" widescreen displays. Now, short of purchasing a far-more-expensive, behemoth Alienware Aurora m9700 (one of just a few dual-display driving, enormous laptops), the only reasonable game in town is Matrox's DualHead2Go Digital Edition.
Product Description
Over the past few years, Matrox has shifted their focus towards multi-monitor and other professional display solutions, no longer wanting to compete in the insanely heated (pun intended) 3D-gaming graphics market. Recognizing that more and more people were using laptops as desktop replacement machines, they introduced a breakout box, which they call a GraphicseXpansion Module, that allows you to split the VGA-out signal from your laptop into one ultra-stretched external display. The GXM further splits that signal into two separate VGA signals, and thus: dual display driven by your laptop.
Unfortunately, the older Analog Edition of the DualHead2Go product did not support outputting to two widescreen devices. (Their TripleHead2Go did, but it wasn't its primary purpose, and it was far more expensive.) If you've ever had to run an LCD at a non-native resolution, you know it can be pretty frustrating and visually distracting, not to mention a nightmare for graphic or print work.Matrox's answer to the advent of widescreen displays is the DualHead2Go Digital Edition: An affordably priced ($229 MSRP, ~$200 street) box that accepts a single VGA input, and splits it into two widescreen, full-resolution DVI outputs. (They also offer a TripleHead2Go Digital Edition, but this review will focus on the DualHead unit I received.)
The GXM itself is simple enough: Black, unassuming, and taking up just the necessary amount of real estate to accept two DVI plugs side-by-side. It's passively cooled and never gets too warm, with an LED to indicate that it's on and working.
Unboxing & Installing
Ripping into the DualHead2Go Digital's box, you'll find the GXM itself, a USB-A to USB-B cable (for power) and a VGA cable. You'll also find a software CD and a quick start guide, though I found installation to be pretty straightforward.
To get started, you simply plug a USB cable into your computer to power the box, use the provided VGA cable to connect to your laptop's VGA output, and plug your LCD displays into the two DVI outputs on the box. Install their software to allow you to output at the ultra-high resolution necessary and to control the appearance of windows andpopups and you're all set.
The older Analog Edition required a separate, bulky power brick. Fortunately, the Digital Edition does away with this, using a USB cable. And, as the name implies, the box outputs two DVI signals, whereas the Analog Edition output two VGA signals.
Software
Since the DualHead2Go essentially generates a single, extra-wide desktop spanned across two displays, Windows still treats it as a single display. This has the somewhat unusual effect of spanning yourtaskbar across both displays, and occasionally causing trouble with popup windows and alerts. If you're used to using a standard system-driven dual display setup, it may take some getting used to, especially if you use your right display as your primary. (You're essentially forced to use your left display as your primary display, since Windows still believes it's one display.)
Matrox's PowerDesk Desktop Manager software helps with a lot of window usability troubles—for instance, it allows you to force windows to maximize on just a single display (which I consider to be absolutely critical) and forces mostpopup windows onto either the active display or the display of your choosing. (Though I have had some frustrations with Microsoft Outlook's system-tray based alerts appearing in the center of the screen, and those of a few other applications.) The software installs quickly and easily and is compatible with both Vista and WindowsXP. It also features an option to specifically restrict PowerPoint slideshows to a given display. Further, the Matrox software fine-tunes the display quality, as some minor artifacting may occur. This was only a slight issue with the Analog Edition, and simply did not present any problems in the Digital Edition. Add to that just a 4MB memory footprint, and I find myself rather pleased with the software. I initially wished I could restrict thetaskbar to a single display, but given how Windows draws the desktop, I just don't think it's feasible. What's more, I found myself getting used to it in under a week or two.
This also provides for the peculiar effect of allowing you to play 3D-accelerated games across two displays; something you may not particularly enjoy depending on your display configuration and taste. It's interesting, nonetheless, but you may also experience trouble limiting afullscreen game to a single display.
The software includes several other tweaks to allow for higher refresh rates and custom resolutions, which is useful as you may need to add to the active "modes" list your desired resolution.
Display Quality
Perhaps the most obvious question is "how does it look?" The answer is simple: About exactly as you'd expect. Though I've noticed some subtle flickering on grays at the full 3360x1050 resolution, I'm generally able to resolve them by ensuring that all my cable connections are completely secured. The image displayed is crisp and lacks any distortion or artifacting, especially once the Fine Tune feature is run. With a similarly configured desktop machine (driven by a Radeon with dual-display) at home, I'm happy to say there's no discernable difference in the quality of the output at all.
Compatibility
The single most important factor to consider before purchasing the DualHead2Go (or its new and bigger sibling, the TripleHead2Go Digital Edition) is compatibility. Not all laptop onboard graphics processors are capable at outputting at the resolution required to drive both displays. Fortunately, Matrox provides a relatively up-to-date and accurate Compatibility List that lets you check to ensure your video card will work with the box. You'll want to make sure yours is on the list, or expect to be disappointed.
Impressions
The Matrox DualHead2Go Digital Edition, despite its slightly unwieldy name, is the only route to take if you want to drive two displays from a single VGA output. It's both Mac and Windows compatible, though I only tested the unit on my Windows XP and Vista Machines. I've used the Digital Edition for a few months now, and I've been very impressed. The GXM fits about in the palm of your hand, and is roughly as thick as a deck of cards, though you'll need room for it on your desk with cables protruding from both sides. (Chances are, this won't be a problem if you're already hosting two widescreen displays.) The price is right, installation and configuration relatively simple, and the image quality is spot-on. Overall, it's a great buy for those looking at extending their laptop's display to a dual configuration.
Product Page

| Matrox Graphics
© Gear Live Inc. – User-posted content, unless source is quoted, is licensed under a Creative Commons Public Domain License. Gear Live graphics, logos, designs, page headers, button icons, videos, articles, blogs, forums, scripts and other service names are the trademarks of Gear Live Inc.