Find Our Latest Video Reviews on YouTube!
If you want to stay on top of all of our video reviews of the latest tech, be sure to check out and subscribe to the Gear Live YouTube channel, hosted by Andru Edwards! It's free!
Tuesday April 6, 2010 7:57 pm
iPad review: An in-depth look at the Apple tablet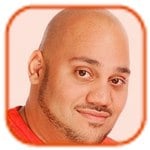 Tweet
Posted by Andru Edwards -
Categories: Apple, Features, Handhelds, Product Reviews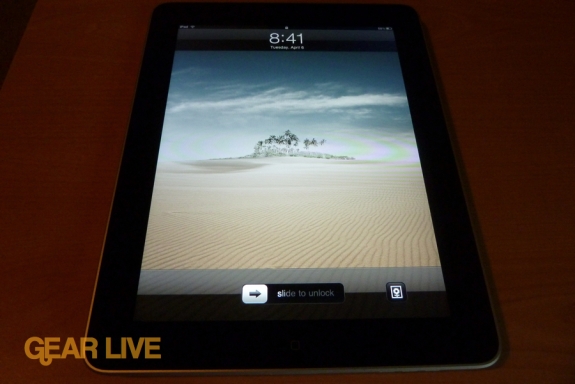 When Apple finally revealed the iPad to the world back at their January 27th event, it was a long time coming for many an Apple fan. After almost three years with the iPhone around, everyone figured it was time for Apple to unleash a full-sized, proper tablet. However, time and time again the rumor mill was incorrect, as Apple Event after Apple Event came and went with nary a mention of a tablet device. So when the announcement finally came, and when pre-orders finally were being taken, many prepped to grab the iPad on day one. That day came on April 3 with the launch of the Wi-Fi iPad in the United States, which you can now purchase at the Apple Online Store.
The hype has been off the charts, so let's step back for a minute and examine this thing. The iPad sits somewhere between the iPhone juggernaut and the ridiculously popular MacBook. Many have said that it is simply a "big iPod touch" and nothing more. Apple has called it "magical and revolutionary." Who's right?
We bring you the answers in our review, so hit that read link and follow along as we delve into the iPad.
HARDWARE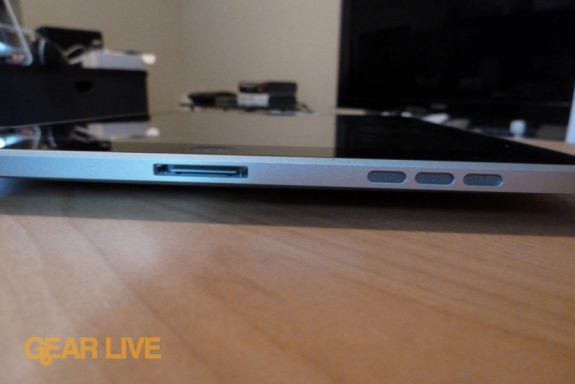 Let's start with the hardware. After all, before you jump into the device and software, the first thing you experience when you pick up an iPad is the actual look and feel of the thing. We will briefly recap these features for those who aren't completely in the know.
The iPad is thinner and lighter than just about any computer or netbook that you've gotten your hands on. The face is pretty much taken over by the 9.7-inch 1024 x 768 capacitive multitouch display, which is LED-backlit to boot. Around the screen is a black bezel, which exists so that you can actually hold on to the iPad without accidentally pressing buttons on the touch display. You've got the Home button at the bottom of the screen, and the entire surface is covered in glass (save for the Home button, naturally.) The back is curved aluminum with the iconic Apple logo, and not much else. You've got a dock connector at the bottom, along with "stereo" speakers, and on the side you have the volume rocker and screen orientation lock. Finally, at the top, you have the power button, and headphone jack.
All of that comes together and forms a 1.5 pound tablet that packs a nice amount of punch. Coming in at just a half an inch thick is astounding, and a testament to Apple design and engineering.
At this point, you may be thinking to yourself, "Yeah, sounds like a big iPhone so far," and you wouldn't be off-base with that mindset just yet. However, just remember, that's exactly what Apple wants you to think. After all, they've sold millions of iPhones and iPod touch devices. If all of those users instantly feel at home on the iPad, that the learning curve for them is non-existant, they'll sell even more of these things. And anyway, it's all about the software.
As far as the internals go, the heart of the iPad is the custom-designed Apple A4 processor system. It's basically a single-core Cortex A8 alongside a PowerVR SGX GPU. The RAM is built-in to the 1GHz A4 as well, and the iPad rocks 256MB in that department. In testing, we've come away very impressed with the A4 chip. The iPad is downright speedy, and apps feel faster and more responsive than ever. Flipping through large photos is effortless, and web pages load in an instant. Of course, this is with the current restriction of running just one app at a time. We will see how it does when iPhone OS 4.0 brings multitasking to the table.
You've also got stuff like Bluetooth 2.1, 802.11a/b/g/n Wi-Fi, a digital compass (but no compass app,) accelerometer, ambient light sensor, and microphone rounding things out. The upcoming 3G model will also have an AGPS chip and 3G antenna to connect to the cell network.
Lastly, you've got a battery that Apple says will last 10 hours…and as most reviews will point out, that's a fairly conservative number. We had our iPad playing video for a full 11 hours and 10 minutes before it gave out on us, and that's with Wi-Fi and push email enabled. We wouldn't expect it to last as long in a marathon gaming session or anything, but seriously, this things lasts a long time.
Gallery:
DISPLAY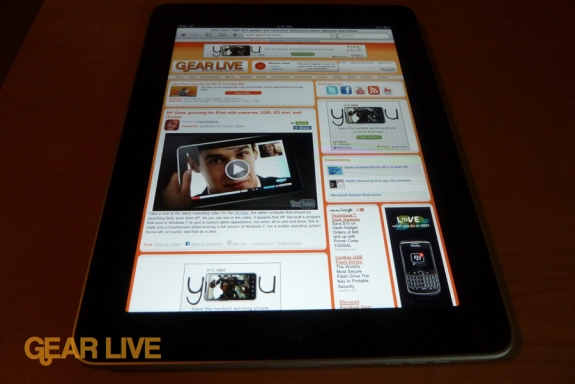 Okay, in case you couldn't tell from all the images and videos of the iPad that have been circulating across the web, this device is all about the display. As we said, it overtakes the face of the device, and quite frankly, it's the way that you interact with it, consume information, and put information in. When you think about it that way, the display has a lot of expectations to live up to, and we are thrilled to report that Apple absolutely nailed it. Originally, we were worried that 9.7-inches might be a tad too small, but we have yet to come across a situation where we feel that the screen is too little to do what we want it to do.
Apple used IPS (in-plane switching) screen technology, and that means that the viewing angles are wide, and no matter how you have the iPad propped up, you see everything perfectly. You get brightness controls that you can mess with manually, or you can set that to auto. Inside the iBooks ereader app you even get another dedicated brightness control, so that you can manage the brightness of the display while reading a book.
The multitouch capabilities are second to none. The fact of the matter is, I've never used a touchscreen that was this easy and accessible. Seriously. Even the on-screen keyboard is smart enough to allow me to touch-type using all 10 fingers with no problem. More on that later.

SOFTWARE
As we said earlier, regardless of how impressive the iPad is from a hardware perspective, it really needs a great software experience to back it up. It can't just be pretty, it has to be functional. That said, Apple decided it best to have the wildly popular iPhone OS power the iPad, which makes it immediately accessible to millions of iPod touch and iPhone owners. In fact, it runs on iPhone OS 3.2, a version of the software that isn't even available for the iPhone yet.
Now don't get me wrong, while the iPad does run iPhone OS, it definitely has some differentiating tricks up its sleeve. Apple has taken advantage of the screen real estate to show how apps can be re-imagined for the iPad, but they've also thrown in some things that just aren't supported on the iPhone. Here are a few of the more obvious standouts:
Pop-over menus: In certain apps, when necessary, you get a window that hovers over the active app, letting you interact with a specific feature fully. Things like brewing through tracks in iTunes, or responding to an email are a couple of examples. We've also seen this behavior in quite a few third-party apps, like Twitterific.
Almost full-sized keyboard: When typing in landscape mode, you get an onscreen keyboard that's almost as large as the ones found on a MacBook. I've been using my iPad for a little over two days, and the keyboard is a dream to type on, seriously! Don't believe me? Well, I'm actually typing out this very review using Pages on my iPad, using the onscreen keyboard.
Split-screen UI: Another nice touch that appears in many apps when you are in landscape orientation is a split-screen display. A great example of this would be the Mail app. In portrait mode the screen is overtaken entirely by the email message, and there is an overlay menu that comes up to allow you to browse through different messages. But if you turn the iPad to landscape orientation, then you a split view that gives you your inbox on the left, and the message pane on the right.
Overlay menus: Probably one of our favorite features, the overlay menus are a welcome addition to the iPhone OS on the iPad. They are basically toolbar menus that let you manipulate things like simple settings and options without having to leave the app or what you are doing. Twitterific makes great use of these in an elegant fashion.
What Apple has done here is make a lot of tasks that you'll be doing on the iPad super intuitive for just about anyone, new user or seasoned iPhone OS pro. Power users may say that is seems that a lot of things are dumbed down for the lowest common denominator, and that a netbook or full-on computer is a much better choice, but we'd say that these people are kind of missing the point. As Apple has stated, their vision for the iPad is for it to sit between the smartphone and the computer - this isn't a replacement. There are things you can do on a more powerful device that multitasks and has a dedicated keyboard that isn't at the mercy of the App Store, but by the same token, there are a bunch of things you can do simply and easily on the iPad that you aren't able to do as elegantly and intuitively as you can on the iPad.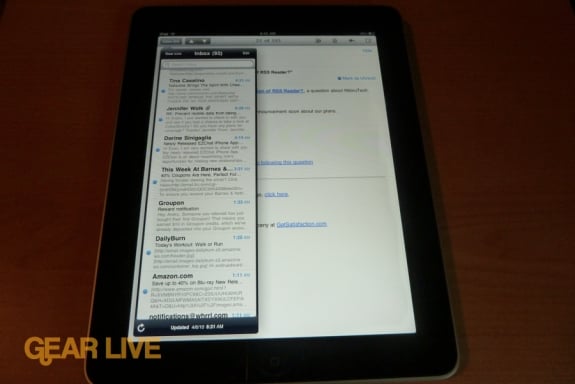 Speaking of multitasking, you won't find that on the iPad, save for some Apple first-party apps. It's much more powerful than the iPhone, and obviously Apple could have made this happen if they wanted to, and we think they're gonna. We just need to wait for iPhone OS 4.0 to drop in order to get it. Luckily, Apple is set to unveil the next version of their mobile operating system in just a couple of days, so just sit tight. We are fully convinced that multitasking is coming.
In closing, as far as the operating system goes, you need to look at the iPad for what it is, not what it isn't. It's pretty amazing at the things it does, and it's the most mature touch-enabled OS out there. Apple started things off by making existing iPhone OS users fully comfortable on the iPad, but they definitely aren't going to be stopping there.

APPS
Okay, let's dive into impressions and thoughts on some of the first and third-party apps for the iPad. After all, the apps are the real differentiator here, and highlight what can be done on the iPad versus an iPhone or iPod touch.
Safari
Safari has surprised us, only because we've been so used to how Mobile Safari works on the iPhone. Don't get us wrong, we are fans, but there's just so much double-tapping to zoom in and out to make content readable. On the iPad, aside from the awesome Bookmark Bar integration, the screen is so large that you can just browse the web with a swipe of your finger, and you can pretty much read everything without all that tapping. Sure, Flash isn't supported in the browser (or anywhere else on the iPad,) but that's nowhere near a dealbreaker for us. Safari rocks on the iPad.
Mail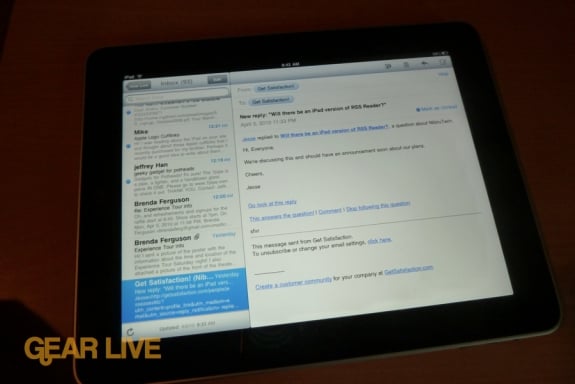 Another main use for us as far as the iPad is concerned is email. With the larger screen, and especially when used in landscape mode, the Mail app looks and feels much more like a desktop client than a mobile email app, and that's a good thing. When in portrait mode, your message overtakes the entire display, but you can still browse your inbox using the overlay menu.
iBooks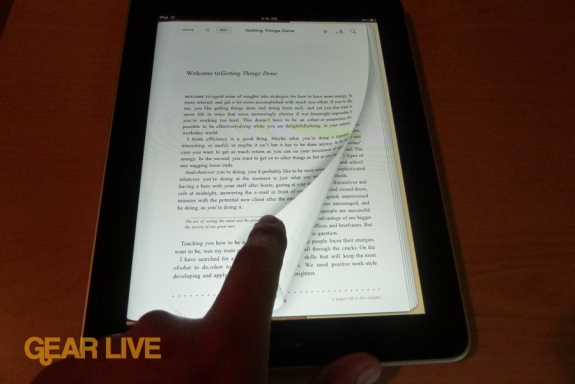 iBooks is another killer feature on the iPad. You have a 9.7-inch color touchscreen display, and when held in portrait mode, it's perfect for reading books. The app is beautiful, and you actually get the feeling of "turning" a page and seeing the thickness of the book you're reading. Turn the iPad to landscape mode, and you can see the open book view. Definitely more elegant than any e-ink ereader we've seen so far (like the Kindle or Nook.) The only issue here is that the iPad is 1.5 pounds, and holding that much weight for a long period of time can wear on ones arms, but we found that simply resting it in a lap took care of that issue.
Calendar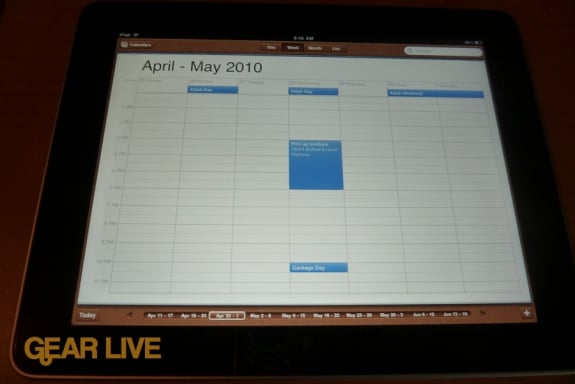 If you're familiar with iCal on OS X, you'll feel right at home on the iPad and its built-in calendar app. It's not as full featured as the full on version, but it is way more usable and viewable than its iPhone counterpart.
Contacts
This is the best address book app that Apple has ever built, in our opinion. It looks like one of those old school book form address books, and has group support built-in. Again, more usable than the iPhone version, and more fun than the full OS X version.
Multimedia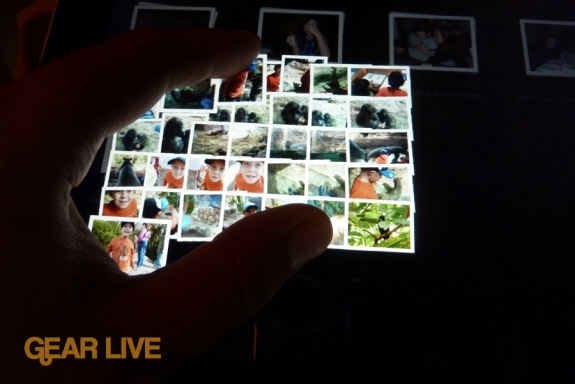 The iPad excels at being a multimedia device, what with the way it handles things like YouTube, photos, videos, and iPod playback. The photo viewer isn't a big deal on paper, but actually using it is fun and a joy. The iPod app is pretty much a scaled down version of the iTunes player that's available for PC and Mac, to the point that we are confused why the app is called iPod at all. The YouTube app is also greatly improved over what you'd find on the iPhone, giving you all the comments, summaries, and surround info with the video. Even better, when you come across a YouTube embed in Safari, you can play it inline, rather than counting on QuickTime X to overtake the screen. We like it.
iWork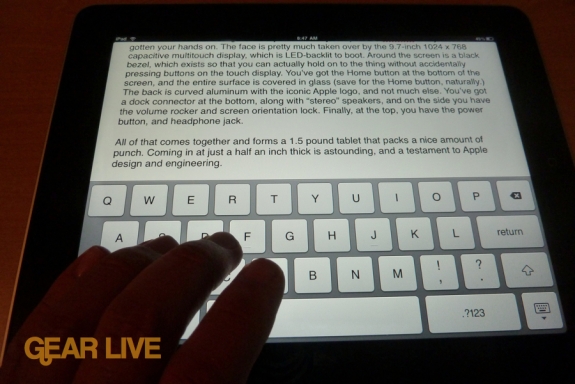 Apple has made their iWork office suite available on the iPad, and each app (Pages, Numbers, Keynote) costs $9.99 on the App Store. Now, we haven't had a chance to play around with Numbers or Keynote, mostly because we didn't have a need to create or edit spreadsheets or presentations. However, as it pertains to Pages, we did have one task that we knew would put it through it's paces, and you are reading the result. This entire iPad review was typed up on the iPad itself in the Pages app. We figured it would be frustrating, that there would be a lot of editing to be done, and that we'd never want to launch the app again. Instead, we found it to be just fine. I mean, it's no keyboard and mouse, but it wasn't annoying either. And at this point, the review is at over 2,500 words.
Twitterific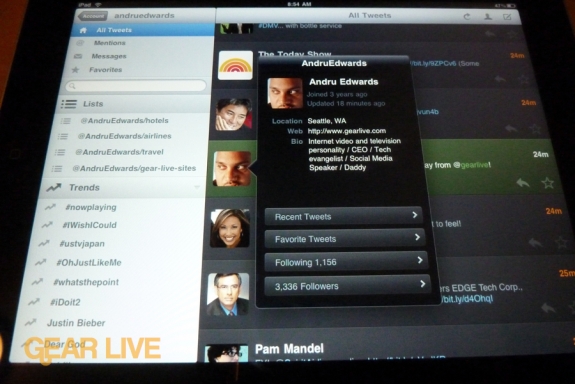 There's a small handful of Twitter clients on the App Store right now that are iPad-optimized, but we like Twitterific because it shows the elegance of what the iPad can do, using all the interface tricks we mentioned earlier, like split-screen view, menu overlays, pop-over windows, full keyboard, etc. Plus, it looks great on the screen, with barely any wasted space.
1Password
If you own a Mac and have never experienced the glory that is 1Password, we recommend that you Google it immediately. The folks at Agile Web Solutions make a might fine password manager, and they've brought it over to the iPad, and we absolutely love it. The interface is clean and inviting, and the app is actually one that is worth the money and is extremely useful.
Epicurious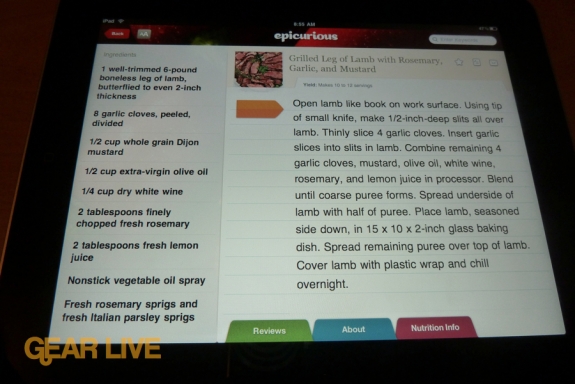 The Epicurious app is something that we could see being sold as a standalone device targeted at stay-at-home moms and selling for up to $200 at Costco. This is the magic of what Apple has going on with the App Store, the device is different and unique for everyone, depending on what they use it for. Epicurious is stunning, and works great in the kitchen when the iPad is propped up in the Apple case. You get a split screen view in landscape mode, and you can search for a recipe for just about anything. You get the ingredient list on the left, the instructions on the right, and you can even checkmark specific ingredients to have them added to a shopping list, all right in the app.
Wormhole Remote
Okay, so this one isn't technically available in the App Store yet, but I'm good friends with the developer, Nate True, and I've been running a test copy. We actually published a Wormhole Remote review a few days ago. This is your solution for controlling your desktop and notebook Mac, right from your iPad, and it is slick. This is gonna be one to watch.
Not much to say here other than you can use these apps to watch streaming video, and it looks gorgeous. The iPad is now an Netflix Watch Instantly client, so you can pull up tons of movies and TV shows as long as you are connected to Wi-Fi. ABC Player gives you access to all the streaming television that you'd find at ABC.com.
Kindle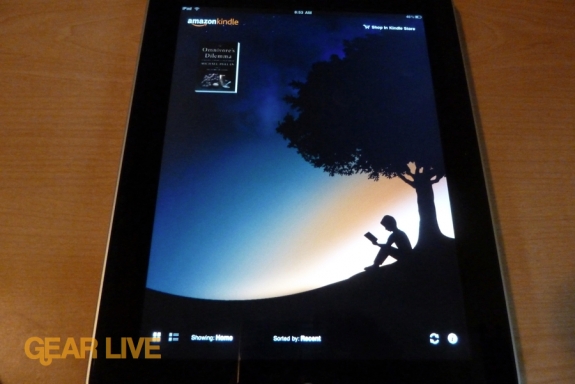 This one is interesting. Before the iPad launched, we lamented that we'd need to carry three devices if we wanted access to all of our purchased eBook content when on the go, those being the Kindle, nook, and iPad. However, that was shortsighted, as Amazon has their iPad app ready on day one. The Kindle app allows you to read any of your purchased Amazon Kindle ebooks, right on your iPad. No Kindle hardware required. How cool is that? Barnes and Noble is hard at work on their iPad app as well. With an iPad, you'll be able to read books purchased from Amazon, B&N, and the iBookstore.
Gallery:

ACCESSORIES
We were only able to test two accessories, as they were the only two available when we picked up the iPad.
Apple iPad Case: We must say, we are very satisfied with the Apple iPad case for what it allows us to do. It is a super-convenient way to prop up the iPad in such a way that it makes typing simple either on your lap or on a surface, and it also lets you prop it upright, which is great is you want to watch videos on the iPad, but don't feel like holding it. There are a couple of downsides, though. First, while the material feels good, it pretty much shows any dirt or dust that gets on it. Second, for what it is, we think that $39 was a bit much to ask.
iPad Dock: Apple doesn't include a dock with the iPad, but they are happy to sell you one for $29. If you don't plan on keeping your iPad in a case, this is a great way to prop it up, keep it charged, and also use it as a digital photo frame, which the iPad does support. Again, the pricing seems to be a bit high on this, since it really is just a dock.
Gallery:
CONCLUSION
Okay, so we know that was probably a lot to take in, but hey, we figure that our thoroughness might help sway your decision one way or the other. The question about whether you should buy an iPad or not rests solely in asking yourself how you feel about what the device does offer, rather than focusing on what it doesn't.
If you're an Apple lover and an early adopter, you've probably already made your decision, and you've got an iPad in-hand, or you are awaiting delivery of your 3G model. However, if you are on the fence, we want you to understand that the iPad is not a netbook, and it's not a laptop. Can it replace a laptop? Yes…depending on how you use it. If you just want a simple machine for reading email, doing some light word processing, surfing the web comfortable, reading ebooks, and running games and a host of other apps, then this is for you. Even if not a primary device, if you want a secondary travel or on-the-couch device? This is for you.
However, if you have no need for a device that simplifies computing in a major way, and you are more of a tinkerer or power user, then the iPad may not be for you. If you want a physical keyboard, you'll have to get used to using the keyboard dock (which we couldn't find anywhere as of press time) or using a wireless Bluetooth keyboard.
Think about the future and the potential you see in the device. To us, the iPad has been around for two days, and we've already seen developers do some amazing things with their apps. There is only more good to come, and we are excited about the iPad as a third platform, nested between smartphone and computer. With it starting at $500, and looking at the consumer electronics landscape and seeing what that gets you nowadays, for what you get, we kind of think that's a tremendous bargain for what you get.
Apple has done a great job at making the tablet form factor legitimate in the eyes of the average consumer. They used the iPhone, and later the iPod touch, as a way to get people familiar and comfortable with interacting with a device with just their fingers, and the iPad is the next evolution of that concept. Many others are on board as well, seeing as how the company sold 300,000 of the Wi-Fi model on the first day of availability. In our eyes, Apple has caused the industry to perk up and pay attention, and you can bet that other computer companies are going to be scrambling to compete in a market that has failed in the past. When you look at it from that perspective, and consider that it was Apple who put genuine excitement into the tablet PC category, you really need to give the company props, even if the iPad isn't the right product for you.
The iPad is available now in the Apple Store Online.
© Gear Live Inc. – User-posted content, unless source is quoted, is licensed under a Creative Commons Public Domain License. Gear Live graphics, logos, designs, page headers, button icons, videos, articles, blogs, forums, scripts and other service names are the trademarks of Gear Live Inc.