Find Our Latest Video Reviews on YouTube!
If you want to stay on top of all of our video reviews of the latest tech, be sure to check out and subscribe to the Gear Live YouTube channel, hosted by Andru Edwards! It's free!
Tuesday February 12, 2008 3:59 pm
MacBook Air SSD review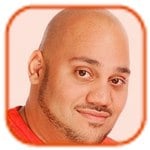 Tweet
Posted by Andru Edwards -
Categories: Apple, Features, PC / Laptop, Product Reviews, Wireless / WiFi
First things first - the MacBook Air took no one by surprise. We all knew, based on the reports churning out of the rumor mill, that Apple had a subnotebook up their sleeve, and all signs were pointing at MacWorld 2008 for it's introduction to the world. Heck, even the name of the product got out there before Steve got a chance to announce it at the event. Of course, that wasn't the only thing that leaked before MacWorld 2008, as we got our hands on the iPhone 1.1.3 firmware weeks before it was officially announced.
What we didn't know was how the Air would look. When Steve pulled the computer out of manila envelope, everyone was wowed. The MacBook Air is thin. T-H-I-N. At it's smallest point, the Air is just 0.16 inches thin. That is thinner than both the iPhone and iPod touch. The larger side is just 0.76 inches. Again, tiny. See for yourself in our MacBook Air unboxing gallery.
As for the rest of the specs, the Air is the same brushed aluminum color that you will find on the MacBook Pro line, and is available in 1.6GHz and 1.8GHz Core 2 Duo speeds. Both models come with 2GB of non-upgradable RAM, 802.11a/b/g/n Wi-Fi, a 13.3-inch widescreen LED-backlit display, and Bluetooth 2.1. As far as ports go, you will only find one micro-DVI, one USB, and one audio out jack. That's it. As for storage, this is where the major choice comes in. You can choose between an 80 GB 4200 RPM ATA hard drive, or a 64 GB SSD (solid-state flash drive). We got our hands on the SSD version of the MacBook Air.
We give you our thoughts on the SSD-based MacBook Air in our full review.
INITIAL IMPRESSIONS
The very first impression you get from the MacBook Air comes from its packaging. When Apple said that it was minimal, they weren't playing around. Compared to other Apple notebook packaging, the Air is nothing. The other surprise was the weight of the box. Since you know the Air weighs just three pounds, you don't expect the box to feel as heavy as it did.
Opening it up, you finally get a feel for just how amazing a piece of machinery this thing is. Putting it off to the side, you get a look at the rest of the package. Along with the MacBook Air, you also get two monitor dongles (micro-DVI to DVI and micro-DVI to VGA), power cable, power cord extender, a wiping cloth for the display, and the typical instruction booklet and software.
Comparing the Air to other Apple portables immediately makes them all look huge in comparison. We put it next to a MacBook as well as a MacBook Pro. So, we will stop beating that horse to death - it's thin.

USING THE MACBOOK AIR
When we powered on the Air, we were particularly curious to see how quickly things would be up and running. After all, we do have the SSD drive in there, and that is supposed to make things all snappy-like. Well, we weren't disappointed. It took about ten seconds to go from off to Welcome. We went through setting everything up, and rebooted. It took 12 seconds from hitting the power button, to having it on and connected to WiFi. Not bad.
The first thing of note is the display. For an ultra-portable notebook, the screen is fairly big. You aren't going to be slipping this computer into the pocket of your cargo pants by any stretch of the imagination. However, we personally like that the screen has so much space. The fact that it is LED-backlit means that it doesn't consume as much power, and yet, is brighter and more glorious. Oh, and environmentalists love that kind of stuff. We kept the brightness right in the middle, as bumping it up to full felt like it would alert neighbors that something was very, very wrong in our home. It's bright.

Speaking of bright, the backlit keyboard is fantastic. The keyboard itself is similar in style to the new Apple keyboards and the current MacBooks. You know, chicklet-style. Since the backlit keyboards have always been included on just the Pro line, we are glad to see it here as well. Since the Air packs in a 13.3-inch display, that meant the footprint was large enough for them to include a full-sized keyboard. After using the Eee PC, we are so happy that this decision was made. We aren't fans of condensed keyboards.
Then there is the trackpad. The MacBook Air has something more akin to a track "panel" - by that, we mean it is larger than any other Apple trackpad we've seen. You have more room to maneuver, and even better, the trackpad supports multitouch gestures. You see, the MacBook Air is the first Mac to support multitouch, the same technology that has helped make the iPhone what it is. Since a couple of gestures require the use of three fingers, it makes sense that the trackpad has been enlarged. We expect to see this soon on refreshed MacBooks and MacBook Pro units.
Another interesting change is the MagSafe connector. The MacBook Air MagSafe port is angled just under the left side almost at a right angle. When you connect the adapter, it is nestled nicely beneath the Air, which means you will have a lot less situations where a wrinkle in your pants or something similar causes the adapter to pull out of the socket. The only negative here is that, while old MagSafe cords might fit, they won't be staying in there for long due to the positioning of the port, not that this is a huge deal. After all, you do have he Air MagSafe cord anyway.

On to a few points of contention for us, that door with the 3 ports in it. Now, when we purchased that latest revision of the MacBook Pro, we knew that if Apple wanted to make these things any thinner, they'd have to eliminate that pesky Ethernet port. I guess that is fine for a product with the "Air" moniker, but paying $30 for a dongle just for Ethernet is kind of unfair in our books. That should be an included accessory. We also weren't thrilled that Apple left FireWire off of the Air, but then we started to realize - this thing isn't meant for importing huge video files. It isn't that big a deal.

But you know what we could have used? How about one more USB port for starters? The Air has just one, which means you are gonna want to bring some sort of USB hub with you in case you think you will need to connect more than one device. Now the Air is, all of a sudden, not so light. Not if you have to start carrying around extra stuff to use it. Oh, and if you want to use optical media locally, you'll need to purchase the MacBook Air SuperDrive for $99, and carry that around too.
Last annoyance for us feature-wise is the speaker. Yes, there is only one. No stereo sound here - just sweet, sweet mono. The speaker lies beneath the keyboard at the bottom right. Sure, it is sufficient, but two would have been nice.

So you put this all together, and what you have is what we consider to be a fantastic mobile computer for the average person. Note, we are talking about the average person. Someone concerned with good battery life, weight, and just doing simple things like email, web browsing, listening to music, and editing documents. We are not talking about people who want to do RAW image editing, video editing, or even people that need to have 15 applications running at once. The Air is a good second computer - we can't really imagine this being the primary workstation for anyone other than those who don't really use their computers all that much. And even then, why not just go with the cheaper MacBook in that case? I mean, it isn't that much heavier than an Air.
As for the SSD, we have found it to be worth it. That is, worth it to us, based on what we find important. In terms of battery life and overall speed, we like the SSD model when compared to the hard drive version. Sure, you lose 16 GB of disk space, but again, to us this is a second computer. We keep everything on our other, beefier machines. We were able to squeeze a maximum of 5.5 hours of battery life out of the SSD model, and that was with medium brightness, and maintaining an active connection to our 802.11n Airport Extreme Base Station. We've heard conflicting reports on battery life from some of our friends at ArsTechnica, as well as a few of our readers. Some seem to get great mileage out of the Air, while other's are lucky to get three hours. Your mileage may vary. Revision 1 people, revision 1…

FINAL VERDICT
So, do we recommend the MacBook Air? It is hard to say, as it really depends on your specific needs, and what you already have in place. In fact, I think those questions are applicable when purchasing an Air more than they are to any other Mac. I know that, for us, having something this small and portable with great battery life is fantastic. We can use our MacBook Pro when we need the raw power when out and about, or grab the Air when we know we will just need to do some browsing and email, and maybe some blogging. The fact that it packs a full-sized keyboard is another plus in our opinion. If you are of the same mindset, we say, go for it.
If you typically only have one mobile computer and want to replace what you have with an Air, just be sure to go over the negatives that we stated above. If you don't typically find yourself needing to use your optical drive, and rarely use USB, you are good here. Especially if you really just want something that is really light and has a low profile. Otherwise, consider the MacBook.
If you are a power user, forget it. The MacBook Air is not meant for your needs. The RAM is soldered in and cannot be upgraded, there are no FireWire or Ethernet ports, and the processor tops out at 1.8GHz. Go with the MacBook Pro.
If you are a hardware geek that has to have the latest and greatest, you will likely do whatever you want, regardless of any advice that we might give.
We are interested to see where Apple goes with the Air line going forward. We can rest assured that the multitouch trackpad will hit the rest of their portable line, which means that Air will have one less unique feature that is exclusive to the line. It is certainly a marvel to behold, but we can't help but wonder how Apple will improve upon the Air in order to see it flourish in the marketplace. For now, let's just call it a "hobby", as Steve would say.
© Gear Live Inc. – User-posted content, unless source is quoted, is licensed under a Creative Commons Public Domain License. Gear Live graphics, logos, designs, page headers, button icons, videos, articles, blogs, forums, scripts and other service names are the trademarks of Gear Live Inc.