Find Our Latest Video Reviews on YouTube!
If you want to stay on top of all of our video reviews of the latest tech, be sure to check out and subscribe to the Gear Live YouTube channel, hosted by Andru Edwards! It's free!
Tuesday June 5, 2012 11:09 am
Nintendo E3 Media Briefing live coverage!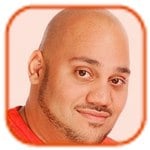 Tweet
Posted by Andru Edwards -
Categories:

Nintendo is set to fully unveil the Wii U console, and we are here to bring you the action live as it happens! Click on through for our live coverage of Nintendo's E3 Media Briefing and Wii U launch!
9:00: We open with a scene showing Shiguru Miyamoto in his dressing room reading over his script with a bunch of Pikmin characters around him.
9:02: He hits the stage, and starts talking about Pikmin. We get shots of the crowd, and Pikmin are superimposed over them to make it look like they are all over the crowd.
9:03: He gets right into Wii U. In order to make it a complete entertainment device, it couldn't be dependent on the television. Game consoles can't be accessed if someone else is using the television. THe decision was that the next Nintendo game system would have a screen of its own, even if it was small, and that is the inspiration for Wii U.
9:04: Wii U is the first dedicated personal screen on a home console. You can quickly turn on and access games. It also allows play on dual screens in a new way.
9:05: During development, Miyamoto decided that he wanted to make Pikmin for the Wii U. We get a look at Pikmin 3. Wii U solves a unique camera problem that Pikmin had on Gamecube. Now you can see your entire map on your Wii U GamePad, while also seeing the Pikmin up-close on your television.
9:07: Basic controls use a Wii MotionPlus controller and Nunchuk. The game certainly looks fun.
9:08: You can also, of course, play the whole game by using just the GamePad. The graphics look great, too.
9:12: Reggie Fils-Aime hits the stage and says that today is all about the games, and that we will see 23 different Wii U games on stage today, which is a lot for just an hour.
9:13: Wii U changes your gaming, changes how you interact with your friends, and changes how you use your television. Nintendo is hoping to revolutionize your living room.
9:14: Netflix, Hulu, Amazon Video, YouTube will all be a part of Wii U at launch.
9:16: Wii U will support two GamePads at a time! Now we get a video that shows how the Wii U GamePad works.
9:18: When you turn on Wii U, you enter MiiVerse. The Miis gather around different tiles, showing your personal tastes, and the games that are trending globally on Wii U. Speech bubbles are used to send text messages, screenshots, and drawings. You can also send smileys.
9:20: MiiVerse will be coming to the browser. It won't be available at launch of the Wii U, but eventually, you'll be able to create a Mii in any web browser.
9:21: New Super Mario Bros. U is announced. As you play with friends you can see the speech bubbles from friends over the map as your playing.
9:22: New Super Mario Bros. U trailer! Mario, finally in high definition, and it looks as fun as you'd expect it to.
9:23: You can easily play on the television or the GamePad to play. Up to five people can play with one person on a GamePad and the rest on Wii remotes.
9:23: Batman: Arkham City announced for Wii U. Martin Tremblay, President of Warner Bros. Interactive Entertainment to talk more about it.
9:25: Batman: Arkham City Armored Edition is the Wii U title. Gameplay is expanded to support the GamePad, and the armored versions of both Batman and Catwoman are exclusive to the Wii U console.
9:26: The BAT mode is exclusive to Wii U as well, which allows Batman to dole out more damage than he normally would after charging up a meter. There is also a remote-controlled Batarang that you use the GamePad to guide.
9:28: Scribblenauts Unlimited is the next title, presented by Jeremiah Slaczka. We get a trailer. You can create objects and share them with friends, and there's multiplayer as well.
9:32: A montage trailer shows us that Darksiders II, Mass Effect 3, Tank! Tank! Tank!, Tekken Tag Tournament 2, Trine 2: Directors Cut, Ninja Gaiden 3: Razor's Edge, Aliens Colonial Marines all titles coming to Wii U.
9:33: Reggie moves on to Wii Fit and how it revolutionized fitness and brought it into gaming. They've sold over 43 million copies of Wii Fit and the Balance Board. Wii Fit U introduces a new peripheral. We get a trailer for the game. We see how it works in conjunction with the Wii U GamePad, which has a camera integrated into it.
9:36: Next up, a music title. There is a division between one person who is playing and the rest of the group watching. Sing is a new title where everyone in the room can play. The Wii U GamePad display the lyrics for the singer, while others can sing along and dance. Looks like a fun party game.
9:40: Scott Moffitt hits the stage to talk about Nintendo 3DS. He first lets us know that tomorrow night at 6:00pm PDT there will be a one-hour presentation dedicated to the 3DS.
9:40: New Super Mario Bros. 2 is announced for the 3DS, and I think they said that it's a 2D title. The game launches on August 19.
9:41: Paper Mario: Sticker Star is the next title announced. 3D and stickers are the two major changes in this one. Stickers become your battle commands. The game launches this holiday season.
9:43: Luigi's Mansion: Dark Moon is announced for the 3DS. This one looks fun. It also launches this holiday season.
9:45: A montage trailer gives us a look at more 3DS titles: Castlevania: Lords of Shadow - Mirror of Fate, Epic Micket: Power of Illusion, Scribblenauts Unlimited, Kingdom Hearts 3D: Dream Drop Distance. More tomorrow.
9:46: Reggie is back to talk about LEGO City: Undercover, and we get a trailer. Another fun title, original LEGO IP.
9:49: Ubisoft CEO, Yves Guillemot, hits the stage to discuss new Wii U titles.
9:51: First title is Just Dance 4. We see four players dancing, with one player using the GamePad to change what the players se on the television.
9:54: ZombiU is up next, new IP from Ubisoft. The GamePad is used in a major way with this game. It's targeted at the more hardcore gamers, and looks fun.
9:56: Another montage shows us Rabbids Land, Your Shape Fitness Evolved 2013, Rayman Legends, Sports Connection, Avengers Battle for Earth, and Assassin's Creed III.
9:58: NintendoLand is the next title. This will be the Wii Sports of Wii U, the game that you play and then you "get it" about the console.
9:59: Katsuya Eguchi hits the stage to go over NintendoLand. The game creates a Nintendo theme park. Your Mii visits the theme park and puts on a different outfit when visiting the 12 different attractions, and takes on the properties of that outfit. Luigi, Donkey Kong, Takamara's Ninja Castle are just a few of the theme park areas.
10:01: NintendoLand is all about fun multiplayer experiences, but also aims to make single-player gaming a fun experience. MiiVerse brings gamers from all over the world in NintendoLand.
10:09: NintendoLand launches alongisde Wii U this holiday season. With that, Nintendo is out, closing with one more NintendoLand trailer.
Related Tags:
assassin's creed iii, avengers battle for earth, batman, batman arkham city, batman arkham city armored edition, e3 media briefing, gamepad, lego city, lego city undercover, new super mario bros. 2, new super mario bros. u, nintendo, nintendo e3 media briefing, nintendoland, pikmin, pikmin 3, rabbids land, rayman legends, scribblenauts, scribblenauts unlimited, sports connection, wii, wii u, wii u gamepad, your shape fitness evolved 2013, zombiu
© Gear Live Inc. – User-posted content, unless source is quoted, is licensed under a Creative Commons Public Domain License. Gear Live graphics, logos, designs, page headers, button icons, videos, articles, blogs, forums, scripts and other service names are the trademarks of Gear Live Inc.