Find Our Latest Video Reviews on YouTube!
If you want to stay on top of all of our video reviews of the latest tech, be sure to check out and subscribe to the Gear Live YouTube channel, hosted by Andru Edwards! It's free!
Thursday April 14, 2005 5:05 pm
Mariah Carey: The Emancipation of Mimi Review
Tweet
Posted by Edwin Soto Categories: Features, Music, Product Reviews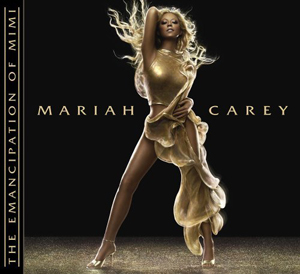 It has been promoted as The Return of the Voice. Saying that the "old" Mariah is back. She's been co-producing her own albums since 1990 and has more #1 hits than any other female artist in history. She is the #1 selling recording artist of the 1990's. Is she back? Where did she go? Does this album have what it takes to redeem her credibility as an artist? Producer? Singer? I decided to take a trip home with Mariah on her emancipation journey partly expecting to be disappointed, but also hopeful of all the hype this album has created. Does it live up? We take a track-by-track look at Mariah's latest.
As with any Mariah album, she specifically chooses her song order for a reason. For example, usually her first single is the opening track. In Mimi this still holds true. I immediately skipped to a few seconds before the end of the track (mostly because I've already been saturated by "Its Like That") to see how she transitions into the next track. This track is quite reminiscent of her mistakes Charmbracelet.
"We Belong Together" is a commonplace contemporary R&B ballad, especially by today's standards. Without a doubt a great improvement from the previous track, however, it's sound a little out of place for her. It sounds like the track was made for Ashanti to sing, but thank goodness for us, Mariah is a much better singer. She does a good job of pulling it off.
She follows with a very groovy ballad "Shake It Off." This reminds me of all of R.Kelly's recent hit ballads. If it wasn't ruined by Jermaine Dupri constantly talking and trying to get people to "bounce with [him]", this song would be the song to put on during…well…you know…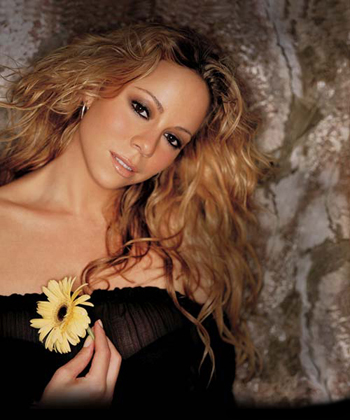 Followed by yet another ballad, "Mine Again" is not your typical ballad. This totally caught me off guard. The use of real instruments (finally) comes across as a refreshing change. Indeed Mariah showed her old school R&B roots right here. She accompanies a great arrangement with smooth, sultry vocals. She wants her old fans to believe in her at this point.
If you don't have the D-Oh-Double-Jizzy on your R&B album then don't release it. That's why the Neptunes created "Say Something." Unfortunately, it's like a bad remix of a bad 80's song. Terrible samples, terrible lyrics, and terrible mixing plague this track. For better 80's style music go get the "Glitter" soundtrack (you'd also be the 9th person to get it). Nothing spectacular here. The mood changes quickly and the only reason to listen is for Snoop because he is as smooth as usual.
"Stay the Night" comes back to the that old school R&B groove, with a modern twist and the voice to match it. What great melodies arise from both the verses and the choruses. It took me back to Jackson 5 times. So why would Jermaine Dupri (doesn't this guy have his own records to make?) ruin it by singing – yes, singing – on the very next track, "Get Your Number?" This definitely cements the fact that he should stay far, far away from singing and stick to producing. His Nelly impression is not bad though. Music gets a B+.
R. Kelly's melodic influence makes a second appearance on "One and Only" as a very nice R&B groove track. The song is good but my mood for this album is so mixed by this point, it get hard to enjoy things like Twista's great rap and style.
Then it came. Like a blessing from the music gods, "Circles" marks the beginning of a complete turnaround for this album. The return of real instruments is a start. Nothing goes wrong in this classic-song-to-be. Here is the return of the voice. It makes you kind of angry it ever left. From beginning to end, you can't help but feel entrapped by this fantasy track. Those of you who remember "Underneath the Stars" from the Daydream album know what I'm talking about.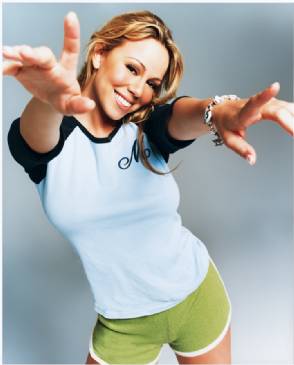 So where do you go from the mold of the perfect song? I was scared considering that I've only appreciated just about ever other song. "Your Girl" doesn't disappoint however. This track has a deceitful intro. I though we were going to be graced with a Latin styled track. But instead she continues the trend of classic R&B (not that that's a bad thing) with that touch of this generation. This moody, bass line heavy song really that 70's groove.
"I Wish You Knew" takes you to the classic ballad Mariah is known for. Perhaps not completely like old times but the vocals certainly are. I start to realize how much she enjoyed singing on this album. Only thing I found kind of silly was the fake "live" experience the song expresses. The sampled audience applause is cheesy.
If you are reading this as you listen to the album, hit the "next song" button on your stereo, CD player, iPod, whatever. "To the Floor" is by far the most annoying and ridiculous song on the album. Nelly is totally off key more than once in the song and even Mariah sounds like she was trying to sing a different song. I won't waste your time like the Neptunes wasted mine – again – in less than an hour.
"Joy Ride" takes us to more classic Mariah ballad. Songs like "Hero" and "One Sweet Day" come to mind as the lyrical content makes me feel like falling in love again. Transitioning right into the last track, "Fly Like a Bird." Some very hopeful lyrics of a better world during this funky ballad leaves me feeling good inside.
FINAL VERDICT

Mariah is indeed trying harder to please a broader number of fans - the older crowd that grew up listening to her, and the younger generation who may not see her as a pop diva superstar. I definitely think this was a step in the right direction musically. Far from perfect, I was pleased with the outcome overall and will be adding this to my playlist, minus a few songs.

~Edwin Soto
© Gear Live Inc. – User-posted content, unless source is quoted, is licensed under a Creative Commons Public Domain License. Gear Live graphics, logos, designs, page headers, button icons, videos, articles, blogs, forums, scripts and other service names are the trademarks of Gear Live Inc.