Tweet
Posted by Rhys Alexander Categories: Comedy, ABC, Desperate Housewives, Spoilers,
On with our sweeps spoiler extravaganza: Desperate Housewives. Just what will these madcap ladies be up to next? Find out after the jump.
Click to continue reading Desperate For Spoilers?
Tweet
Posted by Rhys Alexander Categories: Prime Time, FOX, Gossip,
Even an imminent cancellation can't bring this cult-favorite show down. Series creator Mitch Hurwitz has promised an episode that will make fun of Arrested Development's demise. Here's to a show that stays true to its vision.

Read More

| TV Guide
Tweet
Posted by Rhys Alexander Categories: Internet,
TV Guide (at tvguide.com) has a terrific new game for the ultimate trivia fans: Big Network Boss. Up against other online players, you scramble to answer a series of questions about everything TV. There's everything from multiple choice to matching to choosing groups of three. Work your way "up the ladder" from peon to Big Network Boss!

Read More

| TV Guide's Big Network Boss
Tweet
Posted by Rhys Alexander Categories: Drama, WB, Talent,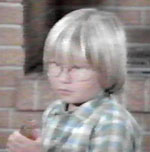 Fans of The Brady Bunch, new and old, will remember the sudden addition of a new "cute kid" in the last season: Cousin Oliver. The addition of new characters, often young and cute, has become something of a warning signal - it's a good sign a show is floundering. This is the moment The Brady Bunch, once and for all, "jumped the shark," and 'Cousin Olivers'
became a sign of doom. Cousin Oliver is back, except it's Daughter April, on Gilmore Girls. Less than an hour after it was revealed that Luke had a long-lost daughter named April, fans left vicious remarks on message boards everywhere, and have nicknamed April's character 'Cousin Oliver.' If history's any indication, this doesn't bode well for Gilmore Girls. Want to find out when other shows jumped the shark? Peep the link.

Read More

| Jump The Shark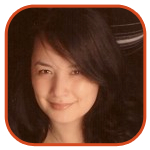 Tweet
Posted by Veronica Santiago Categories: Daytime, Prime Time, Syndication, UPN, America's Next Top Model, Talent,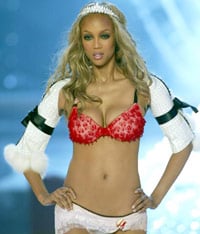 If watching America's Next Top Model doesn't provide you with enough model tension to last you through the week, we hope you caught today's episode of The Tyra Banks Show. We finally got to witness the long-awaited 'face off' between supermodels Tyra Banks and Naomi Campbell. After being compared to Naomi for most of her career, Tyra finally got to unload her feelings on her alleged rival. Banks admitted on the show that she gave up modeling to avoid being in Naomi's shadow. She also took time out to blame the media and the modeling biz for creating the competition. In the spirit of her idol, Oprah, Tyra wanted to have this discussion because she hoped to stop the hatred and jealousy that women often have towards each other. Hellooooo, Tyra. If you keep women from hating each other, you wouldn't have anything to keep America's Next Top Model afloat!

Read More

| People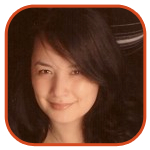 Tweet
Posted by Veronica Santiago Categories: Comedy, NBC,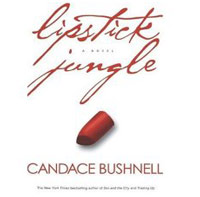 Have you already exhausted all the DVDs in your six-season Sex and the City collection? Have you tossed and turned at night wondering what could have happened if Kim Cattrall had agreed to star in the movie version? Do you still secretly hope that she will change her mind?
Well - we have no new information to offer on the SATC front (BTW—Charlotte would have unexpectedly become pregnant in the proposed movie,) but there may still be a chance for you to enjoy the characters of Candance Bushnell's world. The author has just signed a deal with the Peacock network to bring her recent novel, Lipstick Jungle, to the small screen as a sitcom. Bushnell says the book is about "women trying to become their own Mr. Big." A female Mr. Big? That would be an interesting turn of events. Let's drink a cosmopolitan to that!
Tweet
Posted by Rhys Alexander Categories: Reality, Cable, Talent,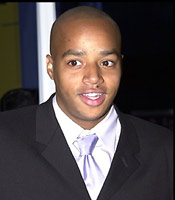 Donald Faison, best known as fan favorite "Turk" on NBC's Scrubs, is used to sharing the limelight with co-star Zach Braff. But now Faison will be going it alone - hosting The Playbook on Spike TV. The show premiers in September, and promises to help men with their lives. Sort of a…Straight Eye For the Straight Guy.

Read More

| Yahoo! News
Tweet
Posted by Rhys Alexander Categories: Drama, WB,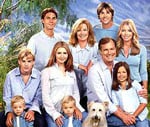 The WB has announced that this will be the last season for its #1-rated family drama, Seventh Heaven. After 10 seasons, it holds the record for television's longest-running show of its genre. Fans have watched the Camden children grow up, get married, and have their own children. Maybe it is time to bid farewell.

Read More

| TV.com
Tweet
Posted by Rhys Alexander Categories: WB, Commercials,
In movies and in television, previews have become more and more revealing. In fact, they often give away the 'secrets' of upcoming episodes. Fans were not happy when last week's Gilmore Girls preview did just that. After waiting months for a mother-daughter reconciliation between Lorelai and Rory, fans were disappointed to see the big moment in the previews for the following show. Not only did it give away the fact that they would reunite on the next show; it actually showed the much-anticipated moment of reconciliation! The preview also gave major hints at a spoiler coming up concerning Luke.
After months of waiting, the fans want a big payoff, revealed in the episode. Previews are supposed to intrigue, build excitement, and make people want to watch the program. How can we be intrigued if we already know the ending? It's like somebody telling you what your birthday present is before you open it.
Television execs: please let us open our own presents!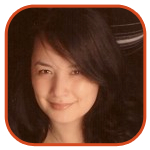 Tweet
Posted by Veronica Santiago Categories: Prime Time, Reality, NBC, Apprentice, The - Martha,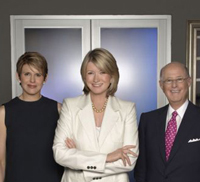 Although I personally was not a fan of The Apprentice: Martha (I couldn't stop laughing at those goodbye letter scenes), I've always wondered what it was about craft-based reality shows that viewers didn't like. I would admit that I was a fan of both Wickedly Perfect and Tommy Hilfiger's The Cut—but I'm apparently the only one willing to do so. Though both shows featured contests not too dissimilar from the Donald-version of The Apprentice, both shows tanked in the ratings (judging by their ever-changing time slots).
Well, they say bad things come in threes.. so Martha: Tag, You're It! Your show will officially be considered deceased after the finale on Dec. 21. Although those NBC reps claim your show was never meant to go past one season, we all know better. Home confined or not, there's no way you would ever sign yourself up for something you didn't think you would succeed at. So goodbye, Martha. Good luck and travel safely…
© Gear Live Media, LLC. 2007 – User-posted content, unless source is quoted, is licensed under a Creative Commons Public Domain License. Gear Live graphics, logos, designs, page headers, button icons, videos, articles, blogs, forums, scripts and other service names are the trademarks of Gear Live Inc.